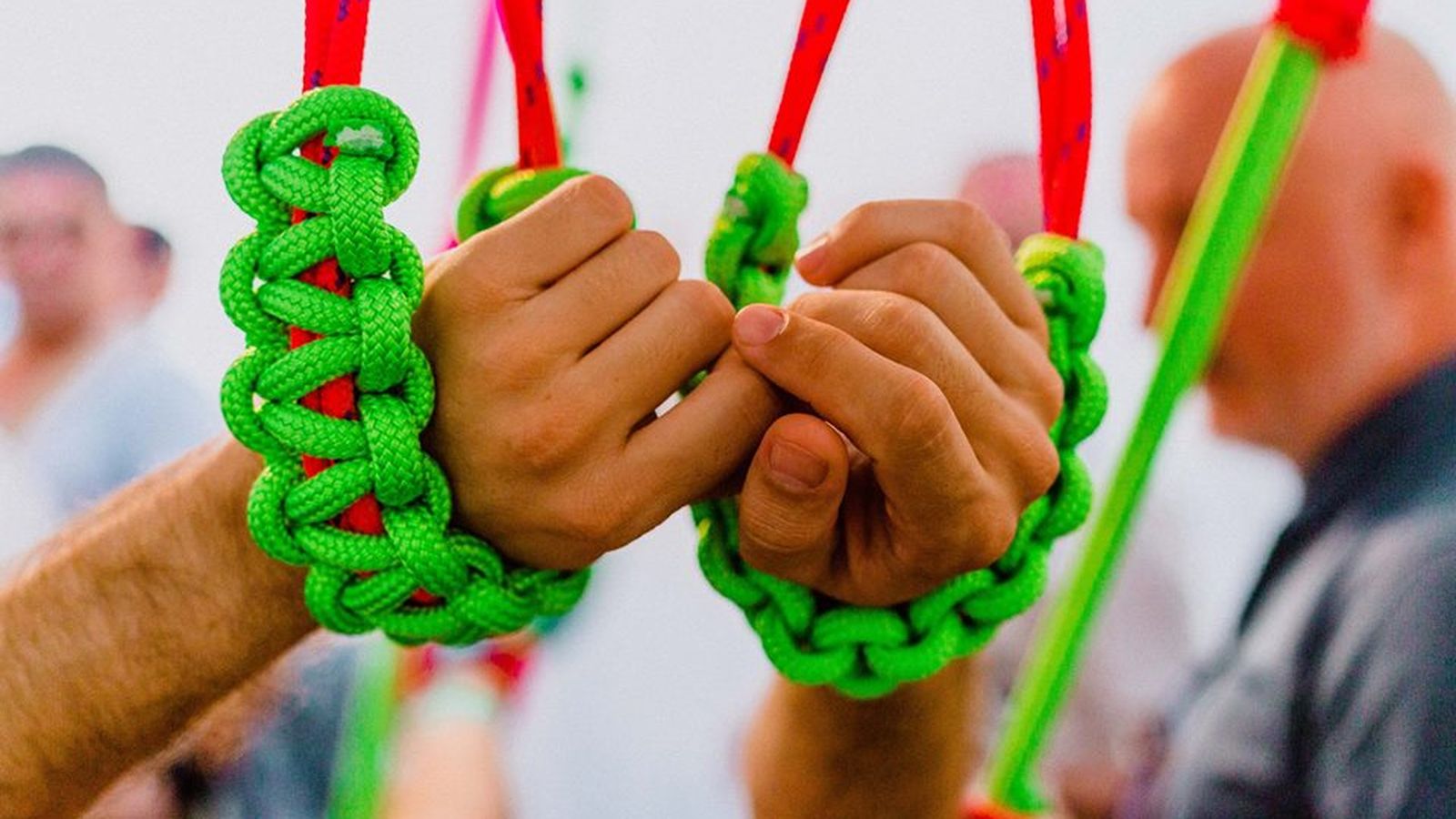 He / They
Naarm / Melbourne / Australia
DISPLAY OF AFFECTION #1 2018
macramé, mariners rope, steel rings, steel frame
DISPLAY OF AFFECTION #4 – Soft Opening 2022
macramé, 576 metres of mariners rope, wooden rods, photograph

A hole
Just a hole
Fucking in public because we can. Fucking in public because we need to. Open. Open up. A hole in the universe, a universal hole. Just a hole. Pour yourself in. Slurp it all down, don't miss one drop.
Using rope as a medium, Luke entangles craft with kink to playfully unpick social tensions and connectivity. Through the DISPLAYS OF AFFECTION series, Luke explores queer social choreographies and the queering of public and private spaces. DISPLAYS OF AFFECTION # 1 is a macramé sex-sling in which the spectator can climb, relax and spend some time. DISPLAYS OF AFFECTION #4 is a macramé public gloryhole for intimate exchanges, whispered conversations and queer poetry readings.
The installations and interventions consider the fragility and temporality of these intimacies, glimpsing traces of bodies lingering and loitering in space and time; non-verbal dances of anticipation, tensions and subtle signals; weaving desire-lines through unsuspecting spaces.
Luke considers the potential for different types of masculinities through the qualities of beauty, intimacy, connection and care. The attention is on the perspective of the sub/ject ('bottom') and their gaze back at the viewer. Luke's role and responsibility as artist ('Rigger'), is to collaborate with his sub/ject, supporting and sustaining them, seeing to their needs and desires, as well as his own.
The sling frame installation armature on loan courtesy Eagle Leather, Melbourne.
Luke George is a multidisciplinary artist working across performance, installation, craft and ropework. Born in Iutruwita (Tasmania), Luke resides and creates on Wurundjeri and Boon Wurrung Country in Naarm (Melbourne).
Luke's artistic practice is informed by queer politics, whereby people are neither singular nor isolated. Luke's works explore risk and intimacy and employ daring, and at times unorthodox methods to create further possibilities for the artist and audience to encounter each other. Obsessed with rope as a medium which renders visible the lines of tension and connectivity between people, Luke intersects the function and craft of macramé with the aesthetics and dynamics of rope bondage to explore the body, desire and queerness.

Luke's work takes him across Australia, Asia, Europe and North America. He has presented work at Venice Biennale, Dance Massive, National Gallery of Singapore, Rencontres chorégraphiques de Seine-Saint-Denis and many more. In 2022 Luke premiered STILL LIVES: MELBOURNE with National Gallery of Victoria.
Top Image: Luke George, DISPLAYS OF AFFECTION #1, Sling (detail), 2018. Photo: Liam Wright
Eagle Leather