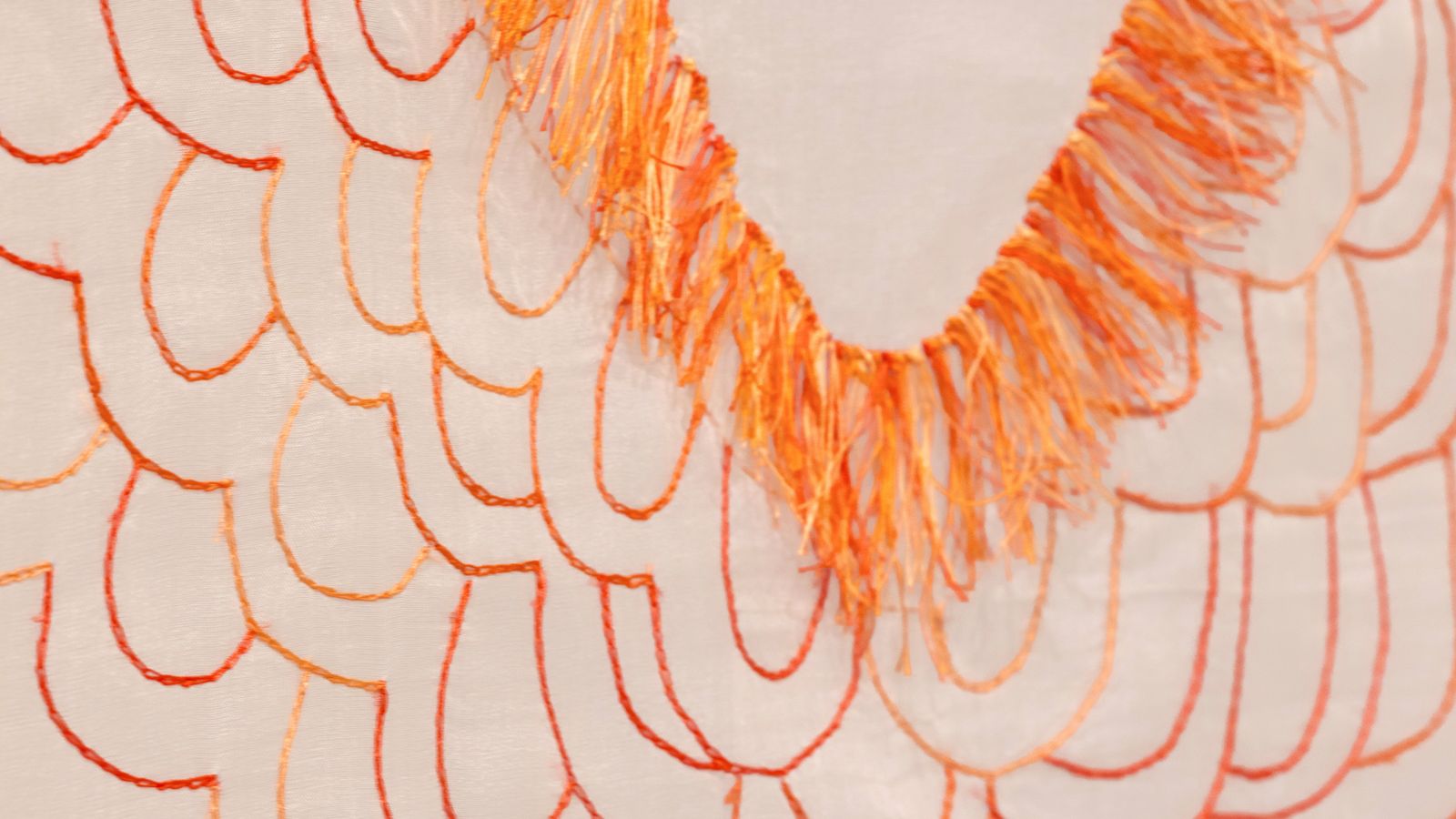 She / Her
Eora / Sydney / Australia
you reverberate 2021
appliqué lamé and cotton embroidery on silk organza

Candy Royalle reverberates.
When I return to the place she last performed, I feel her voice and energy reverberating. Her poetry still hovers in the corners of the room.
Sound never disappears, it is omnipresent and eternal.
The longest reverberation is in my heart, in our collective heart.
This is an offering to all who love and miss her deeply.
This is for all who love and miss someone who no longer dwells among us.
Remember to listen and you will find them again.
When those we love transition out of this realm, we find ways of coping.
These stitches and these words of hers, are my medicine.
In 2018 Nicole lost her close friend, poet and political activist, Candy Royalle.
you reverberate is Nicole's tribute to Candy.
.. She is still here beside me. She sends signs. Sometimes big queer-double-rainbows-across the-sky-and-flocks-of-black-cockatoos-signs. Sometimes they're smaller, lone currawong calls in the stillness of 4am signs. Without these reminders and connections, the grief of losing Candy would be unbearable.
Nicole knew she wanted to honour their friendship and creative bond and asked for her guidance naming the exhibition. Opening her book A Trillion Tiny Awakenings, the first phrase she saw was you reverberate, and she knew it was perfect.
Nicole Barakat is a queer femme, SWANA (South West Asian North African) artist born and living on the lands and waters of the Wangal People. She works with deep listening and intuitive processes with intentions to transform the conditions of everyday life. Nicole takes an unconventional approach to artmaking, creating intricate works that embody the love and patience that is characteristic of traditional textile practices. Nicole's creative practice is rooted in re-membering and re-gathering her SWANA ancestral knowing, including coffee divination and more recently working with plants and flower essences for community care and healing.
Top Image: Nicole Barakat, you reverberate (detail), 2021. Photo: Joy M Lai