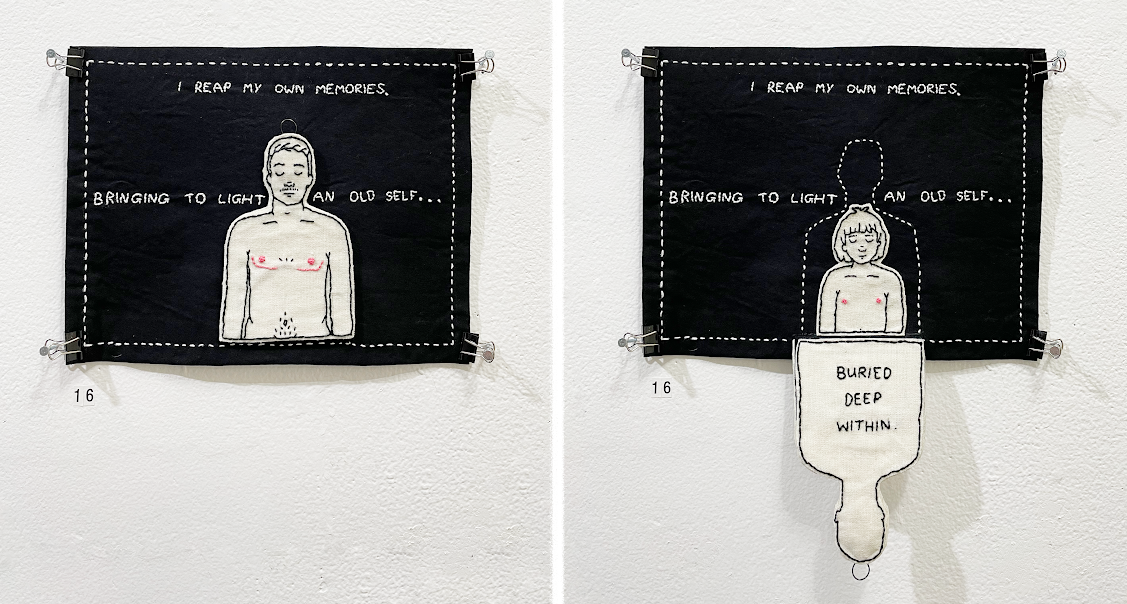 He / Him
Eora / Sydney / Australia
Reaping 2020
mixed media
This White T-Shirt 2021
hand embroidery on cotton shirt
Reaping is an interactive embroidered comic made up of two portraits of Samuel at different stages in his life. The current day Samuel folds down to reveal his childhood self, looking at peace.
Since transitioning and having top surgery, Samuel feels having his flat chest returned to him has helped him feel more at home in his body again. As Samuel reflects on his journey and collects these memories, it brings back a part of him he thought was gone. His childhood self is very much alive, and he carries them with him as he transitions into adulthood.
Reaping was created during October 2020 for Adam Pritchett's #Stitchtober2020 on Instagram. This work was Samuel's first embroidered comic as he ventured out from flat printed digital comics, to bound comic books and to tactile textile pieces. It became the starting point for Samuel's current artistic practice, combining Samuel's love for comics and the tenderness of textiles.
This White T-Shirt is a hand embroidered garment reflecting on the seemingly simple act of wearing a white t-shirt after top surgery and the heavy significance of all the moments leading up to it.
In the trans masculine community, a white t-shirt is often a rite of passage garment. Outlines of a chest binder are visible underneath a white t-shirt and it often draws attention to a bound chest.
Samuel has hand-embroidered black text on a white shirt he has only worn after having his top surgery. Samuel is deeply interested in the idea of adornment to the body, making parallels between stitches on worn garments and sutures on the body. Through its tender and tactile nature, embroidery brings Samuel closer to his transness, it allows him to be patient, to take things slow and reflect on how far he's come.
Samuel Luke Beatty uses graphic narratives and autobiographical storytelling to explore intimate realities of being transgender. His works take the form of digital illustration, prints, comics, embroidery, quilts and murals. His art offers alternate forms of queer and trans representation to other gender explorers on similar journeys, from tomboy childhood gender euphoria to affirming moments of gay trans masculinity.
He graduated from UNSW Art & Design in 2019 and has since illustrated projects with ABC News, ACON Health's TransHub, Headspace and Sock Drawer Heroes
Samuel currently lives and works on Dharug Country.
Top Image: Samuel Luke Beatty, Reaping, 2020. Photo: Courtesy the artist.