Weaving matter: materials and context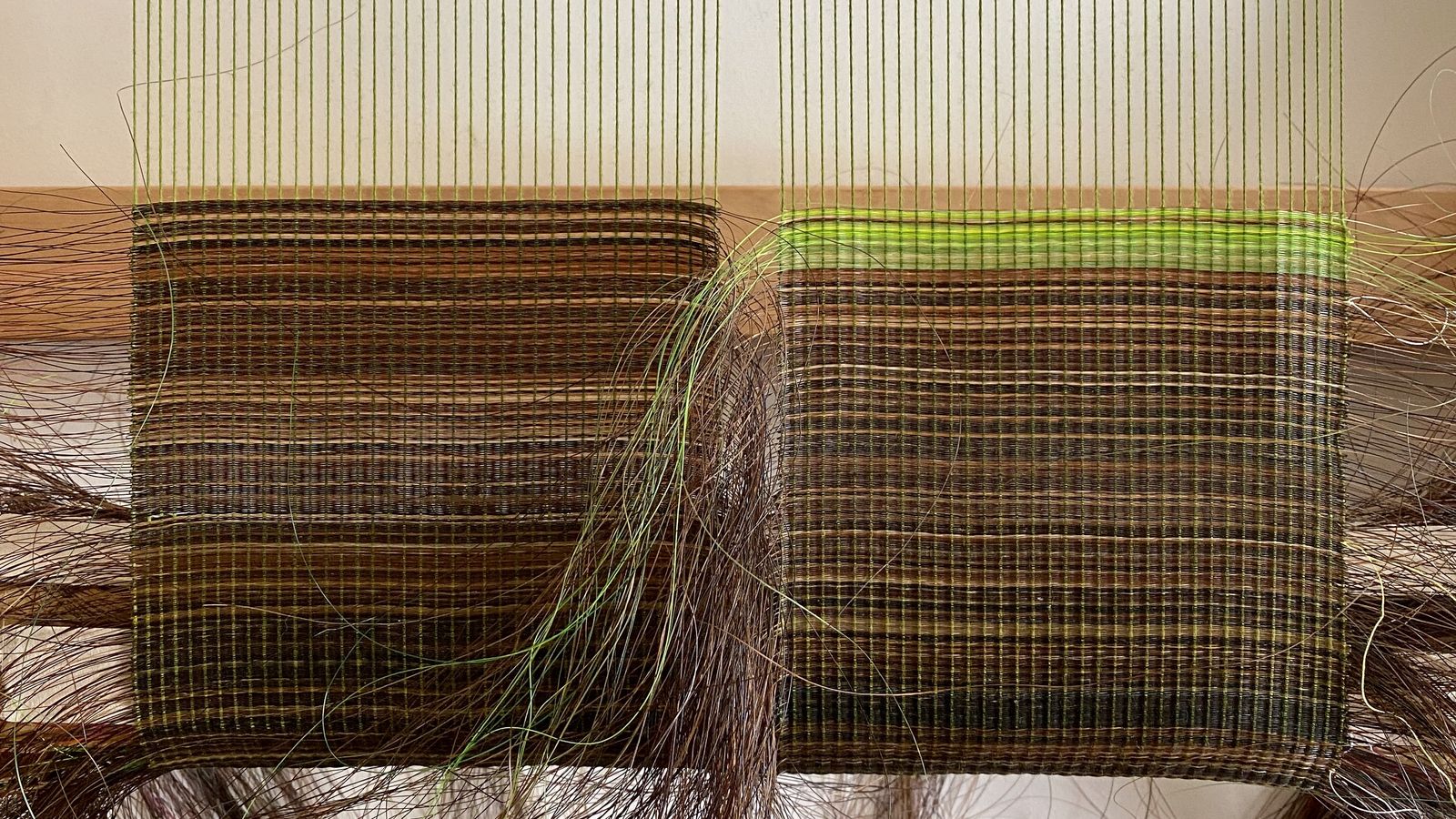 30 March – 24 May 2023

Weaving matter: materials and context showcases the work of 14 contemporary practitioners, who are making their ideas visible by experimenting with diverse materials to translate political, social, personal, or environmental concerns into weavings.
Exhibiting artists: Christine Appleby | Sally Blake | Mary Burgess | Hannah Cooper | Blake Griffiths | Amanda Ho | Lise Hobcroft | Kelly Leonard | Jennifer Robertson | Nien Schwarz | Jacqueline Stojanović | Jane Théau | Ilka White | Monique van Nieuwland
Curator Liz Williamson, who is also the Honorary Associate Professor, UNSW Arts, Design & Architecture invited artists to participate in Weaving matter: materials and context and present work in response to the work of Anni Albers, renowned artist and weaver, who encouraged experimentation and playfulness in weaving through her practice and writing.
To make (our ideas) visible and tangible, we need light and material, any material. And any material can take on the burden of what has been brewing in our consciousness or subconsciousness, in our awareness or in our dreams. – Anni Albers, Material as metaphor, 1982.
Materials, as a means of communication, together with an understanding of weaving, were central to Albers' philosophy. She used diverse materials, both organic and synthetic fibres, the latter often new, industrial or experimental.
She advocated listening to materials to ascertain how they conveyed ideas, touch, hardness, or softness and accepting accidents in the creative process; accidents that could led to unexpected or innovative effects or a new direction in weaving.
To create their artworks, exhibitors have woven on hand, digital, shafted, velvet or Jacquard looms, the latter allowing imagery to be embedded into the cloth. Some have combined weaving with processes such as photography, video projection, print or dyes; undertaken material experiments informed by research into historic weaving and fabric treatment; or used specific finishing techniques.
Some works are experiments, while others are finished works; all are intriguing, individual, innovative, and unique woven works that comment on current concerns with materials that take on 'the burden' of the concept and present contemporary stories in cloth.
Events
Exhibition Launch: Mutukaku Ngura – Motorcar Country and Weaving matter: materials and context
Join us for the launch of three new exhibitions Mutukaku Ngura - Motorcar Country, Weaving matter: materials and context, and Kirsten Haydon: Ice Holds.
Where: Australian Design Centre
When: Thursday 30 March 6:00pm – 8:00pm
Free event, book here
Weaving matter: Curator and artists' talk
Join some of the exhibiting artists from the exhibition and curator Liz Williamson for an artist talk. Learn about the works on display and tour the exhibition.
Where: Australian Design Centre
When: Saturday 1 April 11:30am – 1:00pm
Free event, bookings required
Dressing the loom with Liz Williamson
Join Liz Williamson for a demonstration of how to set up a loom with a warp and learn all the basics for weaving on a 4 or 8 shaft loom. Drop in throughout the day or stay for the whole demonstration.
Where: Australian Design Centre
When: Saturday 6 May 11:30am – 2:30pm
Free event, bookings required
Image top: Jane Théau, Conflagration, Regeneration in progress, 2023. Photo: Courtesy of the artist