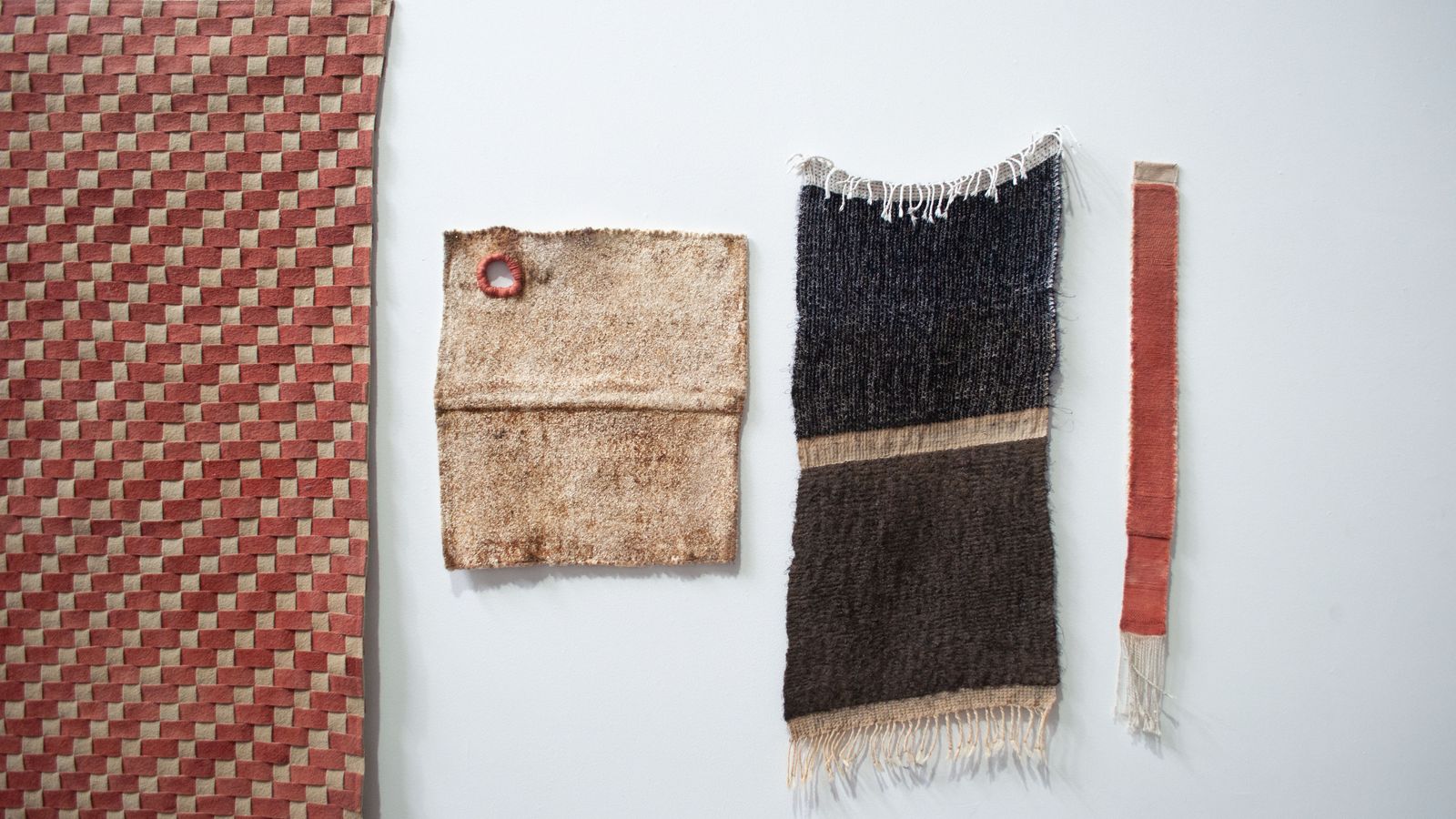 Smörred Sample I 2022–2023
wool, nylon, fir tar (Stockholm), soda ash, solvent

Smörred Sample II 2022–2023
wool, cotton, mulberry ash, linseed oil, solvent, unbleached titanium

Smörred Sample III 2022–2023
linen, wool, Italian red ochre, vegetable gum

Smörred Sample IV 2022–2023
cotton, safflower oil, cobalt octoate, white spirit
Price: NFS
These samples investigate the ancient Viking sail making technique of smörring, which involves treating woven cloth with a mixture of native earth, pigment, animal fat, oil and water. These pastes are heated gently and rubbed into the surface of the cloth, plugging the naturally occurring gaps between the intersection of the warp and weft. The resulting fabric is water and wind resistant, extending the lifespan of the cloth.
Because natural fibres break down very quickly, very few fragments of original Viking sail cloth exist today. The samples reflect on historical practices of oiling cloth that were embodied and used locally available resources – asking us to be critical of our current relationships to resources and to champion sustainable modes of making textiles today.
Blake Griffiths lives and works in Tartanya (Adelaide), Kaurna Yerta. Predominantly a weaver, Griffiths is interested in the intersection of warp and weft and adopts a methodology of textile thinking in his work. Weaving structures provide a framework for understanding the interconnections between tacit knowledge and emotion by understanding them concurrently to reckon with dualities we face on this planet.
Griffiths was awarded a Create NSW Young Regional Art Scholarship in 2018 and was selected for Australia Council for the Arts' Venice Biennale Emerging Leaders Program in 2019. Group exhibitions include Australian Tapestry Workshop, Melbourne; Sophie Canon Gallery, Melbourne, Penrith Regional Gallery & Lewers Bequest, Emu Plains, Milan Design Week, Milan and Artisans Gallery, Mumbai.
Image top: Blake Griffiths, Smörred Samplers, 2022-2023. Photo: courtesy the artist