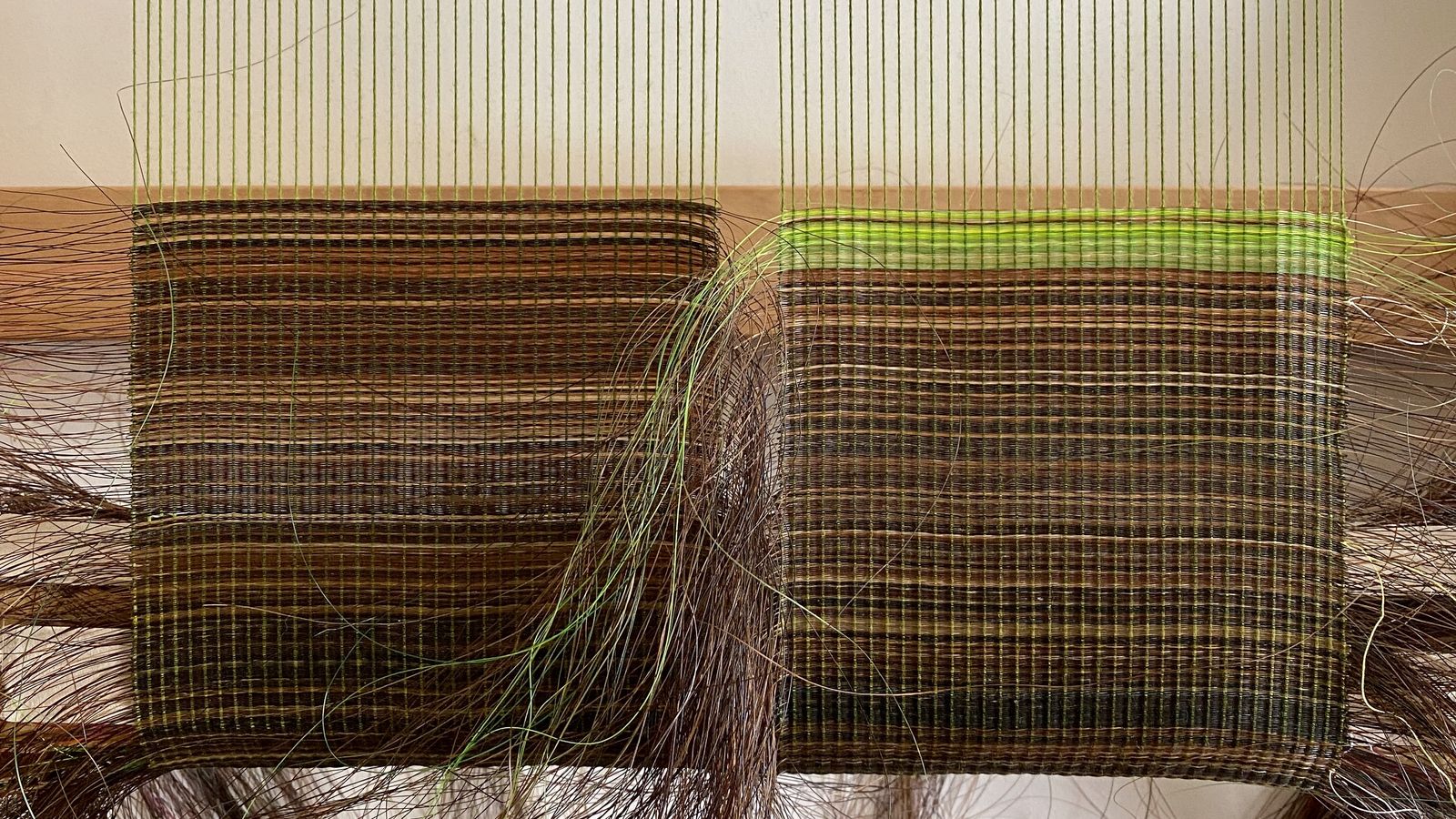 Conflagration, Regeneration 2023
cotton warp, horsehair weft
Price: $900

"Our house on the south coast was surrounded by fire in January 2020. The bush for miles around was incinerated and the aftermath was devastating. The trees that survived sprouted voluminous skirts of vivid lime- and emerald-green regrowth: the precise green of some horsehair I had dyed. Horsehair has a unique tactile quality that I think talks to our skin, because it is a product of skin. It also has a beautiful translucency when woven. The green horsehair took from me "the burden of what has been brewing in [my] consciousness" as Albers wrote and became this work, a homage to the resilience and optimism of the trees that survived the conflagration." Jane Théau, 2023.
Jane Théau's art practice is multi-disciplinary, encompassing sculpture and installation, collaborations with performers, curation and community art project facilitation. Awards she has received include the Rookwood Sculpture Prize, the Grace Cossington Smith Early Career Award and an Australian Design Centre Award. Jane has also undertaken residencies at Hill End, Bundanon, and Textilsetur, Iceland. Her group exhibitions include the 2021 Blake Prize, the 2020 Tamworth Textile Triennial and the Lester Portrait Prize, and her lace portraits appeared last year in Sue Healey's On View: Panorama Suite which toured Japan, Sydney and Hong Kong. Jane has a PhD from Australian National University, a Master of International Affairs from Columbia University and a BAppSc from University of Technology Sydney.
Jane Théau, Conflagration Regeneration (in progress), 2023. Photo: courtesy the artist