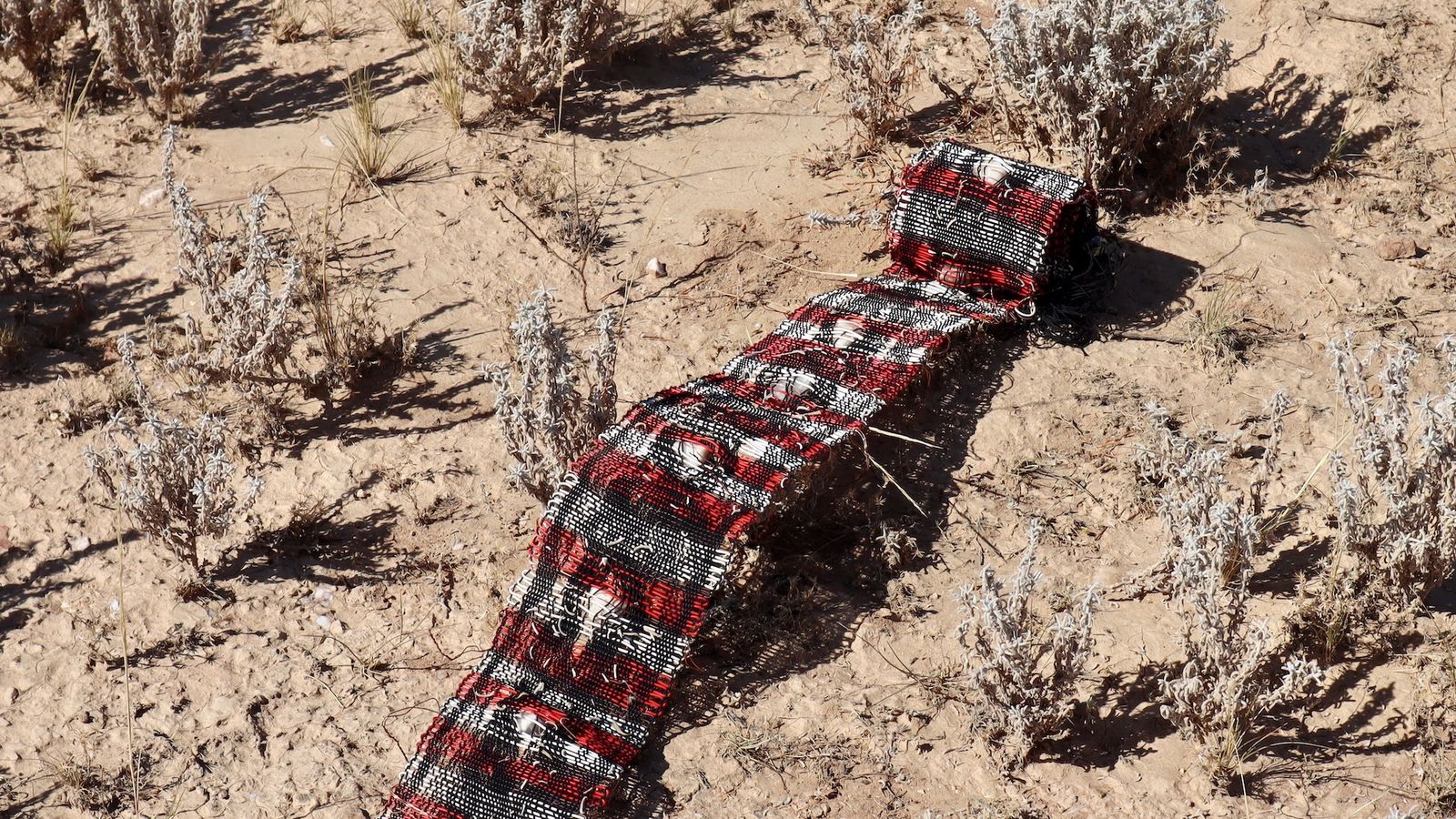 Transmission 2022-2023
bell wire, cotton, copper box, found rocks, quartz, video projection
Price: NFS
Through a multidisciplinary practice, Kelly attempts to process the world around her. She hand-weaves conductive ribbons using recycled Broken Hill bell wire, to acts as a transmitter to gather the spectrum of sound existing within the environment. Solar power is harnessed and used to project videos onto disused mining sites; and repetitive actions form the basis of site-specific performances that focus her attention on the environment.
"In the time of the Corona Virus, the weaver sat at the loom with Broken Hill Bell Wire. It was used to set the explosives deep underground in that place where she lived. Walking out into the desert, she picked up pebbles of quartz, inserting them into the pockets in the weaving. Eagles flew overhead. Laying the ribbons out on the earth, she connected her headphones to listen. The signals started coming in, pulsing, a broadcast to future past. Something shifted, and so it began." Kelly Leonard, 2023.
Kelly Leonard is based in Broken Hill, NSW, and lives on Wilyakali land. As a teenager, she was taught hand-loom weaving by a second-generation Bauhaus weaver, Marcella Hempel, on Wiradjuri Land in Wagga Wagga, NSW. Her current practice combines hand-woven (floor loom-based) textiles with installations, performances and sound recordings. The textiles use recycled copper wire (used to set explosives) from the mining industry as a conductive yarn, to act as a receiver for the inherent energies transmitted from the environment. She uses fieldwork as a methodology to interact with the environment and to record her work for human and more-than-human audiences.
Image top: Kelly Leonard, Bell Wire Ribbon, 2022. Photo: courtesy the artist