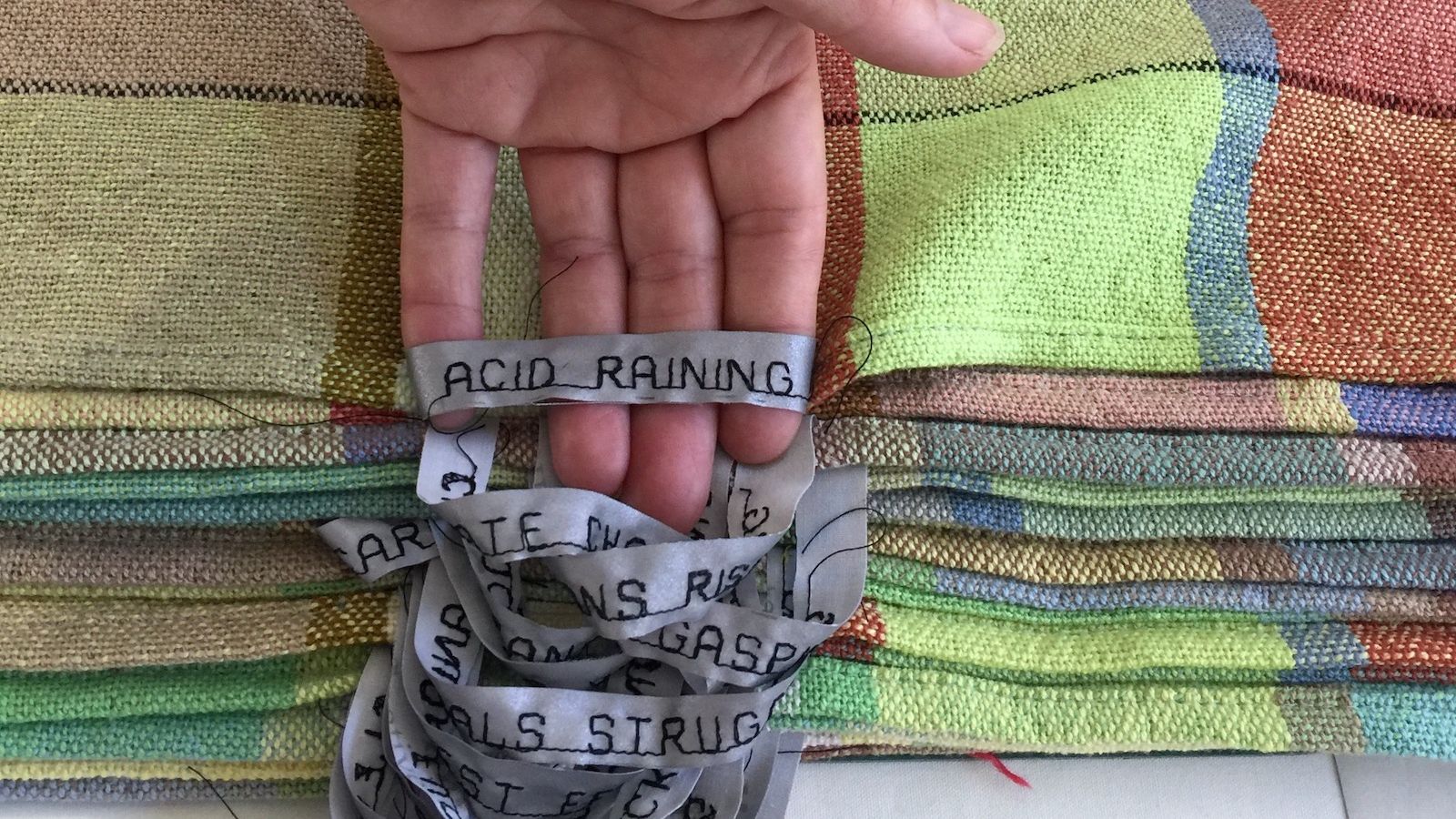 Get a Grip: Carnabys Starving 2021
organic cotton/linen, 3M Scotchlite reflective tape, metallic thread, black thread, hand-woven on a 4-shaft table-loom
Price (by weight): $406.67
Get a Grip: Corals Bleaching 2021
organic cotton/linen, 3M Scotchlite reflective tape, metallic thread, hand-woven on a 4-shaft table-loom
Price (by weight): $123.38
Maps are powerful tools – colonial powers stole maps from one another – placenames record the exploitation of Aboriginal peoples.
Get a Grip is a series comprising seven warps of tea towels with colour palettes echoing cartographic legends and the associated distribution of the earth's natural resources. Embedded texts prompt reflection about entangled relationships and customised textile care labels read EARTH MATTERS. Text-embroidered hanging loops are reflective high-visibility fabric, a material synonymous with alerting people to situations where safety is threatened.
Intended to be used, and hung near sinks and cookers (stoves), Get a Grip disrupts art's distribution in the home, and like commodities the artist sells each individual towel by weight.
Nien Schwarz currently lives on unceded Noongar land near Walyalup (Fremantle), WA. Since 1981 she's cooked for geoscience mapping expeditions across the Canadian arctic and outback Western Australia. For 18 years she taught at Edith Cowan University where she 'nourished' environmental art. Cultural geography and geoscience inform her diverse artworks that prompt questions about where we are, who we are, and what sustains us. Her exhibitions include In Situ, Holmes à Court Gallery, as part of the Indian Ocean Craft Triennial 2021. Nien holds a BFA, University of Victoria, Canada, and a PhD (Visual Arts) from The Australian National University.
Image top: Nien Schwarz, Get a Grip, 2021. Photo: courtesy the artist