Gadigal Mural / Art and About
Barnett Lane, Darlinghurst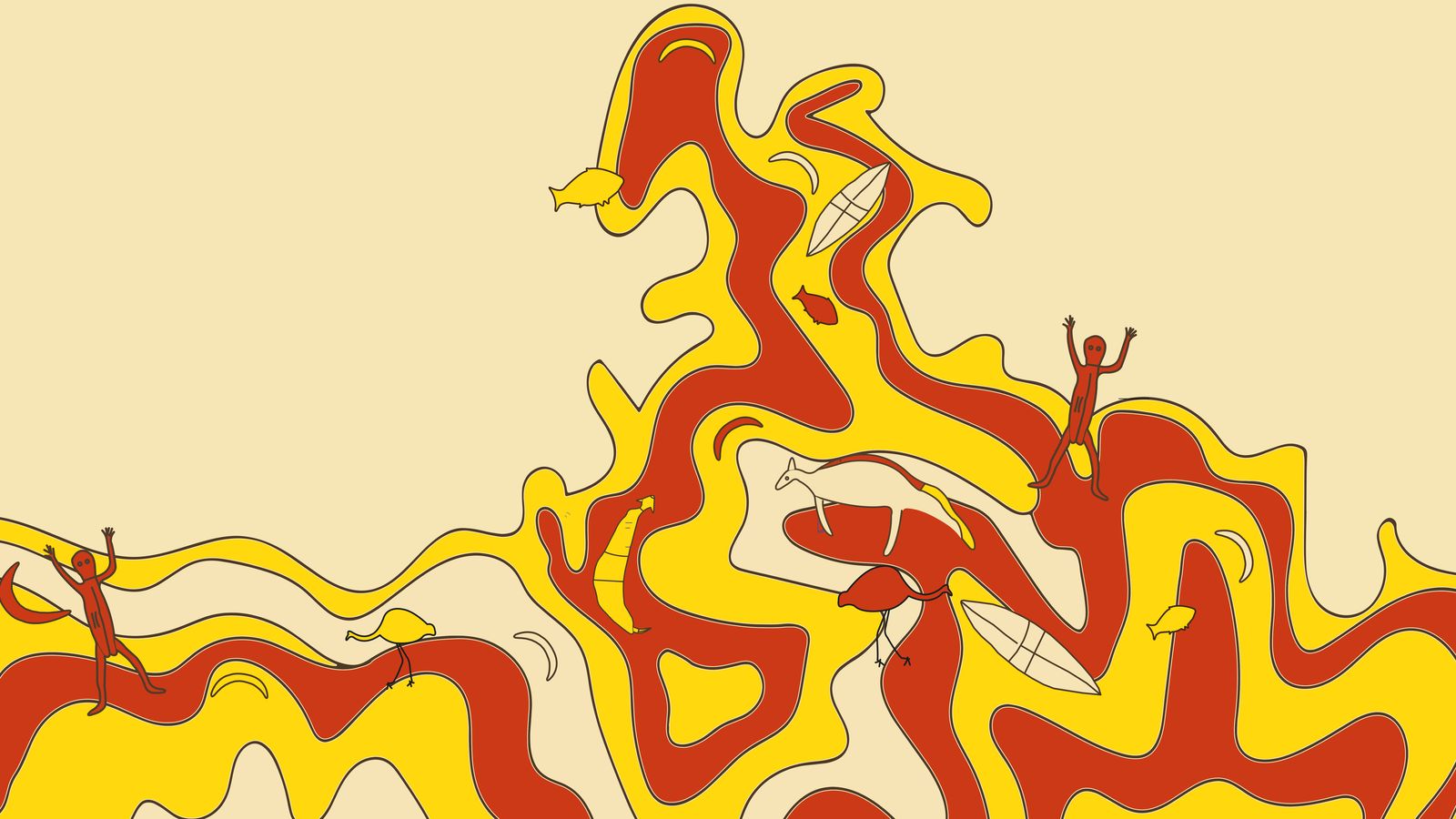 Acknowledgement of Country
Australian Design Centre is proud to be a creative place located on Gadigal Country.
We acknowledge and pay our respects to the Traditional Owners, the Gadigal People, and to the Elders, past and present.
As an arts organisation with national connections, we pay our respects to Traditional Owners, Custodians and Elders past and present of all First Peoples Countries within which we program.
We recognise Aboriginal and Torres Strait Islander culture as the oldest continuing culture in the world and celebrate the diversity of language, culture, custom, ceremony and knowledge (Lore) of First Peoples as Traditional Owners, custodians and communities with an ongoing connection across the land, sea and waterways.
We acknowledge that the lands on which we live and work are unceded – always was, always will be, Aboriginal Land.
'You are on Gadigal Land' 
The City of Sydney's Art & About Sydney program has partnered with ADC to produce a new public artwork. 
Gadigal Mural, designed by Sydney artist Jason Wing, with First Nations Creative Producers Dennis Golding and Lucy Simpson for Australian Design Centre (ADC), is a collaborative artwork referencing both the topographical patterning and material culture of Gadigal country.
Reaching over 25 metres long and 17 meters high, across the back of a three-story building in Barnett Lane, the mural features curved and circular lines referencing the geographical formations of Sydney lands and waters as well as the paths formed by Gadigal people before European Settlement.
The outlines of objects, materials and figures are applied between the patterns filled with vibrant ochre tones of red and yellows, which reference the histories, cultural practices and making of Gadigal people.
The mural was initiated by ADC in response to the historical importance of this site as a place of making that directly aligns with ADC's purpose as a centre for contemporary craft and design.
The word 'bangawarra' incorporated into the mural means 'make' or 'do' in Gadigal language.
The mural adds to the cultural and visual landscape of the city, illustrating the rich, unbroken connections of land and contemporary practices of making and design.
"Aboriginal murals are the most affordable, effective and accessible place making solutions to combat the extreme lack of visual Aboriginal presence in Australia.  I commend the City of Sydney Council and the Australian Design Centre for their visionary dual place making and genuine support for increasing a visual Aboriginal presence in NSW." said Jason Wing, Artist.
Aboriginal peoples have always lived in Sydney . The original Aboriginal inhabitants of the City of Sydney local area are the Gadigal people. The territory of the Gadi (gal) people stretched along the southern side of Port Jackson (Sydney Harbour) from South Head to around what is now known as Petersham. Their southern boundary is the area that now forms the Alexandra canal and Cooks River.
In 1925, a stone axe was found more than five metres below the surface during construction work at the corner of William and Riley Streets in East Sydney. Almost eighty years later in 2003 the remains of an Aboriginal campsite were uncovered around the same location during archaeological excavations before the construction of an apartment building. After the earlier building was demolished, archaeologists investigated the ground beneath for European colonial remains. They discovered a soil layer that contained Aboriginal stone artefacts. The artefacts appear to have been protected by a layer of soil and clay that washed downstream in the 19th century after part of the creek valley above was filled to form William Street. Prior to the construction of the new building, archaeologists working with the Metropolitan Local Aboriginal Land Council, excavated an area of over 60 square metres of soil by hand in 1m x 1m squares to obtain as much information about the site as possible. Together with the initial excavations, they found around 400 stone artefacts.
Gadigal Mural is supported by: Art & About Sydney, City of Sydney,  Australian Design Centre, Cracknell & Lonergan Architects. 
This project was made possible with the help of Cracknell & Lonergan Architects, a multi-disciplinary architecture and design practice with directors Peter Lonergan and Julie Cracknell. Their mural painting team for this project included Tom Furneaux (Lead Painter) with Christopher de la Motte and Nicolette Aureli. 
The Gadigal Mural project was produced in consultation with the Metropolitan Local Aboriginal Land Council.
Where: ADC, Barnett Lane, Darlinghurst
Map link here
Find out more of Sydney's Aboriginal history here
Explore Art & About Sydney here
This project was curated by ADC's First Nations Creative Producers Lucy Simpson and Dennis Golding. The First Nations Creative Producer role is supported by Create NSW.
On Thursday 30 May 2019, Lord Mayor Clover Moore launched Gadigal Mural.
Thank you to the City of Sydney for sharing this short film of the launch. 
Images: Dennis Golding and Jason Wing with Gadigal Mural, 2019. Jason Wing, Dennis Golding and Lucy Simpson, Gadigal Mural, 2019 (detail). Photos: Jodie Barker