Article: Expanded Design at WORKSHOPPED20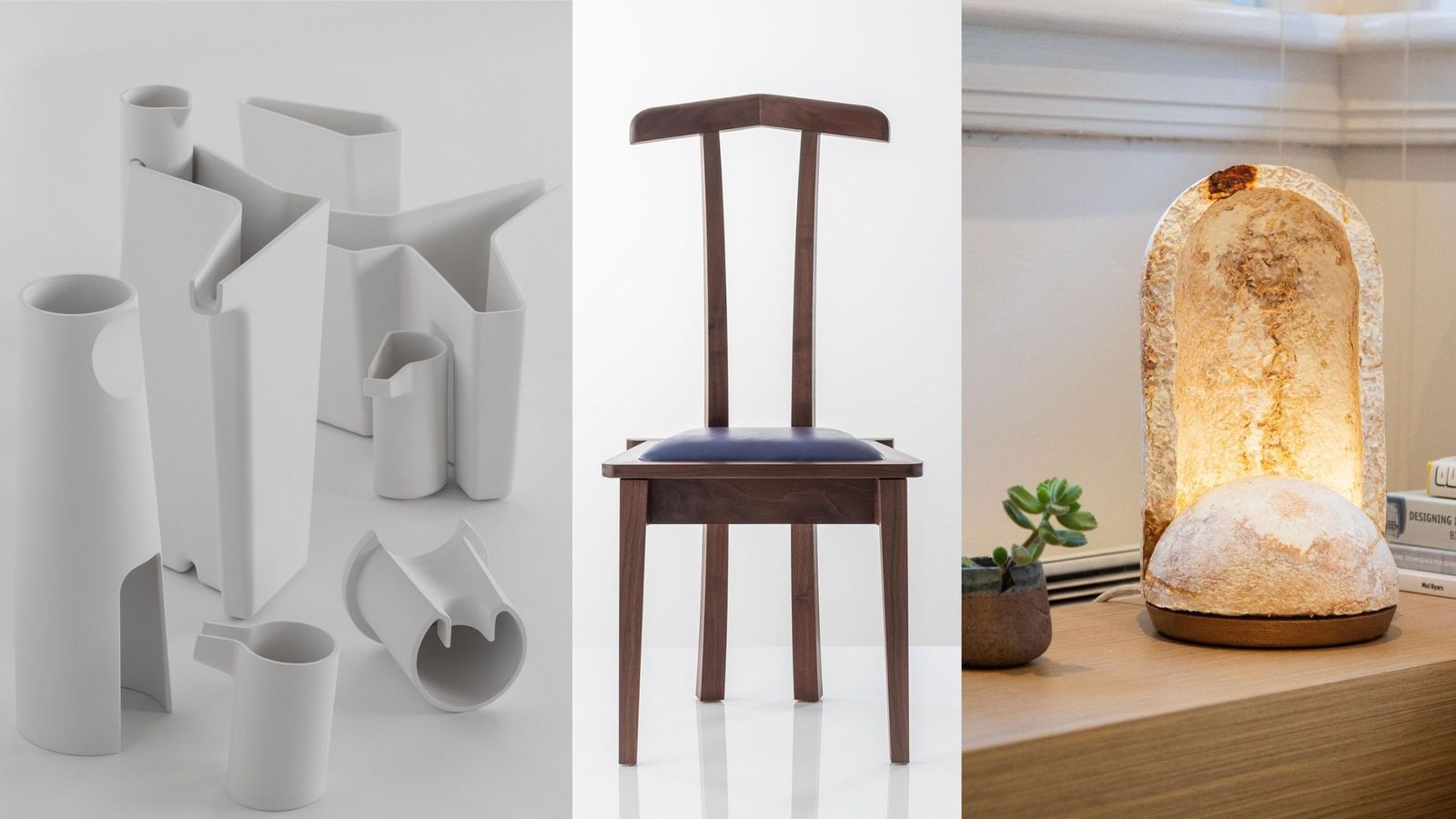 This is the twentieth year that furniture, lighting and object designers have created new works for WORKSHOPPED exhibitions program. Article by Penny Craswell.
What started as a small exhibition in 2000 has grown and evolved. Produced and presented since 2018 by Australian Design Centre, WORKSHOPPED now features new works from more than 30 designers each year.
This year, to mark the anniversary of the program, works from ten superstar designers from the past 20 years of WORKSHOPPED have been included in the show. The main cohort of established and emerging designers' work is impressive. In addition to the timber and metal chairs, stools and tables that are the backbone of the program, there are pieces with 3D-printed components, ultra-fashionable terrazzo or luxurious leather, and there's also flat-packed design, handblown glass, porcelain and stoneware and even one piece that features traditional canework. The pieces on show really represent the full gamut of design in Australia right now, while also highlighting some of the trends happening in contemporary design.
One work speaks to the emergence of hybrid design – a collaborative process that sees two or more individuals from disparate fields coming together to realise a singular project. System Vase is a series of vessels designed by leading architect John Wardle and realised in slip-cast, hand-finished porcelaneous stone in collaboration with designer John Lloyd. The shapes used for the vases shy away from traditional geometries, instead offering up curved angles that interlock or interact with each other.
These forms are similar to those that are increasingly being used in architecture, including Wardle's own designs such as the Melbourne School of Design and Phoenix Central Park in Sydney. But while Wardle envisioned and sketched the System Vase by himself, it took Lloyd's expertise in object design and production ceramics to make them a reality. Lloyd says: "John approached me some years ago with a series of concept sketches he had drawn to see if I could help realise the forms in ceramic… I undertook a role as artisan in realising the final three system vases in ceramics, each with its own particular material and production challenges."
Another of the works in the show that reflects a movement in design – this time towards material experimentation and the use of biodegradable plant matter – is Josh Riesel's Lucidum table lamp. Made from post-manufacturing wood shavings organically bound together using Reishi mushroom mycelium, the light is compostable and has a limited life while also being hydrophobic, fire retardant, and a natural sound insulator. Josh is a Sydney-based emerging designer who is interested in biomaterial experimentation and sees a future where objects need not last forever. "Lucidum has been designed to aid in a transition towards a future where short-life products are naturally regenerative," he says. "I want to explore the nexus of environmentalism and human experience. Extremely hands on, my practice revolves around form and interaction, driving positive worldly change through informed material choices and production processes."
The Valet Chair for Him by Ian Bromley is another notable example in this year's WORKSHOPPED, not so much because it reflects a new trend in design as because it engages with the history of furniture. Traditionally, the valet chair had a particular use – it was a chair that literally replaced a middle- or upper-class man's valet, acting as a place to drape clothing and store accessories. As such it might include a coat-hanger and a shoe-rest, plus a possible trouser bar or compartments for cuff-links, ties or other items.
In conducting his research, Bromley was heavily influenced by the valet chair designed by Danish designer Hans Wegner in the mid-century modern style in 1951. Nearly 70 years later, The Valet Chair for Him is a contemporary version with an added fourth leg for stability, an upholstered seat for increased comfort and a hidden compartment under the seat. "The aesthetics of the chair were designed not to be like other modern valet chairs that look like a coat hanger has been added to the chair," explains Ian. "I wanted to honour Wegner but also put a spin on my design, making it more contemporary for the modern man." Ian's chair has a sister, the Valet Chair for Her, which is similar but features a plumper cushion and a straighter top where a larger variety of clothes can be hung. Both chairs are beautifully hand-crafted with full mortise and tenon joints by Ian, who trained as a furniture maker at Sturt and is now their Wood Course Coordinator, and his skill as a maker is easily seen in the quality of these pieces.
There are many other innovative pieces in this year's WORKSHOPPED, including LUCAIDO, a multi-purpose ergonomic tool for the kitchen designed by Saint Mary O'Flynn that combines the functionality of a knife and a cleaver with a scraper in one, and Kusabi, a sustainably-designed side table designed by Dora Ferenczi made of a single material with no screws or glue. Each and every one proves the strength of WORKSHOPPED. This is a program that not only showcases new design prototypes ready for production, but also celebrates originality and innovation.
WORKSHOPPED20 exhibited at Australian Design Centre from 6 August - 30 September 2020. Go to the exhibition page for more information here.
Image: (LEFT) John Wardle, System Vase, render, 2020, Photo: courtesy of the artist, (CENTRE) Ian Bromley, Valet Chair for Him, 2020, Photo: Greg Piper Image Solutions, (RIGHT) Josh Riesel, Lucidum, 2019, Photo: courtesy of the artist