Article: Q&A with Liz Williamson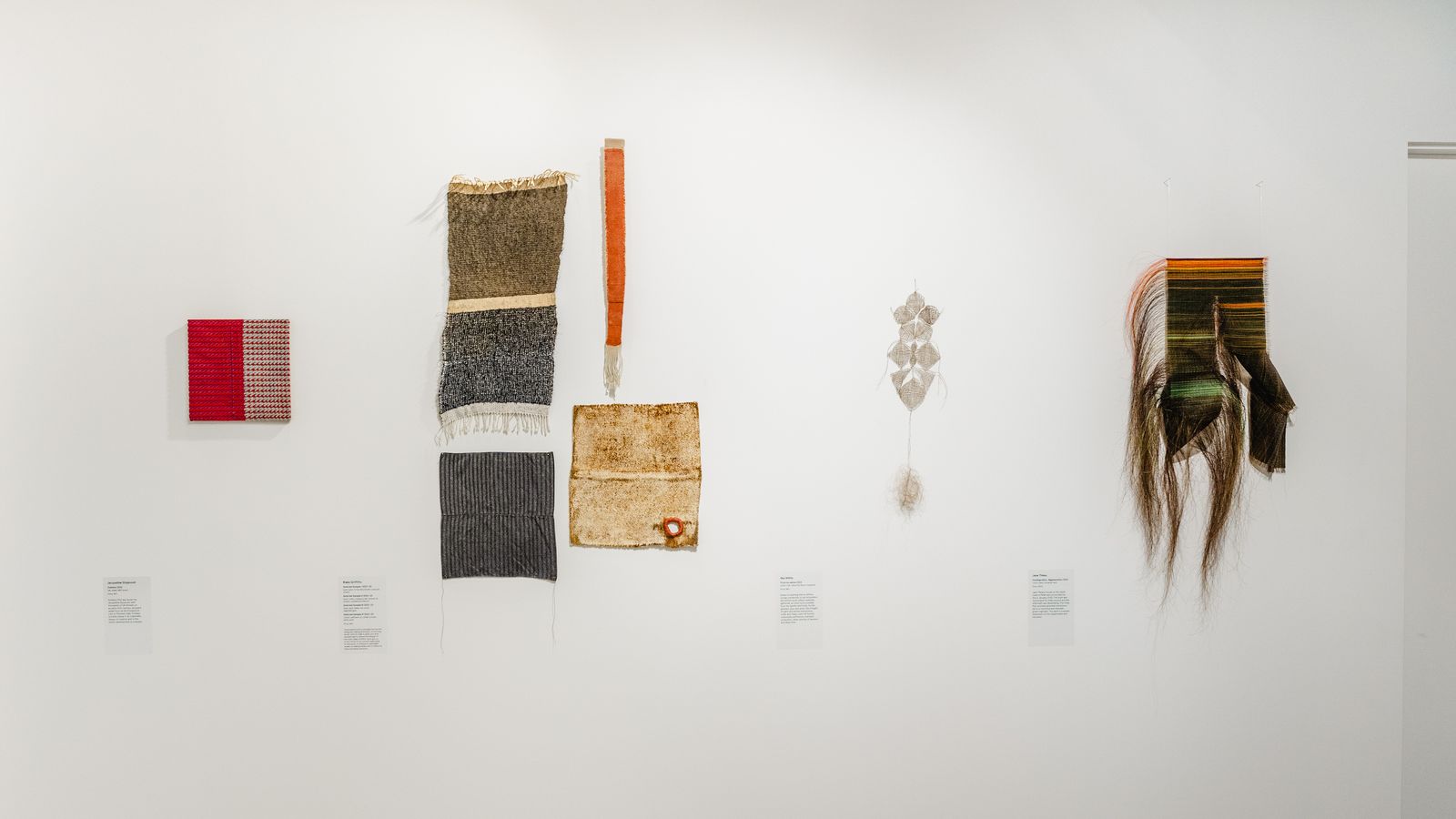 ADC's Associate Director Creative Programs, Debbie Abraham, recently spoke to curator, weaver and academic, Liz Williamson, about curating Weaving matter: materials and context, exhibited in Australian Design Centre's Gallery 2 between 30 March – 24 May 2023.
They spoke about the inspiration for the exhibition and the role of the curator.
Debbie Abraham: One of the key inspirations for the Weaving matter: materials and context was the artistic practice and philosophic ideologies of Anni Albers. Specifically, you selected the following quote from a 1982 essay by Albers, Material as metaphor, published in Anni Albers: selected writings on design, edited by Brenda Danilowitz (Wesleyan University Press, 2000) as a starting point for the artists:
"To make (our ideas) visible and tangible, we need light and material, any material. And any material can take on the burden of what has been brewing in our consciousness or subconsciousness, in our awareness or in our dreams." 1.
Debbie: Why was this quote selected for this project?

Liz Williamson: The idea of an exhibition looking at the materials and concepts that contemporary practitioners were exploring in their weaving had been swelling around my mind for some time, so the quote from Albers was ideal. I've taught workshops on materials experimentation and, on rereading Albers' Material as metaphor essay, thought this a perfect quote to challenge exhibitors. Materials were centre to her philosophy and understanding of weaving – in her weavings she used diverse materials both organic and synthetic fibres, the latter often new and just developed.
The idea that any material can take on the 'burden' of things brewing in our consciousness, made this quote very appealing. In the exhibition proposal to exhibitors, I also mentioned that Albers had advocated listening to materials to ascertain how they conveyed touch, hardness, or softness and that she encouraged experimentation and playfulness in weaving. She also advocated for accepting accidents in the creative process, accidents that could lead to an unexpected or innovative effect, or a new direction. As can be seen in their artists' statements, the selected Weaving matter exhibitors all responded to Albers' writings in diverse and thought-provoking ways.
Albers' writings and practice transformed the way weaving was understood as a medium for art, design and architecture. The 2018–19 Anni Albers exhibition at the Tate Modern in London, clearly showed how she 'combined the ancient craft of hand-weaving with the language of modern art' blurring the lines between craft and art and establishing a contemporary approach to hand weaving, often with seemingly simple techniques. 'Weavers are the architects of cloth' is a term I use which relates to Albers' ideas. Weavers today work in the tradition defined by Albers.
Debbie: How did the essence of this quote translate into your selection of artists for this exhibition? What were the challenges?

Liz: Albers' quote represents the kind of challenge I like to have when developing new work. Experimenting with new, different and diverse materials or creating a unique weave structure are the key elements weavers have to experiment with at the loom. Once the cloth is woven, various finishing processes can change the nature of the cloth. I approached weavers who I knew were experimenting with different materials or were creating work with interesting concepts, and who I knew would respond to the challenge in interesting ways.
In terms of the challenge posed by the selected quote, I view any exhibition brief as a challenge, as artists need to propose appropriate work. The selection of exhibitors was based on my knowledge of their weaving practice, as well as my knowledge of who would embrace the challenge of the exhibition proposal.
I was happy for work in Weaving matter to be new or existing, finished work or experiments. I was pleased that more than half of the exhibiters took on the challenge and created new work specifically for the exhibition, indicating they appreciated the challenge.
As Weaving matter was schedule for ADC Gallery 2, I requested small works so that 14 exhibitors could be included. Several exhibitors commented on how pleased they were to exhibit experiments, to exhibit with other weavers, as well as the finished exhibition at ADC.
Debbie: When many people think of weaving, they conjure images of functional objects, for instance clothing, accessories etc. This exhibition takes the viewer beyond the functional, into the contextual relationship between materials, ideas and processes, as inspired by Albers' quote. Tell us about how artists in this exhibition have responded to the quote. What do you think the challenges were for them.

Liz: Yes, people often think of weavers weaving functional objects only, but in my experience, even when one is making a functional object, the weaver or craftsperson is exploring 'a contextual relationship between materials, ideas and processes'.
Weaving, functional or not, is made by the warp and weft threads being interlaced. The resultant structure created at the loom is three dimensional, even if you are weaving with standard weaving yarns for a functional object. At times it's a challenge to realise, at the loom, what one wants to say, especially when translating contemporary, political, social, personal or environmental concepts into cloth, whatever the end purpose of the work.

Debbie: Tell us about how artists in this exhibition have responded to the quote. What do you think the challenges were for them.

Liz: The artists statements and artwork citations, especially the full statements for each Weaving matter artist on the ADC website, give a good indication of how they responded to the challenge of Albers' quote and the exhibition proposal. As described in the exhibition title, Weaving matter, most artists worked with interesting concepts, unusual materials or finishing processes.

Debbie: How do you think your experience as a weaver, as well as your wide-ranging knowledge of practitioners and the history of weaving, inform your curatorial practice, particularly with this project?

Liz: Every curator selects exhibitors on their knowledge of practitioner's ability to create work appropriate for the exhibition. Yes, of course my knowledge of weaving, contemporary and historical practitioners impacted on this project. I'm pleased to be in the position of showcasing the work of others, assisting them to profile and exhibit their work, alongside introducing a new audience to what contemporary practitioners are doing at the loom.
Over the years, I've curated many exhibitions of contemporary textiles, weaving and student work, so I've also have brought curatorial experience to this project.
Debbie: In view of the concepts behind this exhibition, what can you see as the future position of weaving within contemporary design and craft practice?

Liz: I've no doubt that the future position of weaving within contemporary design and craft practice is nothing but strong. Currently, there is growing interest in contemporary textiles and weaving – in 2023 alone, several textiles exhibitions have been shown in major Australian galleries, with many touring regional galleries for several years.
People have responded very positively when viewing Weaving matter: materials and context with comments indicating they have appreciated seeing the work of 14 contemporary practitioners – many of whom are established and well known, while others are relatively new to weaving and exhibiting.
Most practitioners in this exhibition are loom weavers – using different types of looms to create their works although one has used a simple pin loom, most have used shafted or Jacquard looms. I have not included works made on simple frame looms in Weaving matter: materials and context.
Learn more about Liz Williamson here

Explore the exhibition Weaving matter: materials and context here
Anni Albers, Material as metaphor written in 1982 and published in Anni Albers: selected writings on design, edited by Brenda Danilowitz, Wesleyan University Press, 2000. Page 73.
Image top: exhibition, Weaving matter: materials and context, installation view, artworks © the artists, 2023. Photo: Amy Piddington