Essay: CONCRETE art design architecture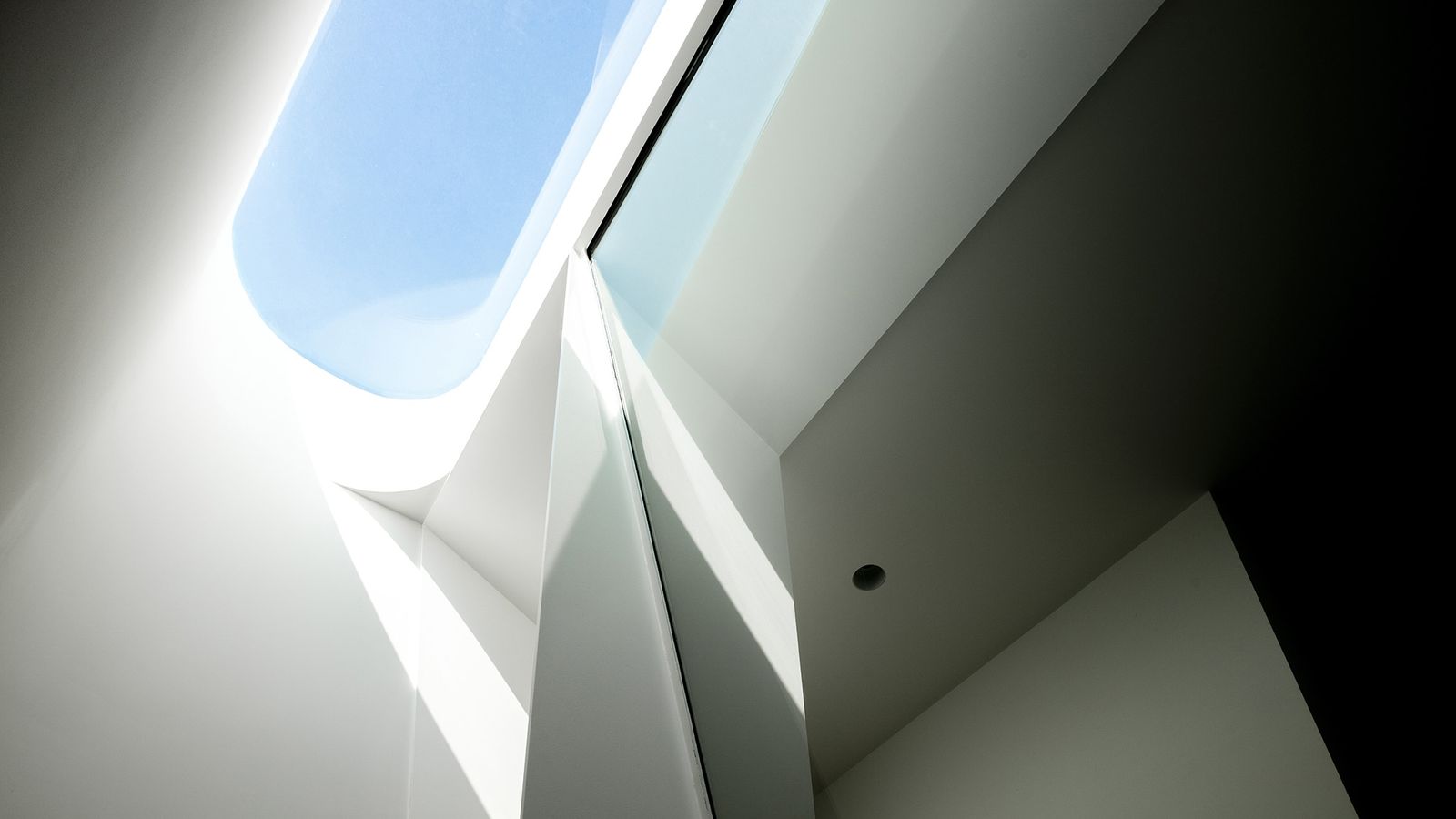 Concrete has conviction, strength and directness, but it has plasticity, too, which makes the possibilities for shape-making almost endless. It is hardly surprising, then, that in the hands of talented architects with the courage to fail, the incontrovertible fusion of concrete's plasticity and brute force can be turned into architecture of lyric beauty, intensity and timelessness.
I have read it more than once, and it still is a such an overwhelming idea: concrete is the most-used man-made material in the world today, second only to water as the most-consumed substance on the planet. Can that be true? It is such a staggering thought. In the truth of this fact, I cannot help but wonder – is it concrete's incredible ubiquity that renders its importance and necessity almost mute, or, inversely, could it be asked: are we even able to imagine a world without concrete?
Concrete has been with us for millennia. The basic ingredients – sand, water, and aggregate, a cement-like binder – were being mixed at least as far back as Egyptian times[1]. It was the Romans, however, who really became the masters of this material. The Romans had two distinct types of concrete mortar. One was made with simple lime and river sand, mixed at a ratio of three parts sand to one part lime. The other – more superior – mortar used pozzolan[2] (a volcanic sand formed from the Campi Flegrei volcano), mixed at a ratio of two parts pozzolan to one part lime.[3] The resulting material was stronger and denser, enabling a greater load-bearing capacity for building. 
Pozzolan-based concrete also had the added advantage that it simply got harder over time. Many of the Roman Empire's pozzolan concrete structures remain standing today; Rome still boasts the Coliseum, with its foundation formed from cast concrete, and the impressive Pantheon. The Pantheon's 43.3-metre dome is still the world's largest non-reinforced concrete dome, and was achieved by using crushed pumice as the aggregate to lighten the load. 
With the fall of the Roman Empire the secrets of concrete were lost, and it was not until the early nineteenth century that modern concrete was born. In 1824, Joseph Aspdin of Leeds, UK, patented a method of making artificial stone by roasting limestone and clay and then grinding them to a powder. The process was later refined by Aspdin's son William to produce a material resembling the cement used today. Aspdin named it Portland cement for its similarity to Portland stone, a building stone widely used in England. Interestingly, what was not known to the Romans at the time of their use of pozzolan was that the volcanic sand had been naturally calcinated, mimicking the process by which Portland cement chemically bonds lime to clay through the application of heat.
Concrete is strong in compression and very weak in tension. To picture this, imagine a board supported by two points. If you were to press down on the centre, the board will bend. The top of the board is under compression, whilst the bottom of the board is under tension. To give concrete tensile strength, it is reinforced with steel. Reinforced concrete's first notable structural appearance came at the Paris Exposition of 1867[4] when Joseph Monier presented his reinforced water tanks and troughs. It was not until 1892, however, that French engineer Francois Hennebique patented a complete reinforced construction system. Reinforced concrete freed architects from concrete's load bearing constraints, and has led many leading modernist architects to extol its virtues.
I deliberately disregarded the right angle and rationalist architecture designed with ruler and square to boldly enter the world of curves and straight lines offered by reinforced concrete. OSCAR NIEMEYER[5]
Concrete you can mold, you can press it into – after all, you haven't any straight lines in your body. Why should we have straight lines in our architecture? You'd be surprised when you go into a room that has no straight line – how marvellous it is that you can feel the walls talking back to you, as it were. PHILIP JOHNSON 
Many iconic twentieth century architectural buildings would not have achieved their striking forms without the use of reinforced concrete: Frank Lloyd Wright's Fallingwater 1939, Pennsylvania, USA. with its cantilevered floors, and the famous spiral of his Solomon R. Guggenheim Museum, 1959, New York, USA; Le Corbusier's sweeping roof of Notre Dame du Haut, 1954, Ronchamp, France; Oscar Niemeyer's crown-like sculptural columns of the Cathedral of Brasília, 1970, Brasília, Brazil; the exquisitely engineered vaulted and domed rooves of Pier Luigi Nervi's aircraft hangars, 1935, Orvieto, Italy, and his Palazzetto dello Sport, 1957, Rome); and Australia's own Sydney Opera House, 1973, whose sails soar due to the precast ribs designed by Jørn Utzon and engineered by Ove Arup, as well as Harry Seideler's MLC Centre, 1977, Sydney. Though their forms are disparate, it's clear that concrete has created a lyricism that excites our imagination.
Not all concrete architecture expresses this fluidity, however. The formality and raw nature of Brutalist architecture is defined by the 'blunt, brute force of its unadorned and uncompromising forms'[6]. Brutalism divides opinions – either you love it or you are repelled by it. I can say I firmly stand by the former. Growing up in Sydney, I was drawn to the Joseland Gilling-designed Masonic Centre, 1974, in Goulburn Street and Theodorus (Tao) Gofers' now-threatened-with-demolition Sirius building, 1980, in the Rocks. In contrast, international leading examples of Brutalism – including the social housing estates of Moshe Safdie's Habitat 67, 1967, Montreal, Canada, Erno Goldfinger's Trellick Tower, 1972, London, UK and the Sir Denys Lasdun-designed Royal National Theatre, 1976 on the Thames South Bank – are increasingly celebrated for their place in architecture's canon.
In many respects this Modernist like fervor to experiment with materials and novel techniques to create innovative forms and approaches in architecture, design and the visual arts is what inspires the poetic and innovative manipulations of concrete presented in CONCRETE art design architecture. It is the collective desire of the artists, designer and architects presented to push concrete beyond the mundane and every day, making it a fresh material of the 'now', that we see concrete presented in its many expressions: from rough, savage and brutalist through to sleek highly polished and burnished glass-like finishes. One of the great joys of unembellished concrete on a building's exterior is the way the surface will react to the play of light and shadow. It rewards an astute viewer; a concrete façade will act as a canvas for a moving image, enlivened by subtle shifts in grayscale, wrought by the weather and time of the day.
When speaking with Edition Office regarding the siting of Hawthorn House, 2018, the light and shadows from three well-established trees – a lemon-scented gum, oak and peppercorn – strongly informed their decision. The trees' shadows dramatically dance across the sheaf of rough Oregon-cut boarded concrete which cloaks the dual-pavilion dwelling. In contrast to this rawness, Smart Design Studio chose a crisp white cement fortified with fly ash for Indigo Slam, 2016. Indigo Slam's undulating and folded façade creates crisp shadow lines that move across this beautiful, livable sculpture. 
The transitory shift of light is captured and manipulated in the photography of Rhiannon Slatter. Her rag-printed photographs, which give the impression of being a watercolour or charcoal drawings, present multiple near-transparent layers of buildings in construction. Abstracted in presentation, they grant an enigmatic otherworldliness to our ever-changing urban landscape.
These themes are echoed in the sophisticated jewellery and objects of Inari Kiuru. Her A forest spirit visits the city alone series of concrete brooches describes the meeting of natural and urban elements. Cast from common concrete mixed with organic pigments and minerals, the materiality of the brooches echoes the hard structures and surfaces of the inner city environment, while their subtle tonality – created by pigments, glass fragments and sugar-fired enamel – gently reminds the viewer of the natural world around us.'[7]
In a post-911 world, our urban landscapes are continually altered and manipulated to provide heightened security measures for public spaces and important infrastructures and buildings. The first crude interventions were commercial concrete barriers dumped in areas of perceived threat. One cannot help but wonder what better kinds of interventions may have been presented if architects, designers and artists were given the brief and opportunity to create engaging mitigation strategies.
Skateboarders, free runners and parkour enthusiasts often highlight the underlying systems of control of our urban spaces. Navigating the cityscape as a playground, these activities offer participants a means to explore the city beyond the one you are told to behave in. This sense of rebellion and excitement is captured in the work of Convic, the world's foremost skateboard park designers. With avid and semi-pro skateboarders as part of their design team, Convic creates large-scale parks both in Australia and internationally, including SMP Skatepark in Shanghai, China, which, at 13,700m2, is the world's largest.
In addition to places for interaction, we also need moments of respite and reflection in the city. Due to the exposure to the elements and the frequency of use (and possible alternate use), our urban environment requires strength and durability from its outdoor furniture. Leading Australian designers such as Alexander Lotersztain, in collaboration with Ivanka in Hungary, and Adam Goodrum are taking up the challenge to provide both striking and elegant concrete solutions for city seating.
Jamie North's works of art are also inspired by our urban environment, as well as the wonderful optimism represented by plants that break through the cracks and crevices of our concrete jungles. In North's version of terraforming – the deliberate manipulation of an environment to make it capable of sustaining life – we not only see Australian native plants sustained on expressive versions of our harsh environs, but also the transformation and reuse of industrial waste – namely blast furnace slag – as part of the building materials in his sculptures.
Artists regularly act as a mirror to the world; they bring a light to difficult subjects and uncomfortable truths, and question our views on identity, culture, gender and race. With its density and immutability, concrete is often used metaphorically to warn us of erasure. Most potently this occurs in The Memorial to the Murdered Jews of Europe in Berlin, Germany. Designed by architect Peter Eisenman and engineer Buro Happold, and inaugurated in 2005, the Memorial consists of 2,711 rectangular blocks of concrete (or stelae, ancient memorials to honour the dead).
Quandamooka artist Megan Cope's artworks directly deal with erasure by challenging the notion that the First Nations people of this land were passive inhabitants without systems of habitation, agriculture and fishery. Cope's RE FORMATION series recreates middens of cast concrete oyster shells, repopulating sites stripped and mined by the colonisers. Significant middens, such as the one that once occupied the current site of the Sydney Opera House, provided the literal building blocks for the colony, burnt in lime kilns to create mortar.
In opposition to its often-brutish hard-edged persona, concrete is a liquid, a shapeshifter that can create incredible detailed facsimiles when poured into a mould. Abdul-Rahman Abdullah is a deftly skilled sculptor whose practice looks to memory and the role it plays in narratives and familial bonds. David, 2018, is a life-sized bust of Abdullah's brother-in-law, a boxer for over 25 years whose body and face tell the history of his many bouts. For this boxer fronting up, concrete seems the perfect medium to express the brio of masculinity.
Concrete's ability to express a strength and monumentality has seen it used in civic buildings such as town halls, theatres, and art galleries across the globe as a marker to cultural achievement. This monumentality or reverence is given a knowing twist in the work by Elvis Richardson. Richardson's art practice is steeped in a feminist critique of the structures of power. Making anti-trophies, Richardson expresses the fragility of achievement and opens us to a discussion about those who have been left out of our cultural practice for reward. In Elvis Richardson, 2018, Richardson engages the tropes of the sparking terrazzo concrete stars of the Hollywood Walk of Fame to question the systems at work within the art world.
Terrazzo also plays an essential role in the insightful public art practice of CHEB. Established in 2013 by glass artists Deb Jones and Christine Cholewa, CHEB has been a vehicle by which Jones and Cholewa have extended their visual arts practice into the public realm and product design. For CONCRETE art design architecture, they present CHEB products, a range of bowls, dishes, vases, candle-holders and small sculptural objects which display the incredible fidelity of mouldformed concrete.
Anna Horne's artwork is about oppositions at work. Capitalising on concrete's mimetic ability, Horne casts coloured concrete replicas of familiar plastic objects such as beach balls, plastic bags and machine stitched cushions made out of thick tablecloth PVC. Provided with a long curing time, Horne's concrete objects are able to maintain the shine of their original forms. This detail ensures her sculptures are in a constant state of flux as we question their materiality and physicality – what is soft, what is hard, what is light and what is heavy. 
The cohesive unity and minimalist aesthetic of concrete has made it the ideal material for use in religious buildings, from the exciting international master of concrete Tadao Ando's Church of the Light, 1989, Osaka, Japan, and Paolo Portoghesi's Church of the Holy Family – or 'Sacra Famiglia' – 1974, Salerno, Italy to more recent examples such as the Church of Seed, 2011, Guangdong, China by Hong Kong-based O Studio Architects, and Shonan Christ Church 2014, Kanagawa, Japan by Takeshi Hosaka.
CONCRETE art design architecture also features several different contemporary uses of concrete in Australia to express spirituality. The muqarnas (ornamental vaulted ceiling) of Candalepas's Punchbowl Mosque, 2018 celebrates concrete's liquid plasticity. Glenn Murcutt's Australian Islamic Centre, 2016 embraces traditional Islamic design and the spirit of the Australian suburban landscape. Baldasso Cortese's serpentine Tarrawarra Abbey, 2016 hunkers down in the landscape to provide a fire-safe refuge for its resident monks. Each of these buildings tells the story of Australia's migration and continuing diversity.
With all the positive experimentation that concrete avails, unfortunately one cannot shy away from the fact that concrete is a resource heavy industry and through pushing the material to greater heights many of our celebrated concrete building will need ongoing conservation and restoration.
Being a porous material concrete absorbs moisture and elements around it, moisture and oxygen causes the steel rebar in reinforced concrete to rust. When the rebar rusts it expands causing 'spaling', cracks in the concrete, which undermine the strength of the building. This degradation is known as concrete cancer. Kyoko Hashimoto and Guy Keulemans's Large Prayer Beads (Daijuzu), 2018, made in concrete and steel, use the same steel rebar present in the reinforced concrete. Over time these beads will begin to crack and eventually crumble and break apart. In their unmaking they challenge the industry to seek new technologies that advance concrete well into the future.
CONCRETE art design architecture presents diverse approaches to thinking and making. A selection of works form the 21 projects presented in this book and exhibition, and have been introduced under particular themes – light and shadow, identity, urbanity, monumentality, mimicry and technology. That being said, each project could equally be considered in relation to any of the other outlined themes. Objects made from concrete contain the deep geological history of the material used, as well as the skill and technology involved in its production. Through the range of outcomes presented, CONCRETE art design architecture draws similarities between the creative processes, problem-solving and design thinking across the various disciplines, and provides a mere snapshot of this material's potential and value.
This essay is republished with permission of Margaret Hancock Davis from the catalogue CONCRETE: art design architecture published in 2019.  
CONCRETE: art design architecture is a major exhibition exploring innovative ways that concrete is being used by artists, designers and architects in Australia in the 21st century. Australian Design Centre is delighted to present this incoming touring exhibition in Sydney produced by our partners at Adelaide's JamFactory. Curated by JamFactory's Margaret Hancock Davis (Senior Curator) and Brian Parkes (CEO), the exhibition includes 21 artists, designers and architects from across Australia and brings together products, projects and works of art that reflect many of the current preoccupations with concrete within contemporary art, design and architecture in Australia. Find out more here. 
---
[1] https://watershedmaterials.com/blog/2015/3/31/geopolymerconcrete-egyptian-pyramids-and-a-new-way-forward-forsustainable-masonry.com... 

[2] Vitruvius, an engineer and architect for the Emperor Augustus, wrote 10 books on architecture and engineering. He devotes an entire chapter in his second book to pozzolan, stating that 'there is also a kind of powder which from natural causes produces astonishing results. It is found in the neighbourhood of Baiae and in the country belonging to the towns round about Mount Vesuvius. This substance, when mixed with lime and rubble, not only lends strength to buildings of other kinds, but even when piers of it are constructed in the sea, they set hard under water.' Scientists today know exactly what Vitruvius's 'powder' was: volcanic ash – and the Romans had it in prodigious abundance. Herring, B. 2002. The Secrets of Roman Concrete, http://www.romanconcrete.com/r... accessed August 2018
[3] Herring, B. Ibid.
[4] It should be noted reinforced concrete was used by Auguste Perret and Gustave Perret in the building of Église Notre-Dame du Raincy, 1923, France. In this building Perret used reinforced concrete more for its economic and artistic potential rather than focussing on its structural potential.
[5] Niemeyer, O. (1998). Curves of Time: The Memoirs of Oscar Niemeyer
[6] Seale, K. (2017).  https://www.broadsheet.com.au/sydney/art-and-design/article/get-know-brutalist-sydney
[7] Kiuru, I. (2017) artist statement provided by artist. This series was first exhibited as part of Equinox, No Vacancy Gallery at Federation Square, as part of Radiant Pavilion in September 2017.