Essay: Concrete Paradoxes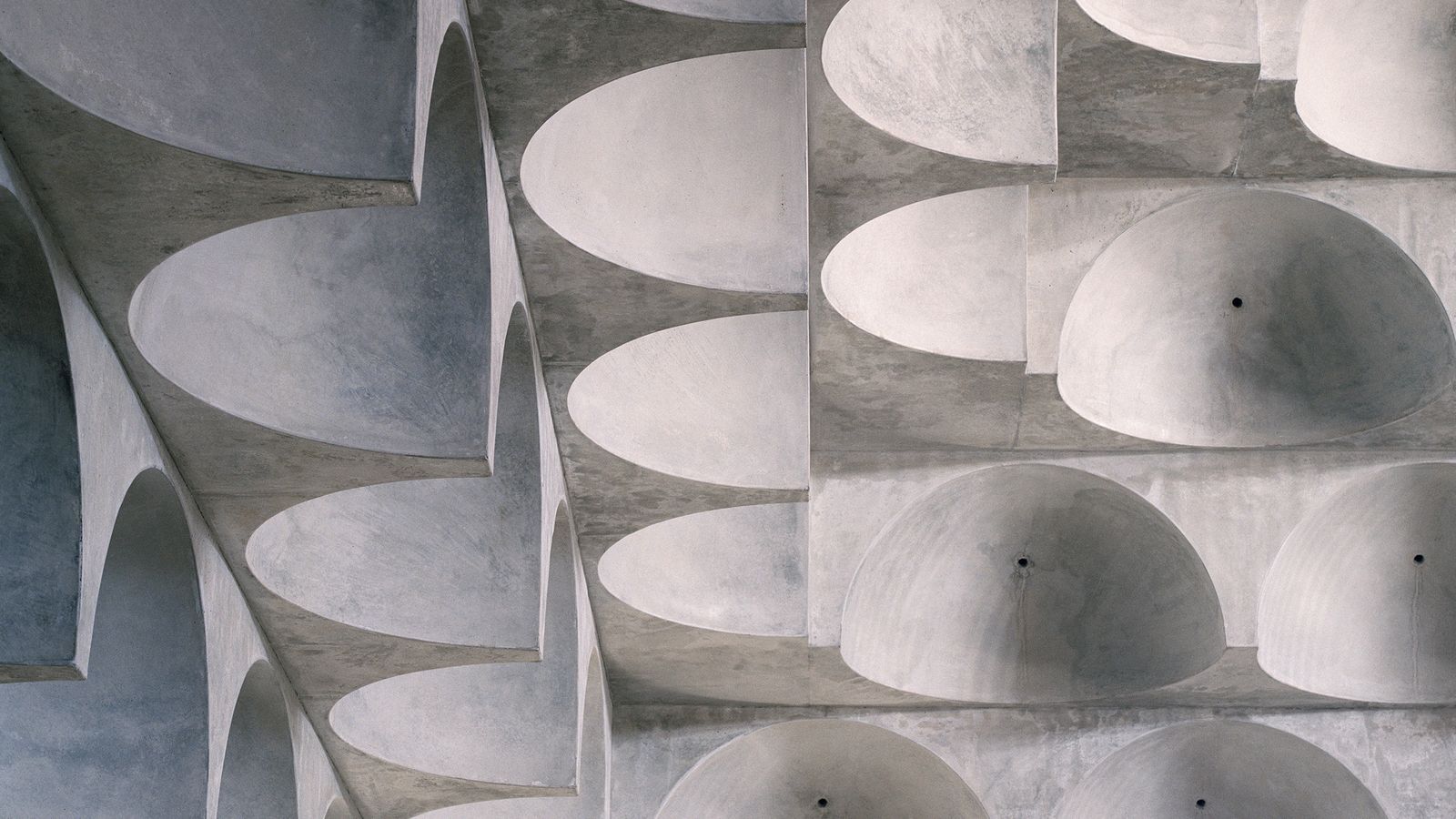 Concrete has long been linked with progress. It has a stark finality to it. When we say something is 'set in concrete', we mean it is fixed and unchanging. When we 'concrete over' something, we remove everything else in its path, including any signs of nature. 
The history of the 20th century can be written in concrete – in the role it has played in architecture and art, in how it has shaped our buildings, roads and bridges, and how it has been linked with both far left and far right politics. Both loved and hated, concrete is an essential part of Modernism and Brutalism for architects, and a key material for Minimalist artists. More recently, it has become the subject of contemporary artists and designers seeking to unpack – and in many cases reject – its symbolism. Concrete's future is uncertain, although an attempt to make it more environmentally sustainable is no doubt part of how it will continue to dominate, especially in the creation of our cities.
MODERNISM AND CONCRETE
Buildings in cement and concrete have existed since ancient Rome, but concrete in its modern form – strengthened with aggregates and reinforced with steel – is only about 200 years old, and it wasn't until the 1920s that it was connected to Modernism. In Evelyn Waugh's 1928 social satire Decline and Fall, one of the minor characters is an idealistic young Modernist architect, Professor Otto Silenus. Silenus has been commissioned by rich, fashionable socialite Margot Beste-Chetwynde to design her new house – something 'clean and square'. In the process, Silenus is so intent on 'the elimination of the human element from the consideration of form' that he laments, 'I suppose there ought to be a staircase'.1 In the 2017 television adaptation of the book, after Silenus asks Beste-Chetwynde to marry him, he says, 'I love her body as much as I love concrete.'2 Our contemporary association of Modernism with concrete and its inhumanity compared to romantic love makes the joke.
In his book Concrete and Culture, architectural historian Adrian Forty discusses the history of the material and how it came to be connected to the architectural movement of Modernism. He argues that even though by 1925 concrete was 'wholly identified' with modern architecture, 15 years earlier this was 'far from a foregone conclusion'.3 Instead, there was 'just as strong a body of opinion that saw concrete as an essentially traditional process whose origins lay in clay and mud construction.'4 Nevertheless, Forty argues, 'to talk about concrete means talking about modernity'.5 In a 2006 V&A Museum exhibition on Modernism, new materials were stated as one of the defining aspects of the movement: 'Economy was not the only motivation for using these materials. Architects saw them as inherently 'new'. They admired steel for its tensile strength, concrete for its resistance and glass for its ability to admit light.'6 Thanks to Modernism, concrete stood for progress. It made a statement about preferring new over old, preferring clean lines over ornamentation.
There were many things about concrete that were appealing to architects in the 20th century. Firstly, its ability to take on various shapes and forms – seamlessly shifting from floor to walls to roof – allows for what Forty calls 'monolithism': 'Compared to all previous methods of construction, where the procedure was the assembly of parts, reinforced concrete produced buildings in which there were no 'parts'.'7 Secondly was its universal nature, which devotees claimed made it the perfect material for a new architecture of the 'international style' that transcended national boundaries. As Forty points out, however, this 'international style' was actually a product of Western countries and reflected the
dominance of the West in the 20th century: 'The residual consequences of the creation of a universal style of architecture are still with us at the beginning of the twenty-first century, and concrete, implicated from the start, remains part of the problem.'8 Modernism and its links to concrete reached all parts of the globe, with many countries in Central and Sub-Saharan Africa erecting monumental buildings in reinforced concrete – often designed by European architects – in the 1960s and 1970s to celebrate their independence. A recent exhibition and accompanying book called African Modernism explored these monuments as they exist today, a fascinating insight into 80 buildings in five countries and how these young nations expressed their independence through Modernist architecture.9
CONCRETE AND POLITICS
The history of concrete and its use in architectural buildings is also closely entwined with the politics of the era. The Berlin Wall – that ultimate 20th century symbol of globally devastating political divisions – is concrete. Concrete has been most aligned with radical left politics, notably communism and socialism, right from the Russian Revolution in 1917. Fyodor Gladkov's classic socialist realist novel Concrete published in 1925, was set in a cement plant during and after the Russian Civil War. Concrete became the material of choice for the Soviets and was used in various constructions including official buildings and housing blocks, so much so that the idea of a social housing block in concrete is often linked to the Soviet era: 'In the UK, for instance, blocks commissioned by no one more radical than a constituency Labour Party are habitually described as 'Soviet' if they are repetitious and use reinforced concrete.'10 Many concrete architecture buildings are still standing in former Soviet Union and communist countries. Notable examples include Kiev's National Museum of the History of Ukraine in the Second World War, which has a monolithic concrete façade marked with a soviet star, and Georgia's Bank of Georgia Headquarters, which resembles a series of building blocks stacked on top of one another. In former East Berlin, the Stasi Headquarters are a stark reminder of the surveillance that East Germans were subjected to under communist rule – the building is concrete, uniform and precise; there is nowhere to hide.
Interestingly, concrete architecture was also popular with fascist politics. In Mussolini's Italy, concrete was used as part of the political ideology, with structures built from the 1920s to 1940s constructed with an emphasis on symmetry and simplicity.11 Probably the most distinctive and controversial of these is the Colosseo Quadrato, which was designed by Giovanni Guerrini, Ernesto Bruno La Padula and Mario Romano and completed in 1937. Commissioned by Benito Mussolini when he was planning for the 1942 World Fair to be held in Rome, the building's arches echo the Colosseum in a neo-classical statement of power and might. Concrete was a key player in this building and many others, such as the Palazzo dei Congressi and the Palazzo di Giustizia, each one monolithic and stark, offering an architectural statement that – perhaps ironically – echoes the same buildings constructed by the communists they were fighting.
BRUTALISM IN 1970S AUSTRALIA
While concrete is a Modernist material, it is in Brutalism that we see concrete laid bare in all its ugly beauty. Brutalism originated in Europe in the 1950s and revelled in the raw, uncoated, unpainted concrete monolithic form: 'With the rough and robust aesthetics of Brutalism, concrete was finally celebrated for its innate qualities, with massive forms, sometimes rough or bush hammered, at other times smooth, with exaggerated muscular structures.'12 It soon spread to other parts of the world, where it was most often used for social housing, universities and government institutions. In Australia, Brutalism developed alongside the movement in the UK; London's Barbican Centre, for example, was designed as a residential utopia, its rough and 'brutal' concrete forms becoming home to a community complete with schools, shops, restaurants and cultural facilities.
Some of our most important institutions are in the Brutalist style, with bare concrete expressed as exterior and interior in a monolithic style. These include Canberra's High Court and National Gallery of Australia, both designed by Colin Madigan. In Sydney, one notable example is the Sirius building, a housing block designed for the Housing Commission of New South Wales in 1978-79 by architect Thoedorus (Tao) Gofers. This building has famously been the subject of ongoing controversy following its intended sale by the NSW Government and resulting public campaign to save the building. The Sirius features pod-like concrete structures, each one stacked on top of the next like a Donald Judd minimalist artwork. This repetition of monolithic concrete forms can also be found in Canberra's bus stops, a series of round, hut-like shelters that dot the suburbs like mini architectural sculptures. Designed in 1974 by architect Clem Cummings, the shelters feature a basic geometry – a circle and a square. The result is 477 Brutalist bus stops for the nation's capital.
BREAKING THE (ARCHITECTURAL) MOULD
Ironically, concrete has also been used in buildings that are totally different in character to Modernist, Brutalist or monolithic structures. The work of Catalan architect Antoni Gaudí is a perfect example. Although a practitioner of Modernism, Gaudí's organic style was inspired by nature. There is nothing monolithic about his soaring towers of the Sagrada Familia temple; they are highly complex forms inspired by the mathematical geometry of the hyperbolic parabolic and the hyperboloid, with pillars shaped like bones and tendons, and further decorated with sculptural figures. The overall result, while made in concrete, is Gothic.13 An antipodean echo can be found in Paronella Park, an architectural folly designed and built by Spaniard José Paronella in remote far north Queensland in the 1930s. Consisting of a castle, bridges and a tunnel, with picnic area by the waterfall as well as tennis courts, the park was built by Paronella and his wife Margarita using cement made from local clay and sand from the creek, with old railway lines for reinforcement. After a period of disuse and disrepair, the park has now been reopened as a decaying relic, but the ornate style of the building can still be seen – a Spanish-style castle in the middle of the rainforest.
More recently, concrete has been used time and again by architects in ways that are contrary to the monolithic style of Modernism and Brutalism. Punchbowl Mosque, designed by Angelo Candalepas and completed in 2017, is a contemporary piece of concrete architecture that glories in this material's ability to take any form. Parts of the exterior have a monolithic feel, but inside tells a different story. There are no clean lines and minimal geometries here, but instead the beauty of repeated patterns: a large ceiling dome is surrounded by 99 domeshaped reliefs, their shapes creating wave-like peaks and troughs. These interior patterns bring the building to life, all in concrete. Candalepas cites Colin Madigan, the Brutalist designer of the High Court and National Gallery of Australia, as his mentor but takes the architecture one step further with this mosque, which he describes as a 'work of shadows against the light'. For him, concrete is a material that extends through time: 'This mosque is designed to have within it the sense of all history. Concrete, the material of our time, can be a material for all time. Concrete will bring its present relevance to our collective consciousness through the subconscious delight of such a building.'14
This is only the latest example in a series of buildings worldwide that have extended the aesthetic capabilities of concrete beyond Modernism and Brutalism's monolithic style. The focus of Japanese architect Tadao Ando's Church of the Light, completed in 1999, is not its concrete structure, but rather the two simple slits in the wall that, as light streams through them, form the Christian cross. Zaha Hadid's body of work is also often realised in concrete, but it is not this material that allows its incredible flow of form and fluidity; it is Computer-Aided Design. Her MAXXI: Museum of XXI Century Arts, completed in 2009, in Rome is a dynamic and interactive space, where curved walls are rendered in concrete for completely aesthetic reasons. A different approach again can be seen in Serpentine Pavilion 2018 designed by Mexican architect Frida Escobedo, where layers of standard concrete roof tiles form the walls of a series of outdoor rooms. The repetition of the tiles' shape creates a lattice-like effect with different degrees of transparency, while the walls themselves act as breeze blocks, allowing the air to circulate through. Here, the use of concrete has achieved an effect that is almost the antithesis to the monolithic style of architecture with which concrete is often associated.
Adrian Forty refers to the embrace of concrete architecture since the 1990s (after it went out of favour in the 1970s) as a 'renaissance' in which concrete is not used for its technical possibilities but for its aesthetics. He says that in Hadid's case, for example, 'the choice of material is arbitrary and makes no difference to the structure, only to its appearance.'15 Concrete is still used regularly in contemporary buildings, and in Australia can be seen in a huge range of work, including Smart Design Studio's Indigo Slam, 2016, the façade of which is defined by the use of it.
Monolithic, symbolic and ubiquitous, concrete looms large in the waking dreams of architects, who – more than any other profession – have lauded the material to the point of obsession. Perhaps this is why so many contemporary visual artists and designers are now engaging in the idea of concrete in relation to architecture, progress, Modernism and the city, even if, in many cases, their work presents an outright rejection of those values.
MINIMALIST ART, CONTEMPORARY ART AND DESIGN
In the art world of New York in the early 1960s, the Minimalist movement was interested in creating artworks with heavily reduced forms, taking the turn from figuration to abstraction to new levels. Though its proponents – such as Donald Judd, Carl Andre and Sol LeWitt, all of whom worked in concrete – did not always agree on the term 'Minimalism', their works of art were a backlash to Abstract Expressionism, which they saw as too 'overly expressive and too concerned with the artist's inner feelings'.16 This new movement took the Minimalism of painters such as Kazimir Malevich from two dimensions into three. Concrete was one of the key materials of choice for sculptures that reproduced geometric forms, often in stacks. Donald Judd's 15 untitled works in concrete, 1980-1984, is a series of 2.5 and 5 metre concrete slabs constructed into basic box forms. Built in the middle of a scrubby, dusty field in Marfa, Texas, the artwork is empty and quiet, the concrete offering up a blank material devoid of personal expression or emotion. Here, like Brutalist architecture, Minimalism is about embracing the starkness of concrete – its inherent inhumanity. In many cases, the repetition of the stacking concrete forms in Judd's and other minimalists' artwork is echoed in the design of Brutalist architectural buildings, such as the blocks of concrete that make up the Sirius apartment complex.
More recently, visual artists and designers working in concrete have once again used the material to reference buildings and architecture, and also the progress of the modern city. UK artist Rachel Whiteread's artworks deal with memory and place, and she uses concrete as a material often. Her 1993 Turner-Prize-winning sculpture House was a cast of a condemned London house, created by filling the building with liquid concrete and stripping away the exterior once it had set. Coming at a time when regeneration was seeing the then-working-class East End of London completely transformed, House created a huge impression, inspiring a 'polarised and universally zealous reaction.'17 The choice of concrete is arguably key to House's controversial nature, turning the history and humanity of an old, abandoned building into a cold, monolithic, stark reminder of the city's progress at the cost of the human element.
Also in London, designer Paul Cocksedge's most recent project deals with the same issues of gentrification and the unaffordability of London, following his eviction from his studio to make way for a new propertydevelopment. EXCAVATION: evicted is a series of five furniture pieces made from concrete and other materials that Cocksedge excavated from the building's floor and foundations, reflecting the history of the building now due for demolition. Presented at the 2017 Milan Furniture Fair, the series comprises a shelving unit as well as four glass-topped tables with concrete bases. Here, concrete as a material offers a statement about our relationship to buildings and their history. Due to the circumstances of his eviction, Cocksedge's piece also makes a powerful protest against landlords who seek to develop properties as a money-making exercise without consideration of history or the building's current use.
In Australia, Callum Morton's artworks also explores the relationship of human beings to buildings, with several of his works of art referencing concrete and Modernist structures. Valhalla, completed in 2007, is a three-quarter-scale version of Morton's Melbourne childhood home, which was originally designed by his architect father. Valhalla stands as a monument to this home – now demolished – and is symbolically presented as a smouldering ruin, complete with graffiti and all the signs of an abandoned building. Inside, however, the interiors present a space similar to a commercial lobby – cold, impersonal and anxious. Although made of a mix of materials rather than concrete, the artwork is like a monolithic Modernist structure gone to seed. Here, the comforting memories of his childhood are reduced to a decayed, indifferent ruin. One Australian artist who has used concrete in connection with the destruction of buildings is Nicholas Mangan. Inspired by Walter Burley Griffin's Pyrmont incinerator, which was built in the 1930s, Mangan's artwork Some Kinds of Duration, 2011, focuses on the incinerator's 1992 demolition, which reduced the building – once an art deco piece of architecture influenced by Mayan and pre-Colombian architecture – to nothing. Mangan was inspired by the only remnants of this lost building – including photographs and reams of photocopied material – in his creation of the artwork, a photocopier cast in crumbling concrete. Here, Mangan tells a story through the photocopier itself, which resembles the incinerator's Mayan and art deco architecture. Another connection is also made; Mangan states that he is: 'drawing a connection through carbon – the incinerator reducing matter to carbon and a photocopier using carbon to reproduce.'18 Once again, concrete as a material is linked to architecture and its symbolism: yesterday's progress is today's crumbling ruin.
SUSTAINABILITY AND CONCRETE FUTURES
The future of concrete lies in our ability to address one of the most pressing aspects of its nature: the fact that concrete is, on balance, not environmentally sustainable. The sheer amount of concrete produced in the world is hard to comprehend. While it is difficult to estimate total figures, cement production has increased by 950% since 1960, while steel production has only tripled.19 Concrete is also estimated to annually consume eight billion tonnes of raw materials.20 Its production is a major contributor to CO2 emissions. While concrete can be a valuable material in increasing thermal mass (and therefore decreasing the electricity required to heat or cool a building, along with its associated CO2 emissions), it remains that once a concrete building is demolished, the remaining material is not recycled but generally ends up as landfill. Structures made of steel, brick and timber can be dismantled and reused, but while concrete can also be reused as aggregate in new concrete, this is far from common practice.21
Some of the most interesting moves in the direction of concrete's sustainability involve the use of sustainable materials within the concrete mix, such as hemp, which has the benefit of being a fast-growing and renewable fibre that replaces other ingredients. Hempcrete, made in Australia, is one such product, and also promises to reduce CO2 emissions.22 Another Australian product that uses alternate ingredients is Eco-cement, which incorporates reactive magnesia and actually absorbs CO2 emissions.23 International innovations are also constantly being developed, including a fungus concrete that allows structures to self-repair and fill cracks24, as well as a graphene concrete that uses nanoengineering technology to make the material twice as strong while reducing CO2 emissions.25
While these innovations point to a positive future for the use of concrete as a sustainable material, some things are harder to change. Concrete is still linked in our minds with Modernism – clean and square, that monolithic block that obliterates all else. In their 2018 exhibition Coded Nature at the Stedelijk Museum in Amsterdam, Dutch designers Studio Drift presented their most recent work, Drifter, 2017. Here, the monolithic concrete block is presented incongruously as a weightless floating object that slowly rotates in mid-air. How they achieved it is unclear, but the image they create is compelling – the idea that this solid, unchanging material is perhaps capable of sublime transformation.
This essay is republished with permission of Penny Craswell from the catalogue CONCRETE: art design architecture published in 2019.  
CONCRETE: art design architecture is a major exhibition exploring innovative ways that concrete is being used by artists, designers and architects in Australia in the 21st century. Australian Design Centre is delighted to present this incoming touring exhibition in Sydney produced by our partners at Adelaide's JamFactory. Curated by JamFactory's Margaret Hancock Davis (Senior Curator) and Brian Parkes (CEO), the exhibition includes 21 artists, designers and architects from across Australia and brings together products, projects and works of art that reflect many of the current preoccupations with concrete within contemporary art, design and architecture in Australia. Find out more here. 
[1] Waugh, E. (2012). Decline and Fall, Penguin UK, p.154-5.
[2] Decline and Fall, BBC One, Series 1, Episode 2, 0:26:37.
[3] Forty, A. (2013). Concrete and Culture: A Material History, Reaktion Books, p.21.
[4] Forty, A. (2013). Concrete and Culture: A Material History, Reaktion Books, p.22.
[5] Forty, A. (2013). Concrete and Culture: A Material History, Reaktion Books, p.14.
[6] Modernism, Building Utopia, V&A Museum, http://www.vam.ac.uk/content/a...
[7] Forty, A. (2013). Concrete and Culture: A Material History, Reaktion Books, p.34.
[8] Forty, A. (2013). Concrete and Culture: A Material History, Reaktion Books, p.102
[9] Herz, M. with Schröder, I., Focketyn, H., and Jamrozik, J. (Eds) (2015). African Modernism: The Architecture of Independence. Ghana, Senegal, Côte d'Ivoire, Kenya, Zambia, Park Books.
[10] Hatherley, O. (2015). Landscapes of Communism: A History Through Buildings, Penguin UK, p.11.
[11] Mafi, N. (2016). 'Fascist Architecture Through the Ages', in Architectural Digest, https://www.architecturaldiges...
[12] Willis, J. (2012). Cement and Concrete in Goad, P. and Willis, J. (eds) (2012). The Encyclopedia of Australian Architecture, Cambridge University Press, Melbourne, p.137.
[13] Mears, C. (2003). Concrete. Byera Hadley Travelling Scholarship Report, 33. Retrieved from: https://www.architects.nsw.gov...
[14] Candalepas, A. (2018). 'Punchbowl Mosque Sydney', in C+A, Issue 29, May 1, 2018, p.29.
[15] Forty, A. (2013), p.289.
[16] Artsy Editors, 17 January 2015, On the Importance of Donald Judd, https://www.artsy.net/article/...
[17] Warde-Aldam, D. (2013). Ghost House, in Apollo. Retrieved: https://www.apollo-magazine.co...
[18] Mangan, N. (2012). Some Kinds of Duration. Retrieved from: http://www.nicholasmangan.com/...
[19] Sakai, K, Noguchi, T. (2012). The Sustainable Use of Concrete. CRC Press, 1.
[20] Forty, A. (2013), p.69.
[21] Forty, A. (2013), p.77
[22] Hempcrete. Retrieved from: http://www.hempcrete.com.au/in...
[23] Eco-cement. Retrieved from: http://www.tececo.com.au/simpl...
[24] Beach, G. (2018). 'New self-healing concrete uses fungus to fix cracks' in Inhabitat. Retrieved from: https://inhabitat.com/research...
[25] Cooke, L. (2018). ''Game changing' graphene concrete is twice as strong and better for the planet' in Inhabitat. Retrieved from: https://inhabitat.com/game-cha...