Essay: Glass and the pandemic: shining light through the blackness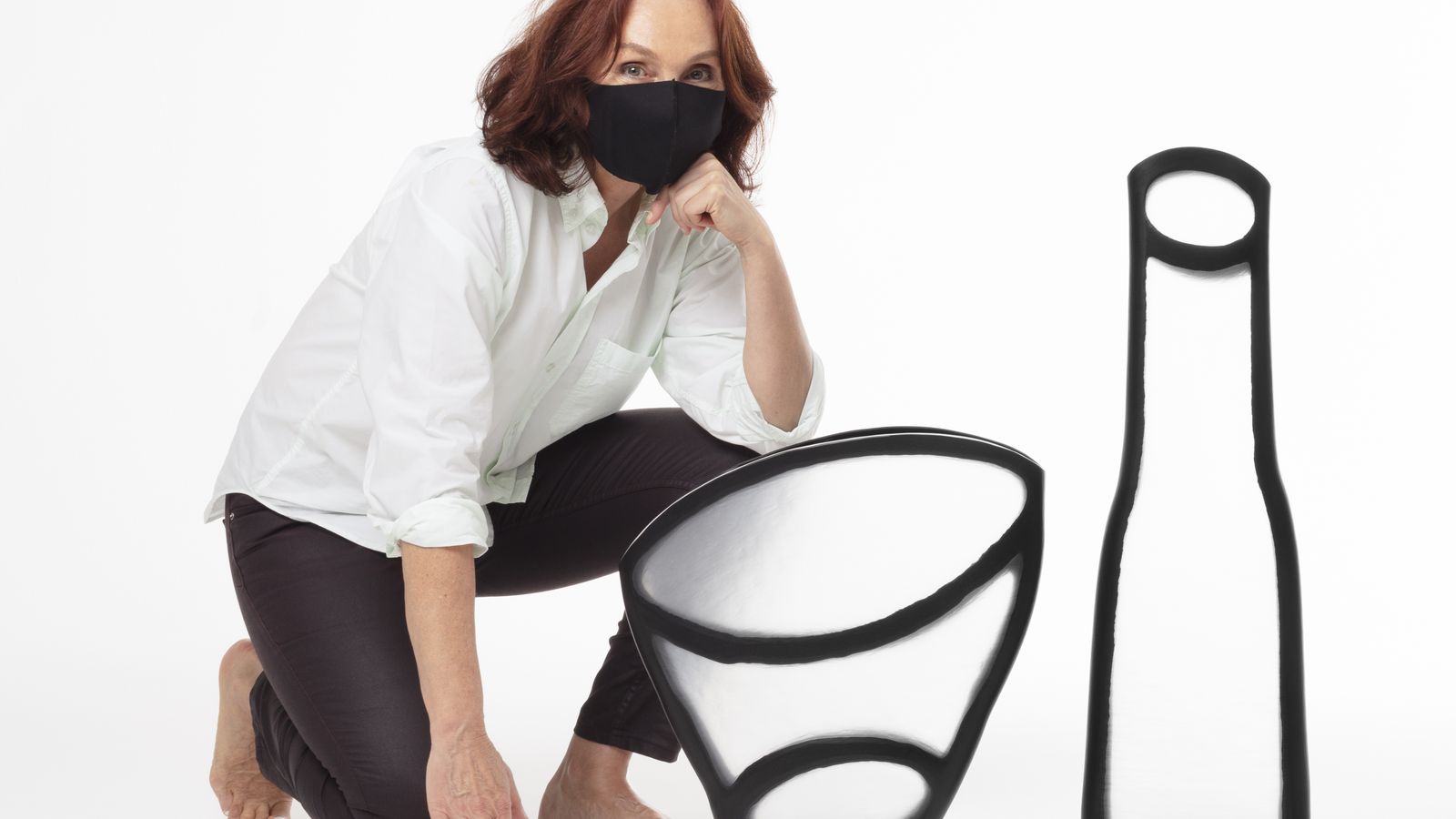 This essay is republished with permission of JamFactory and Eva Czernis-Ryl from the catalogue Fuse Glass Prize published in 2022. 
"More than a method or a means of executing my ideas, glass blowing for me is a language. It is a way of finding self, of knowing, of worlding. It helps me connect ideas, people and places… Through Covid I was confronted with how much I relied on it to find ground." Nadège Desgenetez, 2022
For most of us 2020 and 2021 were the years we'd rather forget. By the time Margot Osborne submitted her Fuse Glass Prize catalogue essay in March 2020, we had endured a catastrophic bushfire season and the first variant of the COVID-19 pandemic was on its rampant path of changing our lives. International borders were closing, the first Australian cases were isolating, bans on public gatherings were issued, and with no vaccine in sight, waves of painful lockdowns ensued.
"The years 2020-21 will forever be a void for me and my work," says Mittagong-based Scott Chaseling, who at the time was working — along with Arrernte artist Jenni Kemarre Martiniello in Canberra and Tim Edwards in Adelaide — on his Willoughby Bequest commission for Sydney's Powerhouse Museum. "Cancellations and restrictions dominated a life usually full of creativity, travel and production... [However] within the blackness there were cracks that let the light in. Solitude and stasis formed a new way of thinking. This then became a new way of making. Though hard at times to see, these small cracks of light shone a path to amazing projects now in formation." The initial 'shock to the system' caused by COVID-19 and resulting deleterious effects of the virus on the sector — closures of studio facilities, limited travel, and the cancellations and impossible delays of exhibitions, art fairs, workshops, teaching commitments and conferences both local and international — is a sentiment repeated by artists across Australia and to some extent in New Zealand. The annual 2020 GAS conference, which was to take place in Sweden with a contingent of presenting Australians, was indefinitely postponed and replaced with a virtual combination of live and pre-recorded presentations. The cancelled biennial Ausglass conference in Melbourne is now scheduled for February 2023.
The bright light that shone the path through the darkness appeared in the form of a multitude of new online resources, including free glass programs, lectures and seminars. Alongside government incentives, cultural bodies such Arts ACT and the Australia Council changed their grant schemes to a program that was designed to help the arts community survive the economic effects of the pandemic, as many artists were not eligible to receive the government support. Canberra-based glass artist Lisa Cahill draws out Craft Victoria's 'Studio Stories', an Instagram series that invited viewers into artist studios. "The Australian Design Centre in Sydney ramped up their online shop, heavily promoting the works to help garner sales for their artists," Cahill says. In parallel with these programs, the ground-steadying support came from private collectors and institutions through acquisitions and commissions. Together with carefully restructured tertiary glass tuition, these initiatives played a vital role in enabling numerous artists, educators, gallerists and students to navigate their lives, practices and businesses around the pandemic.
Western Australia and ACT
Mel Douglas (ACT) was the winner of the 2020 Tom Malone Prize for her work Tonal Value, a series of five glass drawings on paper, which entered the State Art Collection joining works by previous winners. Tonal Value was selected from works of fifteen finalists including Kate Baker (NSW) Clare Belfrage (SA), Peter Bowles (TAS), Lisa Cahill (ACT), Mel Douglas (ACT), Hannah Gason (ACT), David Hay (WA), Ben Edols and Kathy Elliott (NSW), Marc Leib (WA), Jeremy Lepisto (NSW), Jessica Loughlin (SA), Nick Mount (SA), Kirstie Rea (NSW), Jason Sims (SA) and Jarred Wright (QLD). The judges, who included Sydney's Warren Langley, stated about the winning work: "… A study in colour, form and transition, balance and counter-balance, it is both subtle and strangely energetic and animated. While a quiet work, it has an undeniable, even commanding, presence as each of the unit's two overlapping forms modulate over the work's length; moving from light to dark the work seems to shift into presence from absence, or from light to shadow… Composed from a type of printing and kiln fusing with glass powder, Tonal Value also evidences her commitment to creative experimentation and evolution with the always challenging medium of glass." A lecturer at the Canberra School of Art, Australian National University, Douglas says that returning to study after finishing her PhD in 2020 was "a gift for me… It allowed me to have a focused period to experiment, explore and refine my ideas and ways of working. I learnt so much about myself as a maker, my practice and the extraordinary material with which I work." While the pandemic altered her 2020 and 2021 schedule, she was able to mount a 2020 solo exhibition at Heller Gallery in New York, USA, and at Traver Gallery Seattle, USA, in 2021 where she showed Map + Measure. This major exhibition of refined work employed a minimalist aesthetic that expands our understanding of glass as a sculptural medium by exploring how line and form can define and defy our understanding of space and volume. Douglas has just been shortlisted in the Loewe Foundation Craft Prize 2022 for her engraved glass sculpture Deviation. This coveted international prize is awarded annually to artists who demonstrate an exceptional ability to create objects of superior aesthetic value. This year's 30 finalists were chosen by a panel of experts from over 3,100 submissions by artists representing 116 countries and regions. Their works will be exhibited at the Seoul Museum of Craft Art (SeMoCA), Korea, later this year.
The 2021 Tom Malone Prize featured the work of thirteen finalists: Kate Baker (NSW), Clare Belfrage (SA), Hannah Gason (ACT), Marcel Hoogstad Hay (SA), Rita Kellaway (SA), Gerry King (SA), Jennifer Kemarre Martiniello (ACT), Peter Kovacsy (WA), Jeremy Lepisto (NSW), Madeline Prowd (SA), Kirstie Rea (NSW), Ayano Yoshizumi (SA) and Madisyn Zabel (ACT). The winner of the $15,000 acquisitive prize was Ayano Yoshizumi for her mould-blown sculptural works ICON #2010. Originally from Japan, Yoshizumi has worked from Adelaide's JamFactory since 2019 after completing her placement as the second Asialink Artist in Residence at Canberra Glassworks. Her refreshingly different small-scale works from a series influenced by the Japanese concept of ma (negative space) were first seen in the 2020 FUSE Glass Prize. In early 2022 Yoshizumi showed work in the biennial Milano Vetro-35 exhibition in Italy where she was one of 32 finalists, and in the Elizabeth R. Raphael Founder's Prize in Pittsburgh, USA. In March she left Australia to take up a position at Toyama Institute of Glass Art in Toyama, Japan.
While the direction of the FUSE and Tom Malone prizes continue unchanged, the date and format for the postponed biennial Klaus Moje Glass Award is still to be confirmed following the Canberra Glassworks announcement in October 2021 of the appointment of Elizabeth Rogers, former Chief Executive of Regional Arts NSW, as the new CEO. Rogers pledges "continued collaboration with artists from other fields and with our First Nations People." It should also be noted that 2020 saw the legendary Klaus Moje AO (died 2016) included in the ACT Honour Walk in 2020, an award recognising his role as the founding workshop head of the Australian National University (ANU) School of Art Glass Workshop and a significant contributor to the development of Canberra Glassworks.
Canberra-based Kirstie Rae, an artist who trained under Klaus Moje, won the 2019 Klaus Moje Glass Award for her kiln-formed work What remains. Selected from 18 finalists, Rae received $10,000 in prize money and a four-week residency at Canberra Glassworks. Also a finalist in the 2020 Tom Malone prize, Rae was the 2020 Design Canberra festival designer-in-residence making new work that responded to the Festival's theme of 'care'. Her multi-piece commissioned glass sculpture With Care, composed of her signature glass blankets balanced in a threshold, was displayed at Craft ACT during the annual three-week event, celebrating Canberra as a global city of design and a living design laboratory. For the past two years, Rae has been working towards a major retrospective show at the Toyama Glass Art Museum in Japan, opening in March this year. Stretching back to 1986, her graduation year, Kirstie Rea — the breadth of stillness will be a milestone in the artist's career. The show will include a new installation of her 2021 work Reflect — an open invitation, which will show glass generated images with float glass panels and invite viewers into a space for reflection.
In 2020, Canberra Glassworks continued to pursue a balance between working with glass artists and supporting non-glass artists. A reduced number of five exhibitions were realised due to lockdown restrictions, three of which showcased artworks by artists new to using glass within their practices. Girramay/Yidinji/Kuku-Yalanji artist Tony Albert (QLD/NSW) created a significant new body of work for the exhibition Duty of Care and the 22nd Biennale of Sydney: NIRIN. It showcased his stained-glass window series Brothers and re-cast items of vintage objects made during his 2019 residency at Canberra Glassworks supported by a team led by Ruth Oliphant. Built on the body of work created for the exhibition Visible at QAGOMA in 2018, Albert explored notions of invisibility, using the transparency of glass to explore the concept of the lack of visibility of marginalised people. One of his windows was later included in the Unsettled exhibition at the Australian Museum in Sydney. Four glass artists, Simon Maberley (NSW; Smoke and Mirrors), Hannah Gason (Interval, Drill Hall Gallery, Canberra), Harriet Schwarzrock (ACT) and Brendan Van Hek (NSW) were supported by Canberra Glassworks in exhibitions, two of which developed in partnership with Suki & Hugh Gallery and Contour 556. Schwarzrock's Spaces between movement and stillness for the National Portrait Gallery comprised 120 glass-filled and electrically charged pulsating hearts in a captivating installation of colour and movement. Brendan Van Hek's exhibition Pattern and Effect also continued his engagement with neon, and his glass-blown works for the 2021 exhibition An Elaborate Scheme at Sydney's Sarah Cottier Gallery were supported by a team led by Tom Rowney.
Canberra Glassworks' exhibition program for 2020 has been made possible with the support of the extended residency program throughout 2019 and into 2020. They hosted 11 residencies for artists, the impact of travel restrictions and lockdowns led to two international residencies being cancelled and seven national residencies postponed. The artists in residence in 2020 were: Thomas Foundation Artists in Residence (TFAiR) Rob Schwartz (ACT), Jessica Murtagh (SA), and Madisyn Zabel (ACT), as well as Artists in Residence (AiR) Tom Moore (SA), Peter Nilsson (ACT), and Megan Cope (QLD/VIC). Canberra Glassworks also supported Bethany Lick (ACT) through the Emerging Artists Support Scheme (EASS), Graduates in Residence (GiR) Mark Penny (SA) and Bermi Dreyer (ACT), and 2020's Klaus Moje Award Residency, Kirstie Rea.
In January 2021, Canberra Glassworks staged Scott Chaseling's delayed exhibition The Redemption of Colour, in which the artist encouraged the audience to immerse themselves in the rainbow of colours as they walked around the panel made from coloured glass tubes, the design of which followed on from his earlier Hesperides: Out of Darkness Comes Light panel commissioned by the Powerhouse Museum. Chaseling now works from independent Studio OneFive in Mittagong, NSW, established with Gina Fairley, with a focus on low impact manufacturing and sustainable practice.
In May 2021, Canberra Glassworks presented Unbroken Connections by Quandamooka artist Megan Cope from Minjerribah (North Stradbroke Island) in South East Queensland. During her residency in 2020 and 2021, supported by glass artist Spike Deane and Peter Nilsson, Cope worked with a variety of techniques to explore the ongoing connection her People have had with the island for thousands of years and the unbroken connections between country, family and nature. Artists in residence in 2021 were Thomas Foundation Mentorship (TFMEN) recipient Karena Keys, Ngaio Fitzpatrick, Jacqueline Bradley and the acclaimed hyperrealist artist Patricia Piccinini, who included a range of unique works made from glass in A Miracle Constantly Repeated, a show-ecosystem of objects, video, sound and light for Rising festival. Piccini's project was supported by glass artists Annette Blair, Spike Deane, Tom Rowney, Peter Nilsson, Jacqueline Knight and Emma-Kate Hart. Glass teams at Canberra Glassworks also worked with other contemporary artists on their exhibitions, such as the Melbourne-based Mutti Mutti/Yorta Yorta/Wamba Wamba/Boonwurrung artist and designer, Maree Clarke, (2021 retrospective Maree Clarke: Ancestral Memories at the NGV, Melbourne, and The National 2021 at the MCA in Sydney) Gurindji/Malngin/Mudburra artist Brenda L Croft (installation 'hand/made/held/ground' at Canberra Museum and Gallery), as well as Elliat Rich's (NT) collaborative work with Professor Joel Person, Otherscope Mirror, a Powerhouse Hybrid Commission 2020. Canberra Glassworks closed with two hours' notice on 12 August 2021, with artists returning with limited access 6 weeks later and galleries reopening to the public and limited public programs in December. In February, Canberra Glassworks presented The Tener by Jacqueline Bradley (ACT) with her new body of work developed as part of the Artist in Residence program at Canberra Glassworks in 2021-22.
There were major changes to the Australian National University's (ANU) teaching program and staffing when a major restructure coincided with the pandemic. Following Richard Whiteley's departure in late 2019 to take up a role of Senior Programs Manager at The Studio, Corning Museum of Glass, New York, the new Senior Lecturer in the School of Art and Design, Jeffrey Sarmiento, was only able to arrive in Canberra in early 2022; he taught online from the UK until that semester. Two periods of intensive delivery in late 2020 and late 2021 made it possible for students to experience hands on classes in the workshop. Nadège Dezgenetez, who has taught in the Glass Workshop since 2005, believes that Covid measures crystallised the urgency of providing shared embodied experience to students, as a way of cultivating respect, empathy and accountability. In 2021, Desgenétez was invited to contribute to the 40th anniversary edition of French journal Revue de la céramique et du verre.
For Lisa Cahill, an ACT studio artist who had just completed a major studio renovation and began working on exhibition and commission work, the pandemic's arrival spelt a major disruption. Eventually, the delayed projects were restarted amidst a surprising spike in online interest. In July, she delivered her Pulse exhibition at Sabbia Gallery, which featured her dramatic wall panel Himalayan Cedar. When building projects were starting to move forward again, she was able to complete a Donor Wall made from sponsor-funded glass tiles for the Grafton Regional Gallery renovation, a fundraising initiative of the Gallery Director, Niomi Sands. She is currently developing new exhibition work in response to the devastating effects of the bushfires of January 2020, which she feels have been overshadowed by the pandemic, as well as working on a new large architectural artwork for a hotel foyer in Georgia, Atlanta, USA. Like Cahill, Jeremy Lepisto also works from an independent glass studio, Jeremy Lepisto Projects, in Queanbeyan where he helps artists, designers and architects create their ideas in custom made glass. He had a solo exhibition at Thor's Hammer Mixing Room Gallery, Canberra, Basic Constructs — Jeremy Lepisto'21, showing works inspired by facades of buildings, city power lines and the effects of time on the built environment.
Craft ACT kept going in 2020, and in July 2021 announced the appointment of Jodie Cunningham, as the new Chief Executive Officer and Artistic Director. During the 2021 lockdown, their annual Design Canberra festival was cancelled and replaced with Nurture, a program of virtual and small-group events, including an auction of artworks. Craft ACT glass exhibitions included Distorted Trajectories with works made using traditional Venetian cane and murrine techniques by Marcel Hoogstad Hay and Madeline Prowd in 2020, and Mark Elliott's fabulous travelling show The Essence of Cloud, in 2021. Sydney-based Elliot's fantastical exhibition storyline, developed around the quest to extract the essence of clouds using flame-worked glass and other media, demonstrated that the artist can also extract pure joy from his mesmerised audiences. Coinciding with Craft ACT's 50th Anniversary, the gallery is currently showing You get a Rhythm about it, an exhibition of the work of Peter Minson spanning his 60-year career as a lampworker.
In November 2020, enriching Canberra's glass-exhibiting galleries network, a new cross-disciplinary gallery, Grainger, opened in Fyshwick presenting works by Lisa Cahill, Peter Nilsson and Jessica Murtagh from Adelaide. Murtagh's work was highly commended in the Wagga Wagga National Emerging Glass Art Prize in 2020; she was a finalist in the Milano Vetro -35 glass prize in Italy and has recently showed a body of work alongside fellow glass artist Rita Kellaway, in Vi Naturae at Urban Cow Studio in Adelaide.
New South Wales
In New South Wales, opening the doors of the Old Teacher's College on the main campus of the University of Sydney in 2020 was a momentous milestone for the Sydney College of the Arts. The successful completion of the move from Callan Park to the new home reimagined by ARM Architects and overseen by Andrew Lavery, Director of the School, provided a welcome opportunity for the Glass Studio to seamlessly fuse with the university. The external hot workshop screen, which you can look through from outside, partially reveals state-of-the-art studios complete with a Wet Dog furnace and three glory holes. When the pandemic hit, a well-ventilated space, rotation of students, online projects and artist talks, ensured that the studio remained busy teaching glass as a contemporary art subject. Like Bisetto at UniSA, Cobi Cockburn, who oversees the SCA glass studio, stresses the continuing priority given to process but also notes a shift from the medium specific glass student to that exploring cross-disciplinary paths that may offer further professional or artistic opportunities. One such student is Sydney-based artist Anna May Kirk who explores the possibilities of glass both as a material and metaphor used in the broader contexts of art and science. For Pyriscene: After Fire, her 2021 sensory installation made from blown-glass and eucalyptus oils, and commissioned by the Powerhouse Museum for the acclaimed Eucalyptusdom exhibition, Kirk collaborated with scent-maker Ainslie Walker while looking at the iconic gum tree through the prism of an imagined future in multispecies collaboration with the fire-adapted eucalypt.
Sydney's Sabbia Gallery excelled at keeping the gallery open virtually and intermittently in the gallery spaces throughout 2020 and 2021. In addition to those exhibiting in group shows, artists presenting solo shows were: Tim Edwards (Elements), Brenden Scott French (Temporal Looping), Emma Varga (Forces of Nature), Madisyn Zabel (Edge), Matthew Curtis (Lumnious Margin), Christine Cathie (Light Cast), Jessica Louglin (The Blue Distance), Lisa Cahill (Pause), Clare Belfrage (Deep Skin) and Nick Mount (The Spring). Holly Grace's A Lost Song inaugurated Sabbia's 2022 exhibition program, followed by Giles Bettison's Suspend in March.
Emma Varga's (NSW) show at Sabbia was the first of four in her Revival series supported by a CREATE NSW grant and marking 50 years of her career as a glass artist. Further exhibitions will be shown at Australian Contemporary, Wagga Wagga Art Gallery and Manly Art Gallery & Museum. In September 2021, Varga exhibited her pâte de verre objects at Venice Glass Week 2021 HUB exhibition. Kate Baker's (NSW) significant achievements include her inclusion at the Toyama International Glass Triennial 2021. More recently her work from Within Matter series has been announced as a finalist in the 2022 Tom Bass Sculpture Prize. Baker's entry in the prestigious Corning Museum of Glass New Glass Now exhibition is still showing along with works by Matthew Curtis, Mel Douglas, Nadège Dezgenétez, Jessica Loughlin, Kirstie Rea, Blanche Tilden, Jennifer Kemarre Martiniello and Judi Elliott at the Renwick Gallery, Smithsonian Museum, Washington DC, USA and will travel to the Toyama Museum of Glass, Japan, in later 2022. Baker's much anticipated solo exhibition at The Shanghai Museum of Glass is due to open in April 2023.
Ben Edols and Kathy Elliott collaborated with Leanne Tobin, a multidisciplinary artist of Dharug heritage, in the production of The Call of Ngura, a major component in her installation Ngalawan – We Live, We Remain: The Running of the Eels, 2022. Commissioned for the 23rd Biennale of Sydney for display in the cavernous space of Sydney's Cutaway at Barangaroo, the work shares a Dharug creation story and the glass eels and their reflections remind us of the ongoing fight the Dharug have endured since colonisation and the adaptive qualities of the eel. The smaller clear glass eels were made at Denizen Glass Studio run by Rob Wynne in North Manly and the larger coloured glass eels were made in Canberra Glassworks in January 2022.
During the past two years of lockdowns and disruption, Sydney glass artist NOT continued his interest in recycled, archival or outmoded materials. Unable to access Canberra Glassworks where he makes his glass, NOT made works from discontinued neon glass, old television screen and uranium glass for Invisible Hand, his solo exhibition at Sydney's Kronenberg Mais Wright in September 2020. Kiln formed glassworks made between lockdowns were displayed in Song cycle, a set of singing bowls in lead crystal glass that was shortlisted for the 66th Blake Prize at Casula Powerhouse in February 2021, and Syntagma Square, a sculpture made from recycled television and lead crystal glass, which won the second prize in the Adelaide Hellenic Studies inaugural 'By George! Biennial International Art Prize 'in October 2021.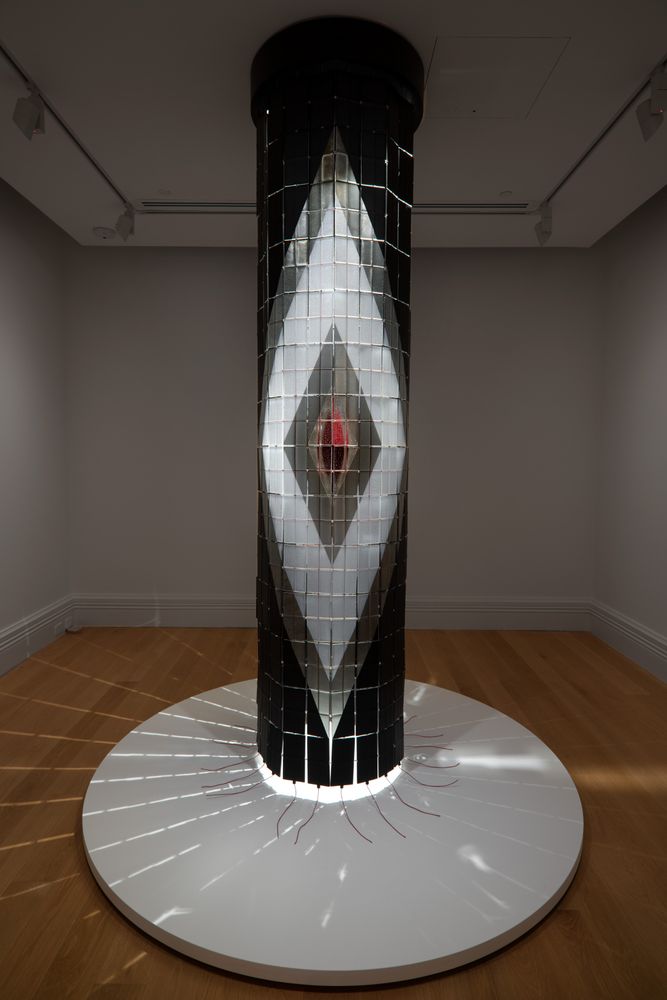 New Zealand
In New Zealand, artists and gallerists worked hard and creatively during the past two years, ensuring a lively presence both online and within the public and commercial spaces, reports Justine Olsen, Curator of Decorative Arts at the Museum of New Zealand Te Papa Tongarewa in Wellington. Sustainable practices have been of considerable interest and in 2021, Lava Glass from Taupō announced that they have achieved a carbon neutral status. There has been a significant presence of Māori glass artists building an important cultural profile. Among significant achievements in 2021 is the majestic waka (canoe) Guide Kaiārahi made from hundreds of shimmering crystals by Reuben Paterson (Te Arawa, Ngāti Rangitihi, Tūhourangi and Scottish ancestry) and the soaring installation at the entrance to Auckland Art Gallery, Toi o Tāmaki, made with UAP Brisbane and owned and supported by the Edmiston Trust. The work refers to an apparition of a waka taua or war canoe sighted by local Māori guide Kaiārahi Te Paea Hinerangi on an excursion across Lake Tarawera days before the eruption in 1886. Reuben Paterson whose whanau or family continue to live in the region, sees this work as a 'guide, a leader and escort' during uncertain times. Also showing in 2021 at Auckland Art Gallery Toi o Tāmaki was the glass installation Eunoia by Te Rongo Kirkwood (Wai o Hua, Ngai Tai ki Tamaki, Te Kauwerau a Maki, Ngapuhi, Taranaki and of English and Scottish ancestry). It was part of the ground-breaking Māori art show Toi Tū Toi Ora: Contemporary Māori Art. Te Rongo Kirkwood drew on kahuki, a traditional Māori weaving pattern to create a work informed by whakapapa or genealogy. Later in 2021, she was the first recipient of the Residency at New Zealand Glassworks in Whanganui. The ensuing exhibition focused on the cultural significance of the hue or gourd and was held in New Zealand Glassworks, Whanganui in early 2022. Kirkwood's work involves the Te Ao Māori or Maori world view. During mid 2021, artist Mike Crawford (Ngāti Raukawa and of Scottish descent) showed his cast glass in an exhibition Roa at Masterworks Gallery, Auckland. During lockdown in March 2020 Masterworks Gallery created the online exhibition 'From the studio' featuring the work of Luke Jacob along those by his glass colleagues, including his father John Croucher. Croucher's death in September 2021 was a major loss to the glass community who mourned the passing of co-founder of legendary Gaffer Glass, who developed with John Leggot and distributed a supreme range of coloured glass since 1993. Notable 2021 Masterwork Gallery exhibitions included Wendy Fairclough's Commonalities II and Emma Camden's Void from which the Museum of New Zealand Te Papa Tongarewa acquired Pillar. Exhibitions in 2020-21 at Avid Gallery, Wellington, included Luminous, a group show of glass artists Crystal Chain Gang, Vicki Fanning, Emma Camden, David Murray, Layla Walter, Christine Cathie, Claudia Borella, Stephen Bradbourne and Elizabeth McClure. Emma Camden produced Passing Through, Stephen Bradbourne showed his murine technique in Linework and Vicki Fanning showed her mixed-media forms in User Generated Content. Artist collaborations included Mark Braunias with glass artist Jarred Wright at Jonathon Smart Gallery, Christchurch, November 2021. Glass community news from New Zealand Society of Artists in Glass included the development of a new website. The Society has a new president, the renowned Whanganu-based glass artist Emma Camden. Layla Walter continues her work as Vice President of the World Craft Council — Asia Pacific Region — South Pacific. Walter is on the board of WCC Australia and connects with wide audiences through Mahi ā Ringa, Craft New Zealand Aotearoa.
Top Image: Eva Czernis-Ryl with Tim Edwards works from the Willoughby Bequest Commission in Powerhouse's photography studio, 2021. Photo: Laura Moore.
Acknowledgements
The author is indebted to artists, gallerists and curators who have provided invaluable information, in particular Justine Olsen for her in-depth insights on the New Zealand scene, and Kate Baker, Clare Belfrage, Gabriella Bisetto, Lisa Cahill, Christine Cathie, Scott Chaseling, Cobi Cockburn, Matthew Curtis, Nadège Desgenetez, Mel Douglas, Kathy Elliott, Mark Elliott, Tim Edwards, Aimee Frodsham, Anna Grigson, Jeff Hamilton, Brian Hirst, Naomi Hunter, Laurel Kohut, Warren Langley, Andrew Lavery, Jessica Loughlin, Mandi King, Jenni Kemarre Martiniello, Tom Moore, NOT, Brian Parkes, Kirstie Rea, Harriet Schwarzrock, Emma Varga and Ayano Yoshizumi.