Essay: From Strength to Strength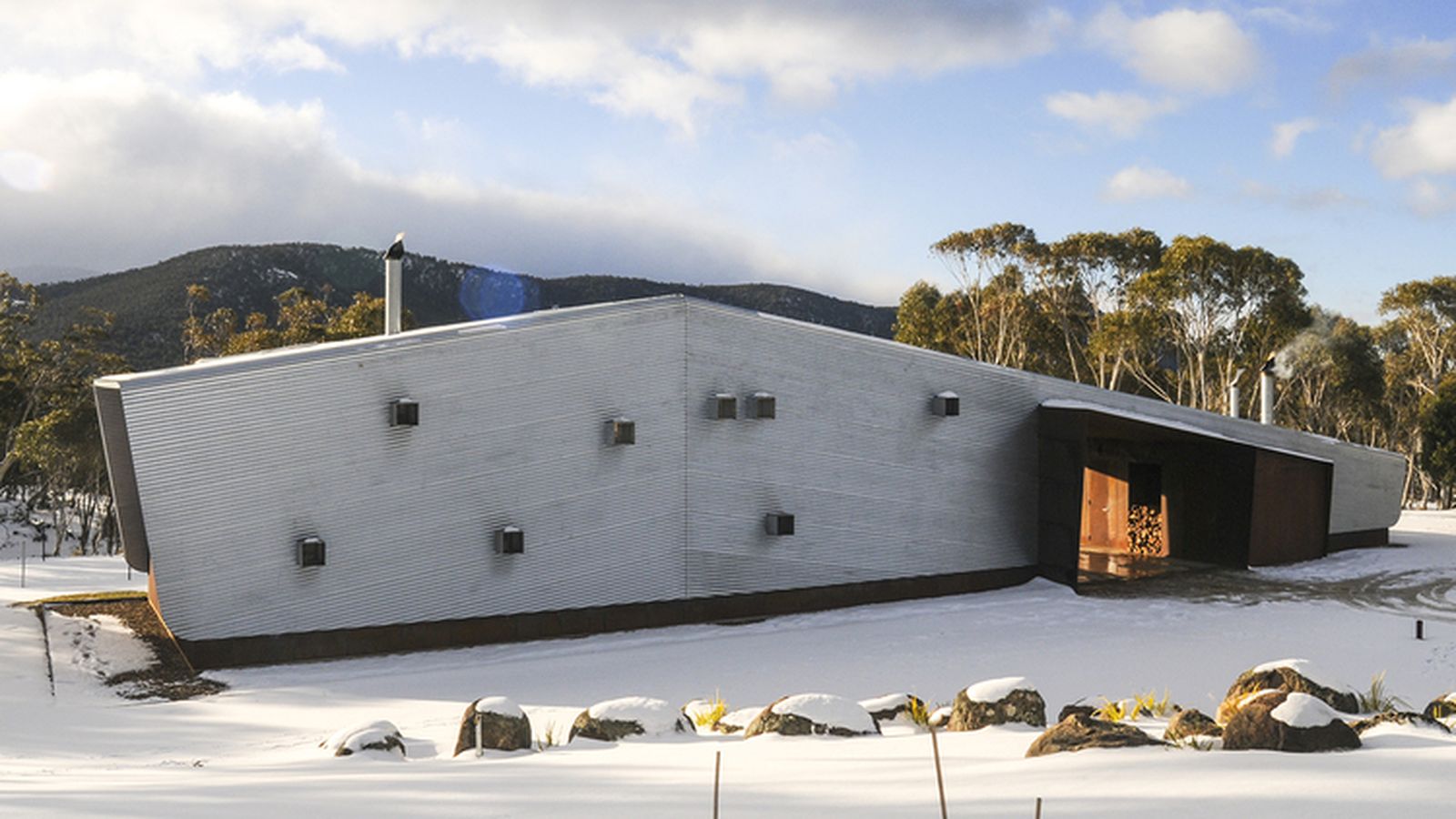 ADC's Creative Strategy Associate, Penny Craswell explores the strong silent nature of steel and its role in the creation of cities, contemporary architecture, art and the future.

Steel is synonymous with strength. The largest mega-structures in the world – from the tallest building, the Burj Khalifa in Dubai, 2009, to the longest bridge, the Danyang-Kunshan Grand Bridge in Beijing, 2011 – are made of steel. Even more importantly still, these architectural feats are all made possible because of steel. In buildings, steel is most often used as a structural support – in load-bearing frames, columns, beams, bracings, skeletons and supports. Even those that present facades of glass, timber, brick or concrete are often built on a foundation of steel, invisible beneath the surface. This most extroverted of materials, strong and bulky, becomes the silent partner to other materials – a steadfast support to often-enormous loads.
Considering its reputation as a strong material, it is surprising to realise that when steel was first introduced, it was viewed with suspicion. Prior to English engineer Henry Bessemer's invention in 1856, which allowed steel to be made reliably, quickly and inexpensively, steel production had been imperfect, with structures built with iron being highly susceptible to rust and corrosion. The Bessemer Process, in combination with the invention of industrial galvanisation (which protects steel with a thin layer of rust) allowed for structures never seen before. One of the first large structures to test the strength of this new steel was the Brooklyn Bridge, which in 1883 was the first suspension bridge supported by steel cables – a design that had its detractors back then, but has since proved the test of time, and inspired countless examples like it all over the world.
MODERNISM AND STEEL
Since industrial production made steel a 'super-material', it has become ubiquitous. As well as being used in buildings large and small, bridges, dams and other infrastructure, steel can be found in railways, planes, ships and cars. It is also in our homes, from appliances to furniture, lighting to cutlery. Starting with the industrial revolution and gaining momentum throughout the 20th century, steel continues to be symbolic of progress and the future. It stands for something powerful, modern, functional, utilitarian. Aesthetically, it can be gleaming and shiny, or it can be ugly, dirty, brutal and even cruel. The building boom of skyscrapers that began in Chicago at the end of the 19th century before moving to New York and around the world, was reliant on the material, creating an entirely new architectural aesthetic of steel, glass and concrete. This aesthetic spoke of Modernism – steel itself was seen as inherently new. Polish-born, US architect Daniel Libeskind describes his first impression of America as being tied up with this aesthetic: 'I came to America as an immigrant. You know, on a ship, through the Statue of Liberty. And I saw that skyline, not just as a representation of steel and concrete and glass, but as really the substance of the American Dream.'1
The use of steel in furniture is also inexorably linked with Modernism – Marcel Breuer displayed his now famous tubular steel chair, Wassily, at the opening of the Bauhaus in 1926, inspired by Mart Stam who was the first to experiment with the material in furniture design. In the same year, Eileen Gray designed the E-1027 circular table using tubular steel in combination with glass. These bold new designs marked a milestone in furniture design – shifting from bespoke crafted pieces made by hand to industrially-manufactured, mass-produced products. They represent a paradigm shift in furniture design – not only in materials, but in aesthetics and in meaning, following the modernist mantra that form follows function. Walter Gropius, the founder of the Bauhaus, wrote in 1923 that industrial production was 'the most modern means of design,'2 while Breuer noted 'this metal furniture is to be nothing more than a necessary device for modern-day living.'3
The Tolix chair soon followed – first created in a metal workshop by French designer Xavier Pauchard and registered in 1932, the chair was also symbolic of a new approach to furniture. Like the Bauhaus, the intention was to make mass-produced furniture that was therefore affordable to all. Here, steel was a utilitarian material, selected for its price point.
It was also symbolic of the Modernist break from tradition, utilising industrial processes and engineering to create new aesthetic forms. Since the Wassily and Tolix chairs, tubular, stainless and sheet steel have become common materials for product designers making furniture, in what has been described by Museum of Modern Art Curator Paula Antonelli as 'perhaps the single most important innovation in furniture design in the 20th century.'4
FUNCTIONALISM AND AUSTRALIAN IDENTITY
Modernism in architecture in Australia was closely tied to functionalism – an approach that used rational planning to design buildings that were specific to Australia's climate. Here, steel was seen as an efficient material – Architect and Interior Designer Raymond McGrath claimed in a 1936 issue of Australian Home Beautiful magazine that: 'Efficiency is the keynote. The day of concrete, stainless steel and glass is at hand, together with planning based on scientific, as apart from social, considerations.'5
Even before Modernism, steel had an essential role in traditional Australian architecture in the form of corrugated iron, which was used heavily in rural buildings from sheds to housing. In contemporary practice, this Australian vernacular architecture, has been reinterpreted and is now most often built with steel – although it is still most often referred to as corrugated iron. Architecture critic Philip Drew describes the re-emergence of corrugated iron in contemporary Australian architecture as tied to Modern functionalism, a movement that prioritises the utilitarian over the aesthetic. He writes: 'In using identifiably Australian methods and materials, the corrugated iron house was the logical result of Modern Functionalism, which has a further virtue that it can also be seen as indelibly Australian.'6 Drew in particular notes the use of corrugated iron by Australian Pritzker Prize- winning architect Glenn Murcutt in his buildings, largely residential. Murcutt, interested in using the least amount of steel possible for the frame of his houses according to the principles of Mies van der Rohe, made his architecture uniquely Australian by using corrugated iron and other Australian materials. 'What Murcutt has remarkably achieved is to elevate corrugated iron and make it look elegant and noble in a way that was inconceivable before then.'7
Interestingly, despite being known for his corrugated iron forms which the Pritzker jury noted was inspired by 'the native Australian wool shed,'8 Murcutt himself claims that the reference to traditional farm sheds is not his main inspiration. Instead he suggests he is more interested in referencing Aboriginal shelters: 'The iconography of Aboriginality is of far greater interest to Murcutt, when he discovers later that his roof profiles bears resemblance to that of bark-covered structures.'9
Regardless, Murcutt's work has inspired a range of buildings that use corrugated iron within the Australian landscape. Designed by Casey Brown Architecture, Crackenback Stables, 2016, in New South Wales's Snowy Mountains provides a contemporary reinterpretation of the Australian farm shed, with two architectural forms clad in corrugated zinc and aluminium alloy-coated steel. This surface wraps the walls and the roof of the building, with the alignment of the corrugations parallel to the roof pitch, emphasising the structure's trapezoidal form.
Functionalism and the use of steel aren't limited to architecture in Australia. Designers, craftspeople and artists around the country spend their days in the workshop forging and welding steel. In Tasmania, John Hounslow-Robinson has become world renowned for creating some of the best knives in the world, with famous chefs as customers. Forged by hand, these knives are intricate and beautiful, with most taking an average of two days to make, while some take longer and are made of up to 1,000 layers of steel. Although the end result of the process is an object of beauty, Hounslow-Robinson's work is also a perfect example of functionalism – focused on creating a blade that is strong, sharp and has exceptional longevity. In creating these knives, Hounslow- Robinson lives simply, immersed in his craft like the blacksmiths of times past. Far from the mass-production of modernism and the Bauhaus, his craft is personal and beautiful, despite the cold, hard, rational, and even brutal nature of the finished blade.
ARCHITECTURAL STEEL
Steel's strength and flexibility, along with other acoustic, thermal and earthquake-resistant features, has enabled incredible feats of engineering, including long spans in architecture that allow huge expanses as well as unusual shapes, sizes and forms. The diagrid is an example of innovative steel structure – a framework of diagonally intersecting beams, most often constructed in steel, that require less structural steel than a conventional steel frame. Norman Foster's Hearst Tower in New York, 2006, and 30 St Mary Axe (the Gerkin), 2003, in London are the most well-known diagrid buildings, while in Australia, One Shelley Street in Sydney by Fitzpatrick and Partners also features a diagrid, eliminating the need for internal columns and internal structural cores. In the case of One Shelley Street, the internal structure of the building, with meeting pods jutting out into the void, would not have been possible without the diagrid exterior, an architectural and engineering solution that offered new possibilities for design and form both externally and internally.
One of the most ground-breaking architectural monuments in terms of form and structure is the Guggenheim Bilbao, 1997, designed by US architect Frank Gehry – a building which relies heavily on steel. The curving shapes, formed by a steel skeleton, were completely revolutionary at the time. The curves themselves added to the strength of the construction, with the engineers asking Gehry to exaggerate these curves, if anything, to increase the building's strength. For the facade, Gehry originally chose steel because Bilbao was a steel town – but the effect was not what he had envisaged: '...we built twenty- five mockups of a stainless steel exterior with different variations of the theme,' explains Gehry. 'But in Bilbao, which has a lot of rain and a lot of grey sky, the stainless steel went dead. It only came to life on sunny days.'10 Instead, Gehry used titanium on the Bilbao building for aesthetic reasons, and stainless steel on the facade of the Walt Disney Concert Hall in Los Angeles 'where there is so much sun and it doesn't die.'11
Stainless steel had been used on building facades before, including the famous Chrysler building, 1930 that features gargoyles in the shape of American eagles, stepping spires with a stylized sunburst pattern and other motifs inspired by Chrysler cars, such as radiator caps and ornaments of car wheels. More recently, in New Zealand, the Len Lye Centre building, designed by Patterson Associates, presents a series of repeating, undulating steel forms that curve in horizontal folds like a large curtain that reflects and distorts everything in its vicinity. Here, the reference is to the artist himself, Len Lye, a sculptor whose steel-motion compositions are kinetic works that feature pulsating ellipses and spinning balls constructed in steel.
STEEL IN ART
Of all the artists who have worked with steel, two stand out. Richard Serra is known for his monumental, curving sculptures that rise vertically in slabs of rough, dirty steel – sometimes using corten steel, which is made to rust. Serra uses the material as an architect would – to shape space and sculpt interior volumes. He has said that the subject of his work is the viewer's experience of walking around and through it, an experience described by a New Yorker writer as 'alternating sensations of confinement and expansion... The weight of corten steel on either side makes the walk fairly frightening, but then, emerging at last into the open space at the center, you get a jolt of euphoria, space rushing away from you on all sides and the whole vast form becoming buoyant and seemingly weightless.'12 For Serra, steel is weighty, rough, heavy, strong and monumental. The sheer technical complexity of making the sculptures (which must be moved into the gallery space by a crane), their weight and size, produce in the viewer a sense of the sublime.
For UK artist Anish Kapoor, steel is used to produce more multitudinous effects. Rough, corten steel is used in Memory, 2008, a work that gives the impression of a huge, steel balloon squashed into a gallery space – on one side it is possible to see into the structure and sense the acoustic and sensorial effects of staring into a dark, steel cavity. Here, Kapoor is using steel in a similar way to Serra, to shape space. But Kapoor is also known for his stainless steel works – bulbous forms, concave shapes, large discs – all of which reflect the world around them in a mirror.
The quality of steel as a reflective material is explored most poetically here, in which the mirror becomes the artist's tool for exploring emptiness. With the work Double Mirror, 1998, Kapoor sets two concave mirrors into the walls of a corridor, opposite each other. While it is possible to see yourself in the mirror/s, it is also possible to stand at the right angle so that your reflection appears in neither. In an essay about emptiness in Kapoor's work, Homi Bhabha states: 'The spectator's relation to the object involves a process of questioning the underlying conditions through which the work becomes a visual experience in the first place: how can the conceptual void be made visible? How can the perceptual void be spoken?'13
PLAYING WITH STEEL IN DESIGN
A number of works in furniture, lighting and object design also use steel to create illusions, hint at nothingness or play with the qualities of the material itself. UK designer Paul Cocksedge likes to use his work to experiment and push the boundaries of our expectations and his Poised Table, 2013, does just that. Made from a thousand pounds of rolled steel, the table curves from floor to table top, seemingly defying gravity by not toppling over despite its limited contact with the ground. Cocksedge is even able to support the weight of himself at its edge thanks to precise engineering calculations. This piece is a demonstration of the cliché that steel is strong taken to its absolute limits. Another optical illusion made with steel is the Drawing Series, 2014 – a chair and armchair by South Korean designer Jinil Park that look like two-dimensional drawings – so realistic it is difficult to believe the chairs are not sketches.
In contrast, Japanese designer Nendo's collection, Softer Than Steel, 2014, for Italian furniture brand Desalto offers another illusion – presenting folds and waves within the steel form as if they were flexible and supple. The result is a tabletop with a shape carved into it like butter, a chair with an asymmetrical bend like bent wood, shelving that seems to curve like paper and a coat stand with twisted branches. Polish designer Oskar Zieta's Plopp stool, 2008, for Hay also achieves a similar aim of using steel as if it were another material altogether. This time, the material mimics inflatable plastic. In order to achieve this effect, the stools are made from two hydro-formed sheets of metal welded together at the edges. This is then filled with fluid under pressure to create an effect like blowing up a balloon. Each stool is unique, the stool inflating slightly differently each time.
THE FUTURE OF STEEL
The future for steel is uncertain – technical innovations have some experts predicting that steel will be replaced by other materials such as timber, bamboo, carbon fibre or even bone. Nonetheless, research is continuing into new forms of steel. Researchers at the National Institute for Materials Science in Japan have created a fibrous steel that withstands sub-zero temperatures thanks to its molecular structure.14 Another innovation is a type of Velcro made from steel called Metaklett, a square metre of which is capable of supporting 35 tonnes at temperatures up to 800 °C, according to researchers at the Technical University of Munich, Germany.15
Steel is also constantly being innovated in its application. A recently finished series of low-cost facilities at the Aberystwyth Arts Centre, 2009, in Wales features an innovation in cladding. Thomas Heatherwick studio's team chose to use very thin steel – about the thickness of cooking foil – creating rigidity and thermal insulation by spraying a CFC-free insulation foam on to the back of the pre-crinkled surface. The result is an inexpensive, rigid and well-insulated cladding material with an unusual shimmering surface aesthetic.
Perhaps most impressively of all, 3D printing has seen the first steel-printed bridge that is capable of building itself with robots (2015). The project, by Dutch company MX3D, is the stuff of science fiction – if a printer is capable of printing a bridge, that's one thing – but what if a printer is capable of printing a printer? Does that point to a future with self-replicating robots? It is fitting to finish with science fiction, since steel is deeply linked aesthetically to modernism and the future in our minds. This is a material that has the power to transform – to create mega-structures, to support other materialities, to act functionally, and, in some cases, to present a gleaming, pristine perfection.
References
1 Tapon, F., The Hidden Europe: What Eastern Europeans Can Teach Us. SonicTrek, Inc, 2011, p. 142.
2 Walter Gropius, Ideen und Aufbau des staatlichen Bauhaus Weimar (Munich: Bauhausverlag, 1923).
3 Marcel Breuer, 'metallmöbel und moderne räumlichkeit,' (footnote 23), quoted in Werner Möller and Otakar Mácel, Ein Stuhl macht Geschichte (Munich: Prestel, 1992).
4 Antonelli, P., Objects of Design from the Museum of Modern Art, The Museum of Modern Art, 2003, p. 85.
5 McGrath, F., as quoted in Aitken, R., The Garden of Ideas: Four Centuries of Australian Style, The Miegunyah Press, 2010, p. 165.
6 Drew, P., 2006, 'Inspiration from Below: Australian Vernacular in Contemporary Architecture' in Architectural Theory Review Vol. 11, Iss. 1, 2006, pp. 31-32.
7 Drew, P., 2006, 'Inspiration from Below: Australian Vernacular in Contemporary Architecture' in Architectural Theory Review Vol. 11, Iss. 1, 2006, p. 32.
8 Pritzker Prize Jury Citation, 2002, http://www.pritzkerprize.com/2... jury, accessed August 2016.
9 Murcutt, G., Beck, H. and Cooper, J., Glenn Murcutt: A Singular Architectural Practice, Images Publishing, 2002, p. 62.
10 Isenberg,B.,ConversationswithFrank Gehry, Knopf Doubleday Publishing Group, 2012, p. 138.
11 ibid
12 Tomkins, C., 'Man of steel,' in The New Yorker, Aug 5, 2002, Vol.78 (22), 2002, p. 52. http://www.newyorker.com/ magazine/2002/08/05/man-of-steel, accessed August 2016.
13 Bhabha, H. Anish Kapoor: making emptiness. Anish Kapoor, 1998, pp. 11-41.
14 Marks,P.,'Fibrous' steel won't break in a cold snap', New Scientist, 2008, https://www.newscientist.com/a... dn13962-fibrous-steel-wont-break-in- a-cold-snap/, accessed August 2016.
15 Simonite, T., 'Extreme steel 'Velcro' takes a 35-tonne load', New Scientist, 2009, https://www.newscientist.com/a... dn17739-extreme-steel-velcro-takes-a- 35-tonne-load/, accessed August 2016. 
Image: Casey Brown Architecture, Crackenback Stables, 2015. Crackenback NSW. Photo: Rob Brown
Marie Short/ Glenn Murcutt House, Kempsey NSW. Architect: Glenn Murcutt. Photo: Anthony Browell courtesy Architecture Foundation Australia.