Essay: Textiles and the In-between
Soraya Abidin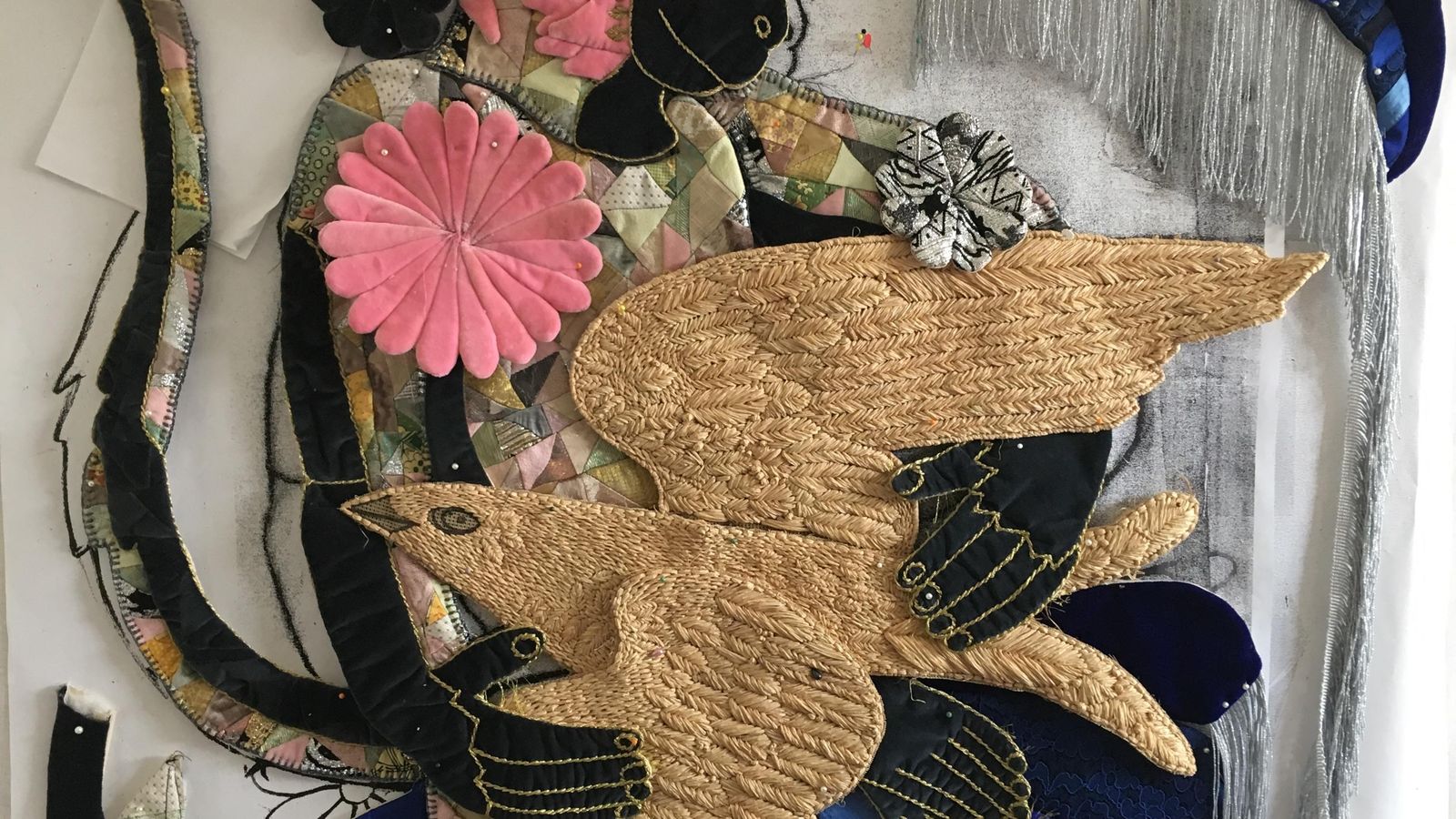 Essay: Textiles and the 'In-between' 
20 September 2018
Soraya Abidin, textile artist, explores in this essay and in her exhibition Hypersensitive/ Hipersensitif, the double consciousness and 'in-between' space of a bi-cultural identity. Her solo textile exhibition is part of Sydney Craft Week at Gaffa Gallery, Sydney.
Hypersensitive/ Hipersensitif, is an exhibition of textile works on show at Gaffa gallery during Sydney Craft Week 2018. The subject of the works on display and discussed in this essay, is the double consciousness and 'in-between' space of a bi-cultural identity.
Double consciousness is a concept explored by American sociologist William Edward Burghardt (WEB) Du Bois in 1903. It describes the individual sensation of feeling as though your identity is divided into several parts, making it difficult or impossible to have one unified identity.
According to Du Bois, this is "the sense of looking at one's self through the eyes of others."
Developing a sense of cultural belonging in my family context was difficult. My parents are from dramatically different nationalities, and as bi-cultural child I developed a natural ability to cross cultural boundaries within my own domestic space, but socially I struggled for acceptance from the opposing cultural group. I have developed a hypersensitivity to feelings of cultural displacement and misplacement when it came to inclusion.
Transcultural marriages of the 1970s were relatively uncommon in Australia. For the majority of Australians understanding intercultural relationships was a very new concept. Marriages like my mother and father's posed questions about the children of such unions. What sense of identity do the children inherit?
As a child, I was always viewed as the other. I can say, when growing up, I felt like I was caught in the clash of opposing cultures. Surrounded by blonde, blue eyed freckle faced Aussies, my black hair, brown skin and strange name really stood out. Although my mother is Australian, and I was born in Australia, there were always questions that required me to explain who and what I am.
My spiritual health was something I found myself alone with, to nurture, sort through and develop an understanding of where it is I belong. For my parents, the gap their children fell into was not immediately recognised.
One of the most memorable moments of my childhood is from primary school when I was asked 'What religion are you?' for scripture classes. I asked my father and his reply was 'You are Muslim'. In Australia at that time, being Muslim meant we played on the oval during scripture time.
During these formative years of my self-image, my father passed away. Being so young at that time, his passing compounded feelings of displacement, leaving my Malay cultural heritage unexplained.
The only remnants of my father were in the cultural objects scattered around my home. Understanding the cultural values of his Malay heritage was distant and mysterious. His passing brought a disconnection from his Malay family. He was the eldest boy and his passing rendered little to no further communication from them. It was the vastly different cultural beliefs like this that I did not understand.  
As a child I stored these feelings in an incomprehensible space in my mind and only later as an artist have they surfaced and become the sole quest in my art making.
In Michael Anderson's journal article, Children In-Between (1999), structure is given to this incomprehensible space, describing the 'in-between' space bi-cultural children occupy. For me this has brought an invaluable clarity to my identity.
This 'in-between' space is also referred to as the 'third' space, where you are not of one nor of the other. Culturally 'in-between' children can become the passive recipient of competing values, and are often misplaced in a cultural tug-of-war.
This competitive environment was not only in cultural traditions but in the arts and craft objects around my family home. I grew up in a hybridised home environment that carried an awareness of a 'third' space. In this space I found safety and spent many solitary hours of creativity ultimately leading to the development of a hybridised artistic style. 
As a child I always found the western influence amongst Asian culture a source of wonderment, particularly the decorative objects in my home. It fascinated me, this sense of style and arrangement of these clashing objects seemed almost uncomfortable and over time, this sense of styling has become the prime influence in my art making. I have come to find an ease among the awkwardness in the pairing of the two styles.
A 'switch' in the cultural frame of my work is played out in my textile practice. This switch is seen in my collection of cross cultural textiles and the techniques I use in my art making. Tapping into the consciousness of a bi-cultural girl growing up in Australia in the 1970s, materials work together as one cultural collective. Use of luxurious velvets, glittering vintage lame and naïve patchwork prints amongst exotic Asian silks, and traditional Malay Songket, woven golds and Peranakan miniature glass beads are merged in oversized quilted appliques and raw raffia embroideries drenched in gold leaf.
I take from both and often break traditions and rules in technique because culturally I am able to traverse the boundaries, 'switching' at any time depending on which culture has the stronger pull in that moment or context.
Part of my art making process is the continuous viewing of the work through the eyes of the other. The inherent sway of each culture can pose an internal battle and a rivalry in the subject and selection of materials and the manner in which they are used in the artworks.
For me, art making provides a process to gauge and manage a cultural sense of self. The beauty of bi-culturalism is the wealth of dual cultures and the effects on my imagination and personal mythologies that are born of the crossing of two cultures.
My practice is the 'in-between' space where I create mythical imagery of an idealistic spiritual self. Art making has become the cultural broker in the hybridising of my identity, I use it to interpret, construct and reconstruct myself and bring a unity to the cultures of which I am part of.
Culturally 'in-between' is an intriguing context for bi-cultural artists to construct and re-construct their identities through contemporary art and is intrinsic to the cultural movement seen in Australia today.
Explore more: Hypersensitive/ Hipersensitif, Gaffa Gallery; 11 October –  22 October; Opening Night 11 October 6pm – 8pm Seed Stitch Contemporary Textile Awards, Australian Design Centre; 5 October – 14 November, Opening hours Tuesday to Saturday 11am – 4pm
Image: Soraya Abidin, The Embrace, work in progress 2018. Photo: Courtesy of Soraya Abidin.