Exhibition Catalogue: The Space Within
at Sabbia Gallery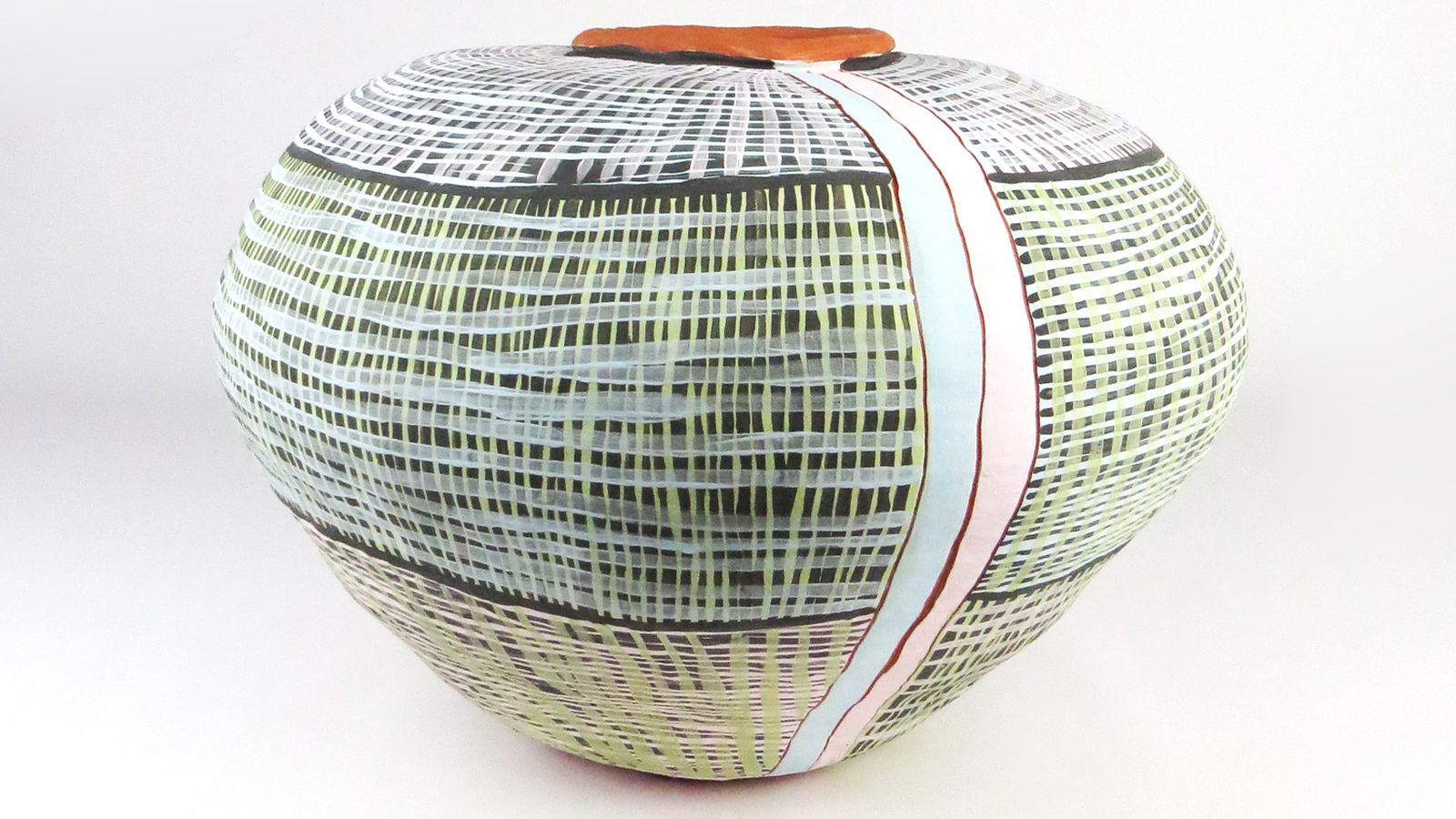 THE SPACE WITHIN : Contemporary Ceramics + Fibre is an exhibition at Sabbia Gallery in Sydney that ran from 4 - 28 March 2020.
In this exhibition we celebrate space – the parts that have been left open and create the feeling of looking through, looking in and looking within. As beauty is in the eye of the beholder, so is the idea that what is left unsaid can have the strongest impact, what is left out can be the most prudent. An artworks success is not always about what is there but what is not there. It is all down to individual perspective as well as the understanding of artistic devices or techniques.
'The Space Within' will showcase these selected Australian artists who consistently use these devices in their artwork and explore the empty, open, pierced and negative space – the space within.
Kylie Johnston, Exhibition Curator
Exhibiting artists:
EMMA DAVIES, TRACEY DEEP, ELIZABETH DUNN, PAULA do PRADO, SIMONE FRASER, MARION GAEMERS, LYNNETTE GRIFFITHS, MICHELE MORCOS, MARICELLE OLIVIER + NICOLE ROBINS
View Exhibition Catalogue
The Space Within: Contemporary Ceramics and Fibre at Sabbia Gallery
THE SPACE WITHIN : Contemporary Ceramics + Fibre at Sabbia Gallery In this exhibition we celebrate space - the parts that have been left open and create the feeling of looking through, looking in and looking within.
ADC CEO and Artistic Director Lisa Cahill opened the exhibition and these are her opening remarks:
Many thanks to curator Kylie Johnston and Sabbia director Anna Grigson for inviting me  here today to speak about this beautiful exhibition.  
First I'd like to acknowledge the traditional custodians of the land on which we meet today the Gadigal People of the Eora Nation and pay my respects to elders past, present and emerging and to the artists whose work we have the privilege of enjoying in this exhibition.
The Space Within: Ceramics and Fibre begins a focus for Sabbia on fibre in contemporary art and a fresh look at ceramics with some new works that celebrate space. The warp and weft of the weave, the importance of negative space in all artforms, the ideas presented in what we see and what we don't see, represented by that negative space, give us as collectors and lovers of objects lots of opportunity for contemplation.
I know that you all are very familiar with Sabbia's excellent reputation over many years supporting the very best of our ceramic artists so I thought I would talk a little more about fibre.
Hannah Lamb of The 62 Group of Textile Artists, an artist-led pressure group that has been promoting textiles as a fine art for nearly 60 years says "Artforms using textiles have existed for millennia but have not always been held in such high esteem in the art world. The artificial divide that exists between fine art and textiles (or applied/decorative arts, or craft) is a gendered issue. 'Textiles have always suffered as an art media because of their association with domesticity and femininity,' Historically, textiles have been labelled 'women's work', and dismissed as inferior to pursuits such as painting and sculpture. But this has not always been the case." 
She goes on to talk about the many, many historical examples of how textile crafts have been elevated to high art forms that have perhaps lapsed again in the world of contemporary art which has tended to focus a lot more on the work of male artists elevating painting and sculpture to a prominence in the art world. This is now beginning to change with people much more willing to bring fibre art into their living spaces and I think that Sabbia is helping to drive that appreciation.
The Australian Tapestry Workshop in Melbourne is doing some incredible work to elevate tapestry weaving in a contemporary context particularly with initiatives such as the Tapestry Prize for Architects.  And many of you will have seen Cornelia Parker's incredible stitched Magna Carta at the MCA over summer.
At Australian Design Centre (now 55 years old!) we have in past two decades worked very hard to given fibre the prominence it deserves.  Exhibitions such as Woven Forms and Women with Clever Hands celebrated Indigenous weaving; in 2008 we honoured master weaver Liz Williamson as a Living Treasure: Master of Australian Craft with a national tour of new work.  In 2013 I had the honour of curating an exhibition that we took to Kanazawa in Japan of Indigenous artists contemporising weaving such as the Elcho Island Weavers collaboration with Koskela and Tjanpi Desert Weavers based in Ernabella along with Lorraine Connelly Northey who weaves with reclaimed materials from rural junk piles of corrugated iron and wire. And again in 2014 with New Weave which looked at how many different artists apply weaving in contemporary practice.
This year we have two major textile exhibitions – Tamworth Textile Triennale touring exhibition in June/July and Seedstitch NSW Contemporary Textile Awards in October/November. We have also begun work on the next edition in the series Living Treasures: Masters of Australian Craft with Elcho Island artist Mavis Ganambarr which will launch in 2021.   
But back to The Space Within!
Walking into Sabbia for a preview last weekend, I was particularly taken with the evocative beauty of Tracey Deep's ethereal installations that reflect the beauty of nature.  Tracey's practice that stems from her experience in floral art and love of organic materials perfectly plays with the weave that the natural world so expertly employs from spider webs to interwoven forest canopies.   The are so delicate allowing the eye and the air to move through them yet at the same time speak to the practical purpose that always, I think, underpins natural phemomena.
Similarly Nicole Robins use of local native and non-native plant fibres to weave her beautiful sculptural more than functional baskets I think reflect the open weave of roots and vines in our private and public gardens in and around Sydney.
I love the way Emma Davies takes man-made fibres that we often are unfortuantely unrecyclable and we don't know what to do with them into delicate textile works that inhabit small spaces (her vessels upstairs) and large spaces such as the hanging screen wafting in the space over there. Giving these materials new life is I think such a rewarding useful practice.
Similarly the ghost nets works of Marion Gaemers and Lynette Griffiths takes this discarded material that does so much damage to marine life and make something beautiful from it while encouraging us to pause and reflect on environmental degradation.
Paula do Prado and Michelle Morcos both bring their cultural background and experiences into their work creating highly contemporary colourful artworks that we can instantly appreciate as artworks to love and cherish along with the rich and interesting narratives that accompany them.
Returning to Sabbia's more familiar territory of ceramics, the works by Simone Fraser, Elizabeth Dunn and Maricelle Olivier all play with the same interest in space, spaces between, incorporating spaces in surface decoration and the same that vessels inhabit in our lives.  They work beautifully together the fibre – complementing and engaging us with these ideas in new contmeporary ways.
Congratulations to Kylie Johnston on her curation of this exhibition and to all of the artists – I think they were all meant to inhabit this space together.
Go to Sabbia Gallery for more information here.
Image: Maricelle Olivier, Australian Princess, 2020, terracotta with slip and glazes, 330 h x 450mm d. Photo courtesy of Sabbia Gallery.https://issuu.com/objectaustralia/docs/the_space_within_-_contemporary_ceramics___fibre_a