Interview: Pavilion of interpreted music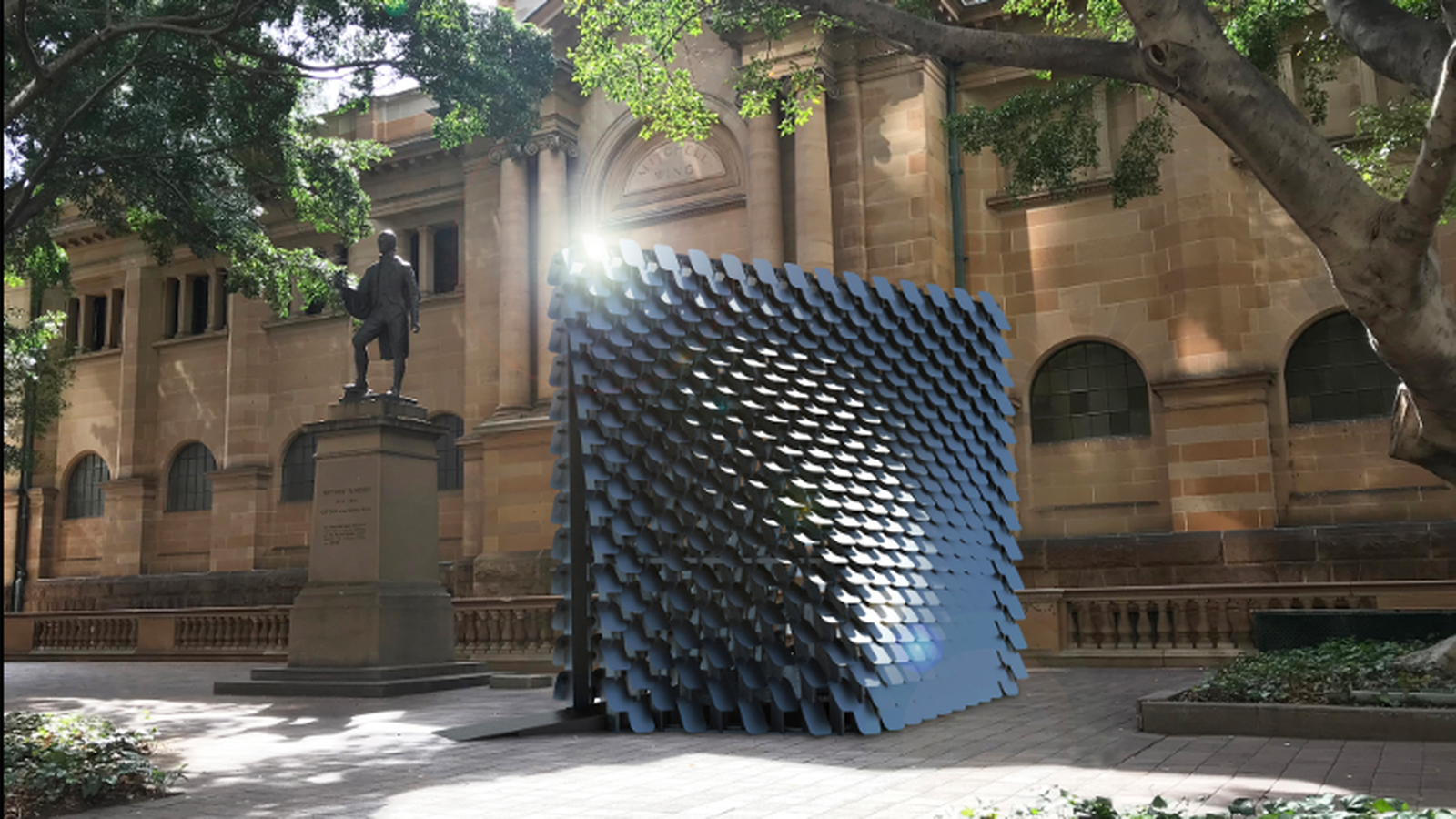 Part architectural pavilion and part sound installation, 80Hz is a project that turns paintings from the State Library of NSW into music using data. Sydney-based British designer and architect Thomas Wing-Evans talks to ADC's Penny Craswell about the installation, which he designed in collaboration with DX Lab, the library's experimental design research group.
Q: Could you please tell us a bit about you and your practice? 
Sure, I'm a British designer and architect and I like to work at the point where the physical, digital and humans interact. I have a strong interest in how we experience cities and the ways in technology is changing that. Because of this, my projects range from digital prototypes, products and architecture to film and photography.
Q: What is 80Hz? 
80Hz is part of a fellowship research project that I undertook in collaboration with the DX Lab for the State Library NSW to translate images (in this case historic paintings from the collection) into music using data. The idea was to add another layer of exploration to the collection and pull digital information out of the paintings into the real world - think of it like an experiment in new ways of playing with the city, a form of interactive urbanism. The project is housed in a unique acoustic space that I designed which sits directly outside of the library, like an alien spaceship just plonked itself down out there.
Q: What materials did you use to make it? 
There are two structures. The larger is constructed out of custom cut black timber and anodised aluminium shingles. Inside, a central transparent backlit column holds a reel of images that can be scrolled through to select a painting to listen to - sound comes from speakers located in the floor and all corners, which reverberates off of the metal cladding. The smaller structure is constructed entirely of black timber and projects paintings onto the pavement. People can sit inside and listen to the paintings through integrated speakers.
Q: You say it turns paintings into sound – can you describe how? 
The images were analysed for their visual data, like dominant colours, complexity, faces and so on. Metadata like date, location and type of paint used was also collated. All of this information was fed into a purpose-built program that assigned each a compositional value. For example, piano is a commonly heard instrument, but the age of each painting defines how warped and distorted the piano might sound. In another example face detection activates 'intelligent harmony', which generates chord progressions that have a more human feel.
Q: What has the reaction to the work been like? 
Really positive! The structures are never empty, there are always people of all ages inside listening to the sounds and playing with the central reel. For new visitors to the library, 80Hz encourages them to check out the original works in the new galleries. More seasoned library goers recognise the paintings in the structure and get to experience them in an entirely new way. It's great to be in there and watch people's reactions!
Explore the State Library web story here
Image: courtesy of State Library NSW.