Essay: They're Back: New Frontiers in Architecture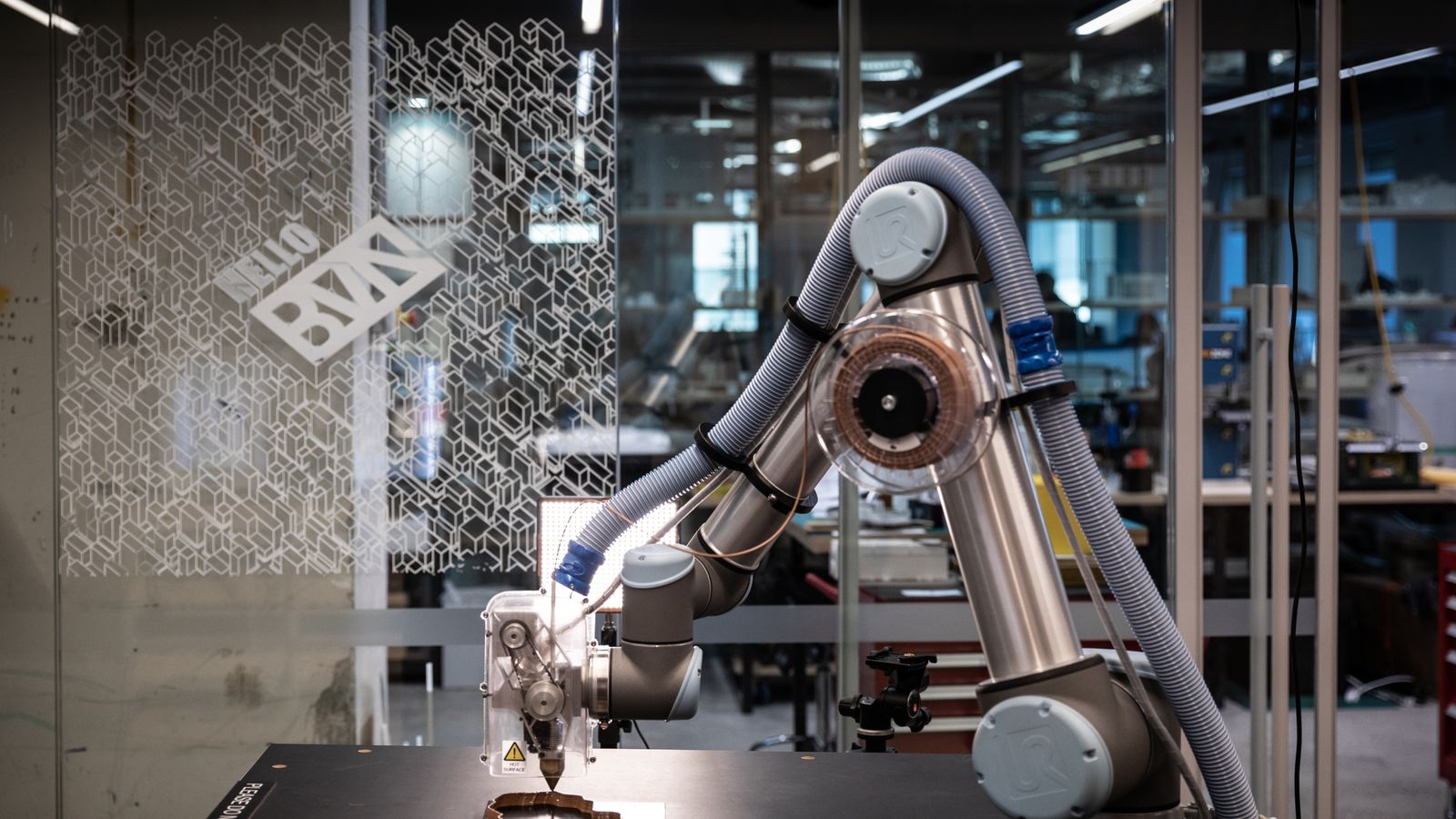 Laurie Aznavoorian from BVN Architecture explores the potential and the limitations of new technologies causing disruption in the architecture profession.
They first appeared in the office at the end of 2017. Young and nimble, super clever, artistic and amazingly efficient they worked like troopers late into the night making the rest of us appear particularly slothful. What, you think I'm talking about the new graduates? Well yes, but no, I'm talking about KUKA KR 10 and Universal Robotics 10, these are the robots we've had in our office over the past year.
Some questioned why we would choose to get in bed with robots, particularly since we didn't know what they would do or how they might contribute? The answer is simple, robots are a technology that will significantly disrupt the building industry; therefore, welcoming them into our studio forces us to think about that disruption and puts us on the front foot. In the past 12 months we've learned plenty, their presence has changed our collective thinking and the way we design.
One example is our own studio. We assumed the overhead booms that distribute power to our mobile desks would have to be made by a steel fabricator, which is what we did for the majority. But we also took a punt and got the KUKA KR 10 to make five unique booms. Day and night KUKA wove carbon fibre around a 3D circular frame we printed. The result was beautifully hand-crafted (albeit robotic hand) circular trusses that make their steel sisters look butt ugly.   
The kicker is the beautiful booms cost less, they're more fun to talk about and unlike the steel version, they arrived on time. What did we learn? Partnering with a robot opens the door for bespoke, handmade elements in space – the things architects and designers abandoned long ago due to cost. Full disclosure – the robots cost money and ours were on loan from Sydney University and the University of Technology in Sydney, if we had to pay for them it would be a different story.
Additional disclosure, several students from the university observed KUKA KU 10 with clipboards and controllers issuing instructions. Someone stood on a ladder for weeks wrapping carbon fibre around plastic hooks because the robot didn't have the dexterity to perform such a nuanced task. Over time it learned enough to do a 'nudie run' and wove carbon fibre solo, but a person still had to tell it what to do and where to do it. 
Robots build cars, drive them and write articles. They can deliver individually tailored learning, but a robot is not going to show someone how to load filament around a 3D printing spool because to be honest, they're not very good at it. Consequently, we have found ourselves typical of organisations that embrace new technology, internal learning must be continuous. It's now someone's job to teach old dogs new tricks.
The story highlights how interaction with robots causes each of us to play to our strengths. Jobs won't disappear but continue a trajectory that started decades ago when work evolved from being about hands (manual labour) to heads (cognitive tasks) and in the future to hearts. Heart tasks call on human skills that are interpersonal, creative, thought based and cognitive. You can't mechanise that.
Humans in our practice facilitate how we interact with new technologies: robots, artificial intelligence, machine learning, cloud and quantum computing, drones, virtual and augmented reality and 3D/4D printing. Humans debate the challenges each brings to standards, risk profiles and the limits of our intellectual property.
What happens when a robot creates a plausible sketch, which is what Universal Robotics 10 did in our studio last month? Who owns that sketch, who's responsible if it's wrong, what happens if an employee 3D prints something that falls apart and hurts someone? Our lack of knowledge in the areas of contract law, intellectual property and how to assemble equitable working partnerships looms large. We're reminded the future will bring added complexity, layering and a blurring of boundaries that demands skills not taught in an architecture curriculum.  
Finally, there's the moral dilemma. Robots are incapable of exercising emotional judgment, they don't know how to behave in a professionally ethical manner. They don't know what it means to be fair or accountable, only people do. As we navigate the redefinition of what it means to be employed in an architectural practice, we need not worry about our job, but how we will redefine them.

Laurie Aznavoorian
Laurie Aznavoorian is Senior Practice Director at BVN Architecture. After studying architecture, Laurie directed her career to become a thinker and provocateur with extensive experience in workplace design and strategy, She is committed to promoting space as a business tool and has a proven history of developing innovative approaches that help clients transform their business using their physical environment, culture, process and technology.
Laurie has worked extensively across Australia, Asia, New Zealand, Europe and the United States creating space and strategies that align physical environments with a company's business, brand and cultural objectives, and prepare them for disruptive changes in their industry that might impact performance.
A prolific writer and speaker covering topics relating to contemporary work styles, social trends, community attitudes, and the ever-changing global economic context in its relation to workplace and has produced over one hundred articles in her industry blog Futuresrambling.com.
Explore more on My Job in 2030 on Object Platform
Image: Courtesy of BVN