Article: From the Land: Nicole Robins' baskets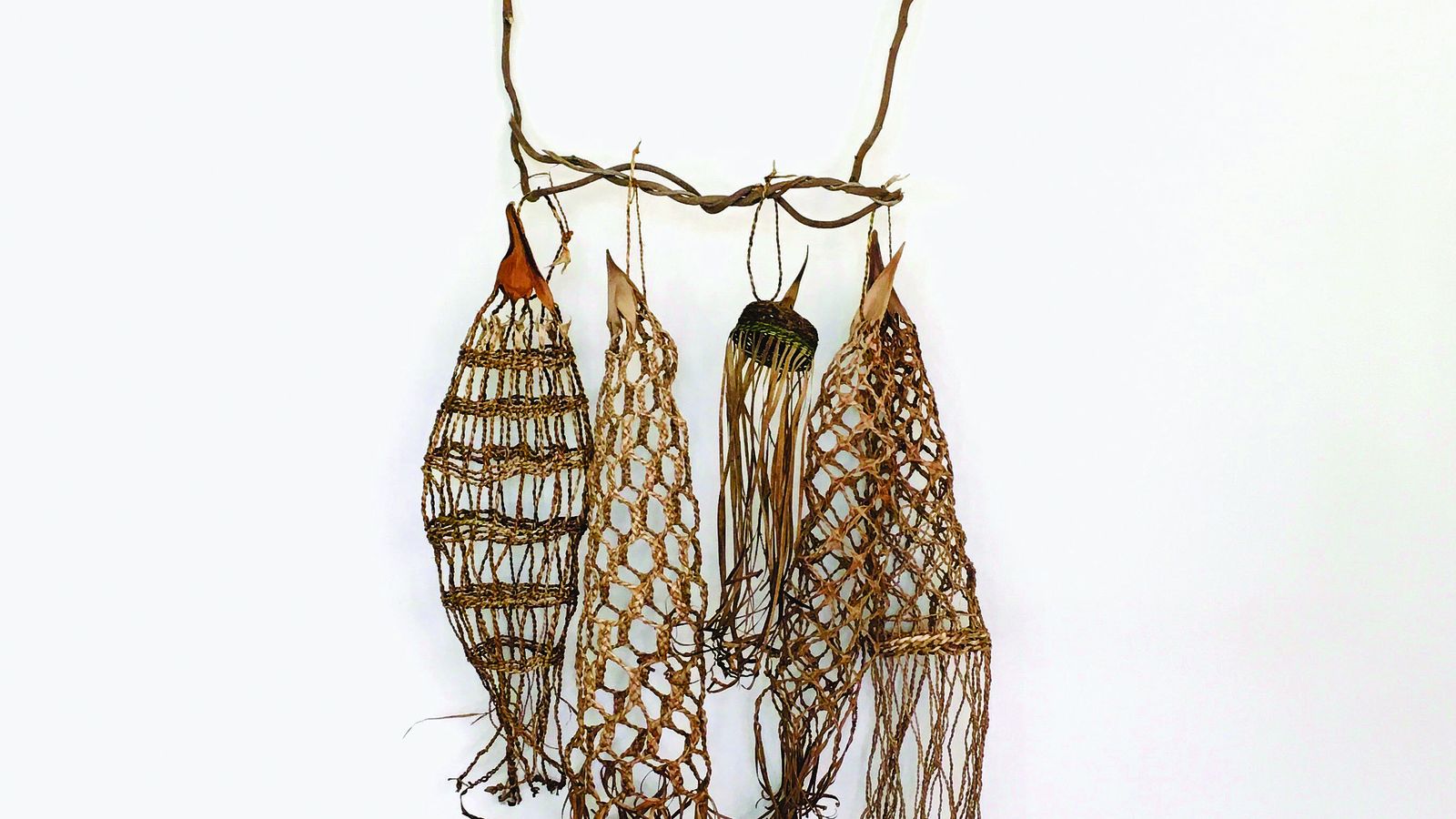 After a career working in community development and later as a family therapist, Nicole Robins now devotes herself full-time to her fibre art and basketry practice, one that is almost completely materials-driven. Inga Walton writes about her work.
Based in Sydney's Inner-West, Robins was seeking a creative outlet when she attended a basketry workshop conducted by Dr. Meredith Peach in 2012. It was a pivotal experience that resonated with Robins' long-term interests, and also aligned with her personal beliefs, 'I was drawn to basketry because I love gardening and wanted to create with natural fibres... I make for people like me who want to look at natural materials up close and remember their connection to wilderness, to plants, to a garden. I like the idea of bringing the natural world into our interior landscapes, of beautifying and texturising our living and working spaces'. 
Robins' work is informed by her engagement with the experiences of women in the craft community, and respect for the timeless traditions of women's industry within diverse cultures and communities. As a non-Indigenous weaver, she is mindful of ongoing debates around cultural appropriation, 'I don't use materials or designs or even language which I think is intrinsic to the fibre art made by Indigenous artists here. Of course, this line will always be a fine and nuanced one that artists need to keep talking about in Australia and elsewhere', she notes. Robins has observed the techniques of Ngarrindjeri elder Aunty Ellen Trevorrow at the biennial National4 Katie C Basketry Gathering Australia (2019), and more recently attended a Raranga (weaving) workshop conducted by Maori contemporary artist Alice Spittle. 'I am extremely privileged to have grown up around some of the most beautiful fibre art in the world. The education and inspiration from being able to see, and even pick up and examine, exquisite work from First Nations' makers is immeasurable', Robins maintains.
The opportunity to work locally and sustainably, using 'slow craft' processes (growing and gathering, drying, soaking and weaving) that are respectful of the environment, is an integral aspect of Robins' holistic approach. 'Ethical considerations seem to loom large for me. I've always considered myself a political being. I can make most of my pieces easily from what I find and what I have in the garden, they don't require volumes of materials', she explains. 'Over the years I have begun to focus more on particularly beautiful pieces, or fibres, and build up from that. I do buy threads and fibres from time to time but not much. It's an indulgence because I want to try some different materials, or inject a little bit of colour into my work'. When she does diversify, Robins prefers to source upcycled materials, or uses trusted suppliers whose values align with hers: she favours 'String Harvest' founded by Cassandra Harris and based on Queensland's Gold Coast. 
Robins also enjoys the spontaneity and inspiration to be found in foraging for materials amongst the jostling diversity of Sydney's plant life. 'The palm spathe has been quite an obsession for a few years now. I was out walking the other day and came across some newly fallen spathes', leaflike bracts that enclose flower clusters which really did make my morning – like finding truffles in the woods – only my urban landscape involves fences and asking!', she admits. Catch of the Day (2020) is made from five Bangalow palm spathes, 'Clearly there is a fishlike shape, but the name also refers to the way I feel that they serendipitously almost jump into my arms from their palm tree'.
Working with found and grown materials has led Robins to be more attuned to scale as her practice has developed. 'The pieces I can make with spathes, for example, are limited by their size to be domestic in scale. So somewhere, as all this making with nature developed, I decided that I really felt comfortable creating works for a domestic setting – as I certainly make in a domestic setting', she remarks. 'I'm OK with that because I think that so much "Big Art" is just big for the sake of it. It can also be wasteful: where do big installations go at the end of the day? Some have great homes, but it sounds like a lot of art just gets dismantled and stored too'.
In recent years, Robins' works have become more sculpturally inclined as she engages with the possibilities presented by hanging works, baskets, flat pieces, wall sculptures and pendants. 'Given my focus on highlighting texture and fibres, utility is no longer something I think about at all. I could find some utilitarian designs, but I can't see the joy in reproducing [those] shapes over and over', she reflects. Nonetheless, Robins drew on her affection for a ubiquitous form for the solo exhibition Totes Serious…Who Made Your Bag? (2019), as part of Sydney Craft Week. 'I do adore woven bags from other cultures and I have replicated – and will keep replicating – those traditional bag shapes to make obvious "wall totes". Some of these pieces are probably some of my personal favourites to date, they speak to many areas of my life past and present', she observes.
The show addressed an issue that increasingly frustrates Robins: retailers trying to enhance the 'green' credentials of their brand or business by displaying hand-woven items with little consideration or support directed at the anonymous maker. 'The artisan and their community is rarely mentioned. Sometimes fair-trade claims are made, and a lot of the time when I've searched online the links looked really dubious', she contends. Robins is a supporter of the international Fashion Revolution initiative, and listens to podcasts by fashion journalist Clare Press during the weaving process. Art often coalesces with social activism, and it was Robins' intention to use her platform to encourage consumers to be more critical about their role in the global supply chain. 'Metaphorically, I guess each hairy, nonfunctional tote was meant to prickle!', she agrees. 'It certainly has helped me to think about my own purchasing power, and what I choose to do with my art'.
This article was first published in Selvedge magazine issue 95 and has been republished with their permission.
Image: Nicole Robins, Catch of the Day, 2020. Photo: Courtesy of the artist.