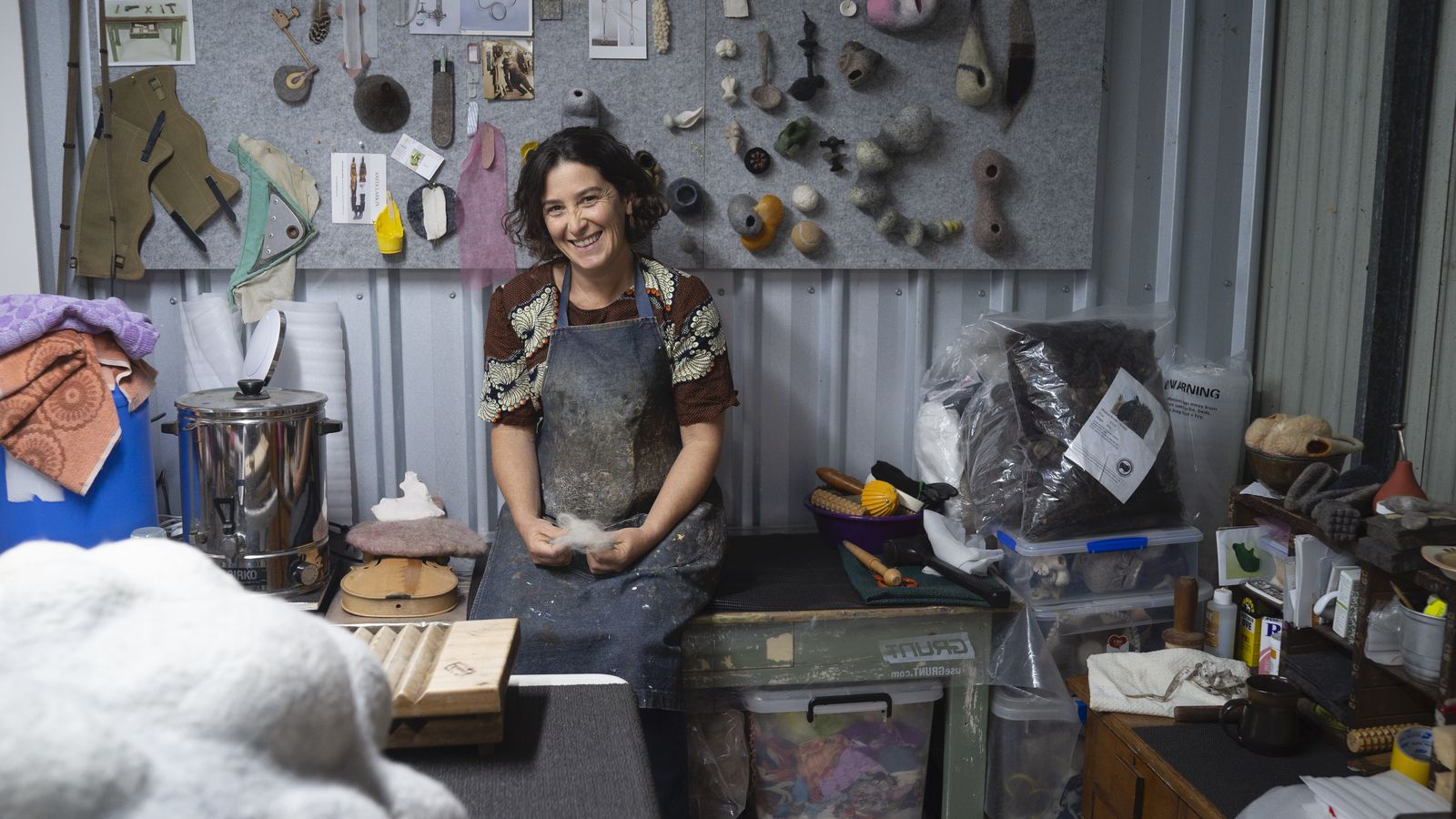 Anita Larkin reconfigures everyday objects to explore our relationship with the physical world. By combining found objects with each other, sculpted pieces, or her own cast body parts, she explores how language, memory and human experience influence how we interact with our surroundings. Bridget MacLeod writes about her hybrid objects.
How do you start a work? 
I interact with an object in a physical, curious way, much like little children do. Children don't have any preconceived ideas about what the object is expected to be, does or means, they just play with it. So that's my starting point. I then think about the object's relationship to time, to body, to functional use, what it has been in the past to someone, but also what it can potentially be. There is always play though. Word associations, misinterpretation, objects out of context – I consider all those things. And that's multiplied if you work with a few objects at once. Which is what I find interesting about joining disparate objects together, or objects with body parts. It creates a very complex reading.
You cast parts of your body and integrate them into your works; why is this? 
Well, I am in a body. I can't get away from that! I am my closest object. I see myself as an object amongst other objects to work with. I have also cast parts of my young son's body over time. The body intermingles with other objects, and places them within the feminine or childhood experience. The interest is in a bodily-felt experience of the world and its objects, and what narratives of our inner lives these relationships can reveal. The process of casting body and objects is interesting in itself as you get a type of ghost, a presence of the absence. It's intriguing.
Your titles seem very considered.
I like words. I do take time considering the title, and often that's halfway through making. I'll get to the midpoint of a work and then I'll figure out the title and grow the object toward it. It helps me decide what other elements need to be brought into the work.
I very rarely make a work and then think, ok now I've got to call it something. It's always in the making process that the title comes.
Does a title ever inspire a work?
They sometimes come at the very start. I've got a little book of favourite words and phrases, sometimes that begins the work and I'll collect the objects that I think might be relevant to that and start playing. A title sets up a poetic context for the reading of the work. Yes, this is an object, but it is also saying something and being something other than itself. Sometimes the work will appear humorous and the title will purposely flip that over. I love that. You can't separate functional objects from language. We understand and relate to these objects through words.
What is the role of humour in your practice?
Humour is an interesting tool to use in art as it draws people in, but it can also be empty whimsy or twee if you are not too careful. This is especially true working with found objects. I try to have a good balance between the humour and the darker side of things.
I am aiming for a 'push me, pull me' tension in my work. The best works have tension.
What draws you to particular objects?
The objects I find really interesting are the ones that are like bodies – that have human qualities already, particularly if they are well worn or falling apart. Because a lot of my works are about trauma and healing, if the object already has some evidence of having lived, I don't have to force that into it. I'm interested in how some objects have a sense of embodiment to them, people using them over long periods of time leaving traces within the material of the object. The objects are a kind of witness, evidence of bodies past.
Is this what attracts you to objects related to sports?
They are of interest to me as they create dialogues between two bodies – they are physical sites of transition, intense human interaction and non-verbal communication. They are the object passed or hit between two people, yes, but there is a lot more than just that going on in the game! This is true of many functional objects; given the chance they can speak volumes about our lives.
Is this also the case with musical instruments?
Yes, I like the intimate relationship with the body that musical instruments have. Particularly violins as you have to nestle them against your neck and shoulder to hold them there. It's a sort of act of care. I've started casting the gaps between parts of the body when you're making a gesture with objects. They're a very interesting mixture of the human body and organic oddity, revealing something we are not normally aware of. They are interesting sculptural shapes.
What else are you currently working on?
A Doctorate of Creative Arts, and that takes up a lot of my mind. I've also got a big show coming up at Wollongong Art Gallery in May 2020. I'm using objects that are associated with the healing of the body, so there are lots of beds, crutches, chairs, and hot-water bottles. I've used honey and cloves. And felt of course!
Tell me about your use of felt – what draws you to it?
Felt stretches back to Neolithic times and marks our beginnings. It's a very interesting material in that it will mend itself by pulling towards itself, similar to skin. It's also human and animal at the same time, and it's got that lovely tactility to it. Felt is industrial but also domestic, it insulates for warmth and sound, it has so many interesting relationships to objects and bodies to explore. The felt is made directly from the sheep, and then I work the wool fibres with warm soapy water and my hands. I love the wet process of creating felt forms, it's body intensive.
You are physically involved in every element of your works, from making the felt, to taking and casting the moulds – is this important to your practice? I don't like to wait to make a work, I want to get straight into it. When you're outsourcing you need to wait! When you physically make the work yourself you're there with the object constantly, so you're more open to the constant possibilities that it can be or not be. There is creative opportunity in the physicality of process. It's just a different way of making.
Are there any objects you wouldn't use in your works – for example personal or valuable items? No, the object still exists – it's just in a different form. I never change the object so much that you can't recognise what it is. They have their own integrity and I want them to be recognised. The object still has its story – I'm just adding another chapter.
anitalarkin.com @anita_larkin_sculptor
Exhibition
Anita Larkin: If that chair could speak 23 May to 23 August 2020, Wollongong Art Gallery, NSW
Courtesy the artist and Defiance Gallery, Sydney
This article was first published in Artist Profile magazine and has been republished with their permission.
Image: Anita Larkin, Portrait photography: Stephen Oxenbury; Anita Larkin, The breath within me, 2015, bronze, felted wool, collected objects and hand-blown glass, 60x115x26cm