Symposium: 'What is Contemporary Weaving?'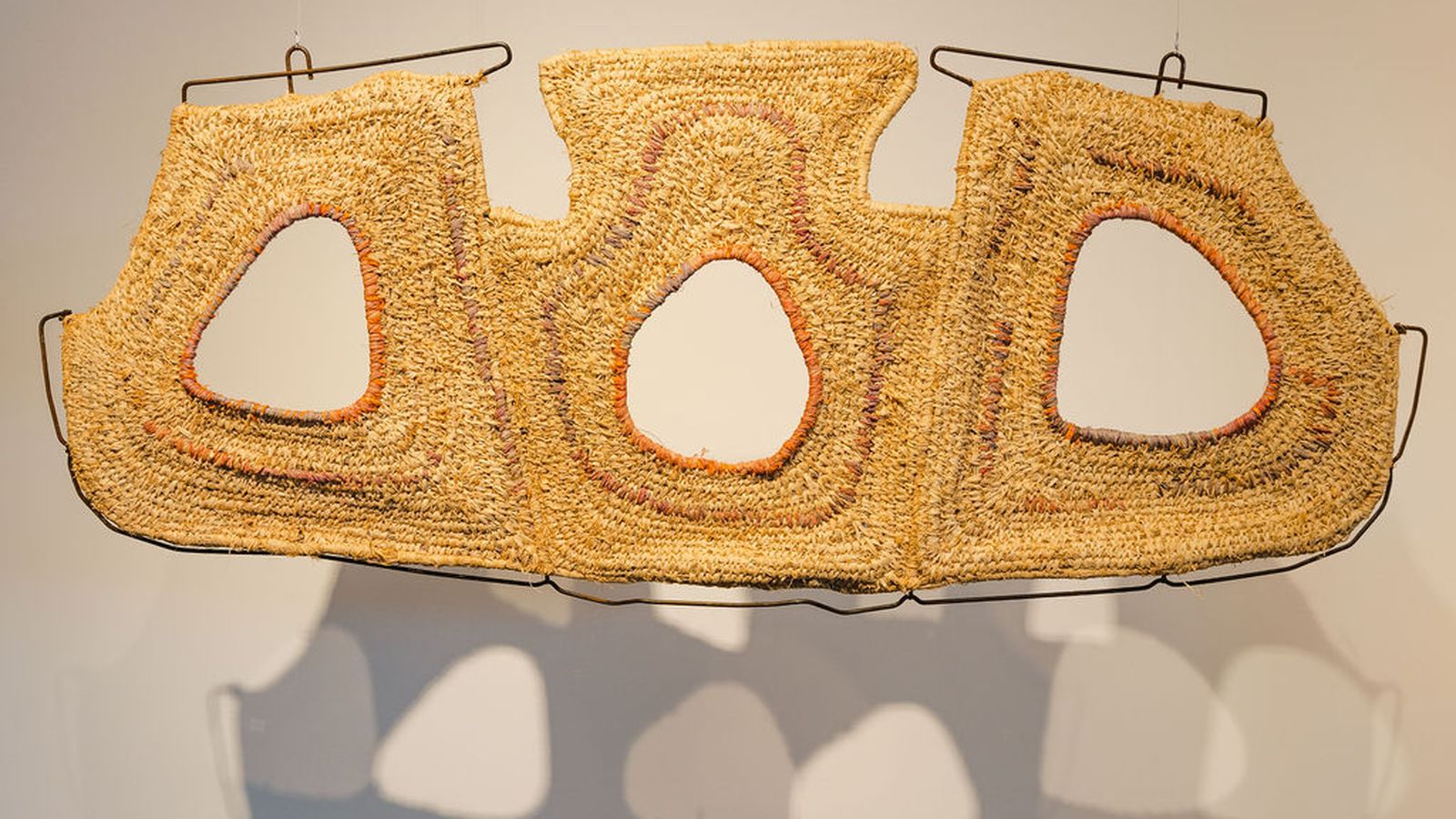 Australian Design Centre, Thursday 11 May 6–8pm
To coincide with recent exhibitions at ADC – Tjanpi Desert Weavers' Mutukaku Ngura: Motorcar Country and Weaving matter: materials and context, curated by Liz Williamson – ADC presented a symposium about contemporary weaving.
The panel of established weavers, Blake Griffiths, Dr Virginia Keft and Honorary Associate Professor Liz Williamson, engaged the audience with lively and informative conversation.
The exchange revolved around historical and cultural influences, knowledge, conceptual concerns, experimentation and sustainability as integral elements of contemporary weaving practice, rather than only techniques and structures.
Weaving Histories and Culture
In discussing the impacts of their knowledge of weaving histories, culture and environments, all panellists outlined multiple influences to their practice.
Liz and Virginia told stories of absorbing a love of making through watching their mothers sewing and crafting. For muruwarri woman, Virginia, a deep connection with her Aboriginal culture and identity, as well as her relationship with traditional materials, is vital to how she thinks about her practice, as are familial influences and an academic background in research.
Liz has gathered and honed a deep knowledge and understanding of weaving and textiles across her long-established career as a master weaver, academic and curator. A significant early influence was RMIT lecturer Hugh Raper. She also reflected on her initial academic training in economics in relation to her weaving knowledge.
Blake came to weaving via academia, with conceptual concerns being the focus. To address this, he sought to immerse himself in learning the technical aspects of weaving by master weavers at the National Institute of Design, Ahmedabad, Gujarat, India. By doing so, he also experienced the cultural significance of their practice.
Knowledge
Leading on from this, the panellists discussed the importance of passing on knowledge – as both receiver and provider.
For Blake, the transference of knowledge happens in two ways: through research and study, or more informally through conversations, mentorships and exhibition-related interactions.
As an established educator, Liz has been instrumental in passing on knowledge to numerous tertiary students and workshop participants. She commented on the value of interactions and discussions with research students, as a part of a reciprocal learning relationship.
Virginia talked about passing on knowledge, particularly orally, as being integral to Aboriginal cultural practices. It is also a way of reclaiming knowledge lost through acts of colonisation. She came to weaving through joining a yarning circle on her grandmother's Country in Brewarrina and picked it up through a process of knowledge transference.
Materials
The panel discussion moved on to the use and meaning of materials in relation to the premise of Weaving matter: materials and context, Anni Albers' quote, 'To make [our ideas] visible and tangible, we need light and materials, any materials. And any materials can take on the burden of what has been brewing in our consciousness or subconsciousness, in our awareness or in or dreams'. 1
Anni Albers has been an ongoing inspiration for Liz, in terms of her cutting-edge approach to weaving and experimental use of materials. The idea of curating an exhibition about 'materials and context' had been swirling around in Liz's mind for a long time. Drawing on Albers' philosophy, her own experiences and knowledge of the material and conceptual skills of the selected artists, Liz was able to realise Weaving matter here, at ADC.
Materials and cultural processes are at the heart of Virginia's practice as an experimental and intuitive practitioner. Rather than planning, Virginia said she often starts with an idea or concept that leads her to the form of her sculptural works. She uses raffia or lomandra grass, but also expressed a joy in experimenting with different weaving materials to express her culture and ideas.
Blake assigns value to materials in his practice. He described the role of warp being set, but the choice of materials for the weft, whether natural, gathered, synthetic or rubbish, allows the artist to have the power to decide the value of what is used, and what ideas it can convey.
Experimentation
Following on, the panel conversation further teased out experimentation, particularly linked to a quote attributed to Pablo Picasso, 'Learn the rules like a pro, so you can break them like an artist'.
Blake has recently turned to historical techniques. He talked about the amount of investigation and experimentation needed to recover techniques, particularly those lost through social disruption or by the fragile nature of textiles, leaving little physical evidence. Blake outlined his practical research with various fibres and oils to create smörring, historically used to make Viking sails wind and water resistant, with examples exhibited in Weaving matter.
Virginia also spoke about reclaiming lost practices. During British colonial rule Aboriginal peoples were forbidden to speak their own language, making it challenging to transfer knowledge and cultural skills. Contemporary artists and cultural producers are reconnecting to place and identity through experimentation, research and retained cultural knowledge. Not only are woven utilitarian and ceremonial objects being made, but also non-functional works, such as those featured in Tjapni Desert Weavers' Mutukaku Ngura: Motorcar Country and Virginia's own flying-fox sculptures.
Sustainability
As sustainability has become an essential issue in contemporary life, the panel talked about how they incorporate sustainable practices and/or messages within their work.
Virginia continued to discuss her flying-fox sculptures, and explained that as subject matter, they are polarising. On the one hand, flying-foxes are important pollinators and crucial to the health of native forests, while on the other hand they are often disliked for their noise, smell and proximity to urban and residential areas as development encroaches on their natural habitats. Although made of natural materials, her flying-fox works always start conversations related to the environment.
Virginia also referenced the work of several coastal Aboriginal communities, particularly in the north, who collect the destructive 'ghost nets' abandoned by fishing trawlers to turn them into artworks that reflect the communities' struggle to protect their marine environment.
Liz uses natural dyes, often found locally, as well as repurposed cloth to amplify the texture of the finished pieces. The recycled cloth retains the memory of its original purpose or place, while adding new meaning to the work. Liz's Weaving Eucalypts Project is a strong example of this, with colleagues in Australia, India and other countries around the Indian Ocean invited to colour silk fabric with eucalyptus leaves collected locally, which Liz then ripped into fabric yarn and wove into 100 panels.
Blake embraces sustainability by using natural and found materials and rarely buying new yarn. He explained that he predominantly uses a plain weave structure to allow the focus to be on the weft materials and is reluctant to make too much work in a world with mass produced textiles and clothing often ending up as landfill.
The panel covered a lot of ground over the course of the conversation, revealing that whether functional, non-functional and/or conceptual, contemporary weaving is an ever-evolving practice which draws on diverse cultural, historical, technical and personal knowledge and experience.
Australian Design Centre would like to thank each of the panellists for generously contributing to the symposium with their time and experienced insights.
Panel Moderator, Debbie Abraham l ADC Associate Director: Programs and Partnerships
1. Anni Albers, Material as metaphor written in 1982 and published in Anni Albers: selected writings on design, edited by Brenda Danilowitz, Wesleyan University Press, 2000. Page 73.