Designing Bright Futures
Selected UNSW A&D Design Graduates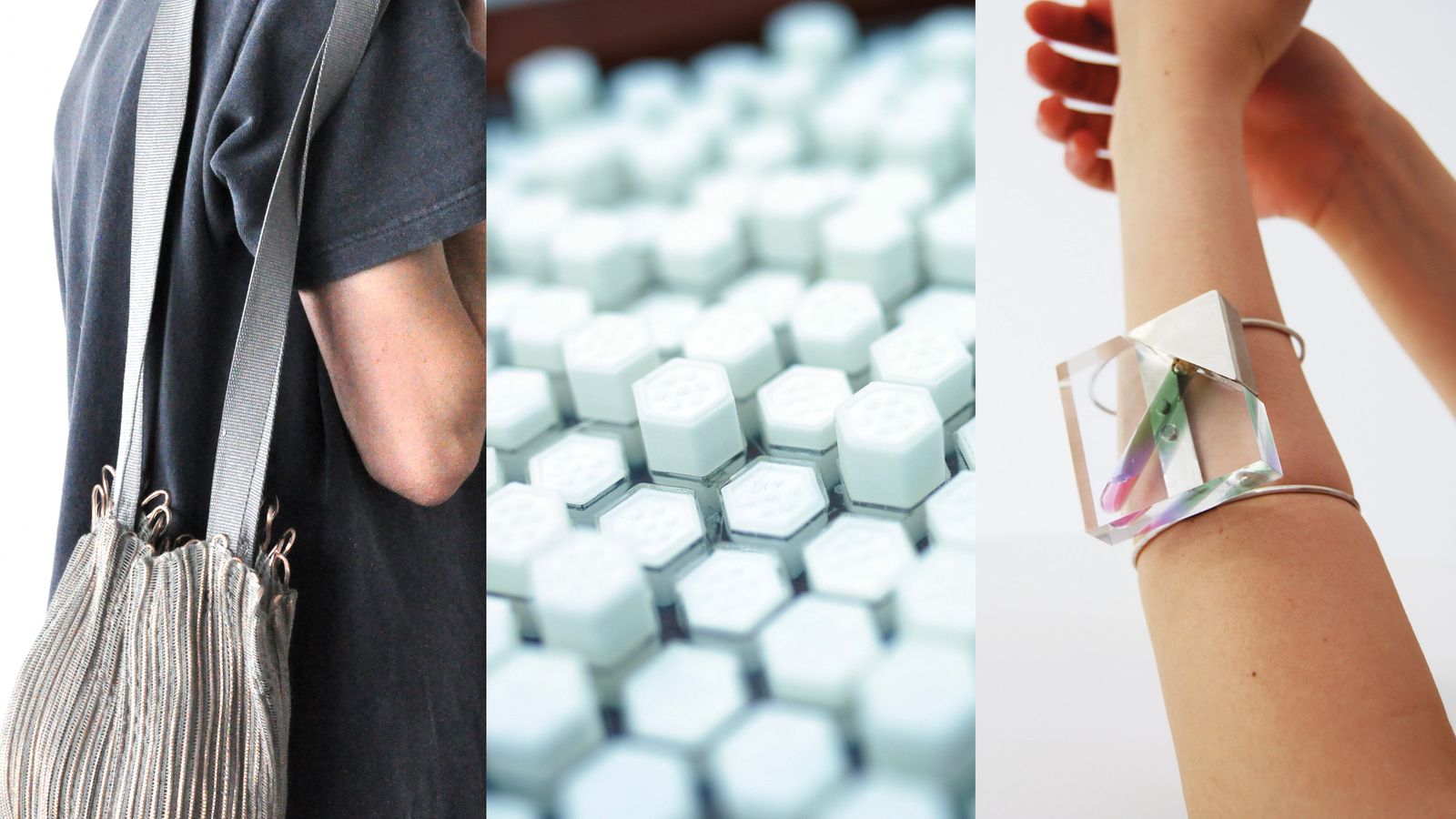 1 December 2016 - 25 January 2017
Designing Bright Futures: Selected UNSW A&D Design Graduates is a satellite of the Annual 16 and an exhibition partnership between Australian Design Centre and UNSW Art & Design - a celebration of optimism, ideas and ambitions.
Australian Design Centre is proud to present, in partnership with UNSW Art & Design, the inaugural exhibition Designing Bright Futures.

Designing Bright Futures surveys eleven of the most outstanding 2016 UNSW Art & Design graduating students across Bachelor and Masters of Design fields including jewellery, textiles, graphics, object, interactive and spatial design.
Graduates have been chosen for the ways in which their work explores and promotes ideas of innovation and sustainable practice, capacity for social impact, commercial viability and the role of design in advancing well-being.
The Graduate Designers are: Alexander Tanazefti, Blake Griffiths, Cynden Adams, Jessica Ticchio, Jinlong Song & Chat-Kuen Yeung, Lily Hambling, Michael Askew, Nila Rezaei, Rachel Drake and Rebecca Liston.

Showcased work includes; ethically and culturally considered textiles, mental health focused wearables, a therapeutic dementia aid, a repair kit for our material possessions and a climate reactive sculpture.
The exhibition is important in celebrating the optimism, ideas and ambitions of the next generation of designers and makers as they move into the professional world. Designing Bright Futures continues ADC's commitment to education, our ongoing partnership with UNSW and to supporting the work of makers and designers at every stage in their career.
ADC has a long and notable history of exhibiting and supporting UNSW Art & Design graduates, facilitating intern programs and has worked with the University in recent years to present a number of workshops, forums and events.
In 2015 Australian Design Centre announced the Australian Design Honour list recognising the leading lights of designers, thinkers, and makers in Australia. The list includes many UNSW Alumni and staff including Susan Cohn, George Khut, Janet Lawrence, Louise Olsen, Stephen Ormandy, Liane Rossler, Lucy Simpson, Mari Velonaki and Liz Williamson to name just a few.

The exhibition was opened on Thursday 1 December by Professor Ross Harley, Dean UNSW Art & Design and Lisa Cahill, Director, Australian Design Centre. The winner of the ADC UNSW Art & Design Award was shared by Blake Griffith and Jinlong Song & Chat-Kuen Eric Yeung.
Check back here for details of talks and workshops related to this exhibition.
Find out more about UNSW Art and Design exhibition Annual 16 here.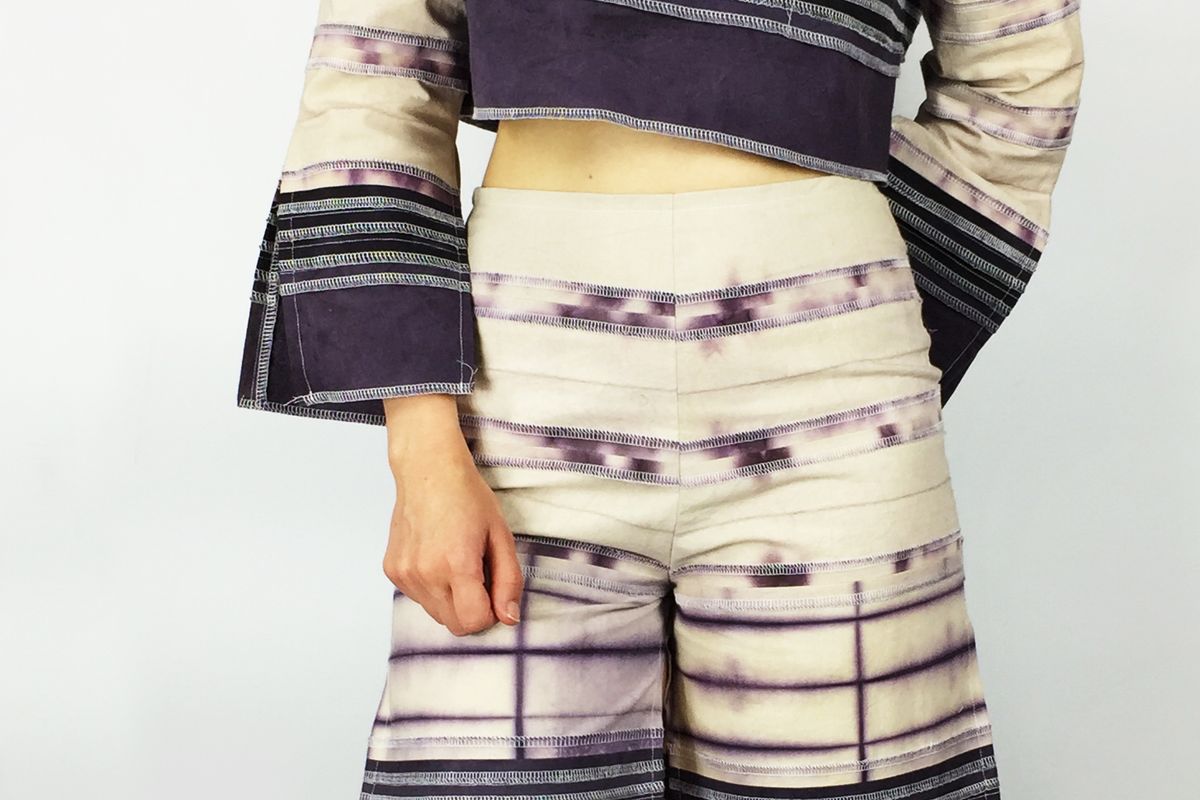 Cynden Adams
Guardian: Made in Cambodia, 2016
Cynden Adams' passion for textiles, design, apparel and fashion spurred her desire to study for a creative career. Cynden is motivated by concerns for ethics and sustainability and inspired by her travels overseas.
Guardian: Made in Cambodia is an ethically produced textile and apparel collection designed in response to the low-income and hazardous working conditions of garment factory workers in Cambodia. The collection acknowledges and raises awareness of the Neak Ta, a uniquely Cambodian guardian spirit, and its associated worker mass fainting described as a culturally appropriate form of rebellion to worker mistreatment.
The collection visually explores the repetitive piecework of garment factory work, and the disruption caused to it by the Neak Ta phenomenon. Open and closed seams, darts and hems recall the repetitive qualities of piecework labour, disrupted by dark, ominous natural dyeing techniques reminiscent of fainting and possession.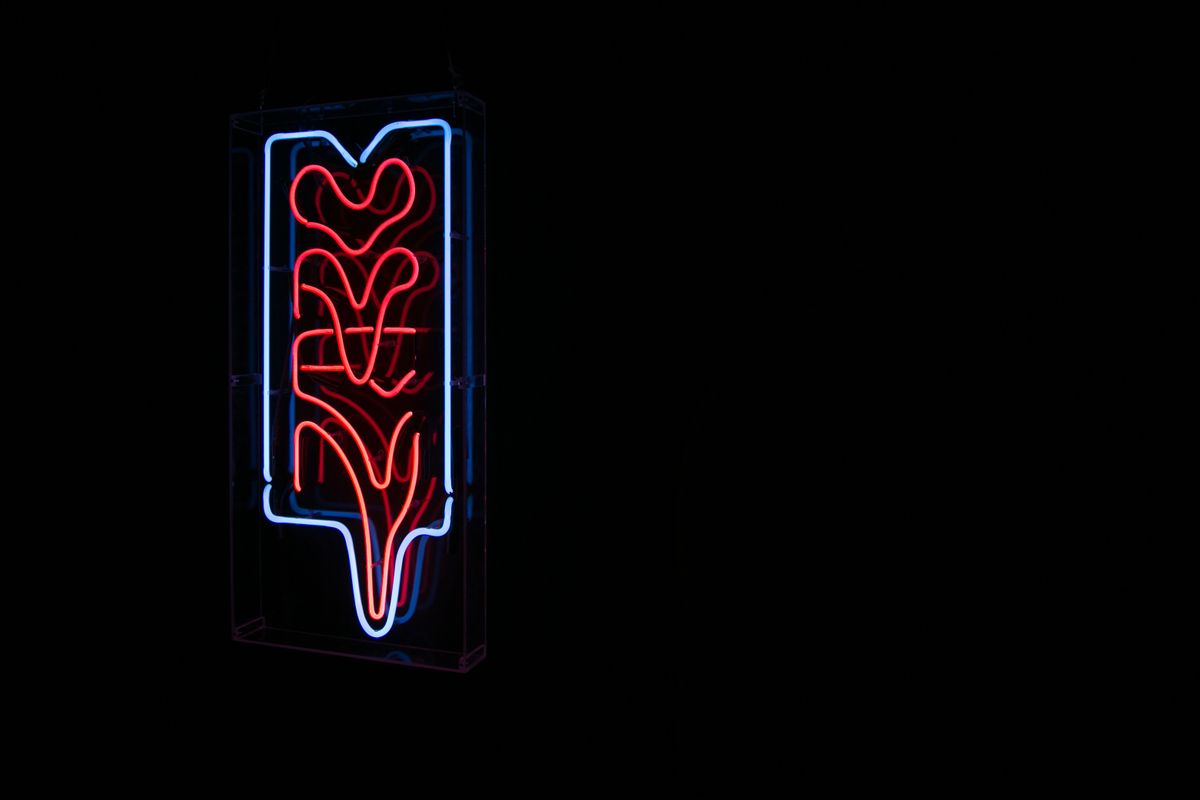 Michael Askew
Open for Business, 2016
Michael Askew has a passion for culture, art and lifestyle. Using a combination of digital and analogue techniques, Michael's work incorporates the past and the present in an exploration of counterculture and expanding perceptions of the contemporary world.
Open for Business satirically explores the impact of the lockout laws on Sydney's nightlife and culture. By creating a speculative nightlife experience, the work attempts to create a perception shift in the public sphere around these impacts.
VOID is a fictitious establishment that embodies and exaggerates the experience of nightlife, drawing attention to the importance of this culture.
The work examines the 'business as usual' approach to nightlife under lockout laws. It portrays the real impacts on the economy using distorted neon signage, audio visual effects and satirical marketing, branded a 'new nightlife experience' for Sydney.
Lost not gone, the nightlife of Sydney is expressed as a 'lost love' in a distorted and exaggerated personification of the downturn of the night-time economy.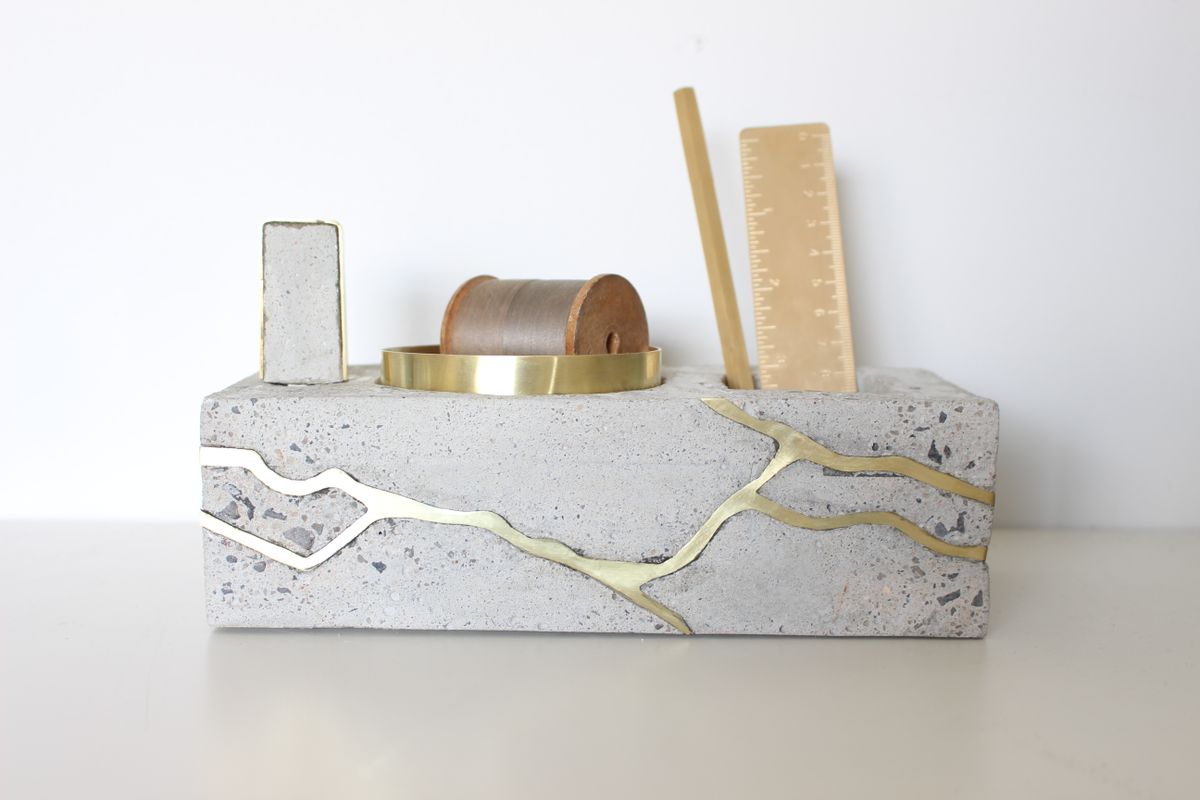 Rachel Drake
Mending Is Better Than Ending, 2016
Rachel Drake enjoys exploring different mediums and formats and has particular interest in photography, jewellery and print design. Her problem-solving skills and attention to detail, inspire her to continue seeking opportunities for growth in the industry, building on her experience and knowledge.
Mending Is Better Than Ending is a USB, digital publication and toolkit dedicated to emphasising the importance of waste minimisation and inspiring the younger generation to utilise repair to extend the lifecycle of their belongings.
By drawing on concepts present within Japanese art and aesthetics, namely Kintsukuroi (to repair with gold) and Wabi Sabi (an appreciation of imperfection and time passing), as well as theories surrounding emotionally durable design, Mending Is Better Than Ending provides young Australians with the tools, knowledge and encouragement to care for their possessions, reduce post-consumer waste and appreciate the beauty of repair.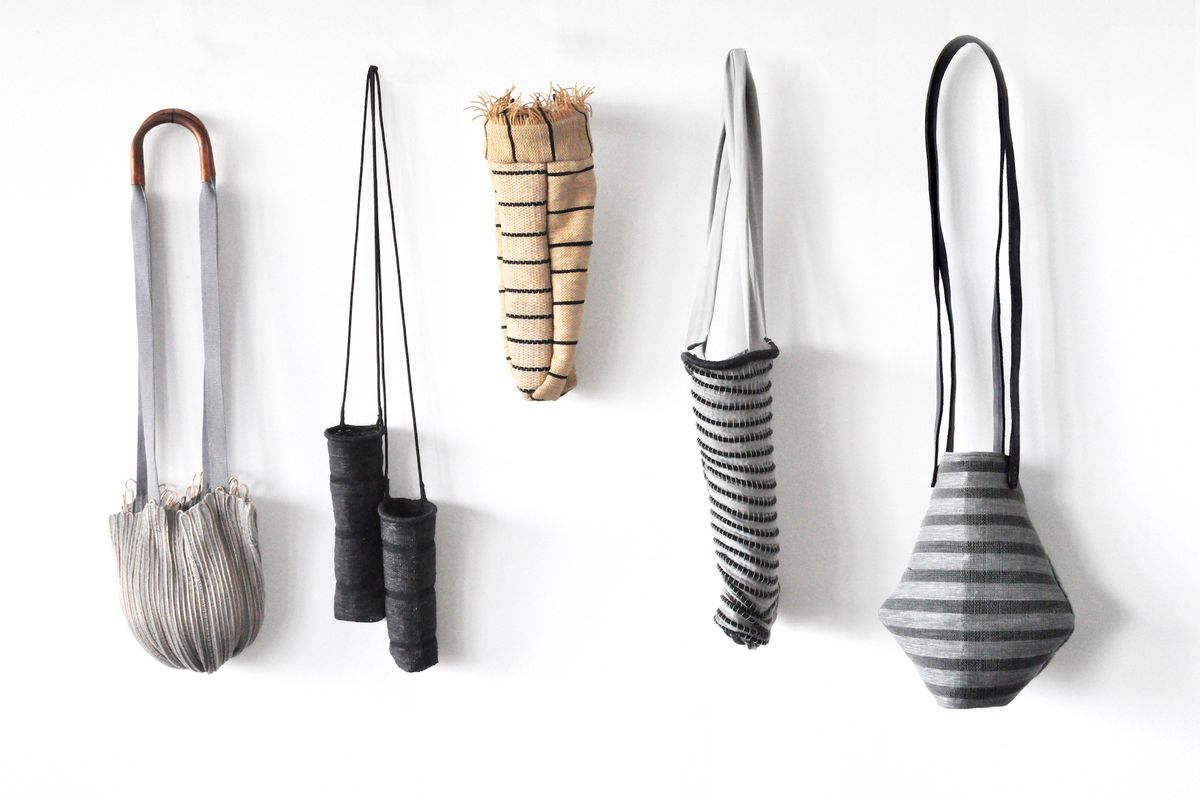 Blake Griffiths
Carry On Carrying On, 2016
Blake Griffiths is a textile and ceramic artist with an interest in social issues. Contrasting natural and synthetic materials, the forms used in his work question functionality and leave the viewer to consider the purpose of making.
Carry On Carrying On is an exploration into the world's future. The everyday bag has been used as an object to question how we might get there and what we will bring with us.
While these vessels represent a literal use, they double as a metaphoric enquiry into the connections between different, yet parallel social issues. In this case, an analysis of refugees carrying items and the vessels used compared to that of the luxury vagabond.
These forms are hybrid cultural solutions for a global collective culture that may result in a sense of connection to everywhere and nowhere simultaneously. They blur the lines between traditional and contemporary weaving and ceramics and formal and informal design processes and leave the user wondering if it is a traditional, cultural object, or something destined for fast consumption.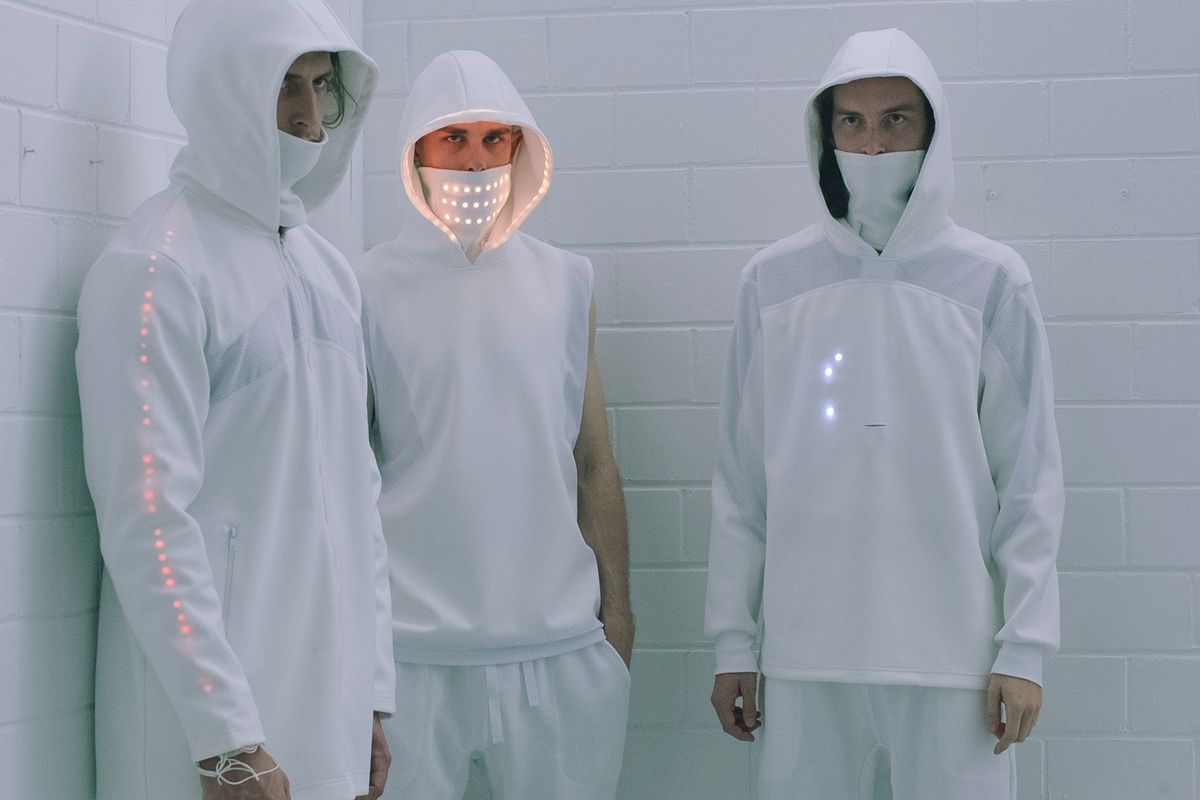 Lilian Hambling
e-motion, 2016

Lilian Hambling's work focuses on the integration of fashion and electronics. Her previous work in wearable technology was selected for the Designed By exhibition at Kudos Gallery, Paddington. Lilian is currently interning for high-end fashion label Maurie & Eve.
e-motion further investigates wearable technology and the work delivers a new form of non-verbal communication for men, measuring physiological data from the body and expressing it as visual, dynamic displays. The range comprises three e-textile contemporary menswear garments, combining 'street-wear' and 'active-wear'.
In response to sensors measuring pulse, muscle tension and proximity, each garment displays coloured light animations emulating the physical manifestations of emotions including love, anger, joy, sadness and fear.
Studies show that whilst men don't necessarily experience less emotion, they are more likely to have been socialised to be less communicative regarding emotions. By creating an opportunity for men to be more visibly expressive, stereotypical expectations of masculinity can change. Instead of concealing feelings, they are openly displayed as interactive gestures.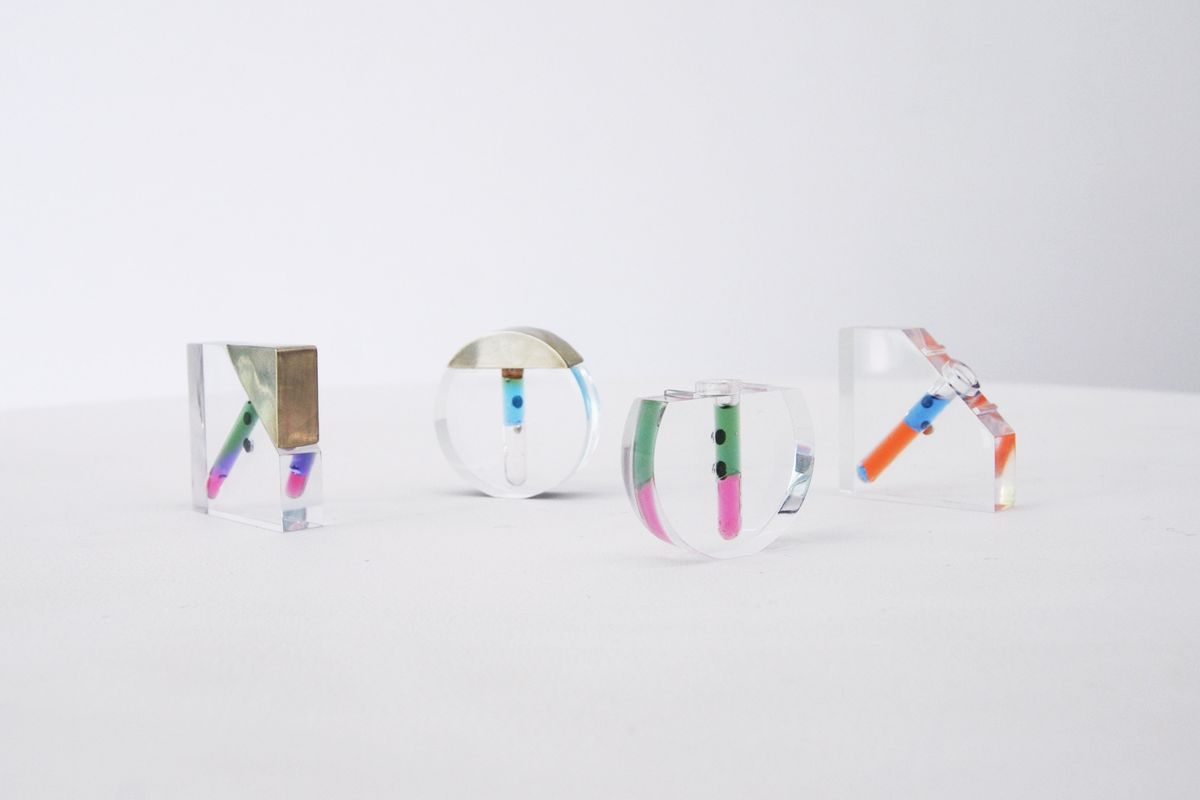 Rebecca Liston
Age of Anxiety, 2016
Initially entering the Bachelor of Design (Honors) degree at UNSW Art & Design to study textiles, Rebecca Liston became passionate about jewellery design and ultimately focused her final honors work within this major. This year the artist has furthered her skills pursuing internships at Gaffa Studios and Studio Elke, as well as launching her own freelance jewellery business.
Named after an anthology of poems written in 1942, Age of Anxiety is a proposed intervention inspired by the historical use of scent and touch to combat symptoms of anxiety.
The wearable bottles are filled with essential oils produced by the company Aura Soma. The oils are believed to help alleviate stress and anxiety, among other benefits, with added colour for visual personalisation. The bottles are detachable by a system of magnets, allowing them to be worn on the body, taken off and used as fidget objects, or displayed as stand-alone pieces.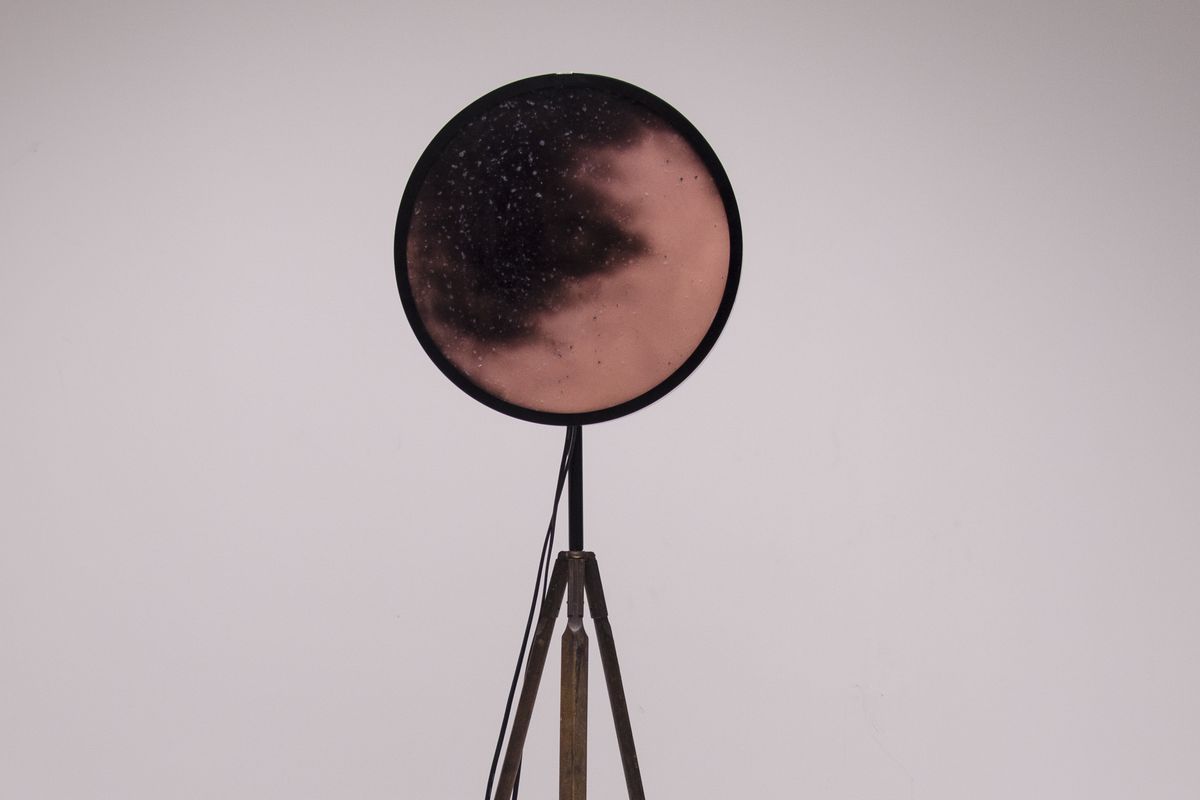 Nila Rezaei
Dispersion, 2016

Nila Rezaei's work focuses on objects and product design, investigating human interactions with objects and how this can result in positive behavioral change. She identifies as a maker, doer and collaborator and enjoys working with stakeholders outside the design industry such as engineers and scientists.

Nila's research initially began with making an Interactive lighting/furniture (Exterminia) for VIVID 2016, raising awareness about the issue of coral bleaching. Dispersion, is another outcome of her research that aims to encourage the act of positive change in the context of climate change. Focusing on catastrophic oil spills around the globe, the mirror utilises a forced interaction to evoke a moment of contemplation about the pervasive toxicity that can result from human oil exploration and extraction.

Interaction is initialised via a wind sensor encouraging the user to participate in the act of 'repair' by blowing into the sensor. The interactive mirror is coated with two types of black thermochromatic pigment mixed with resin, which visibly transforms when breath activates a heating system, clearing the mirror.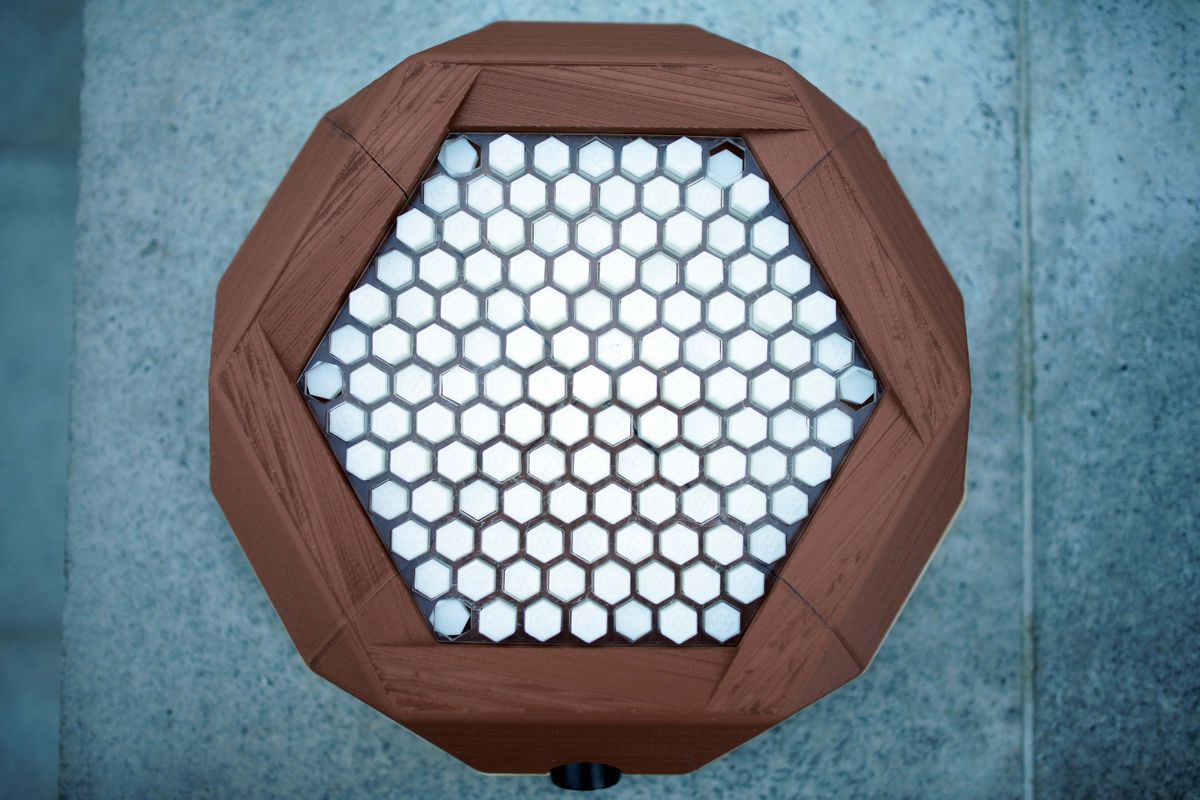 Jinlong Song and
Chat-Kuen Eric Yeung
AHA- Alzheimer's Training Device, 2016
Jinlong Song is a Graphic and Interaction Designer, completing his second Masters degree at UNSW Art & Design. He has extensive experience in brand identity, advertising, print, UX/UI and interactive design. "Design with emotion" is his manifesto.
Chat-Kuen Eric Yeung is a videographer and photographer, also completing his Masters of design at UNSW Art & Design. Eric has a deep passion for digital media and interaction design. For Eric, the process of interaction design is the way to explore the new world.
Dementia is a disabling brain syndrome occurring in many older people. In 2016, more than 353,800 Australians were expected to be diagnosed with this neurodegenerative disease. Symptoms of dementia include difficulty with memory, thinking, planning and conversation. The emotional state of the sufferer can also be affected.
This interactive product attempts to use a non-pharmacological way to help sufferers of early stage dementia. Touching more than 127 pins whilst playing the different games, the user employs a variety of senses including touch, hearing and sight, stimulating the brain and improving cognitive behavior.
Unlike a touch screen, this game platform is tangible and easily understood by the elderly. The platform currently includes three games but given the open source design, developers can easily add to this collection.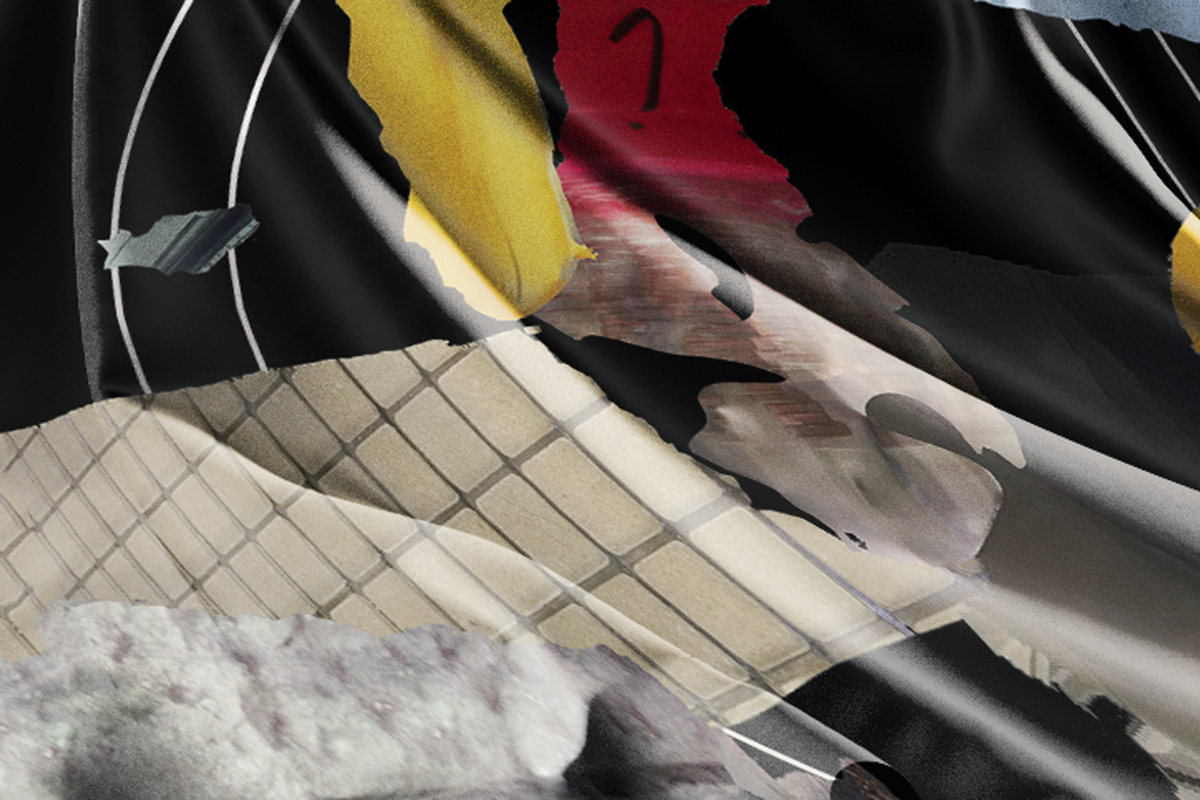 Alexander Tanazefti
Manifolds, 2016
Alexander Tanazefti works across print, web and screen and is interested in exploring how mediums and material form can influence, or be influenced by, their content.

Manifolds is an investigation of graphic design and questions how and who produces and distributes images.

Manifolds treats images as surfaces which are both produced and published, therefore creating other surfaces. By offering these images up for manipulation and publishing, the work seeks to suggest image making, and by association graphic design, is an expansive and public practice in a state of instability and change.

The work proposes that within the complex network of communications we exist in, communicative forms and practices (ie. design) need to adopt a surface that responds to and reflects this change - this surface is dubbed the manifold.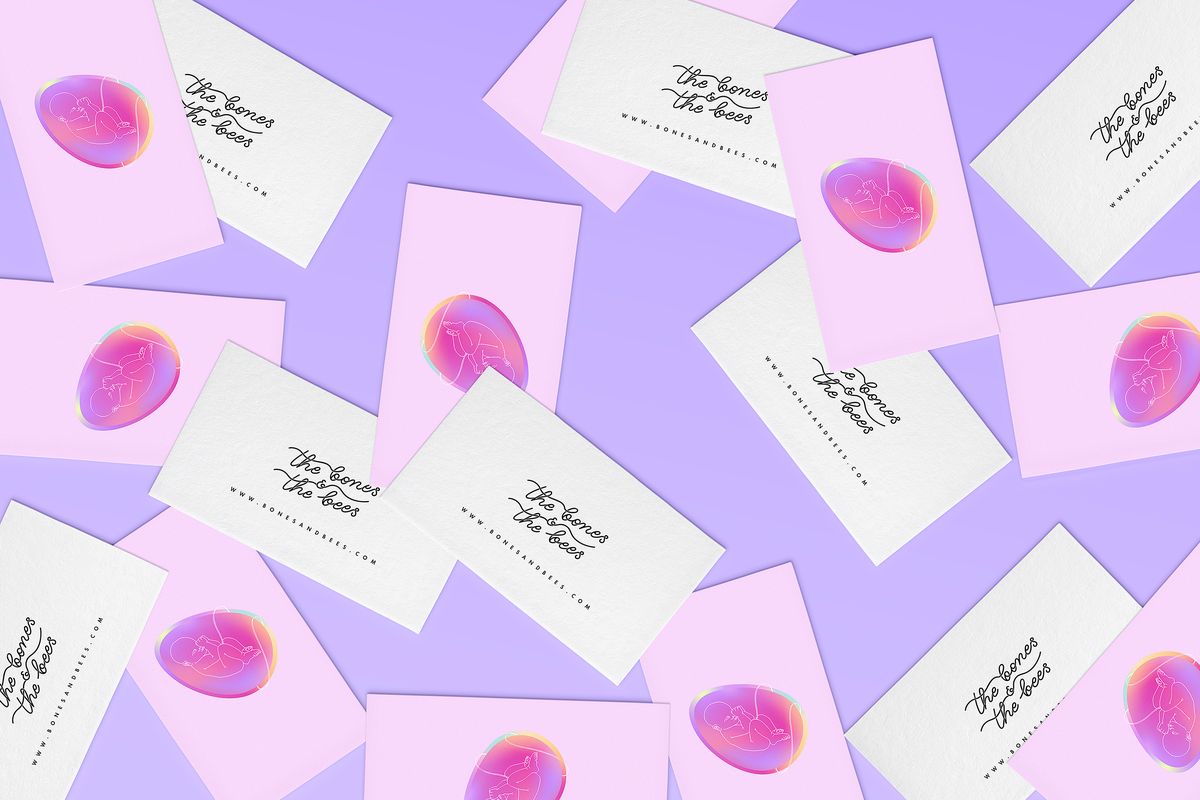 Jessica Ticchio
The Bones & The Bees, 2016
Jessica Ticchio's work combines detail and graphics of well researched concepts delivered in a responsive package. Extensive experimentation and exploration of visual references determined communication, colour, mood and aesthetic.
The Bones & the Bees explores the relationship between rheumatoid arthritis and pregnancy in young women, with a focus on the effect medication can have on unborn babies.
The designer is a young woman living with the condition and believes there is a significant gap in awareness and information, and her first-hand experience has helped her approach the issue in a unique and authentic way.
Based on colour theory research and its effect on mood, Ticchio has devised a palette aimed at evoking feelings of happiness, hope and joy. As individuals with an arthritis diagnosis are twice as likely to develop depression the campaign radiates positivity. A light-hearted approach assists in facilitating behavioural change and creates comfort for women fearing their diagnosis.