External Review
Tom Fereday in collaboration with American Hardwood Export Council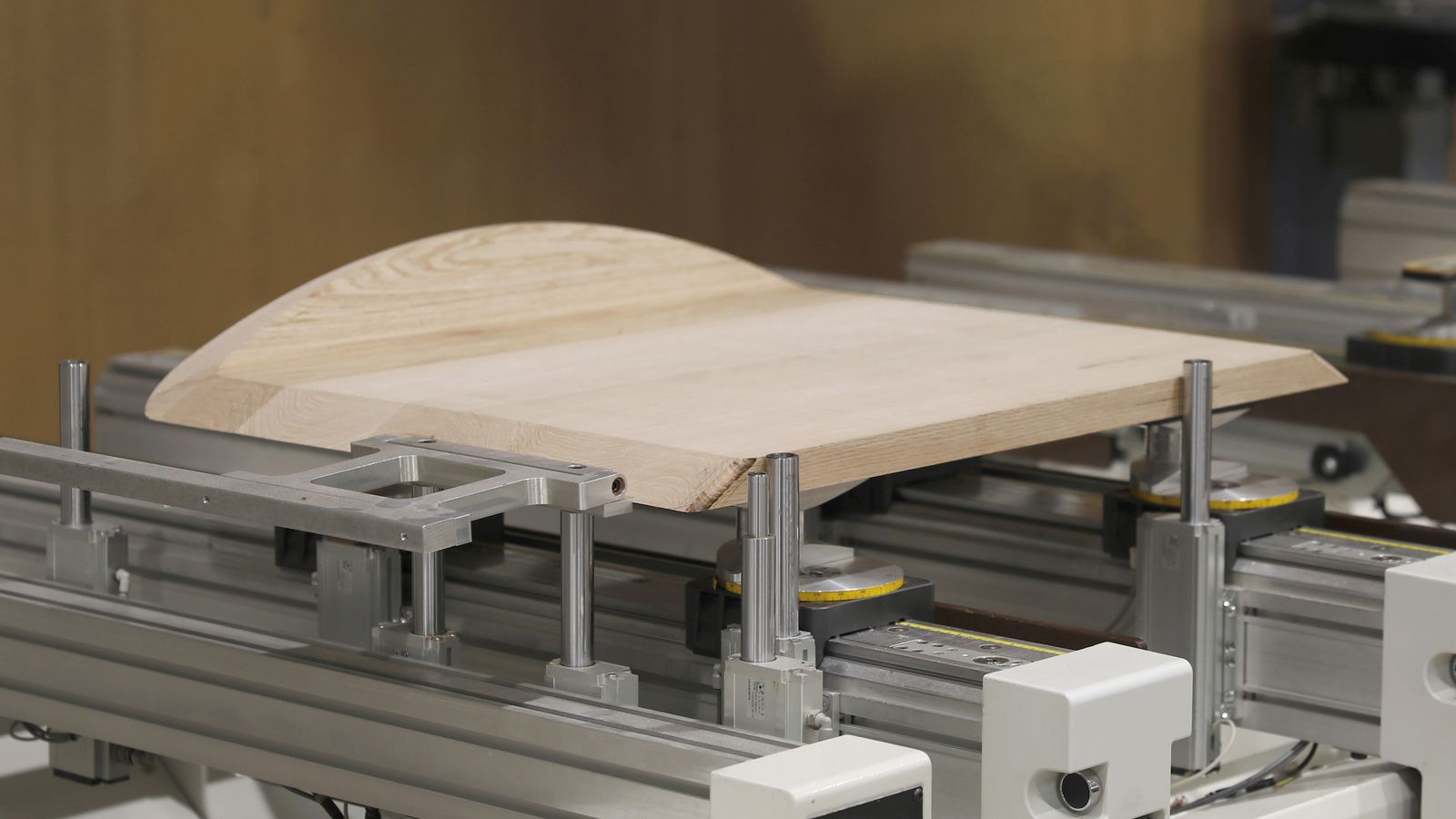 External Review | Tom Fereday in collaboration with AHEC
14 - 24 September 2022
External Review provides the chance for the wider community to engage and discuss how we may better foster a sense of thoughtful, intentional and environmentally responsible design whilst supporting Australian craftsmanship.
For Sydney Design Week 2022, Australian Design Centre hosts External Review, a collaboration between award winning designer Tom Fereday, furniture manufacturers Evostyle and upholstery specialists, Swiss Design and the American Hardwood Export Council.
"It is important for me as a designer to stop and reflect on some of the processes that have become somewhat intuitive in my work. We have become accustomed to working at a fast pace to respond to the demands of the market. Opening my work up to external review is an opportunity to consider what I know, what I don't know and what I need to know to continue to build an environmentally considerate design studio" says Fereday.
External Review follows, and celebrates, the entire design process from the source of the raw material through to manufacture and final presentation with the purpose of shared learning. Opening our work up to external review is an opportunity to pause and consider how we work and to offer a shared learning through the open development of a new furniture piece.
Recently included in the Art Gallery of New South Wales revitalised Members Lounge, are bespoke furnishings designed by Tom Fereday within the exclusively designed space by Tonkin Zulaikha Greer. Read the full article here.
About Tom Fereday
Fascinated by the tension that lies between natural materials and contemporary design and manufacture, Tom Fereday develops unique designs originating from an intrinsic inquiry into the role of objects today. Built on the principle of honest design, Tom Fereday's work celebrates the materials and manufacture behind furniture and objects, guiding considered and thoughtful design outcomes that explore the notion of quiet innovation.
Born in Australia, Tom Fereday grew up in London studying sculpture and graphic design at the Wimbledon School of Art before moving to Australia to complete an honours in Industrial Design at the University of Technology, Sydney. Working across Europe and Australia Tom Fereday went on to found his sole practice in 2012. Works have been presented and published internationally through collaborations with brands including Louis Vuitton, Alessi, Stellarworks and Herman Miller and exhibited through galleries including Museum of Contemporary Art, Art Gallery of New South Wales, Powerhouse Museum, Mint Gallery, Australian Design Centre and frequent international furniture fairs.
About Evostyle
Evostyle are masters of consistently exquisite, hand-crafted joinery and solid timber products. With a strong heritage of craftsmanship and a passion for wood built over three generations, Evostyle now concentrate on three core principles – Heritage, Craft and Innovation. These principles make Evostyle strong, unique and forever moving forward, and has ensured they remain the manufacturer of choice for leading architects and designers around the world.
About Swiss Design
Swiss Design is an Australian company who draws on years of manufacturing experience to foster local Australian design in creative collaboration. Swiss Design is passionate about the upholstery trade and making furniture pieces with consideration for customisation, time, and using environmentally sustainable practices, to a level of quality few can replicate. Swiss Design was started by Markus Pluss, a master upholsterer from Switzerland in 1976.
About American Hardwood Export Council
The American Hardwood Export Council (AHEC) is the leading international trade association for the U.S. hardwood industry, representing the committed U.S. hardwood exporters and the major U.S. hardwood product trade associations. AHEC runs a worldwide programme to promote the full range of American hardwoods in over 50 export markets.
Events
External Review Launch Event:
Join us for the launch of External Review and hear Tom Fereday discuss the project.
When: Wednesday 21 September, 6:00pm-8.00pm
Where: Australian Design Centre
Free event, bookings required, RSVP here
Image top: Tom Fereday, lounge in progress, 2022. Photo: Tom Fereday Studio
Subscribe
Stay up to date with all the news from the ADC and world of design, get early invites to events and workshops, and access to exclusive tools and resources.