Liz Williamson: Textiles
Living Treasures: Masters of Australian Craft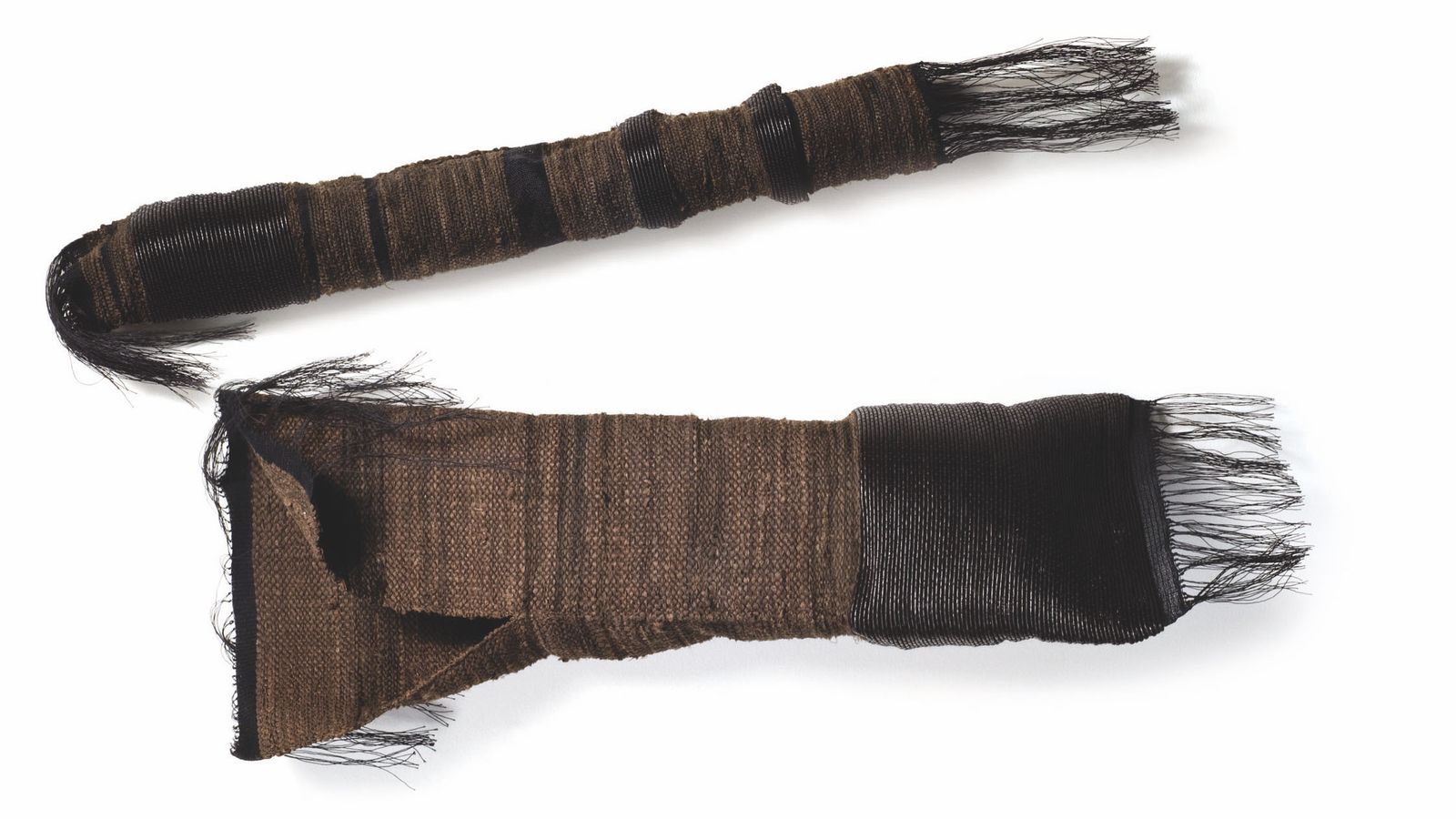 2008-2011

Cloth is a universal material. Everyone uses it, every day, in many different ways, for warmth, protection, as a covering, for decoration, for health and safety, from birth to death. Cloth is associated with an astonishingly broad range of human experiences. There are social and political connotations and associations linked with the properties of cloth, its embellishment, decoration, status and position. 
Liz Williamson, 2006

Liz Williamson: Textiles tells the story of this influential weaver's search to understand textile traditions in relation to her own life and interests, and then interpret those experiences, through her woven cloth, into new ideas and forms. Known for her continuing series of handwoven wraps, scarves and blankets, with their distinctive textures and colours, Williamson had originally anticipated a career as a designer of textiles for industry. In recent years she has expanded her interests to develop several series of large jacquard-woven works, and now wearables, where she uses both computer programs and hand-weaving technologies to weave photographic images into the cloth.
As each series of works develops, her ideas and ways of working interlace and evolve, across themes of wearing, covering and protecting, construction and repair, land and water. These are personal, contemporary interpretations of textile traditions that evoke new associations for us. To see her wearing at least one of her own works swathed around her shoulders, it is evident that she is not only involved in this pursuit for its challenges, which are considerable, but for her own pleasure in the many meanings that cloth holds for her.
Williamson grew up in country Victoria between the necessary do-it-yourself activities of a farming family in the postwar years and the wider social and economic changes taking place at that time. Her interest in materials and skills, her fascination with the way abilities and ideas are passed on through family members and their memories, and her resourcefulness combined with a desire to explore and experiment all developed during those years, and remain close to her working ethic today.
As well as studying weave structures and textile design in Australia, she has further explored textile traditions and their cultural meanings through travel and work in Asia, the United States, Canada, Europe and the United Kingdom, and has integrated what she has learned into what is now a very wide set of references for her work. Her research has stretched from studying her mother's darning and repairs, to investigating museum archives of weave and darning samplers in many countries.
Williamson's career developed at a time of great change in cultural and education opportunities in Australia. She has not only found her own voice within and growing out of these developments but has also contributed to them considerably herself, through the example of her approach to her work, the particular nature of her weaving and her strong role in education. As well as weaving consistently, she has also taught both in formal education programs and in workshops, conferences and lecture programs in Australia and elsewhere.
Liz Williamson is sustained by her links with family, the land and the rural practices she grew up with. She is strongly supported in her commitment to her work by her husband, Tony Stirton, and acknowledged by a wide network of colleagues and friends. The Living Treasures exhibition and this publication provide an opportunity to document and investigate her exemplary career, acknowledge her influence and thank her for her contribution to this field.
Grace Cochrane

The above text is an extract from Liz Williamson: Textiles, the exhibition catalogue, available for purchase through Object Shop
Download additional Exhibition information here
Explore and download the Education Kit here
Liz Williamson is an Australian Design Honouree. Explore Australian Design Honours here
Image (top): Liz Williamson, Sac No.1 and Sac No. 2, 2008. Photo: Ian Hobbs
Australian Design Centre, Sydney
8 November 2008 – 11 January 2009
Tamworth Regional Gallery, NSW
29 January – 1 March 2009
Bathurst Regional Art Gallery, NSW
13 March – 26 April 2009
Grafton Regional Art Gallery, NSW
30 May – 28 June 2009
Gladstone Regional Gallery, QLD
24 July – 30 August 2009
Noosa Regional Gallery , QLD
2 October – 6 November 2009
Coffs Harbour Regional Gallery, NSW
8 January – 20 February 2010
Lake Macquarie City Art Gallery, NSW
12 March – 25 April 2010
JamFactory, SA
14 May – 26 June 2010
Devonport Regional Gallery, TAS
30 July – 28 August 2010
Ararat Regional Gallery, VIC
30 September – 30 October 2010
Craft, ACT
18 November – 18 December 2010
Albury Regional Gallery, NSW
14 January – 27 February 2011
Craft Victoria, VIC
18 March – 30 April 2011