Menagerie: Contemporary Indigenous Sculpture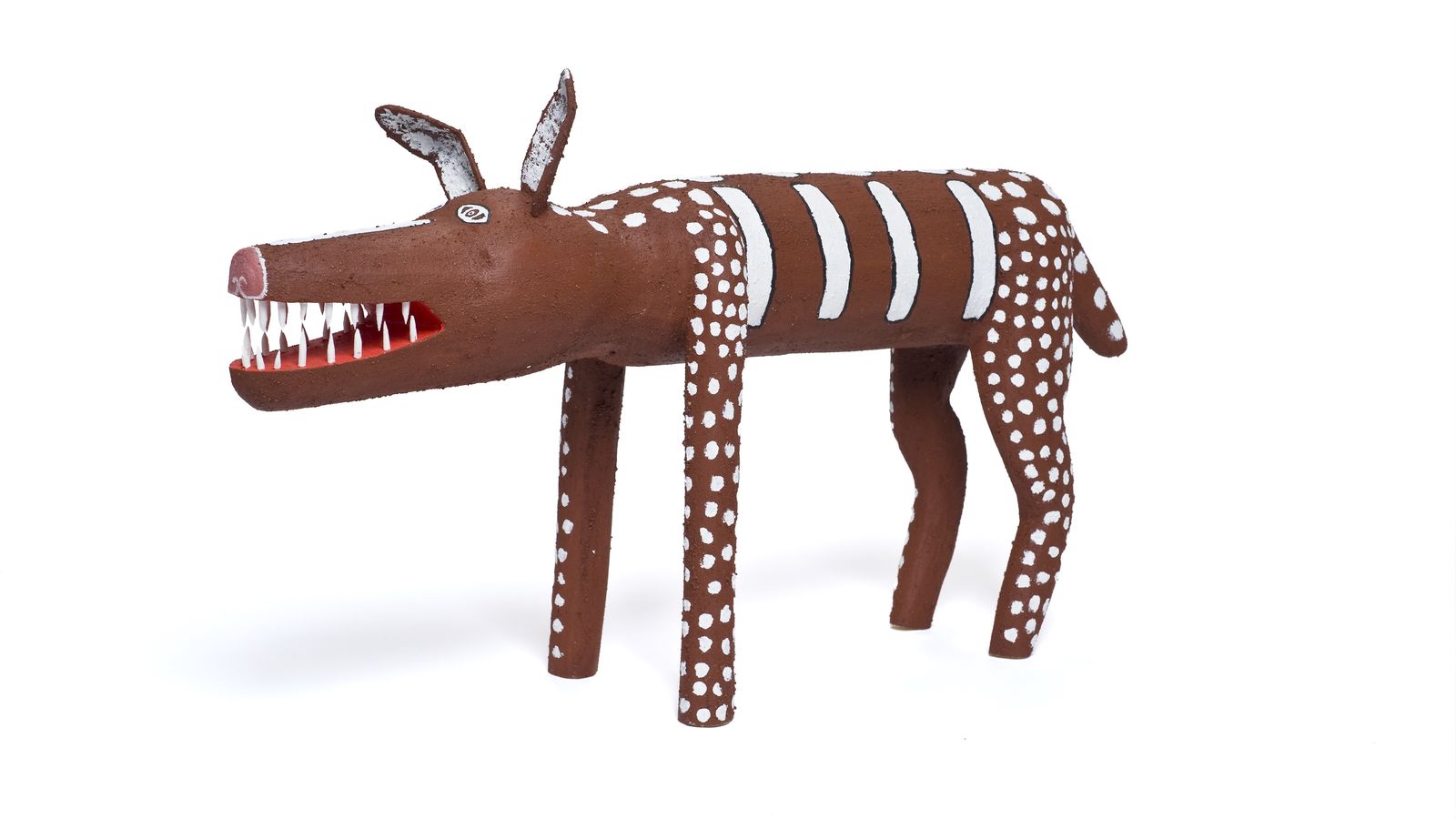 5 September – 15 November 2009

Menagerie: Contemporary Indigenous Sculpture is a unique and groundbreaking exhibition that exposes the richness and breadth of contemporary Indigenous sculpture in Australia. It includes both well-known and emerging artists, who have each produced outstanding sculptural works depicting a variety of animals. Through these works the artists share with us their cultural knowledge, expressions of identity and connections to country.
Menagerie has been developed through an unusual and mutually rewarding collaboration between Object: Australian Centre for Craft and Design and the Australian Museum. At face value, the two organisations appear to be vastly different. Object is a small, nimble public gallery with no permanent collection and the Australian Museum is a major museum with an extensive and important public collection. Object is primarily concerned with contemporary craft and design and the Museum with natural history and culture. However both organisations are committed to exploring ideas in new ways, engaging the broadest possible audience and to promoting culture. The combined strengths of the two organisations have resulted in a project that neither organisation could have produced alone.
The exhibition has been made possible through funding from a number of government agencies and private foundations. Both Object and the Australian Museum acknowledge their principle funding from the New South Wales Government through Arts NSW and are grateful for the additional funding provided by Arts NSW to support the Indigenous Curator position at Object, which has been instrumental in realising this project. The development of the exhibition and its tour to eight other venues around the country have received significant funding from the Commonwealth Government through Visions of Australia and the Contemporary Touring Initiative and we thank the Minister for the Environment, Heritage, Water and the Arts, Peter Garrett MP, for this crucial support.
We are also very thankful for assistance from the Gordon Darling Foundation and the Myer Foundation, whose consistent philanthropic support of Indigenous arts in Australia should be applauded. We are delighted to be working with Taronga Zoo on a range of educational and promotional activities related to the exhibition, and with International Art Services to ensure the safe transit of the exhibition on its national tour.
We estimate that by the end of its two-and-a-half-year tour, Menagerie will have been seen by more than 200,000 people around Australia. Through these wonderful sculptural works and the varied narratives associated with them we believe this exhibition will do much to showcase the sophistication and complexity of the art and culture of Australia's Indigenous peoples.

Image (above): Craig Koomeeta, Neetan (Camp Dog), 2008, wood (Milkwood) and ochre. Courtesy Wik and Kugu Art and Craft. Photo: Australian Museum
Image (below): Johnny Young, Aherre (Kangaroos), pair 2008, steel and copper wire. Courtesy Tapatjatjaka Art abd Craft Centre. Photo: Australian Museum