Ema Shin
Devoted Body, 2017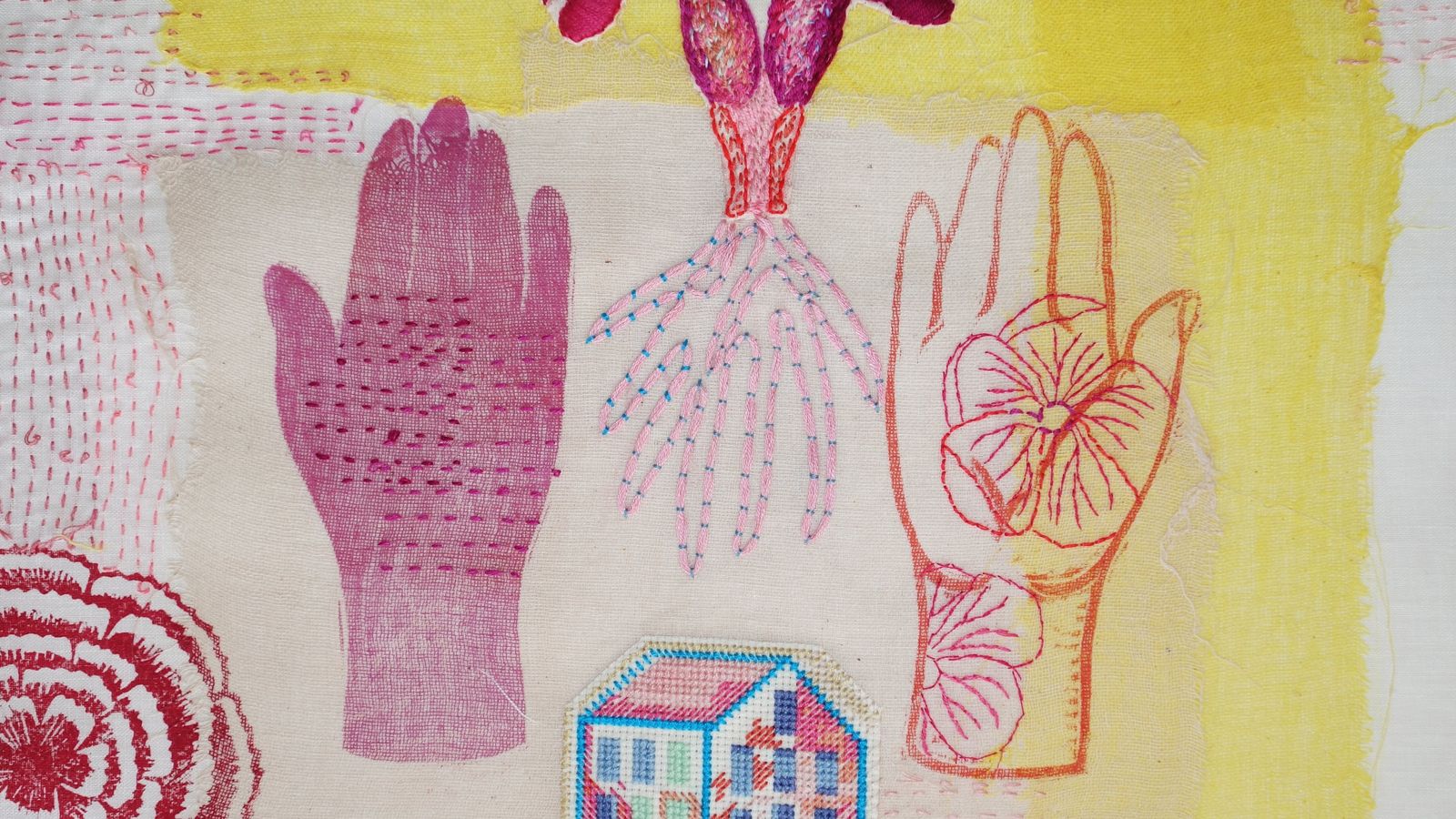 I use textile and print techniques to create artworks about the relationship between human forms and living organisms. My work combines the invisible emotional and physical aspects of humanity with shapes and symbols of plant life in a mixed-media process that uses organic materials and hands-on techniques.
This collage piece combines one of my large works with 24 smaller creations made by women from the local Tamworth Textile Artists. Born out of a request to create a collaborative artwork with the Tamworth community for the 3rd Tamworth Textile Triennial,  I based this project on my interest in the relation between body, mind and domesticity. I asked the community, 'Which  part of your body is most connected to your home?'. The participants responded by creating drawings, which I transformed into woodblock prints. I then printed these images on silk, muslin and linen patches that I dyed in my home kitchen using colours created from edible materials such as tea, red onion, avocado and turmeric. The patches were then returned to Tamworth to be enhanced by their original creators with embroidery. Finally, the printed and embroidered patches were sewn together with my life-size body piece to create the mixed-media work Devoted Body.
COLLABORATIVE ARTISTS
Alison Maher, Bronwyn Griffiths, Dawn Compton, Diana Gilkes, Dot Wasson, Fay Ward, Jody Blackwell, Julie Woodland, Karen Balsar, Kay Driver, Louise Frazer, Lyn Bell, Lyn Cross, Margaret Hughes, Margaret Vickery, Nancy Russell, Pam Wright  Penny Kasteel, Sandra Byrne, Skye Jones, Yvonne Hodge
Ema Shin was born and grew up in Niigata, Japan and moved to Melbourne in 2009. She attended university in Tokyo and Nagoya, where she studied traditional Ukiyo-e woodblock printing and contemporary art. Ema has held solo exhibitions in Japan, Korea and Australia, and has been selected for numerous international group exhibitions. Since 2005, she has participated in artist-in-residency and teaching projects in Japan, Mexico, Spain and Kenya, and currently has a studio practice in Melbourne.
Image: Ema Shin and Tamworth Textile Artists, Devoted Body (detail), 2017 Linen, silk, muslin, water-based ink, acrylic ink, cotton thread, woodblock print, block print, urauchi (Chine-collé), natural dye, embroidery, Photo: Oleksandr Pogorilyi