John Brooks
A Space to Disappear and Re-emerge, 2017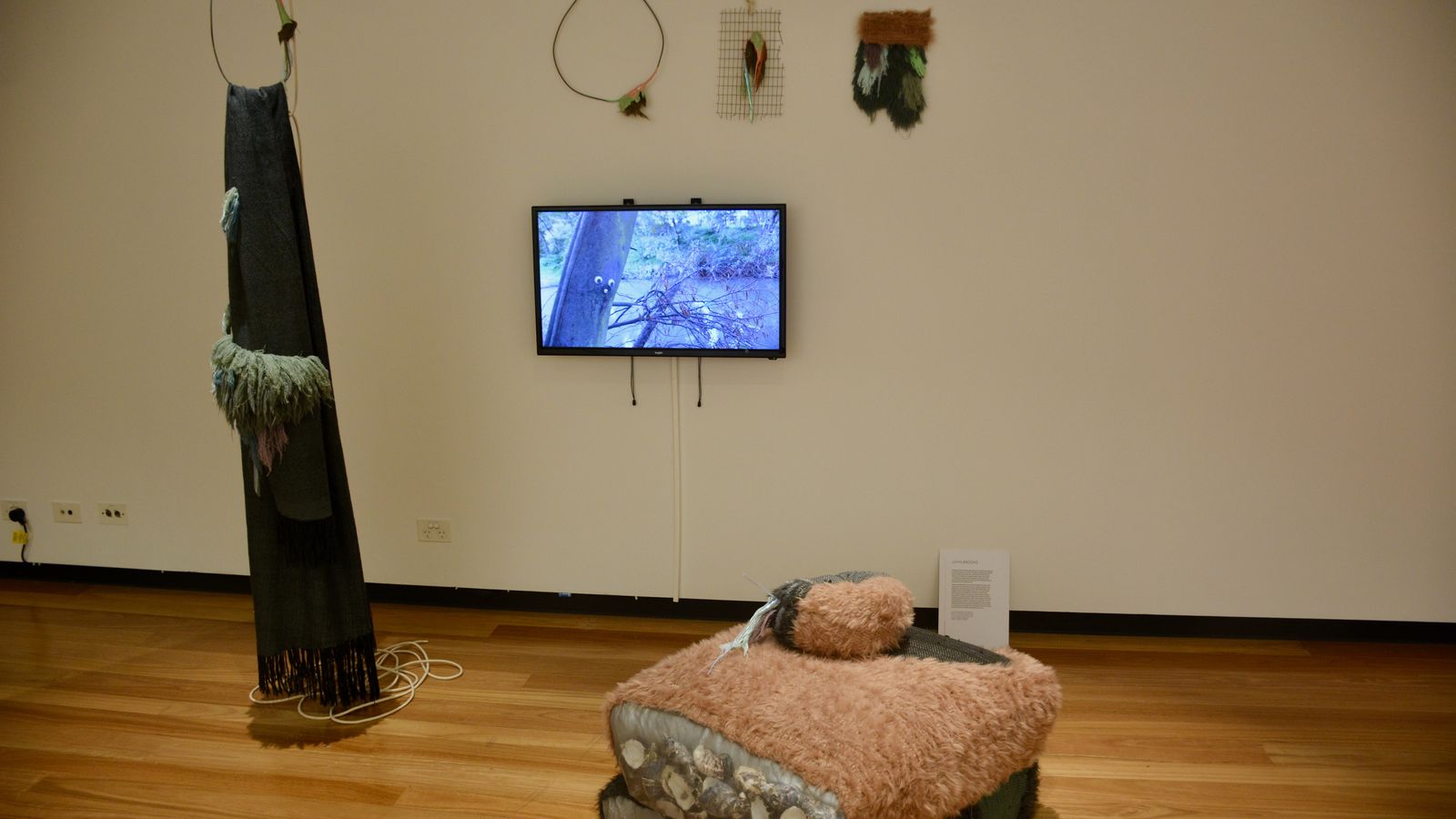 Making sometimes involves paying attention to objects and materials, or at least projecting on to them. This feels like collaborating, allowing them to behave in particular ways. Sometimes it involves leaving them out in the elements, letting the weather affect the process, or rubbing them together and recording the materiality of their sounds, attempting to give them agency so that it feels like they are participating in the making process.
The accumulated detritus that flows downstream when the creek water rises, sticking to branches, forms a swampy composite cloth dangling from the trees when the water levels recede again. Most of these materials came together to be part of one entity before breaking apart and merging with materials from other things. They clumped together, formed by a process similar to accretion (like a pearl), or maybe they were captured by a larger body with a stronger gravitational pull (like a moon). They created an impression, manipulating me to replicate the forms of the creek cloth. The raw materials had been part of a cooked (finished) whole and, through obsolescence and human laziness, worked their way into the creek to merge with other materials. Planting ideas into a human onlooker helps the forms to procreate, extrapolating their forms. 
John Brooks holds a Bachelor of Fine Art (Honours) (Monash University), a Bachelor of Fine Art (Victorian College of the Arts), and an Advanced Diploma of Textile Design and Development and a Diploma of Arts: Studio Textiles (RMIT). Making intuitively, he allows the potential of the materials to inform part of the process, while also potentially projecting his thoughts on to non-human entities. Recent exhibitions include Every Second Feels Like a Century at West Space, Materiality at Town Hall Gallery, Body + Cloth: Performing Textiles at the Australian Tapestry Workshop as part of Asia TOPA, the Australia Post Art Prize at Fort Delta for the Midsumma Festival, Off Grid at Blindside Gallery, and To Sheila at Mailbox Art Space, Melbourne.
A Space to Disappear and Re-emerge (detail), 2017 Oyster shells, freshwater pearls, plastic pearls, wool, linen, cotton, acetate, organza, felt, faux fur, cotton rope, latex, horse hair, foam, metal, weed cloth, television, head- phones, Photo: Courtesy of Town Hall Gallery, Booroondara Arts