Raquel Ormella
Blockade on the bus, in the studio, at the office..., 2017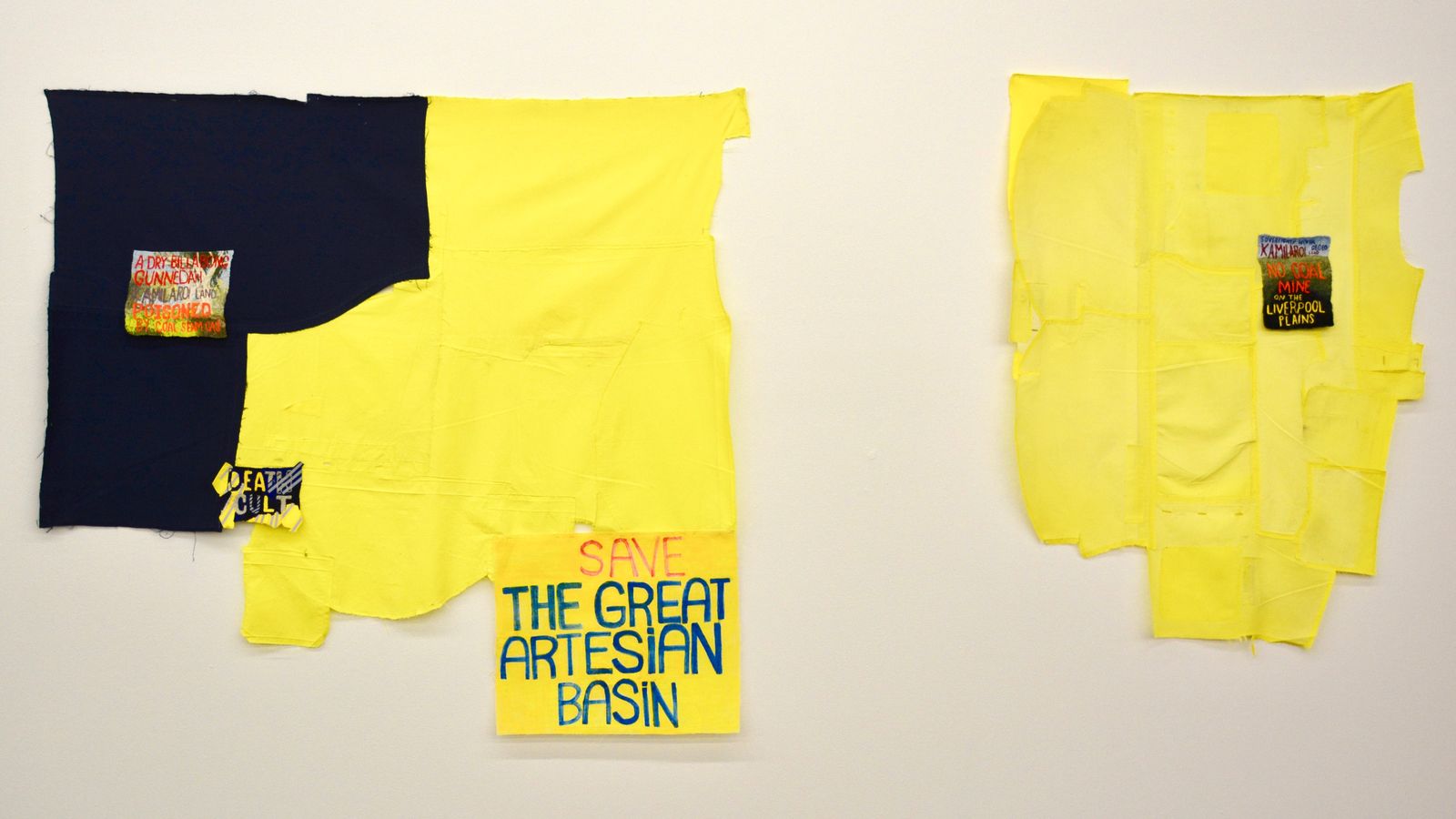 Blockade on the bus, in the studio, at the office... is a series of small embroideries I have made during the gaps in my everyday life. The work takes its cue from the Knitting Nannas Against Gas, and celebrates their protests as a creative form of social intervention.
The Nannas' knit-ins are intended to remind those who are making decisions about coal-seam gas mining that the community is watching. Handmade individual and collective creativity is used to build community cohesion, which in turn builds resistance to the mining that is destroying the land on which we live and depend. My work joins with theirs, as a form of bearing witness at this crucial junction in the campaign to stop mining on the Liverpool Plain.
Blockade... brings together historical landscape paintings from the Tamworth Regional Gallery collection and contemporary 'Lock the Gate' campaign images. In one embroidery, John Salvana's painting A dry billabong, Gunnedah, resonates anew with the concern that coal-seam gas mining will change and poison the artesian water basin. Currently speculative – rather than instrumental – in nature, my densely stitched images are both ends in themselves and prototypes for larger banners. It is my hope that Blockade... will find different ways to circulate and enrich the local campaign.
Raquel Ormella's practice includes videos, objects, drawings and mixed media. Her work can be divided into two broad thematic streams: political language and its effects on national identity; and the complex relationship between humans and the natural environment. Ormella brings the two streams together through aesthetic, critical self-awareness and persistent consideration of the ethical roles and responsibilities of the artist. She has been exhibiting regularly in national and international exhibitions for two decades. Recent exhibitions include: 1st California-Pacific Triennial, Orange County Museum of Art, USA, 2017; Asian Art Biennial, Taiwan National Art Museum, 2015; Basil Sellers Art Prize #4, Ian Potter Gallery, University of Melbourne, 2014; Direct Democracy, MUMA, Melbourne, 2013; 8th Shanghai Biennial, China, 2012; 1st Aichi Triennale, Nagoya, Japan, 2010; and In the Balance, MCA, Sydney, 2010. Raquel Ormella is an academic based at the School of Art, ANU, where she teaches in the Painting Workshop and is the Honours Convenor. She is represented by Milani Gallery, Brisbane.
Image: Blockade on the bus, in the studio, at the office, 2017 Cotton and silk embroidery thread on linen, Photo: Courtesy of JamFactory Seppetsfield