Rebecca Mayo
A Cure for Plant Blindness, 2017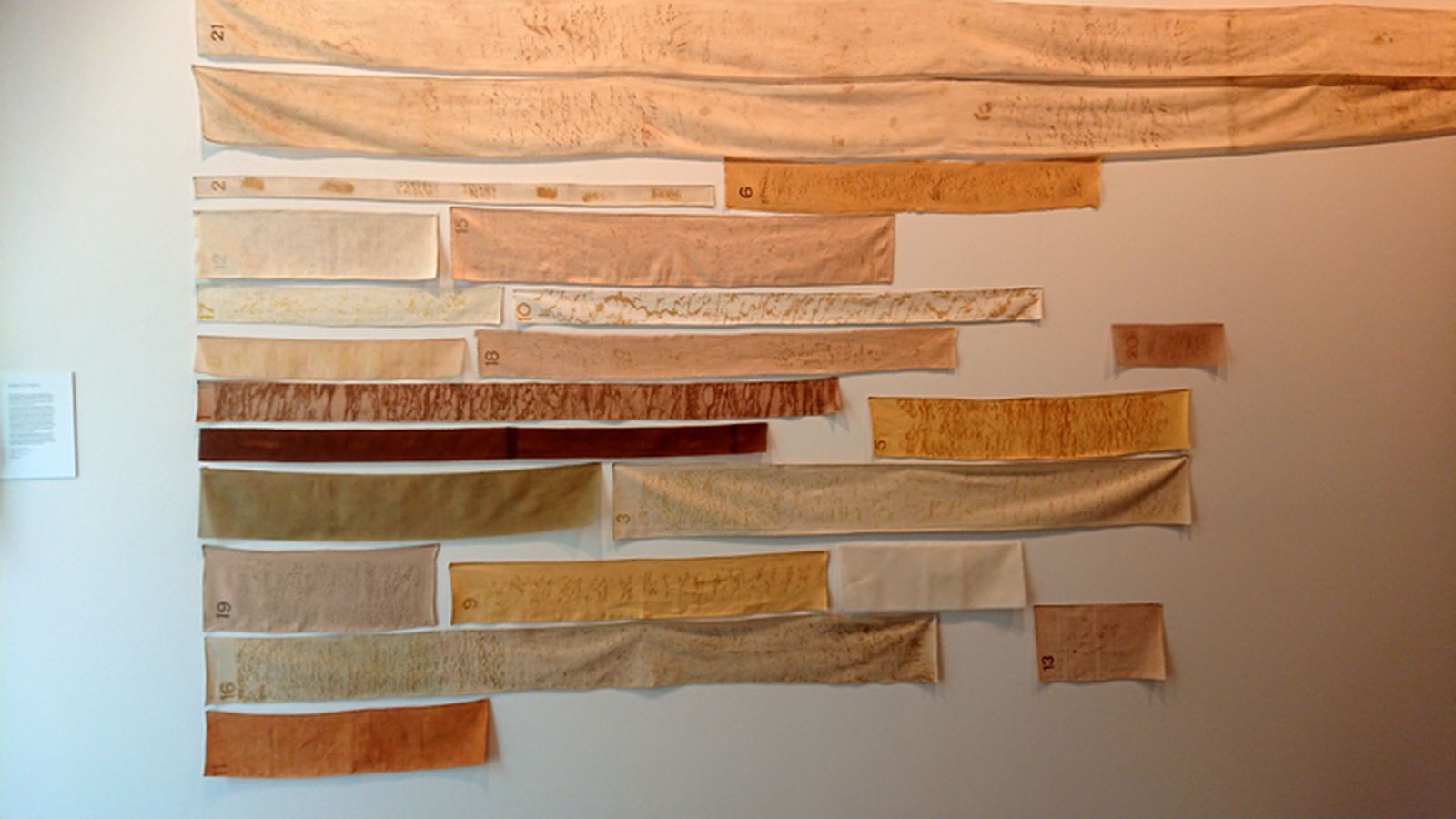 When visiting Tamworth, I was struck by its beautiful street trees. Consequently, I invited a number of Tamworth residents to identify a tree they held dear, or considered significant. I asked them to take a frottage around the girth of the tree; to record the species, location, date and time taken to make the frottage; and to describe why the tree was important or special to them.
Tamworth Regional Gallery sent the rubbings to me in Melbourne. Unwrapping the parcels, I felt a sense of anticipation; I was excited to see the abstracted bark patterns and to read their background stories. Using screenprinting and natural dyeing techniques, I reproduced a 1:1 scale textile of each frottage. I sourced bark or leaves of the same species as each of the Tamworth specimens. I dyed each facsimile rubbing with the bark or leaves of a relative that had grown far away. Species were found in Melbourne, Canberra, and Maslin Beach, South Australia.
Taking a rubbing in one location, and reproducing the rubbing with dye of the same species growing elsewhere, enacted connections between sites, people and plants. It recorded personal connections to specific trees, to show how we connect with, and need, the more-than-human world. In taking a rubbing, the participant touched and circumnavigated the tree. This physical and temporal space allowed thoughts and memories to flow. Working in my studio, I imagined the grapefruit tree growing in Tamworth (dyed with grapefruit from my tree); the bus stop tree offering shelter; and the gum, nearly as old as, yet towering over, the now grownup children who had planted it. 
Rebecca Mayo is an artist based in Melbourne and Canberra. Trained in printmaking, she draws upon its performative attributes of repetition and reiteration. She is particularly interested in how such repetitive processes might articulate or correspond with ways of thinking, being and acting. Similarly, the repetitive (and sometimes meditative) act of walking has become increasingly central to her practice.
Rebecca principally examines relations and interactions between urban ecologically significant sites and people. Most recently, she has been reactivating superseded printing and dyeing techniques using dye extracted from introduced and indigenous plants. The resulting textiles make connections between physical sites, plant movement, (urban) ecologies, and the reliance we have on more-than-human life. She exhibited Habitus at Heide Museum of Modern Art as part of the ART + CLIMATE = CHANGE Festival.
Rebecca lectures in print media and drawing at the School of Art & Design, Australian National University, Canberra. Previously, she taught print imaging practice at the School of Art, RMIT University, Melbourne. She is currently completing her PhD at the ANU School of Art. 
Image: A Cure for Plant Blindness, 2017 Linen, silk, cotton, hemp, natural dyes, Photo: Matthew Stanton