Sally Blake
Eucalyptus Mantles (Australia States & Territories) & Broken Mantle, 2017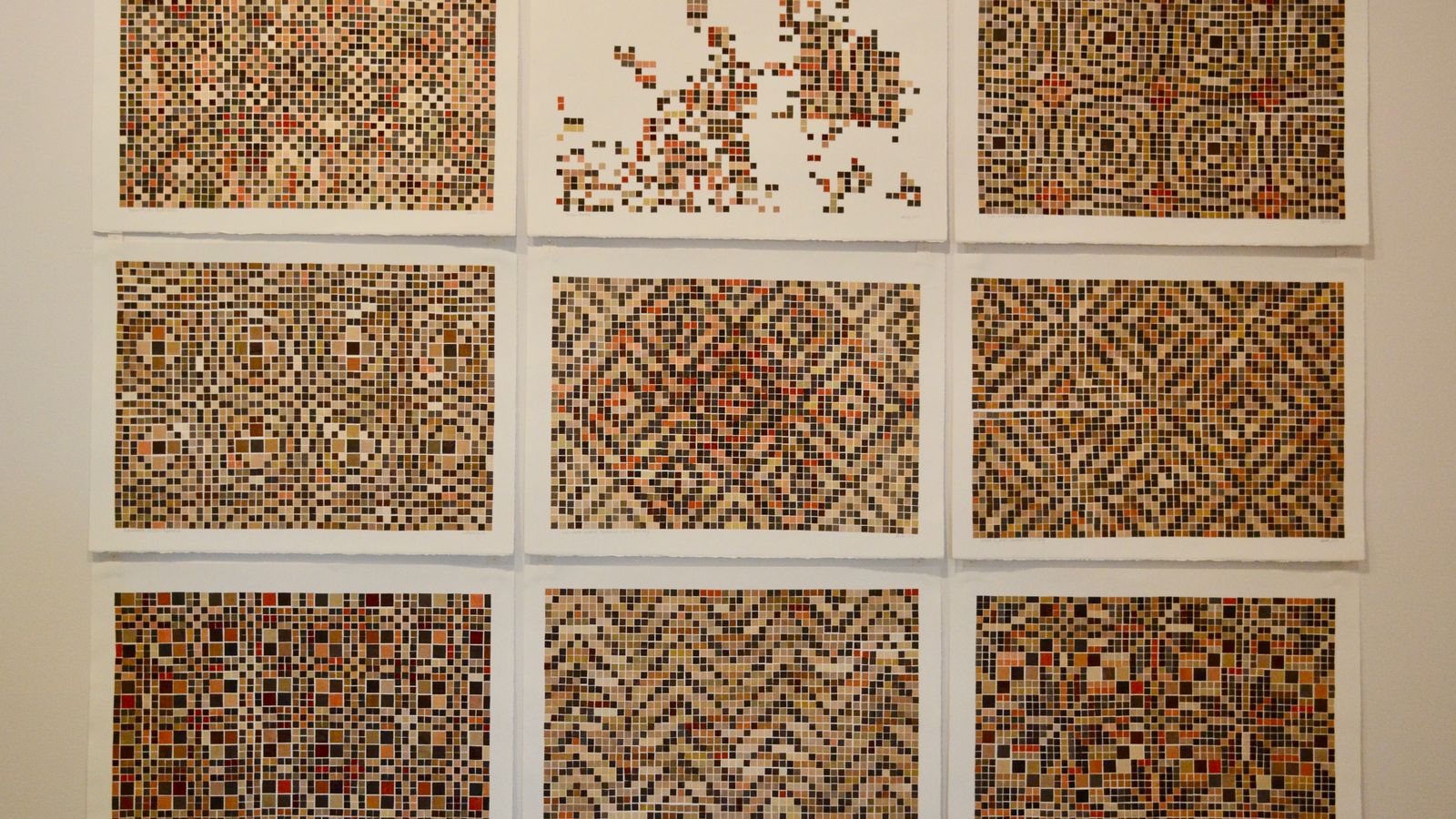 Eucalypts are integral to the Australian environment and are found across the entire continent. I think of them as a mantle cloaking the country, their roots holding the soils, and their leaves and branches providing habitat and shade.
For the Tamworth Triennial, friends and colleagues have collected eucalyptus leaves and bark from each Australian state and territory. I have recorded the dyes on wool, silk and linen cloth, and have used a number of mordants to create a range of colours. The eucalyptus dyes become a record of place, the colours mapping the biophysical conditions of a particular place at a particular time. Each mantle is based on a weave structure, referencing weaves that might be used for a cloth mantle. The use of multiple colours makes the structures and patterns difficult to see, and the eye keeps moving across the surface of the works to find the connections and relationships between the individual elements. These intricate patterns are analogous to the complexity of natural patterns, which both reveal and conceal themselves from discovery and understanding.
The inclusion of Broken Mantle is cautionary, as ongoing climate change will impact on these robust and iconic Australian species. It is estimated that over the next 70 years, the habitats of more than 90 per cent of Australia's gumtree species will on average be halved in size, and 16 eucalypt species are likely to become extinct due to global warming. Broken Mantle visually explores the implications of such changes. 
In her practice, Sally Blake explores the relationship between her internal world – a world of images, feelings, thoughts, intuitions, dreams and memories – and the outer world of nature. She has found ways to collaborate with natural processes – in particular, rain and dyes from plants – to make artworks. Sally's work is held in the Canberra Museum and Gallery, the Australian National University and the Australian National Botanical Gardens (ANBG), and in a number of private collections both in Australia and overseas.
Sally is based in Canberra, where she employs textile techniques – dyeing, basketry, weaving, stitching, piecing – as well as paper-based media to produce works that arise in the potential space between self and nature. She exhibits widely in Australia, and has also had work exhibited internationally. She completed her PhD studies in the Textiles Workshop at the Australian National University in 2015. Recent research includes an Australia Council–funded project where she tested eucalypt leaves and bark at the ANBG for their dyes. This project culminated in the creation of an online Eucalyptus Dye Database and a solo exhibition. 
Eucalyptus Mantles (Australia States & Territories) & Broken Mantle, 2017 Eucalyptus-dyed wool, silk, linen on paper, Photo: Courtesy of Maitland Regional Art Gallery