Sue Ryan of GhostNets Australia
Wobbegong Shark, 2017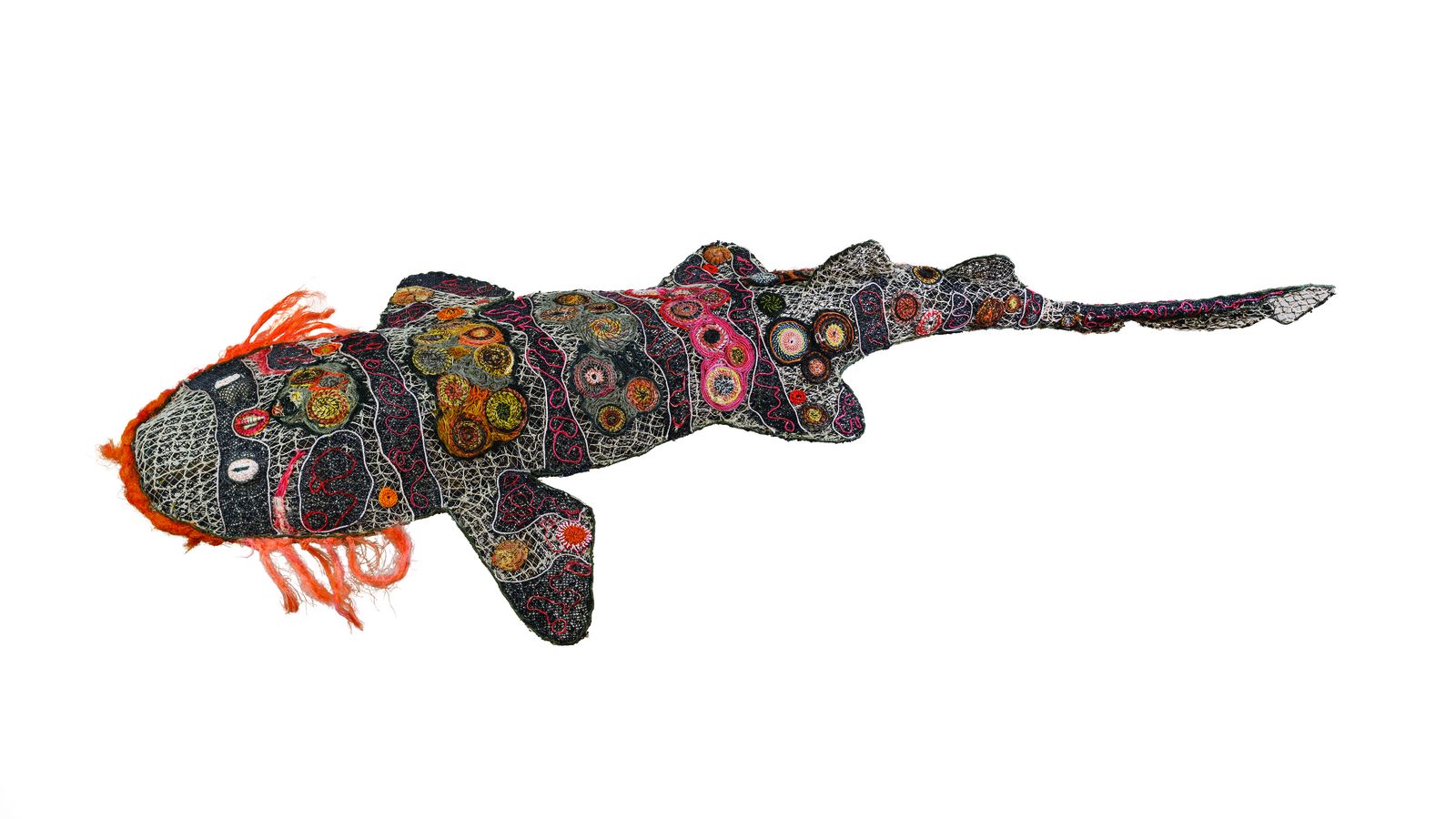 At the 2015 Cairns Indigenous Art Fair, Ghost Net Art Project facilitators and artists from Hammond and Moa Island in the Torres Strait invited the public to join them in covering and decorating the three metre armature of a Wobbegong shark using ghost net and marine debris. Over the three day event, people came to sit and weave, stitch, tell stories and share culture as the shark grew more colourful and textured each day. 
Over 100 participants from various Queensland Indigenous communities, Cairns locals, and visitors from far and wide of all age groups worked steadily on the shark while they laughed, shared techniques and learned new skills.
The shark continued its journey to the Atherton Tablelands, where Sue Ryan and Indigenous artist Meriea Anning from Ravenshoe were joined by artist Jojo Spook from Robe in South Australia. In an intensive one-week workshop, more participants joined in to complete the shark, including senior art students from Mount St Bernard College, Herberton, who hailed from Indigenous communities around Australia.
The ghost net and marine debris used in the work were collected by Indigenous rangers from Old Mapoon on the west coast of Cape York. 
COLLABORATIVE ARTISTS
Flora Taylor, St Paul's Village, Torres Strait, QLD
Georgia Curry, Hammond Island, Torres Strait, QLD
Greg Adams, Ghost Net Art Project, Ravenshoe, QLD
Jojo Spook, Robe, SA
Meriea Anning, Ravenshoe, QLD Kelly Beckley, Hammond Island, Torres Strait, QLD
Riki Gunn, GhostNets Australia, Ravenshoe, QLD
Sue Ryan, Ghost Net Art Project, Ravenshoe, QLD
Senior Indigenous art students fromMount St Bernard College, Herberton, QLD
Volunteer participants from Queensland Indigenous communities, Cairns locals, and visitors from around Australia
Ghost nets are fishing nets that have been lost or abandoned at sea. The nets can drift in the open ocean for years, continuing to trap marine life as they go. Often, they become lodged on a reef, or are caught in mangroves, or are washed up on beaches. King tides or storms can pick them up and sweep them out to sea again, restarting the whole process.
In early 2008, Sue Ryan received a surprise phone call from Riki Gunn, coordinator of GhostNets Australia, inviting her to undertake a scoping study to investigate the prospects for turning ghost nets into art. Funding had been obtained from Arts Queensland to conduct the study in some of the communities where Indigenous rangers were clearing ghost nets from beaches on their traditional lands.
Between September and the end of December 2008, Sue visited the ghost net 'hotspot' Indigenous communities of Hammond Island in the Torres Strait, Mornington Island, Pormpuraaw, Napranum, Old Mapoon and Aurukun on Cape York Peninsula, where she consulted with artists and art centres. At the end of January 2009, she presented her final report to GhostNets Australia and Arts Queensland. The report outlined the responses in the communities, and suggested nationally recognised fibre artist/facilitators who could assist to roll out a program of ghost net art workshops in interested communities. Sue was retained by GhostNets Australia to direct the Ghost Net Art Project.
In June 2009, the first ghost net art workshop was held at Aurukun. Sue Ryan and co-facilitator Gina Allain spent two weeks working with Aurukun artists on a beach outside the community that was accessible only by boat. Baskets from that workshop were displayed at the inaugural Cairns Indigenous Art Fair in August of that year, where they attracted considerable attention and fetched surprisingly high prices. The Ghost Net Art Project was up and running.
Arts workshops continued to be conducted in Indigenous communities across the Top End of Australia to encourage people to use ghost net as an art material and to see what could be produced.
Ghost net works started to feature in exhibitions around Australia, and important state and national institutions acquired many major pieces for their collections. Public workshops remain popular, with artists being invited to events around Australia to create collaborative works with the participation of the general public. This has proven to be an excellent avenue for raising awareness of the ghost net issue.
In 2012, GhostNets Australia's funding and the organisation's Ranger Program and wider program came to a halt. The Ghost Net Art Project still operates on a fee-for-service basis. Communities continue to use ghost net as an art material and are spreading their wings further to raise awareness in other countries. Now considered an Australian art movement, ghost net art has been exhibited in Singapore, Monaco, Geneva, Paris, London and New York, and continues to be in high demand. 
Image: Wobbegong Shark, 2017 Fishing net, fishing line, nylon rope, plastic, steel wire, bamboo, Photo: Steve Gonsalves