Painting with Thread
Tapestries and Samples from the Australian Tapestry Workshop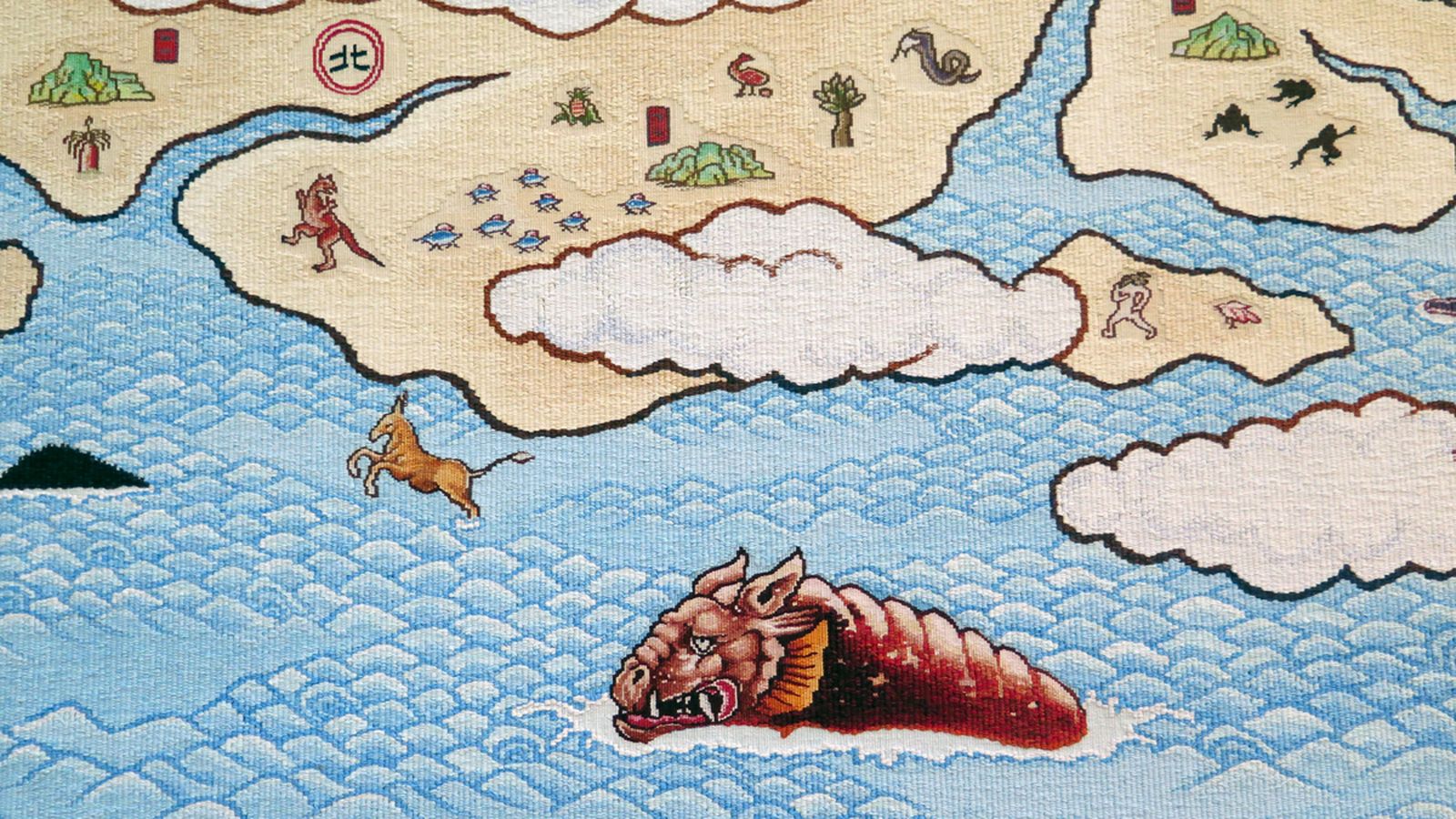 Painting with Thread: Tapestries and Samples from the Australian Tapestry Workshop
2 August – 26 September
Painting with Thread is an exhibition of recent tapestries and samples from the collection of the Australian Tapestry Workshop, Melbourne (ATW). Founded in 1976, the ATW is recognised as an international leader in the production of hand-woven tapestries and is the only workshop of its kind in Australia. All ATW tapestries are made in collaboration with leading artists and designers.
Painting with Thread will offer Sydney viewers a glimpse into the behind-the-scenes process of tapestry creation by ATW weavers from design, sampling, to weaving and completion. The selection of tapestries and samples on display emphasise the experimental and innovative approaches to contemporary tapestry design, as well as the diversity of recent projects and collaborations at ATW. 
Highlights of the exhibition include the Treasure Hunt (2018) tapestry designed by leading Chinese- Australian artist Guan Wei and woven by Chris Cochius, Pamela Joyce, Jennifer Sharpe and Cheryl Thornton, as well as the tapestry Everything has two witnesses, one on earth and one in the sky (2014) designed by Sangeeta Sandrasegar and woven by Sue Batten. A display of smaller tapestry samples alongside these works will offer viewers an opportunity to understand the process involved in the translation of tapestry design to the tapestry form. Selected yarn, bobbins and warps from the ATW will also be on display and visitors will be invited to handle these materials.
ADC and ATW are both part of the network of Australian Craft and Design Centres (ACDC). 

Discover more from the Australian Tapestry Workshop here
Events
Unravelling Tapestry: Contemporary and Historical Perspectives
This tapestry forum will explore design, materials, techniques and cultural meaning, uncovering the practice of tapestry weaving and its place in contemporary textile arts as well as exploring the history of this rich artform. Bringing together the expertise of the Australian Tapestry Workshop with artists, makers and curators, this event will examine the practice of weaving with thread.

Speakers:
Antonia Syme
Director of the Australian Tapestry Workshop in Melbourne since 2009, Antonia Syme has many years of experience in the arts and cultural sector as a director, consultant, conservator and curator. Established in 1976, the Workshop enjoys an international reputation as a leader in contemporary tapestry, creating dynamic new works using one of civilisation's oldest and richest art forms.
Janet Laurence
Janet Laurence is a leading Australian artist who, for more than 30 years, has explored the interconnection of the natural word – animal, plant, mineral – through her multi-disciplinary practice. Working across painting, sculpture, installation, photography and video, she has employed diverse materials to explore the natural world in all of its beauty and complexity, as well as the environmental challenges it faces today: the epoch of the Anthropocene. Janet worked with the Australian Tapestry Workshop on a new tapestry commission "Listen, to the Sound of Plants" in 2016.
Valerie Kirk
Valerie Kirk is an artist and tapestry weaver, writer, teacher and public figure who has made a significant contribution internationally. While actively maintaining her practice as an artist, Valerie's remarkable capacity for achievement has seen her research Australian Indigenous textiles, direct significant projects, guest lecture on international textile tours and create major works.During 2004-2013 she was commissioned to design and weave five major tapestries to celebrate Nobel/Japan Prizes in Science associated with the Australian National University.
Awards such as the Australia Council New Work grant, ACT Creative Arts Fellowship, Muse Arts Woman of the Year Award and the Canberra Centenary Community Tapestry project mark substantial success and her artwork can be seen in the exhibition, "So Fine" at the National Portrait Gallery, Canberra till 30 September.

When: Saturday 4 August, 11am – 1pm
Where: Australian Design Centre, 101 -115 William St, Darlinghurst
Tickets: $25 plus booking fee
Book here
Morning tea will be provided. Presentations start at 11.30am.

Image: Detail, Treasure Hunt, 2018, designed by Guan Wei and woven by Chris Cochius, Pamela Joyce, Jennifer Sharpe and Cheryl Thornton, wool and cotton, 0.86 x 3.5m. Photo by ATW.