Dianne Beevers
2 Strands of Pearls, or More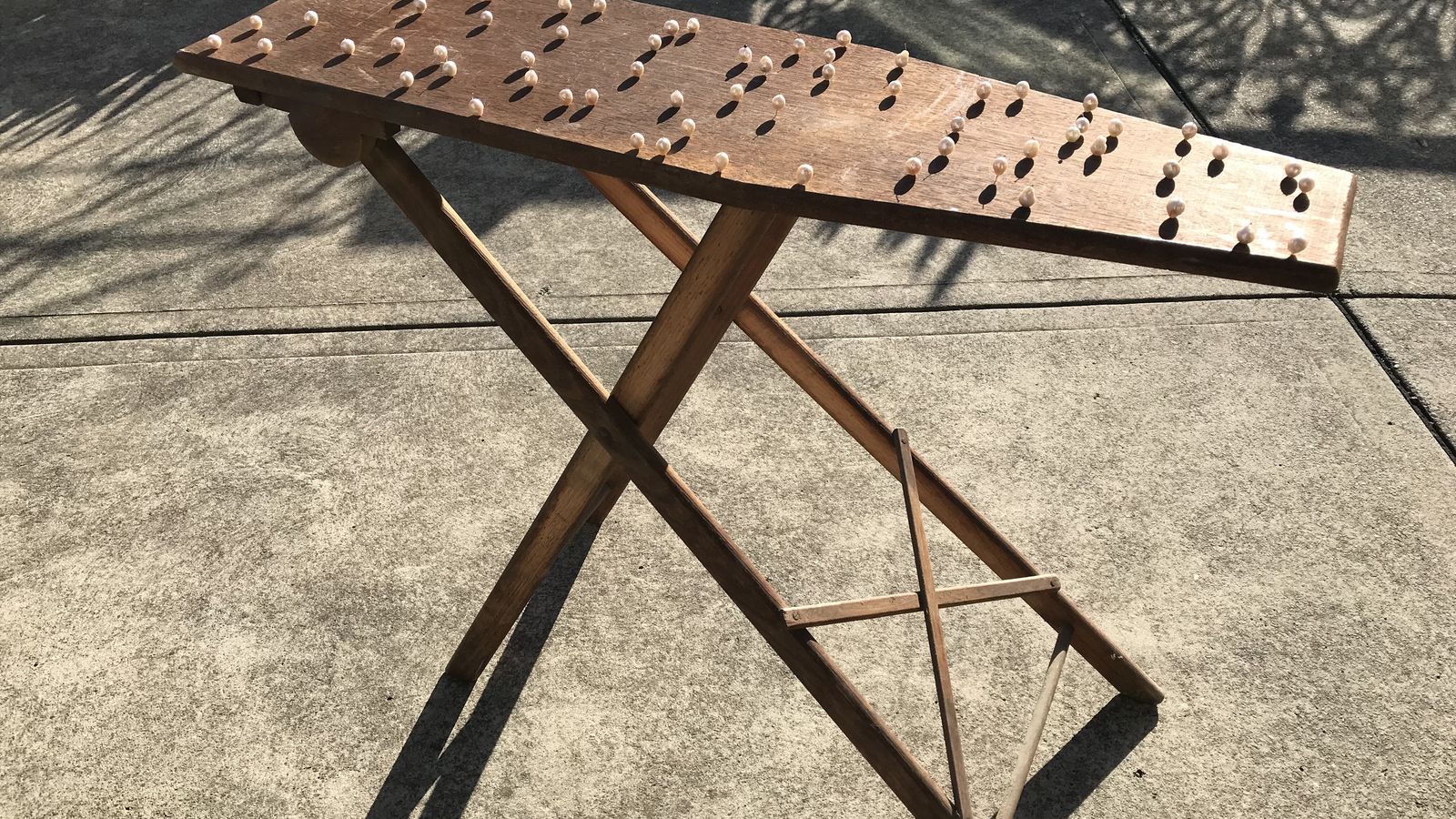 WINNER - Australian Design Centre Award
Established 

While Dianne Beevers produces wearable jewellery and objects, this sculptural work reflects upon jewellery culture and social history. Conceptually driven, the installation reassigns a vintage timber ironing board to reflect upon the jewellery realm, referenced by the embellishing pearls dispersed across its surface. This is a tableau for the discussion of objects. What of the inner lives of objects? Do objects dream? Do they collect memories? Do they have aspirations for different lives? Do they long to be objects of desire? Do they long to be embellished? Vintage ironing boards exude an air of drama in the course of their domestic duties. Redolent of domestic histories, romance and utility, as companionable objects, were stations for daydreaming. Tack traces remain on the board itself, employed as sites for a spill of pearls, in an archipelago of dreams, inhibiting a return to former utility.

Dianne (trading as Dianarchy) entered the jewellery and object realm in 1995, as an art and design educator, at Melbourne's Box Hill Institute teaching the Advanced Diploma of Engineering Technology ‐ Jewellery. She attended masterclasses with ISSI and RMIT Universities GS, has a Furniture Design qualification and a Masters in Art in Public Space (RMIT 2006). Previous training in Fine Arts provided an orientation towards an exploratory practice, research, and concept driven leading to unique statement pieces cast in lost wax, repurposed plastics, and wood. Blacksmith Doris lead Dianne to knifemaking and metalsmithing has now become a key feature of her cross-media practice.

She has exhibited nationally and internationally and is also a curator, author and collector, most recently exhibiting as part of Mastermakers curated by Dr Mark Edgoose at RMIT Gallery, 2019.

Image: Dianne Beevers, 2 Strands of Pearls, or More, 2018. Photo: Jenni Curry.