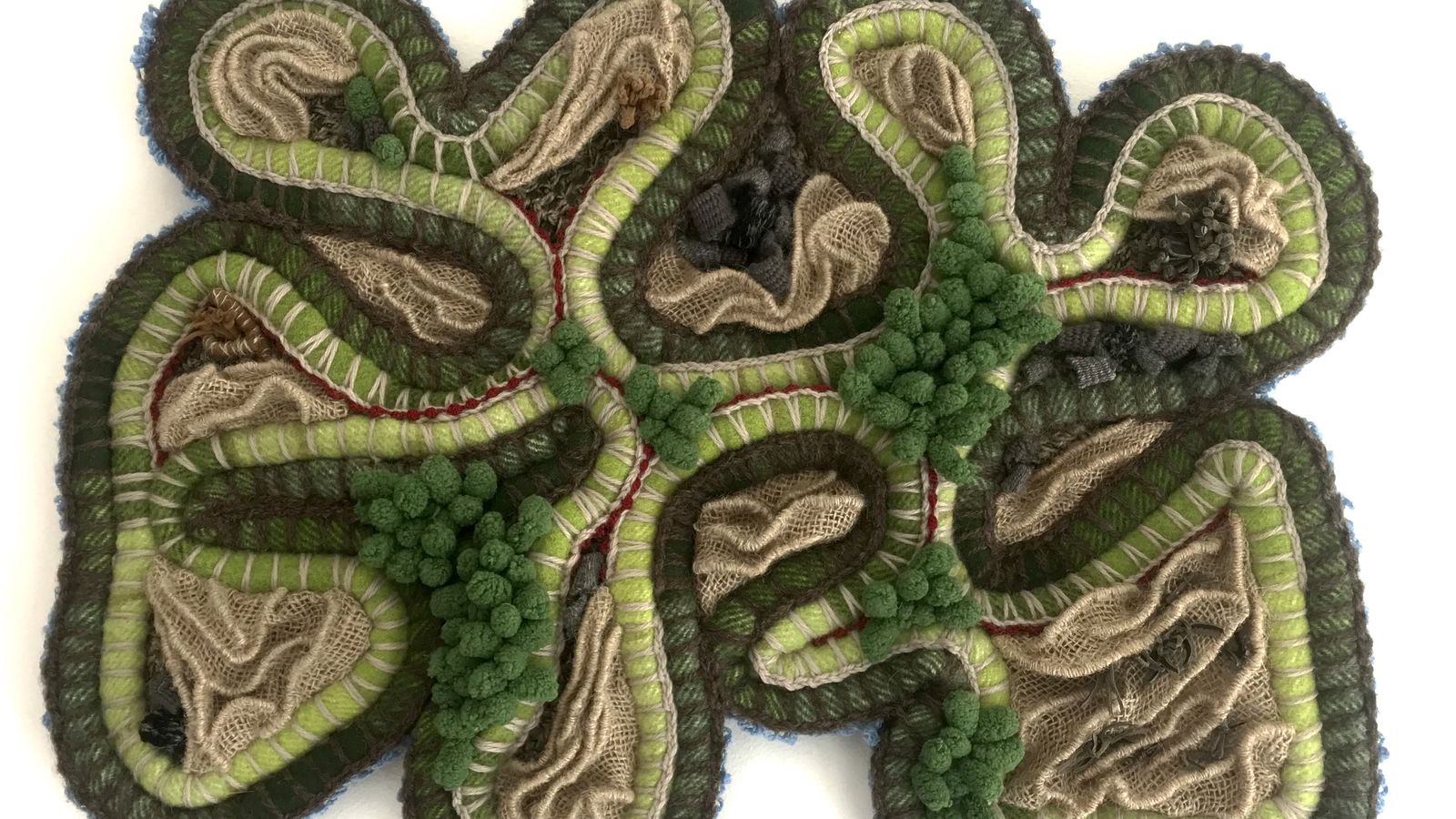 Lynn draws inspiration from the Australian landscape, the histories it embodies and the way agricultural practices have shaped it. She is very conscious of her material choices, focussing on recycling, reclaiming and revitalising Australian fibres in her work.
This work represents an aerial view of a meandering river. Where once the flowing water skirted natural landforms forging its path to the ocean. A time before land clearing for intense agriculture and urban sprawl. The river course, determined by native vegetation and geological outcrops, was deep, not dammed or drained. Seasonal change altered its might, but only seldom were its boundaries overcome. Surreal, converses of climate change transform the parched river bed to irrational torrents, and back again. Once was that river to be admired and respected and free to flow – Lynn Pavey

Lynn Pavey's passion for textiles and fibre craft frugality came from her mother and careers in fashion, clothing technology and horticulture presented opportunities to explore colour, texture, form and functionality. A strong advocate for using what is discarded, this concept recollects intangible histories and the restoration of environmental harmony. Lynn's recent exhibitions include solo exhibition Finding a Voice in 2022 and participating in Woven by Nature Saywell Gallery 2022. Hand Crafted in 2022, Value of Hands in 2021.
Once a river, 2022
vintage Australian blanket, unravelled and reworked woollen yarn, leather upholstery samples, jute sacking, jute yarn, alpaca yarn
$720
Image top: Lynn Pavey, Once a river, 2022, Photo: Courtesy of the artist