Christina Newberry
Vintage Puzzle​​​ & Charis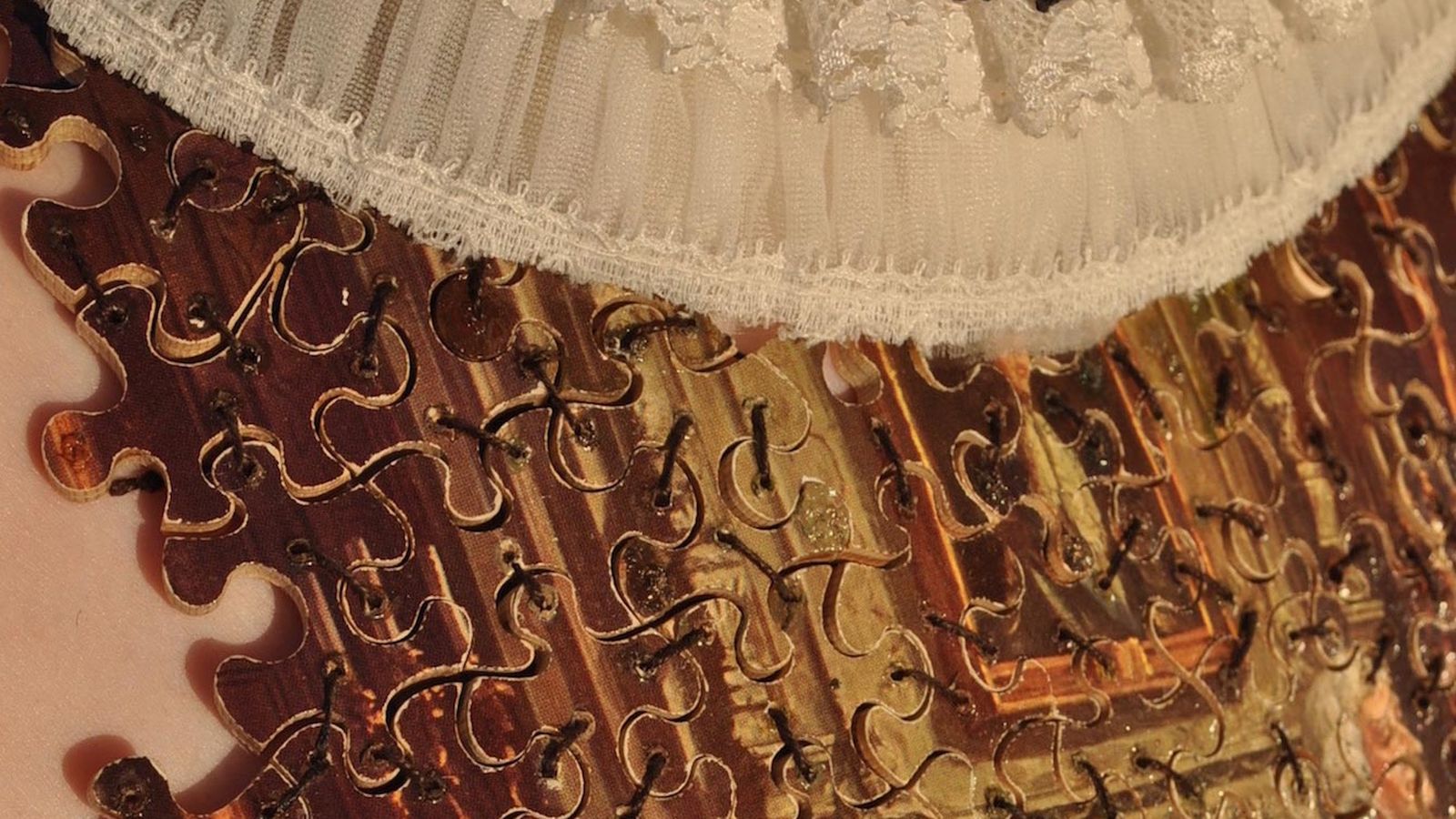 WINNER - Seed Stitch Collective Award
Christina Newberry is a Sydney artist who studied textiles in the early nineties at Edith Cowan University, Perth. Her art practice has a history of recycling and reimagining as a means to embrace sustainability. Her work is interdisciplinary including fine art, fashion, embroidery and award-winning wearable art.  Christina sources recycled materials and remixes them to define new and innovative designs. She breathes new life into the materials and returns them to the world in an unexpected and transformed state. 
Vintage Puzzle evolved after discovering a vintage wooden jigsaw puzzle depicting a society scene from the 18th century and Christina was immediately inspired to construct a neckpiece. Loving this era of clothing she envisaged a contemporary lace collar also incorporating collected vintage silks and laces.
The puzzle pieces once individually drilled and stitched together, form a fluid materiality like cloth.  The stitching allows the selected puzzle image to remain intact thus transforming the puzzle from fragments into an object fashioned from its own context. The linen thread used to sew the pieces together was from a spool found in an old tool box belonging to her grandfather.
Charis is inspired by a beautiful garden in England, created and nurtured by someone dear to Christina. This collar endeavours to capture the beauty and colours of the garden in full bloom. Following on from her earlier piece, Vintage Puzzle, she constructed the coral-like foundation of the neckpiece from pieces of floral themed second-hand jigsaw puzzles. The floral images on the puzzle pieces transform as they grow through the structure into three dimensional flowers, hand-embroidered to add depth of colour and texture. 
Image: Christina Newberry, Vintage Puzzle, 2016, COTA
Vintage Puzzle Materials: wood, linen thread, silk, vintage laces
Charis Materials: cardboard, silk, plastic & thread