Kelcie Bryant-Duguid
Essential Worker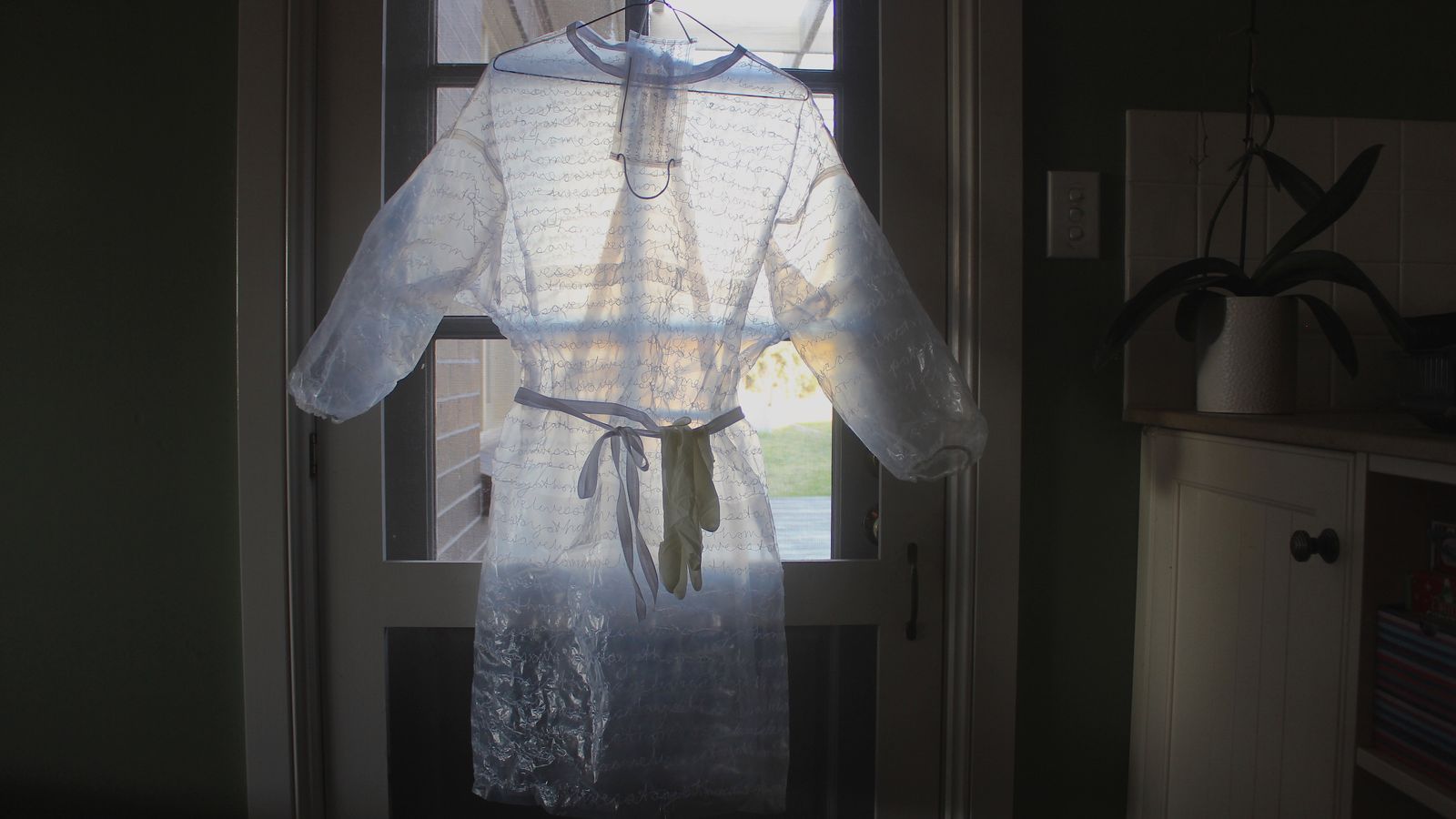 NSW Government first advised healthcare workers to wear PPE on 24 July 2020. 
The casualization and deregulation of workplaces has led to vulnerable communities (predominantly low socio-economic, migrant, women), experiencing increased risk of exposure to Covid19. Infection rates in low paid health and services populations around the world are disproportionately represented. The risk for workers who have little job security and yet are called upon at significantly greater rates to risk their families health for the greater good is a stark reminder of the gaping inherent inequities within our society.
The work itself is an attempt to recreate a PPE suit, created using domestic materials that can be found in any home; cereal bag plastic, sewing thread, cotton tape, elastic, wire bread tie, disposable gloves. The suit itself conveys a sense of clinical distance which is juxtaposed by a sense of cautionary intimacy.  Covered in scrawled text, which has been free motion sewn over the entirety of the suits surface are the various phrases including 'save lives stay at home' and 'wear a mask', these messages which have been reiterated by both the government and throughout communities in the hope of reducing the spread of the virus.
The sale price for this work was calculated at 40hr weekly wage of Aged Care Worker.
Kelcie Bryant-Duguid is a visual artist with a multi-disciplinary practice, located in NSW. Her work routinely features stitch and text, often exploring political and social issues. Themes of identity, the environment, place and belonging form her personal narrative. Kelcie has exhibited in solo exhibitions in local and interstate galleries and her work has been included in numerous group exhibitions. She is a member of Untethered Fibre Artists. Recent juried exhibitions include: 'Paper on Skin' Wearable Art, Petite Miniature Textiles and 'STILL' National Still Life Award 2019.
Image: Kelcie Bryant-Duguid, Essential Worker, 2020 Photo: Courtesy of the artist