Sue Jo Wright
Sign of Time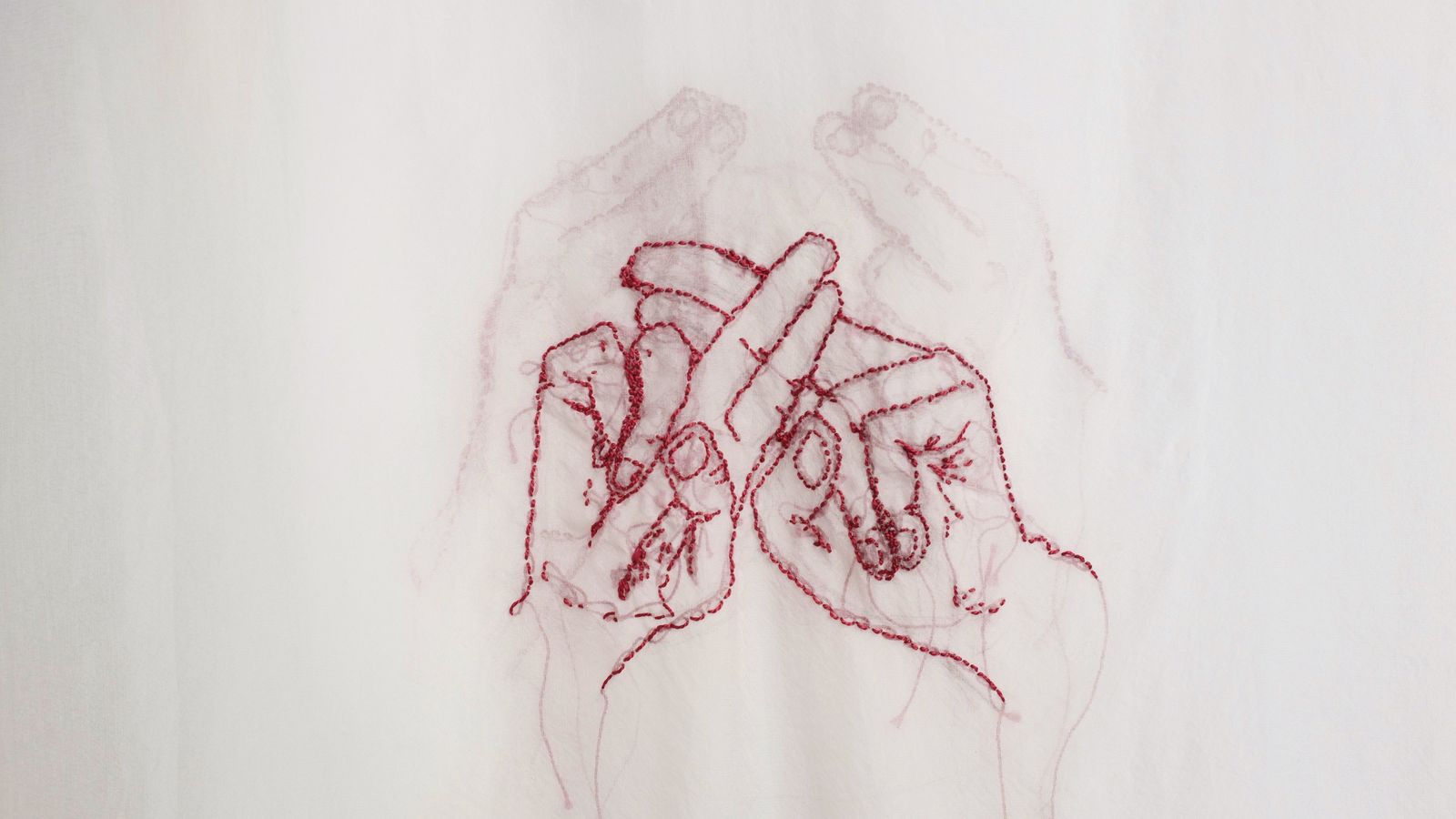 Sign of Time – I Love You and Sign of Time – Family, are artworks created to share with the viewer a perspective of the world as seen be a deaf person. The work employs natural fibres and fabrics to create three-dimensional shapes of hands signing Auslan and ASL signs, hung in the air to allow natural movement (a sign that moves on its own). Sue grew up torn between the 'hearing world' and the 'deaf world,' speaking orally in early childhood and not using sign language until the age of ten. Inspired by the language that she feels saved and enriched her life, Sue creates artwork in an attempt to break the barriers between the two 'worlds' and offer the wider community a glimpse into the identity of the deaf community.  
ASL is short for American Sign Language.
Auslan is short for Australian Sign Language.
Sue Jo Wright is a Sydney-based artist working primarily with photography, video and textiles. Her practice explores different themes and perspectives in her own language, Auslan (Australian Sign Language).
Sue attained a Diploma of Visual Arts at TAFE NSW, Fine Arts, which included a series of courses in Community Arts and Cultural Development. Sue was a finalist in the 2018 Fisher's Ghost Art Award, Campbelltown Arts Centre and 2017 Maggie Diaz Photography Prize for Women.
Sue founded the Sydney Deaf & Hard of Hearing Photographers (SDHP) in 2014 and hosted meet ups, educational workshops and events to benefit the deaf and hard of hearing community. Currently, Sue holds a range of teaching, employment and professional appointments that establish strong links for the deaf and hard of hearing community in the arts industry, including the Art Gallery of NSW and Museum of Contemporary Art.
(Top) Image: Sue Jo Wright, Sign of The Time - Family, 2018 Photo: Courtesy of the artist
Image: Sue Jo Wright, Sign of The Time - I Love You, 2018 Photo: Courtesy of the artist