The Teapot Project
Hendrik Forster and Kenny Son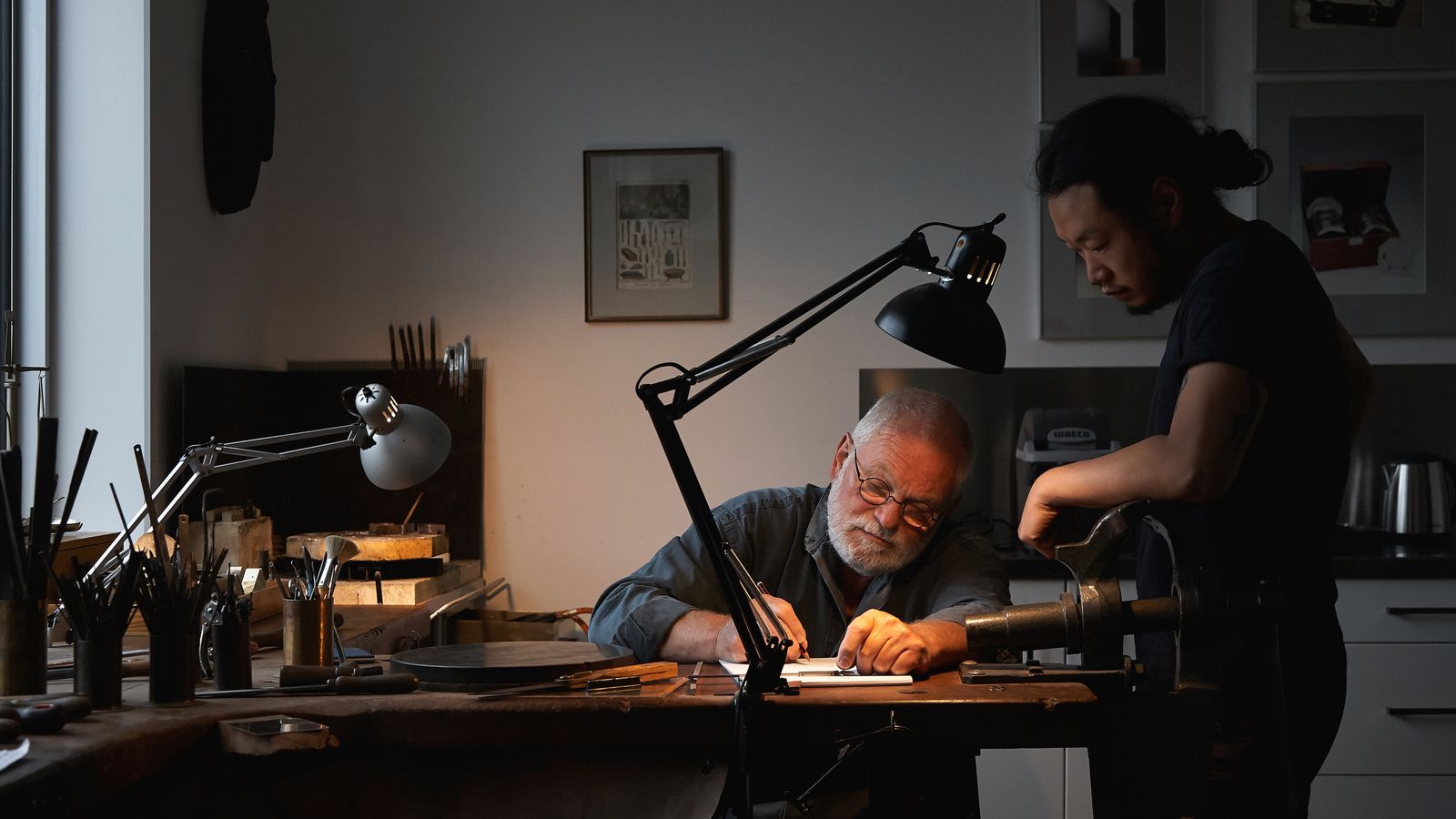 11 April - 5 June 2019
The Teapot Project is a unique collaboration between master gold and silversmith Hendrik Forster and object maker and designer Kenny Son. Their collaboration and shared design philosophy elevates the everyday object and uncovers fabrication capabilities that we still have in abundance in this country – who said manufacturing was dead! 
Tea is universal yet there are specific cultural interests that both Hendrik and Kenny from their respective German and Korean backgrounds bring to their work that adds further depth and flavour to the story. In production drawings, prototypes, documentation of process and the final objects, we hope to deepen people's understanding of the power of good design through this exhibition.  
The Teapot Project encapsulates what Australian Design Centre is about – a collision of craft and design; and the innovation and industry that is created when collaboration is central to the process. This partnership between Hendrik Forster, Kenny Son and their collaborators fuse craftsmanship, engineering, ingenuity and creativity creating a ubiquitous domestic item that is at once functional, beautiful and completely unique. Both Hendrik and Kenny strongly believe that production resolution lies in the balance of traditional handcraftsmanship and local industrial processes and this project presents an excellent example. It is the training and vision of these two practitioners that informed the project, ensuring the journey and process is as remarkable as the outcome.
Hendrik Forster
Born and trained in Germany, Hendrik Forster is a designer-maker silver and metalsmith based in Calulu, Victoria Australia. He graduated in Gold and Silversmithing from the Academy of Fine Arts in Munich, training under Professor Franz Rickert, a prominent German silversmith and advocate of traditional forms. He was also a Journeyman of the Guild of Gold and Silversmiths, Munich in 1973.  Hendrik's inventive reworking of traditional styles can be seen in the many examples of his work held by galleries and museums all around Australia. One of his significant achievements was to produce an edition of 20 plates commissioned in 1981 by the Prime Minister's Department as Australia's wedding gift for Prince Charles and Lady Diana Spencer.  Forster brings vast knowledge of the history of contemporary Australian metalcraft, his German training and his creative and witty vision to this collaboration.
Kenny Son
Born and trained in the Republic of Korea (South Korea), Kenny Son is an object designer-maker metalsmith based in Sydney, NSW Australia. After graduating from Sydney College of the Arts in 2010 with a Bachelor of Visual Arts (Jewellery & Object), Son went on to complete a Masters in Design at the University of Technology, Sydney. Kenny then travelled to South Korea for a six-month intensive mentorship training under Sung Joon Cho, a designated master in Korean metalcraft. This was a significant period in Son's training. His current practice, established soon after returning from this mentorship, is strongly shaped by the combination of his varied training experiences.
Read The Teapot Project catalogue here
The Teapot Project Diary - 2016 -2019
The Teapot Project: Hendrik Forster and Kenny Son from Australian Design Centre on Vimeo.
EVENTS
Exhibition Opening Night
Join us for the opening of Island Welcome, The Teapot Project and Hip Hip Decay. The exhibitions will be opened by Garland Magazine's Kevin Murray, College of the Arts Head of Contemporary Art, Oliver Smith, Belinda Newick, curator of Island Welcome. 
When: Thursday 11 April 2019
Time: 6-8pm
Where: Australian Design Centre
Free event, bookings required
RSVP here
The Teapot Project introduced by Min-Jung Kim
MAAS curator Min-Jung Kim presents artists Hendrik Forster and Kenny Son as they discuss their project and the processes that informed the exhibition.
What: Artist Floor Talk
When: Friday 12 April 2019
Time: 11.30-12.30pm
Where: Australian Design Centre
Free event, bookings required
Book here
Prototyping the Teapot 
Step through the processes the designers followed in drawing, designing and building a cardboard teapot prototype. Workshop led by designer-maker Kenny Son. 
What: Workshop
Who: Kenny Son
When: Thursday 16 May 2019
Time: 6.30-8pm
Where: Australian Design Centre
Cost: $15 concession/$20 general admission
Book here
Image (top): The Teapot Project: Hendrik Forster and Kenny Son. Photo: Youmee Jeon.
Image (bottom): The Teapot Project. Photo: Youmee Jeon.