Dianne Beevers
LEAN21, 2021
Click on images for full view.
LEAN21, 2021
Australian red cedar Toona ciliata, leather
2400h x 620w x 30d mm
$4,600
LEAN21 represents 21st century design using a vintage timber slab of Australian red cedar Toona Ciliata, felled in 20th century, northern NSW. Purchased c.2003 in Melbourne the timber was relocated to Newcastle in 2017. Manifesting slow design, LEAN21's first iteration was Hoop pine plywood, followed by the red cedar, with plans for the use of various timbers in the future.
Reacting to the near extinction of indigenous cedar stands, this work is Dianne's tribute to the species, with a sustainability narrative. Preserving the long expanse of timber with minimal waste, the length recalls the living tree.
This contemporary storage unit comprises two production elements, the solid timber slab and soft storage elements. Using no joinery, LEAN21 incorporates detachable and replaceable swags which are suspended onto timber or forged mild steel pegs, attached across the cedar face. Tactile and versatile, the swags can be made from leather, canvas, upcycled rubber, or custom produced panniers made from woven bamboo or indigenous plant material.
The timber length has a matt finish and is supported by the wall and floor. Two integrated feet are attached to the base of the slab by hand allowing flexible and custom solutions. In future iterations, the lightweight timber used would be sustainably sourced, possibly in urban salvage operations.
LEAN21 is shortlisted for this year's digital edition of WORKSHOPPED21: New Australian Furniture, Lighting and Object Design.
For more about this designer please visit - @diannebeevers_australia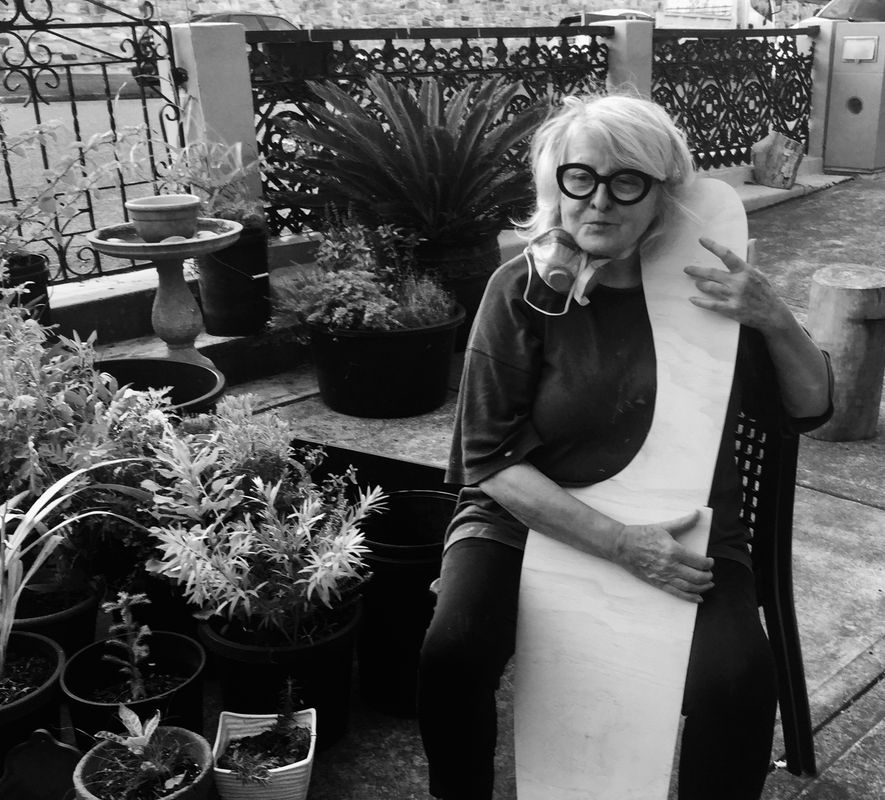 Dianne Beevers / Dianarchy is a multi-disciplinary designer of wearable objects, furniture design and public art. She has a Diploma of Art, studied and taught Furniture Design at the Box Hill Institute has an MA - Art in Public Space from RMIT University.

Conscious of new millennium and new century, in the early 2000's Dianne determined to discover and pursue her own aesthetic, producing speculative designs, conceptually driven and sustainably produced. This involved material research across laminated paper, recycled plastic, rubber, and timber. It yielded families of oversized lamps, storage pieces and low, perforated tables, to name but a few designs. Dianne has exhibited extensively in Australia.