Matthew Harkness
Speckled Side Tables, 2020
Click on images for full view.
Speckled Side Tables, 2020
PLA (Polylactic acid) plastic waste
550h x 320w x 320d mm
$800 each
Speckle Side Tables recycle waste PLA materials into functional contemporary furniture design objects.
Forty years ago, the idea of recycling waste plastic was introduced to the public and since then, less than ten percent of the world's plastic has been recycled. Now, the World Health Organisation (WHO) has deemed microplastic particles – fragments of waste plastic less than 2mm in length – an omnipresent pollutant in the environment.
Mitigating this, bioplastics – plant-based alternatives to petroleum-based plastics – have been developed to replace traditional plastics and will do so within the next decade. Despite bioplastics being hypothetically recyclable and compostable, these materials create the same problem as traditional plastics: the infrastructure to manage their waste streams has not kept up with their production. Bioplastics are rapidly becoming a new type of plastic pollutant.
While many designers conclude that there is an environmental urgency for investigating methods to reuse traditional waste plastics, Matthew's practice-based design research critically examines end-of-life options for novel bioplastics like PLA.
Each Speckled Side Table is produced using recycled polylactic acid 3D printer waste. This material is sourced from various Sydney-based makerspaces, workshops, and businesses operating 3D printers. Typically, one makerspace produces enough 3D printer waste to create a 'Speckle Side Table' within four weeks, and recycling this material diverts approximately two kilograms of PLA waste from landfill.
Once material is recovered it is sorted by color, washed, and shredded. No two tables are entirely alike. The composition of the speckle patterning is done by hand using different coloured PLA granules. The colour options, although somewhat more controlled, vary depending on the recovered waste; although black and white PLA filament are most common.
The PLA granules are recycled into furniture components through an experimental high-temperature moulding process. Through a short period of high heat, the various PLA particles are transformed into a homogenous molten mass taking on the form of the moulds. Once the components are formed they are sanded to a soft matte finish and assembled.
The waste used is these tables is collected in an ongoing basis as there is currently no mainstream option to properly dispose of 3D printer waste in Australia.
The Speckle Side Tables are shortlisted for this year's digital edition of WORKSHOPPED21: New Australian Furniture, Lighting and Object Design.

For more about this designer please visit - mharkness.com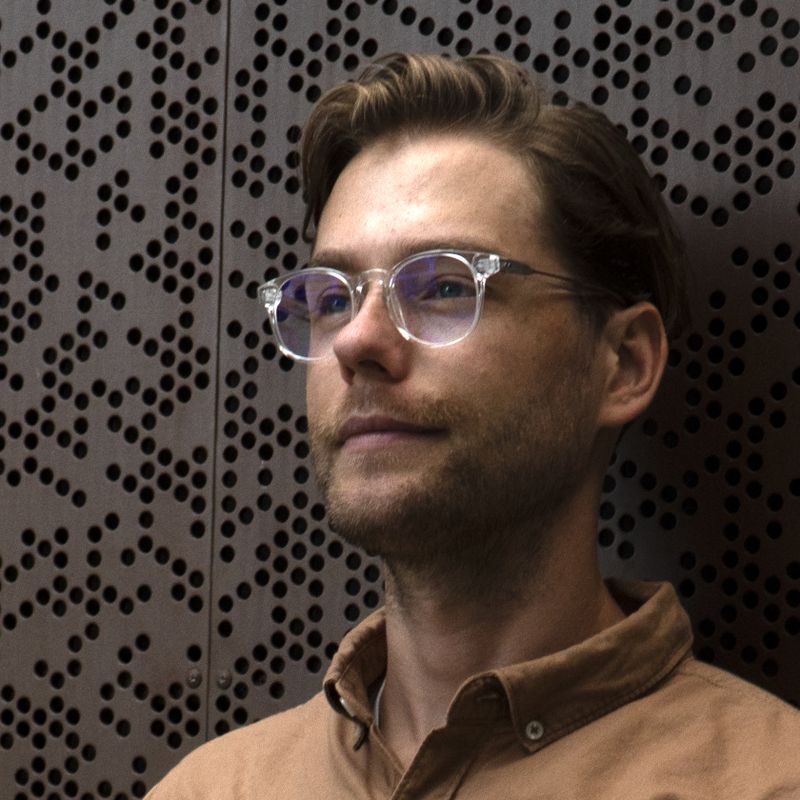 Matthew Harkness is an early career designer and researcher from Vancouver, BC Canada. He is soon to complete a practiced-based Ph.D. at the University of New South Wales School of Art & Design.
Matthew received his Bachelor of Fine Arts from the University of British Columbia in 2014 and studied industrial design during an exchange program at the Australian National University in Canberra between 2012 and late 2013. He received his Master of Design from Emily Carr University of Art + Design in Vancouver in 2017.
Matthew currently teaches at UNSW Art & Design. He has professional experience working as a furniture maker, has co-authored papers on slow interaction design objects, and has exhibited his work in Sydney, Canberra, Vancouver Canada, and Dubai.