Series 2 Episode 1: Plating up with Ilona Topolcsanyi
Clay Connections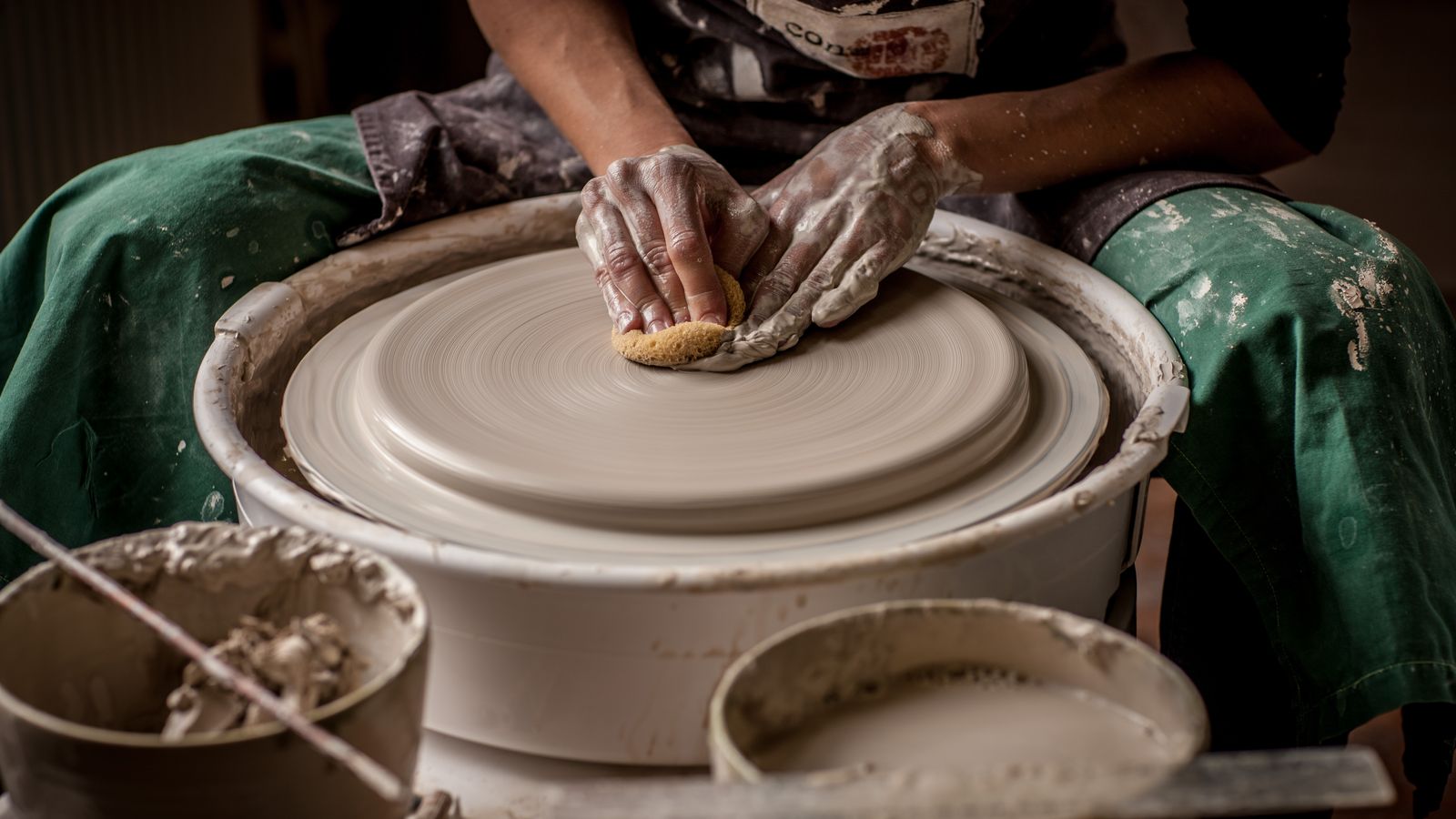 Series 2: Clay Connections
Episode 1: Plating up with Ilona Topolcsanyi
Show notes
Ilona Topolcsanyi makes bespoke tableware for some of Australia's most notable chefs. She's even made plates that world leaders have eaten from, like Barack Obama, Angela Merkel and Xi JinPing.
Hear how Ilona designs and makes by hand large orders of beautiful, hard-wearing and functional tableware.
Learn how she works with chefs as a problem-solver, figuring out how to make bowls where the sauce sits perfectly.
Ilona and her partner Colin Hopkins run their business Cone 11 in Naarm, Melbourne. Their tableware has subtle surfaces that range from shimmering pearly whites to rich encrusted terracottas.
Some of the chefs and restaurants Ilona has created work for include:
Dan Hunter: Brae, Birregurra Victoria
Joel Bickford: Aria, Sydney NSW
Josh Lopez: The Wolfe, East Brisbane QLD
Seth James: Wills Domain, Margaret River WA
Cone 11 teach pottery through their school Melbourne Clay melbourneclay.com.au
Transcripts
Word document: Plating Up with Ilona Topolcsanyi Series 2 Ep 1TRANSCRIPT
PDF: Plating Up with Ilona Topolcsanyi Series 2 Ep 1 TRANSCRIPT PDF
Guests
Show highlights and takeaways
"I found my tribe" [0:25]
Ilona said that her first commission by a chef (Josh Lopez in 2011) was the start of her career in collaborating with chefs.
She realised she'd found her tribe. "There were so many parallels between what a chef does and what a potter does. Taking these ingredients from the earth. We add water, we add heat, and then we serve it up. We serve it up for the enjoyment of others."
Ilona has gone on to collaborate with Australia's leading chefs for more than a decade.
A ceramics studio in an old laundry [2:32]
Ilona works and runs her business Cone 11 in the historic Abbotsford Convent in Melbourne. The convent is a former Magdalen Laundry and was saved from development by a community-led campaign. It's now an arts, culture and learning precinct and home to many creative studios.
"My journey to ceramics was very long winded." [3:50]
Before finding her ultimate calling as a ceramic artist and production potter, Ilona trained and worked in many fields, including as a dental nurse, masseuse, acupuncturist, call centre manager, travel agent and completing a Bachelor in Health Sciences in Chinese Medicine and Acupuncture.
Studying ceramics at Box Hill TAFE changed her life direction. Ilona says, 'I finally found something I could connect with". She also met her partner in life and business Colin Hopkins while studying and in 2008 they set up their ceramics business, Cone 11.
The meaning of the name Cone 11 [5:00]
Cones are a little triangular ceramic material that you put in your kiln and it measures the heat. Ilona explains that the average potter will go to Cone 9 or Cone 10.
One day her partner Colin said jokingly, "Let's go to 11. Let's call ourselves Cone 11."
Ilona says it was a take on Spinal Tap with the amplifier that went to 11, and the name stuck!
"I was terrible at direct sales" [5:35]
Ilona dabbled for a really long time in making functional work like jugs, cups and plates, but struggled with the retail side and making a sustainable business through direct sales.
Bringing the idea of handmade tableware comes to Australia [7:40]
Josh Lopez is one of Australia's leading chefs, and has worked in the kitchens of Gordon Ramsey and Noma in Denmark. It was at Noma, recognised as the world's best restaurant at the time, where they served food on handmade ceramic tableware.
Josh reflected on how these ceramics were made with "the same energy and emotion as has gone into the food and has been sourced in producing."
He said he took all this in as a 27 year old and then decided that he needed handmade tableware to take his food to the 'next level'.
"When you put your food on a handmade plate, it adds another layer of integrity."
The first commission that changed everything [8:00]
Chef Josh Lopez returned to Australia with his wife Crystal to take on the role as executive chef at the new restaurant at the Queensland Art Gallery and Gallery of Modern Art, Brisbane.
Back in 2011, Josh says that production pottery for Australian restaurants hadn't really been done before.
Josh's wife Crystal started contacting ceramicists across Australia, including Ilona.
Between Christmas and New Year in 2011, Illona got the email asking if she'd be interested in developing a series of plates for the Queensland Art Gallery restaurant.
"Ilona paved the way in Australia" [10:00]
Josh is glad that it was Ilona "at the coalface" as a ceramic artist working with chefs. He says she paved the way in Australia for ceramists and chefs working together.
What chefs look for in their tableware [10:30]
When working with ceramists to produce bespoke tableware, chefs look for a point of difference and a unique design initially, says Ilona.
Importantly, chefs are looking for a "frame or a canvas for their food. So the plate itself can't be the focus. They can't be the object that you notice. Like good lighting or good music, it's a support act."
Understanding how people eat and the structure of the meal [11:10]
Ilona says that understanding the food itself is actually less important than you might think. The priority for her is understanding the way food is presented in a restaurant, the structure of the meal, and how people eat in the space.
"What I've realised over time is that I really needed to understand not so much the food itself, but the way that food was being presented and, and the structure of the meal, how people "go to that space to eat and engage with the food".
"I'm a problem solver" [12:10]
Ilona encourages chefs to bring in photos of their tableware that they like, and the tableware they don't like. Then they discuss the problems with the chef's existing tableware.
Part of Ilona's design process is resolving some of the problems that chefs might have or the things that the existing tableware don't do that they need.
Common problems that crop up in the design of the tableware can be about the movement of the liquids that surround the foods, how the food sits, and the sound of a fork against the surface, how the glaze feels and subtle differences that can change how food looks when presented.
A typical work day as a production potter [15:00]
When she's making tableware for a chef, Ilona's day starts with preparing her work station to throw thirty or forty bowls.
But, she points out that the production process and design process usually happen at the same time.
For example, when she's throwing, she'll suddenly have this idea about another thing she's doing. Or something may not go particularly right with this particular bowl that she's making at the time, but she won't necessarily scrap it. It may be suitable for another client or project later on.
"So the production is always happening, but parallel to that production is always this idea of looking for something new. "
Turning and glazing, including glaze research [16:50]
After throwing the bowls, Ilona returns to turn the pieces, to finish the bottoms.
When the pieces are glazes, she said there's always "one or two pieces in that collection that don't quite belong. But they'll kind of be brought along for the ride."
Colin and Ilona also do a lot of glaze research. In every kiln firing there is the production work and there are pieces that are just experiments.
Using local clay from the dam at Brae [19:00]
Dan Hunter is the chef owner of Brae, an award-winning restaurant in country Victoria. Dan says that Brae is built around workmanship, craftsmanship, people and stories - whether it be through producers, suppliers or collaborators.
Cone 11 and Brae have been collaborating on making bespoke tableware for the restaurant soon after Brae opened in 2013.
Dan says that in the nine years we've been on the property, there's been years of drought where their dams completely dried out. Ilona took that opportunity to harvest clay from the dry dams, to turn into tableware for the restaurant.
"To take something that's pretty much useless [the clay] out of a situation that's quite depressing and make something quite beautiful and with integrity was really lovely."
"A complete picture of locality" [20:55]
Dan bakes bread each day in a wood fired oven at Brae. After the oven is cleaned, a a fine white wood ash is left over. Ilona has used this wood ash and blended it onto the glazes for Brae tableware, to make a speckled pattern.
Dan says that this approach, using dinnerware that is made from clay or ash on the property, is the same as how he approaches the food and the menu - to serve items of place and time.
"It's a really nice connection using fallen timber from the property, baking the bread, taking the ash, putting out the plates, serving the bread on that plate. It's a complete picture of locality."
The most memorable meal [22:30]
Ilona collaborated with Josh Gomez at GOMA [Gallery of Modern Art, Brisbane] to create dinner service for the G20 summit in 2014 with guests including Barack Obama, Xi JinPing, Narendra Modi and Angela Merkel.
Chef Josh Lopez said that the first thing he did, once he found out about the dinner, was to call Ilona to say, "I'm going to need more of your plates!"
"I'm going to all this intent with my food, and how often do you get to cook for Barack Obama? They had to be served on handmade plates."
Return to Object: stories of design and craft main page