Series 2 Episode 3: Learning and teaching ceramics with Jane Sawyer
Clay Connections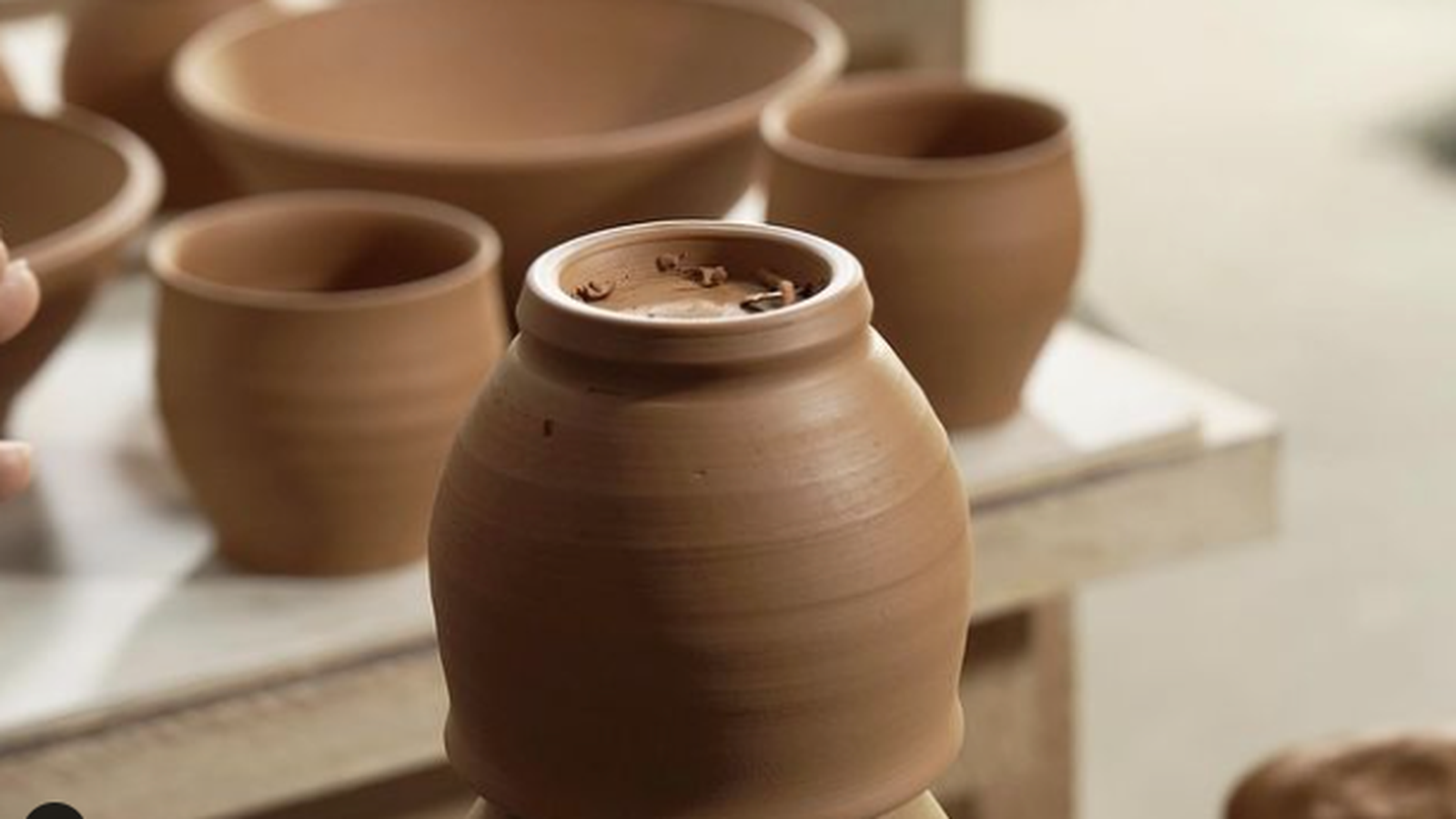 Series 2: Clay Connections
Episode 3: Learning and teaching ceramics with Jane Sawyer
Guests
Show highlights and takeaways
A potter or a ceramic artist? [3:05]
Most people have a preference around the identity as a potter or ceramic artist. Jane Sawyer dislikes being categorised and says she's "all of those things".
Jane's university study in art education [3:30]
Ceramics really took hold of Jane at university level, but even then, she didn't think of it as a career.
"I didn't even know there was such a thing as becoming a potter," she says. "I was just thinking I would become an art teacher."
Traineeship under Andrew Halford [4:00]
In Jane's third year of university study, she met a potter who was to become her first real teacher in ceramics, Andrew Halford.
He offered Jane a traineeship in his studio, which she says really took her training to another level.
Desire to teach came later [4:50]
Even after she'd completed a degree in art education, Jane did not want to teach ceramics yet - for two reasons. Firstly, she'd fallen in love with ceramics and wanted to give it a go full time. Secondly, she says she "didn't have any life experience to speak of."
"I can't imagine teaching without some kind of life experience. I'm not talking about authority because that's not what I mean. But more just a depth of understanding of who I am, what my work is all about, and how I can enable that in other people."
Teaching home classes out of necessity [5:40]
It was economic necessity first got Jane teaching, to supplement her income selling ceramics. She taught small classes in her Fitzroy studio in Melbourne.
People not aware of Japanese techniques [7:05]
Jane realised that people weren't aware of some of the fundamental techniques that she'd learnt in Japan. This gave her the confidence to teach something different and "something that I knew was really valuable. I still have that motivation."
Japanese momiji technique to wedge or mix the clay [7:35]
One Japanese technique Jane teaches is called 'spiral wedging' in English. In Japanese, it's 'momiji' which refers to the Chrysanthemum flower.
Jane describes the technique as "a lovely organic way of moving and rocking into the clay, using your body in a very fluid way.When that's done well, you can mix a large amount of clay without expending any more energy than you would if you were mixing a small amount of clay."
Skills from the Japanese pottery trade [8:25]
All of the skills Jane learned in Japan came from the trade of pottery, from production, throwing, production, making by hand over hundreds and hundreds of years.
Japanese technique of throwing off a mound of clay [8:35]
Say for example, you're making a hundred pots.
Instead of mixing up a hundred balls of clay, you would mix up one big mound of clay and you might make ten or twenty little pots from that one mound and cut them off as you go.
That technique is all about fluidity and rhythm, keeping your body upright, your back straight, and your wrists aligned. When these skills are used correctly, there's nothing that breaks your energy too much.
Seven teachers in Japan [9:30]
Jane's traineeship in Japan was at Shussai-gama co-operative in Shimane Province.
Her seven teachers were the main members of the co-operative. They were all in their sixties at the time and Jane was in her twenties, and one of seven apprentices
Look at the underside [9:50]
Jane remembers a time where her teachers called over all the apprentices to look at a pot.
The pot was a shallow dish and was turned upside down, so that everyone was looking at the underside of it.
It was quite rough clay and Jane was dutifully looking at the base of this dish, but she didn't know what she was looking for, or why everyone was making such a fuss.
Until one the teachers said, "Look, it's just been trimmed in two moves. One move on the inside and one on the outside and that's it. Can you see that freshness? It's alive."
And for Jane, suddenly that dish spoke volumes about what she was trying to do - to get your movements reduced to the absolute minimum, and the value of that.
Finding your sense of touch, and signature in clay [11:30]
Jane says that because she had a total of eight teachers, she saw eight different 'touches' and 'signatures' in clay.
"Even though nobody signed anything in the studio, you can tell just by looking at the finish, the fine details in the way somebody's finished a rim or trimmed a foot that can give away as a signature can give away intimate details and identity of the maker."
RMIT as a pathway to identify her own sense of touch [12:30]
A Master's degree at RMIT was Jane's pathway into trying to identify her own sense of touch, she says.
"It also gave me a way of discussing that with students to say 'Look, we're all different and we're all the same in so many ways. And our slight differences are quite enriching, and they're what can make our artworks different too.'"
Clay is the ultimate mirror [13:40]
Jane describes clay as the ultimate reflector, the mirror of who we are. Even if it's just a fingerprint or a thumbprint, it's telling us visibly back to us, 'that's who you are'
She says, "If that's on a bigger scale with a bigger object, then your artistic expression can be so intimately connected with your material, with the clay and with the processes that you use as well."
Julie Bartholomew's advice for students going into higher education [14:17]
Once you have developed skills and have confidence in making, that allows you to play more.
Look out for accidents and the unexpected and the unusual results of playing can really lead to interesting directions, innovative directions, and fresh work.
Develop self-reflective thinking. Look at what you make objectively, rather than being totally immersed in the practice where you can't really see what you're doing. That can come from understanding your practice within the context of art history or ceramic history in particular, and contemporary art practice.
Julie Bartholomew's advice for people new to ceramics [16:10]
Ceramics is an incredibly collaborative practice.
It connects with so many other disciplines, and for instance, like architecture and design and landscaping and geology, chemistry, and you know, sculpture, installation, painting, photography.
Usually you'll find that ceramic has some connection to what you already know and have experienced.
Jane Sawyer's advice for early career artists [17:20]
Be driven by desire You have to love what you are doing because it's not an easy pathway.
Devote a lot more time to this than you think you're going to.
Be persistent.
Have an understanding of art history and particularly ceramics history, where you fit in the continuum.
Learning to 'see'
Being curious about what you're learning
Ask questions
Be led by the materials and processes as much as the concepts and ideas.
Don't give up too soon.
Take your time to work through the influences of your teachers
Advice for potters who want to teach [20:20]
Learn about the different learning domains. You might be teaching somebody something, but they might not be listening.
Understand the nitty gritty of education. How do you call a group's attention to you? How do you instruct them in a clear way where they're going to follow your instructions?
Do teacher training
Be open to talking with students about anything
Give students a safe framework - quite often art brings out all sorts of deeper things, you know, that may be bubbling below the surface
Be open, natural and caring - small steps are often big steps for them
Be on their side.
Encourage them with their development.
Slow Clay Centre [22:20]
Slow Clay is a ceramics education centre Jane founded ten years ago, based in Collingwood in Melbourne.
Slow Clay teaches all levels of classes, including a higher level. There are studio subjects such as the history of ceramics.
Janet DeBoos and the 'distributed studio' [25:00]
In 2006, Jane's good friend and ceramics artist and teacher wrote a paper called 'The Distributed Studio'.
Jane says Janet almost had 'a second sense' in predicting how ceramics education in the future might look like.
In the article, Janet Deboos described "how with institutions closing, the ways that young people would train in the future would have to be more varied. They would have to choose their specialties according to who they would learn from, and how they would find those people would have to be much more independent and, and individuated."
Jane Sawyer's ceramics education wishlist [25 50:]
The future for ceramics education in Australia as being multilayered.
Some TAFE courses come back in
Some international exchanges
Stronger institutionalized learning would be fantastic
Funded opportunities to work with people in their own studios
CREDITS
Object is a podcast of the Australian Design Centre. We'd like to thank Visions of Australia, the Federal government's regional exhibition touring program for funding support towards this podcast.
Object is produced by Jane Curtis, in collaboration with Lisa Cahill and Alix Fiveash. Sound Engineering is by John Jacobs.
Return to Object: stories of design and craft main page.