Object Podcast Series 3 Episode 1: Vipoo Srivilasa, winner of 2023 MAKE Award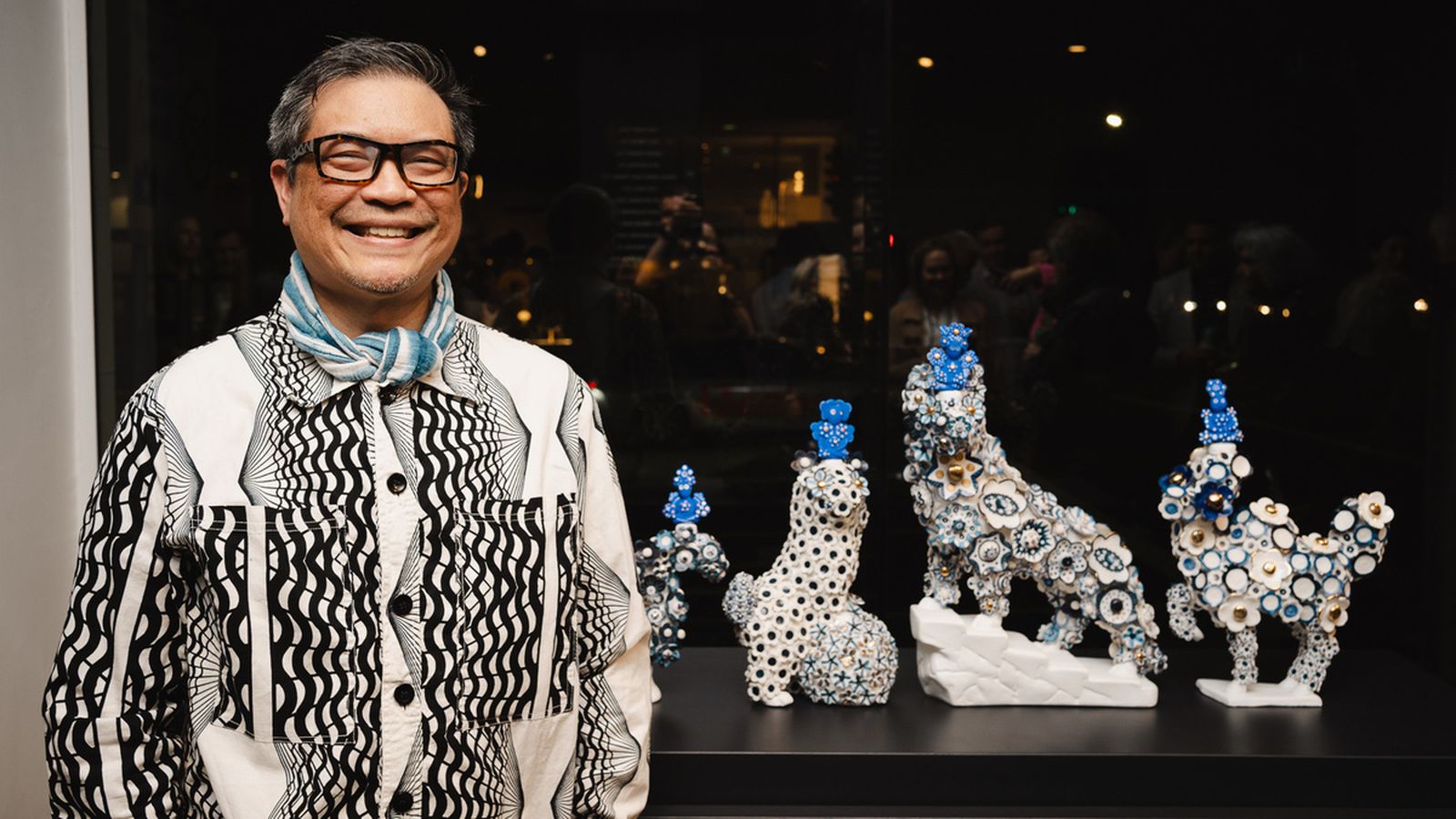 Object Podcast Series 3: Behind the scenes of MAKE Award: Biennial Prize for Innovation in Australian Craft and Design

Episode 1: Vipoo Srivilasa, winner of 2023 MAKE Award
Show notes
Host Lisa Cahill meets with the winner of the 2023 inaugural MAKE Award, ceramic artist Vipoo Srivilasa.
Vipoo tells us about the themes that inspire his work, the process of making his winning sculpture Diverse Dominion Deities, his strategic approach to the award and his ongoing charity project 'Clay For'.
And you'll hear from judges Jason Smith, Hyeyoung CHO and Brian Parkes on what made Vipoo's sculpture a prize-winning work.
Melbourne-based, Thai-born Australian artist Vipoo Srivilasa creates artwork that is positive, accessible, and beautiful. His practice primarily focuses on ceramics, though he also produces works on paper, mixed-media sculptures, bronze statues, and large-scale public art installations. He often incorporates food and interactive performance into his ceramic projects, creating a unique and immersive experience for viewers.
Transcripts
Word document: TRANSCRIPT Object Podcast S3 Ep1 Vipoo Srivilasa
PDF document: TRANSCRIPT Object Podcast S3 Ep 1 Vipoo Srivilasa
Show highlights and takeaways
Key themes in Vipoo Srivilasa's ceramics [1:25]
Vipoo generally works in series with different themes, including queerness; spirituality; culture and migration; and loneliness. Some examples include:
LoveLAB 2019, which explored marriage equality through audience participation.
Wellness Deity 2021, made during the pandemic, involving an online community and a freelance writer.
re/Joy, a new exhibition produced and presented with Australian Design Centre, focusing on migration stories
"Even though the subjects seem kind of depressing, the work is really positive. I find joy in all these places."
Accessibility and positivity [3:20]
Vipoo emphasises making his work accessible and positive for a wide audience, through using beauty, cuteness and humour.
He says, "It's easy for people to understand my work when I present it in an accessible and positive way. Otherwise, sometimes it could be too much and people just don't look at it at all."
Crosscultural elements in Vipoo's work [4:40]
Vipoo finds himself balancing Thai and Australian influences in his art.
"I thought about it so many times. I didn't want to bring Thai culture sometimes, but it's in my blood. So it just comes out anyway, no matter what I do!"
Vipoo's reaction to winning [5:10]
"How does it feel? Amazing and it was a surprise. I didn't know that I would win. I'm glad I dressed up for it. I thought, 'If I don't win the prize, at least I might win the best dressed of the night.'"
Making the work especially for the MAKE Award [6:10]
This is the first time Vipoo has created a new work deliberately to enter into an award. He says that in the past, he would usually look around his studio and choose work based on what was there.
"It confirmed to me that to enter the award with a strategy, it paid off."
Vipoo's winning work Diverse Dominion Deities (2023) [6:40]

Diverse Dominion Deities is a ceramic sculpture consisting of four pieces, each representing a deity with its own unique animal companion, drawn from Thai mythology. Four mass-produced animal statues are transformed with the addition of porcelain flowers. Industrial-grade white paint is combined with handmade flowers that are decorated with cobalt oxide and gold.
The elements are assembled using Blu Tac, a deliberate choice by Vipoo to symbolise the coming together of different cultures. The entire piece reflects a metaphor for diversity, combining various techniques (air-dry clay, slip casting, hand painting) and materials (mass production, fine art porcelain).
The use of Blu Tac also emphasises the beauty and fragility of cultural diversity. The visible seams represent the reality that different cultures may not seamlessly fit together. Cultural diversity is very beautiful but can also be very fragile.
Jason Smith, MAKE Award Judge [9:20]
Jason Smith, who runs the Geelong Gallery, really liked Vipoo Srivilasa's artwork, "Diverse Dominion Deities." He thought it was a complete experience, showing off not just Vipoo's ceramic skills but also a whole new side of his art. Jason praised how Vipoo used ordinary things and added a twist, making a statement about today's world, from consumerism to religion, all with a touch of humour.
"There's humour, there's complexity. We felt that we could stand there and talk for a long time about the undertones of the work as reflections on 21st century culture and consumption and reuse and recycling, artistic vision, a sense of humour amidst the darkness of the world."
The importance of selling work [14:20]
Vipoo jokes that another reason he uses gold in his sculptures is that it "looks expensive and sells really well." Host Lisa Cahill agrees about the importance for artists to make a liveable income, saying, "It's important that work not only be appreciated, but also be able to be purchased and collected, so you can then make more work."
"As a full time artist for 20 years, it's really important because I don't have any other job apart from making artwork. So this kind of thing is, it's part of the making as well to think about it," Vipoo says.
Brian Parkes, MAKE Award Judge [15:15]
Brian Parkes emphasised Vipoo's deep and evolving practice, experimenting with ceramics and exploring cultural intersections.
Brian highlighted the complexity and sophistication of the artwork, noting how Vipoo reinvented the same object in various ways, using a simple palette to create intricate features. He recognized the provocative nature of the piece, and how it showcases Vipoo's mastery over the creative process.
Fundraising for natural disasters with ceramics [16:40]
Several years ago Vipoo started fundraising for natural disasters, saying "When natural disasters happen, the whole world wants to help. But as an artist, I couldn't donate much money and I felt helpless. I wanted to help, but I don't know."
So instead, he offered his own work for sale, and encouraged other ceramic artists to do the same. The 'Clay For' movement was born. Clay For Nepal raised money for the Nepalese earthquake, Clay For Australia raised money for floods and bushfire relief.
The addictive nature of working with ceramics [18:00]
Working with ceramics is a bit like an addiction for Vipoo. He talks about it being as addictive as gambling, where you're not entirely sure what's going to happen when you pop your creation into the kiln. Even if things don't always go as planned — like when pieces collapse or break — it's the anticipation and excitement of seeing the finished product that keeps him hooked. The whole process feels like a gamble, but one where the payoff is a sense of accomplishment and the joy of creating something unique.
Hyeyoung CHO, MAKE Award Judge [19:00]
Hyeyoung noted the completeness in the composition of Diverse Dominion Deities, describing it as having a pronounced voice and a concept behind the use of found objects. She emphasised the appropriateness of Vipoo's approach to the award's criteria and acknowledged the overall quality of the piece.
MAKE Award inspires innovation [20:00]
"It pushed me to do something different. It pushed all the participants or all the entrants to think outside what they normally make and what they can do differently," Vipoo says.
He believes that awards push artists to think differently and can lead to career-changing opportunities.
MAKE Award's clear criteria [20:30]
Vipoo emphasises that this particular award stands out because it explicitly states what it's looking for, encouraging participants to create work specifically tailored to meet those criteria.
"I hope the [MAKE Award] judges see that I actually looked at the criteria. That I actually made the work for the award."
CREDITS
Object is a podcast of the Australian Design Centre. Object is produced by Jane Curtis, in collaboration with Lisa Cahill. Sound Engineering is by John Jacobs.
Image episode photo of Diverse Dominion Deities (2023) by Simon Strong.
Return to Object: stories of design and craft main page