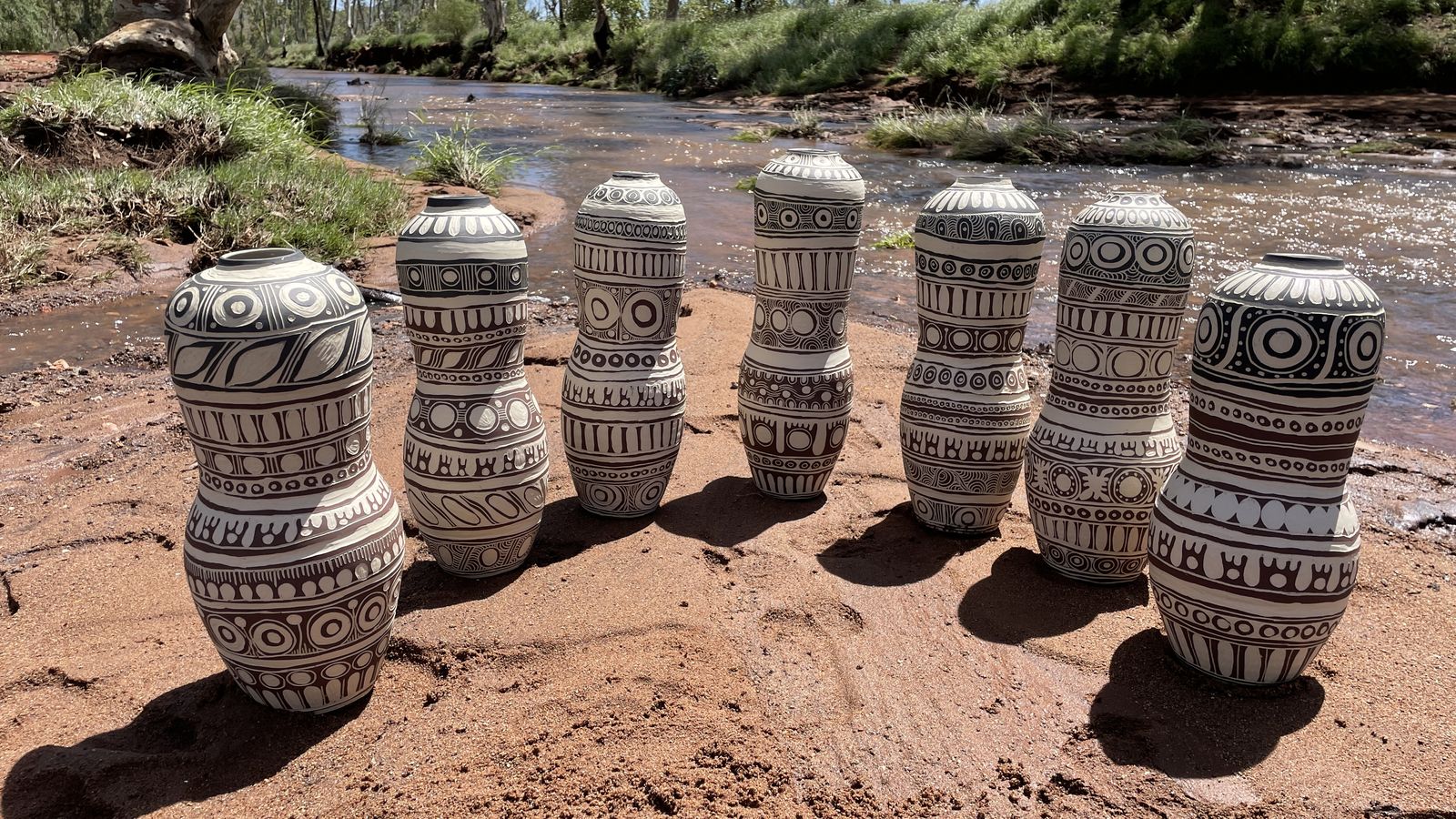 About the artist
Alison Milyika Carroll (SA) is a senior Pitjantjatjara Yankunytjatjara woman, an accomplished artist and significant cultural leader, who has had a career in the arts spanning more than four decades.
Alison's artistic practice has been based at Ernabella Arts in the remote Aboriginal community of Ernabella on the Aṉangu Pitjantjatjara Yankunytjatjara Lands in South Australia. As with many Aboriginal people living on Country, she was not able to have a formal art education, but rather learned from senior Anangu people through their strong intergenerational passing of knowledge and skills. Her artwork communicates both Walka (design) and Tjukurpa (Law, Story, Dreaming).
Alison is a champion for Aboriginal and Torres Strait Islander people and has been integral to the development and ongoing strength of Ernabella Arts. Approximately 20 years ago Alison went to the JamFactory and tried ceramics. She and other artists immediately saw that this was a new medium that would work for Anangu cultural expression and they established a ceramics studio in Ernabella. Over the past two decades, Ernabella Arts has become synonymous for First Nations ceramics and Alison has continued to establish herself as a leader in this field.
Alison, alongside other Ernabella artists, has been associated for many years with TACA and the wider ceramics community. Ernabella Arts has been a long-time instigator and contributor to the Remote Communities Ceramics Network and have attended, spoken and demonstrated at the Australian Ceramics Triennale over it's years working with clay.
Artist statement
Exhibition work: Kungkarangkalpa: Seven Sisters, 2022, stoneware
"Ernabella Arts started as 'craft room' in 1948 in the Ernabella Creek. We started weaving, spinning, and making things from the wool from the Ernabella sheep station. For a long time, we had one manager and our craft room grew into an art centre. However even before this, we had `milpanjunanayi'. This is Anangu culture, where Pitjantjatjara women have been telling stories to their children and to other women, accompanied by singing and drawing in the sand. This was our first 'art form'. In Ernabella, this is where it started for us, milpatjunanyi, then wool, spinning and weaving, and we slowly started doing new things like batik and then paintings. Once, I went with three other artists to the Jam Factory in Adelaide and we learnt to paint on ceramic plates. We liked telling our stories in the clay so we kept learning. We went to learn more ceramics in Darwin at the university and started to say 'we should make our own studio in Ernabella so all the artists can learn'. Now the next generations are learning and making beautiful things. I am happy to be in this exhibition, to show you what I am making now. In Ernabella, we were the first to start doing ceramics, and we are still doing it."
For this exhibition, Alison has created Kungkarangkalpa (Seven Sisters). This is an extensive creation story that relates to the Pleiades constellation in the southern hemisphere. The story traverses Australia taking on different forms, however local women are privy to the part of the story which takes place in the country near Ernabella. The man called Nyiru is chasing the sisters and you can see this represented in her work.
Image: Alison Milyika Carroll, Kungkarangkalpa: Seven Sisters, 2022, Stoneware. Photo: Courtesy Ernabella Arts