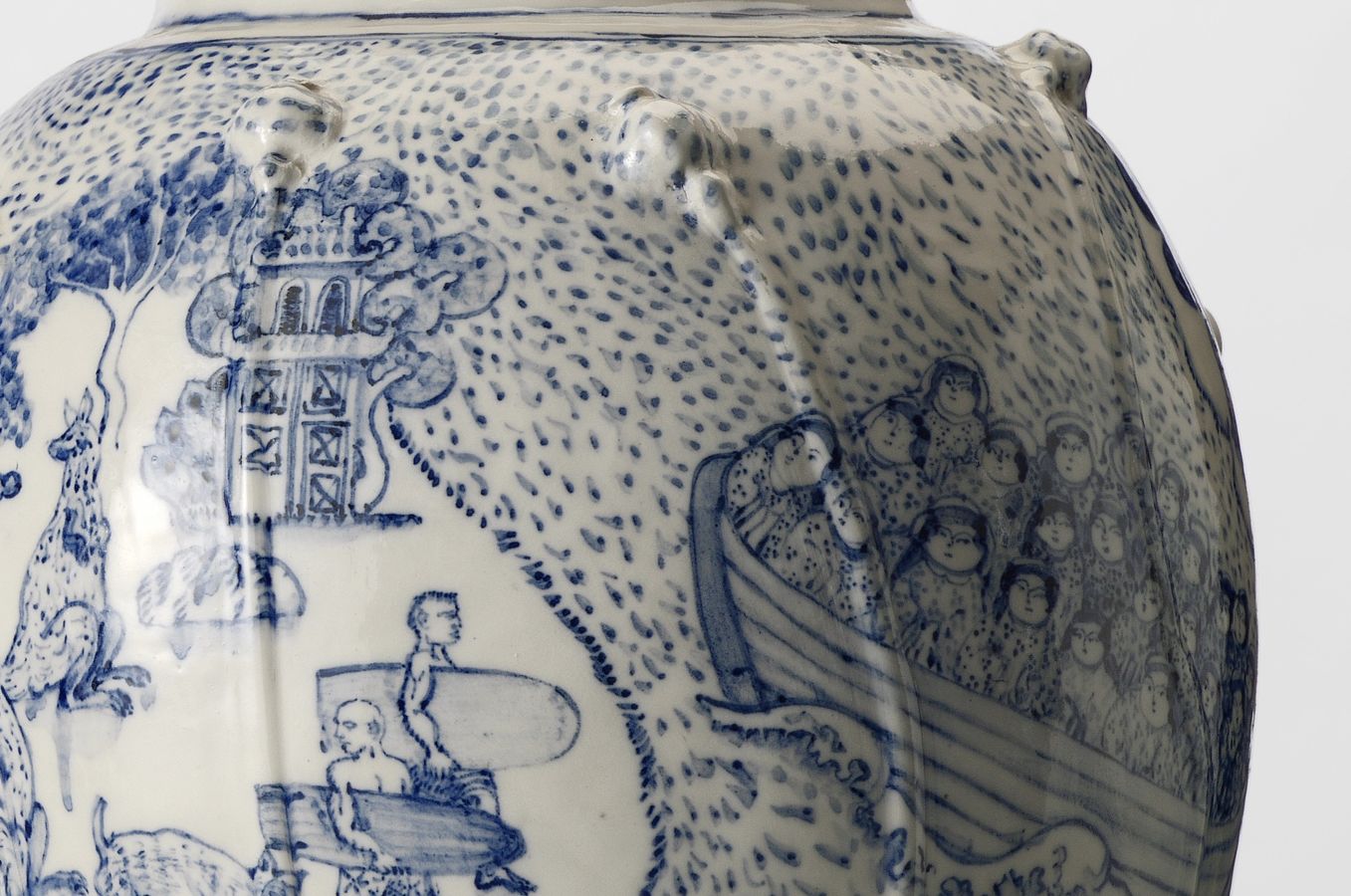 About the artist
Gerry Wedd (SA) is a potter and a surfer. He has a first degree in visual arts and obtained a Masters in Fine Art from UNISA in 2005. He has been making pots for forty years which has been his main means for survival. His work runs the gamut from functional domestic ware to large installation works and public art.
From 1986 until 2006 he worked with leisurewear company Mambo producing drawings for t-shirts and fabric prints.
Gerry has exhibited extensively in Australia and internationally, including Havana Biennial, JamFactory, Ian Potter Museum of Art and The Victoria and Albert Museum. He has been the recipient of numerous awards including the Hobart Art Prize in 2010 and the 1998 Sidney Myer Fund International Ceramics Award. He is represented in major public collections in Australia.
Artist statement
Exhibition work: Welcome Pot, 2015, mid-fired, cobalt underglaze
Making pots has been the centre of my life for over 40 years having been taught the basics by my mother who had studied it in a variety of courses. From the beginning I was more interested in the what and why of ceramics rather than the how which drew me to the history of the activity and to gleaning from any available journals and books on the topic. I was a long-time reader of Pottery in Australia which more or less became The Journal and still have many copies languishing around the house. I remember the first time my work appeared in the magazine and how thrilled and confused I was at my inclusion.
The late 1970s was an interesting time for pot making with Leachian ideals being challenged by a change of aesthetics and materials which allowed new approaches to making. The magazine was the only source of information regarding to those changes taking place. Whilst in awe of people who dug clays and sourced local materials for glaze and reduction fired it became clear quite early on that I was interested in other work. My interest was in pots that presented images and stories on their surfaces from Greek Amphorae to Iranian fritware through to the Willow Pattern and industrial transferware.
My work has tended to reflect on popular culture and has a social commentary aspect incorporating songs, poems and current events through the prism of the history of ceramics. The hope is that information can be embedded in objects (pots) that will be in people's lives for a long, long time.
Image: Gerry Wedd, Welcome Pot (detail), 2015, mid-fired, cobalt underglaze. Photo: Grant Hancock