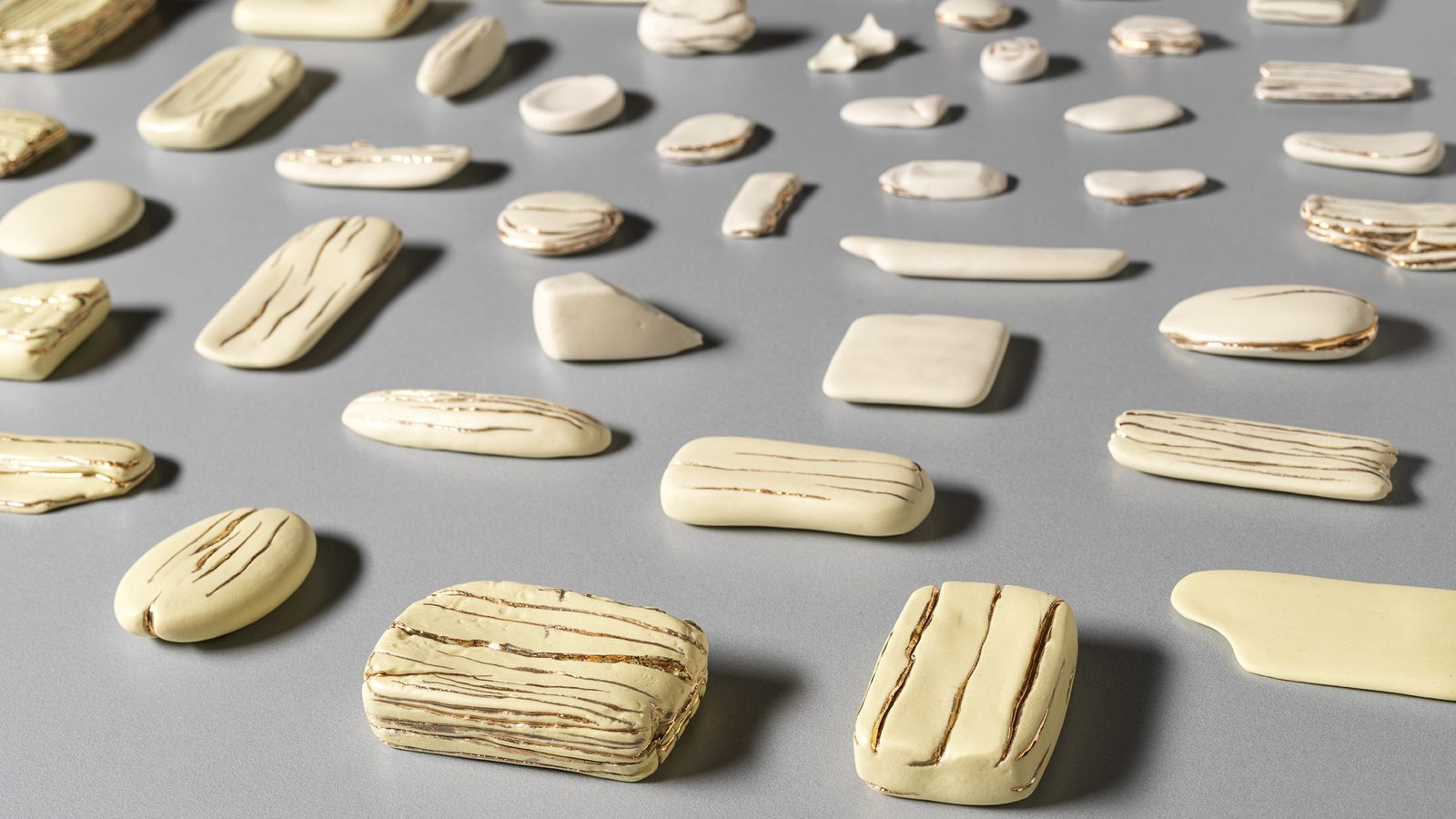 About the artist
Honor Freeman (SA) is an artist living and working in the Fleurieu Peninsula on Ngarrindjeri land in South Australia, whose practice utilises the mimetic properties of porcelain, crafting objects that belie their materiality and purpose.

Honor completed her studies in 2001 at the South Australian School of Art. Following graduation, Honor took up an Associate position and Tenant residency in the ceramics studio at JamFactory Craft & Design. Her work has been curated into major exhibitions at institutions throughout Australia, including the Museum of Contemporary Art, Tarrawarra Museum of Art and The Powerhouse Museum. She has undertaken international residencies at Guldagergaard, Denmark's International Ceramic Museum and in the US at Indiana University's School of Art & Design. In 2006 Honor travelled to Chile to exhibit and participate in the The South Project, continuing her project on/off/on, installing porcelain light switches and power-points clandestinely in public spaces. In 2018 she was invited to undertake the Guildhouse Collections Project at the Art Gallery of South Australia, the outcome of this residency Ghost Objects, was exhibited in 2019 as part of SALA Festival.

Exhibiting since 2000, Honor's work is held in numerous public collections including the National Gallery of Victoria, Art Gallery of South Australia, ArtBank and Washington DC's National Museum of Women in the Arts. Her works feature in the publication "101 Contemporary Australian artists", published by the National Gallery of Victoria, and the international publication "Ceramics Masterclass creative techniques of 100 great artists", by Louisa Taylor.
About the work
Exhibition work: Small Acts of Care and Repair, 2021, porcelain, gold lustre
Small Acts of Care and Repair continues my exploration into the poetic potential of the simple and ubiquitous bar of soap. A small yet quietly powerful object that has gathered heightened meaning during the last two years.
Moulds are created of discarded cake soap in various states of decay, creviced, weathered and barely there slivers, objects worn into odd shapes recalling the traces of an individual's touch. The soaps are cast in porcelain, carved, sanded, glazed, gold filled and fired numerous times. These intimate objects speaking of the body, cleanliness and rituals of comfort and care.
Referencing the traditional Japanese art of Kintsugi, (repair with gold and lacquer) the cracks are carefully sealed with gold lustre, transforming them into golden seams. The uncertainty of porcelain and the metaphorical power of kintsugi unite in this ordinary act of repair reflecting on ideas of rupture and renewal.
Using the mimetic qualities of clay via the process of slip casting, the work interacts with ideas of liquid made solid. The porcelain casts remember the almost obsolete objects; the liquid slip solidifies becoming a precise memory of a past form - a ghost. Scentless and forever preserved in porcelain.
Honor Freeman, Small Acts of Care and Repair, 2021, porcelain, gold lustre. Photo: Grant Hancock