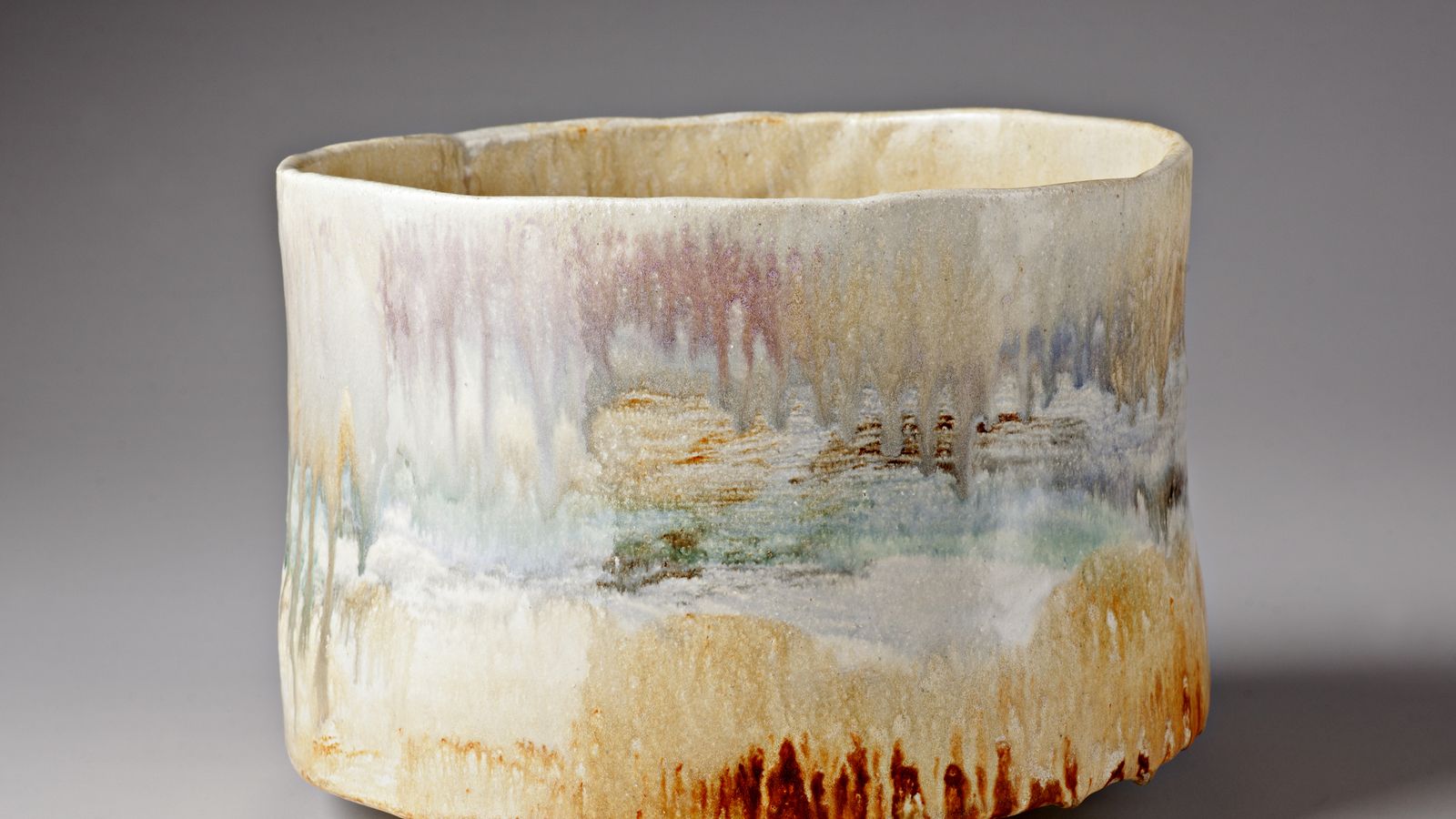 About the artist
Jeffery Mincham AM (SA) is a full-time ceramic artist with over forty years professional practice working from his home studio in the Adelaide Hills. Jeffery has produced an extensive body of work over that period, which has had a resounding influence on contemporary Australian ceramics.
With 89 solo exhibitions, he has also contributed to scores of themed and group exhibitions in Australia and overseas. His work is held in over 100 permanent public collections including the National Gallery of Australia, all Australian state galleries and the premier regional galleries across Australia.
The natural world and landscape themes first appeared in Jeffery's work in 1978. Joining a Field Naturalists Club at 13 years of age gave him a great knowledge of these places and a lifelong interest in ornithology had taught him the art of observation. A deeper resonance of the landscape, its spirit and a sense of place became his artistic quest.
Jeffery is the recipient of many awards and prizes, and his work is also extensively represented in international public and private collections.
In 2011, he was awarded a Member of the Order of Australia (AM). In 2009 he was celebrated as a Living Treasure: Master of Australian Craft by Australian Design Centre with a national touring exhibition and a publication that recorded much of his then thirty-year career. Jeffery is also a Fellow of the Royal South Australian Society of the Arts and Member of the International Academy of Ceramics based in Geneva.
Artist statement
Exhibition work:
Gales of the Equinox, 2021, multi-glazed, mid-fired
Early Morning Mist Clearing To Fine, 2021, multi-glazed, mid-fired
I first came across Pottery in Australia in 1974 while still a student, and it opened the door to the world of ceramics for me. The 70's where halcyon days for potters in Australia and along with the world of the CRAFTS MOVEMENT it seemed an ever-expanding universe.
There was little being published at the time, so The Potters Society of Australia stepped up to the challenge and set about developing a strong national focus. Other publications would soon appear, however Pottery in Australia lived up to its name both then and now as The Journal of Australian Ceramics.
In the 1970's the mix of images of the current work, thoughtful essays, technical information including kiln building, making up clay bodies, glazing and just about anything else you needed to know, made it absolutely essential reading. Another vital component was its inclusion of international ceramic activities and an insight into the work of the inspiring and famous potters of the world that seemed so far from us. It was a means of seeing and of course being seen. I well remember the anxious wait for the post when the first image of my work was to appear in it (Volume 16 No. 1 Autumn 1977, page 81). I had a 2km uphill walk to our little post office at Cherryville 3 days in a row before it finally arrived, and it felt like a real achievement at the time. I'm sure many others had a similar experience.
The Journal of Australian Ceramics has, over time, through several manifestations, had an immense and even a defining influence on ceramics activity in Australia. Other publications have come and gone on both the national and international scene, but JAC has both survived and thrived.
This has come about by the dedication and very hard work of so many people and this exhibition is a very fitting tribute to all those who have contributed in a small or big way over the decades. This journal is now something for us all to be proud of! May it continue to do its work as long as there is clay and people seeking to express themselves with it.
The natural world and landscape themes first appeared in my work in 1978. Prior to this I worked in the quasi-domestic genre that was ubiquitous in the Australian ceramics world of those times.
Initially I used Raku firing methods, which greatly enhanced the character of the imagery. I had an immediate favourable response to the works it being quite different from the prevailing work around at the time.
In fact, I won the inaugural SA Potters Guild Gold Medal Award with a group of 3 of these works, despite some protests that they were not 'functional'!
After a time, developments with my Raku techniques lead of in another direction, however my interest in landscape was never far away.
A sojourn in Scotland at the Glasgow School of Art in 1996 renewed interest in landscape as I spend many days travelling about in that deeply compelling landscape. Land, sea and sky and of course the weather! All combined in powerful, even haunting combination, set me thinking about the landscapes that I had grown up in. Arriving home in 1997 I immediately set about a new body of work inspired by my recent experiences.
It has taken me a lifetime to acquire the fluency of my medium and it still challenges me! My intention is to engage an audience and capture their attention long enough to reflect on the landscapes that they feel a special connection too. A subtle mixture of nostalgia and memory, even a longing! I have come to understand that clay and the medium of ceramics can have a quite unique part to play in this aesthetic experience, it is just a matter of staying the course, the more you do the more you understand!
Image: Jeffery Mincham, Early Morning Mist Clearing to Fine, 2021, multi-glazed, mid-fired. Photo: Michael Kluvanek