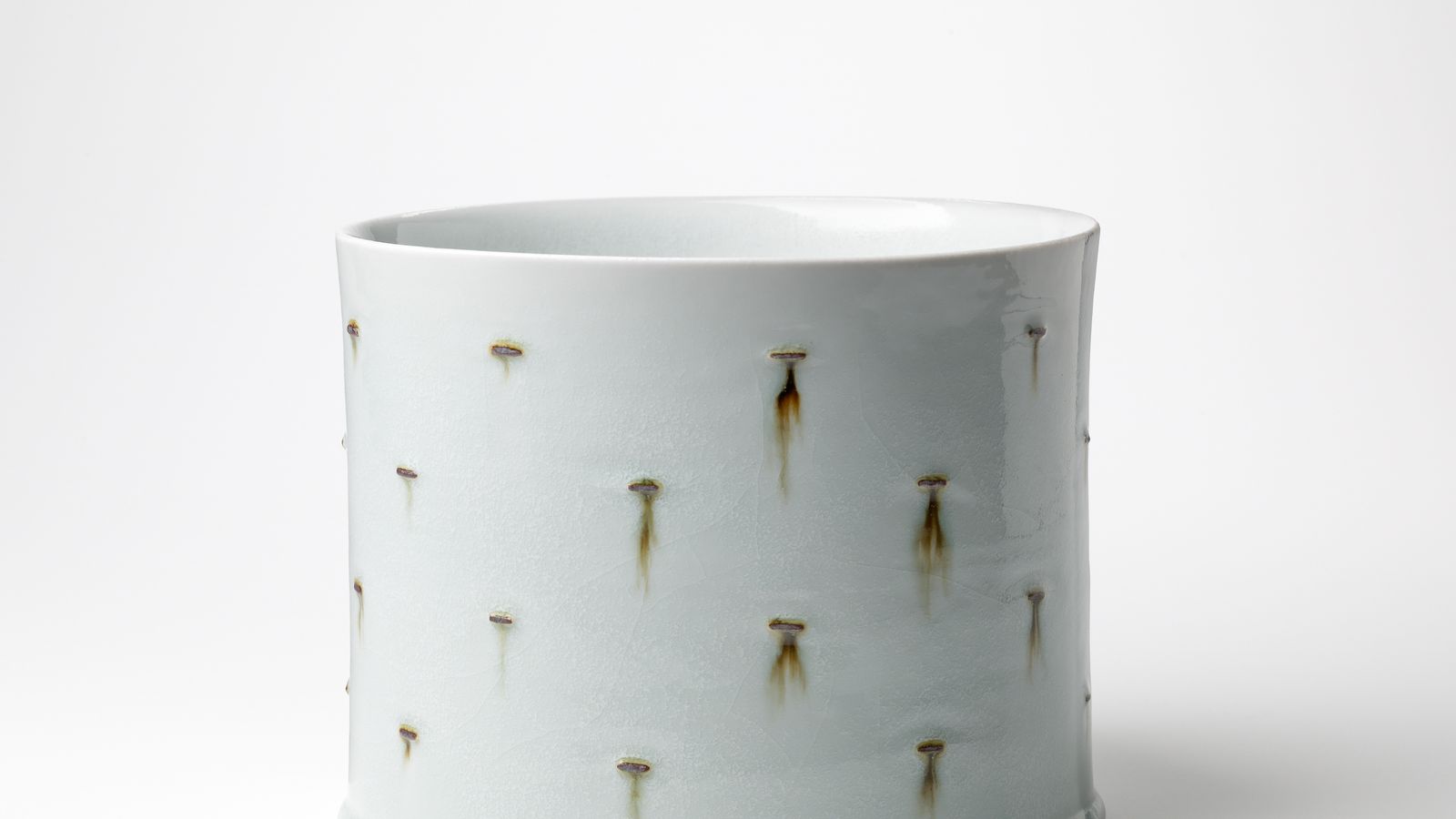 About the artist
Kirsten Coelho (SA) works in porcelain creating functional forms and vessels of other-worldly perfection that fuse the formal with the abstract. Her work has been influenced by the history of ceramics, in particular the aging surfaces of nineteenth and early twentieth-century domestic enamel wares – jugs, flask, bowls, beakers – echoes of the pleasures of daily life which she reiterates in inviolate meditations on the history, purity and order of daily rituals and routines.
Having returned to Australia from London in the late 1990s, Coelho's concern with the formal archetypes of the historical household turned to the nineteenth-century Australian settler and migrant experience. The extraordinary dreams, ambitions and failings of these experiences are referenced in the luscious thick white glazes and pared back simplicity of Coelho's works, which consider how objects and art shape history and cultural memory.
Coelho's work has been exhibited widely both in Australia and internationally. Recent solo exhibitions include The Return, at the University of New South Wales School of Art & Design (2021), and an ethereal yet monumental installation, Ithaca, displayed at the University of South Australia's Samstag Museum of Art (2020). In 2019 Coelho was the recipient of an Arts South Australia Fellowship that allowed her to conduct international research on ceramic collections in Italy and Greece, and lead to the development for two new bodies of work in porcelain of which Ithaca was one. Coelho was included in the 2018 Adelaide Biennial of Australian Art: Divided Worlds curated by Erica Green, In the Falling Light, Drill Hall Gallery, Australian National University, Canberra (2015), which toured to Newcastle Art Gallery, New South Wales in the same year. In 2015 Coelho accepted an invitation to undertake a residency at Tweed Regional Gallery, Murwillumbah, which resulted in a solo exhibition at Tweed Regional Gallery in 2016. In 2012 Coelho won the prestigious Sidney Myer Ceramic Award.
Kirsten Coelho holds a Master of Visual Art from the University of South Australia. Her work has been exhibited internationally and is represented in numerous institutional collections.
Artist statement
Exhibition work:
Runnell, 2022, porcelain, matt to sheen glaze, iron oxide
Fall, 2022, porcelain, matt white glaze, iron oxide. Group of 3 objects
I have been reading the Journal of Australian Ceramics since I was a student at art school in the mid nineteen eighties. Ever since that time it has been a constant source of information, inspiration and support. Before the advent of social media it was really one of the few places you could see what was happening in contemporary ceramics nationally and internationally.
The Journal also has had such a strong educational element with technical information which has been so helpful to draw on over the years. To have an article about your work or even a photo of your work featured in the magazine was a real thrill. Social media has changed so much about how we filter information but the Journal of Australian Ceramics plays such an imperative and supportive role in keeping people informed, showcasing what is happening around the country and internationally and bringing together the Australian ceramic community - people accessing ceramics at all levels and in many differing ways.
My ceramics practice focuses on the exploration and reinterpretation of utilitarian ceramics, glass and metal wares. Many pieces are made in white porcelain, some with an added iron rim - suggesting an everyday metal object whilst being made in a material like porcelain that has such a rich history of desire and commodity. This can create juxtaposition between the precious and the commonplace.
The works also endeavour to convey some of the domestic history of objects by highlighting the potential abstractions that arise on the surface through their use and subsequent deterioration. Similarly, I am exploring the subtle potential of high fire glazes on form. This can offer up rich visual surfaces and tonal possibilities to give greater sense of depth and tone between the corresponding works. I have always been drawn to the abstract in art – the possibility for understanding through a more ambiguous and imperceptible type of knowing. The intersection of form, colour, tone and light are constant drivers in my practice.
Parallel to this is the ongoing engagement with porcelain as a material. The mutable nature of light and shadow across its surface and a melding of the formal and the abstract – surface and shape. Engagement with light and the way tone, form and space are altered by light's impermanent spectrum and fall.
Literature and particularly poetry presents a constant lens with which to filter experience and see the world anew. This provides a starting point for a poesis and a convergence of thought and hand making. One of the most compelling attributes of porcelain for me is that it can yield many tones that alter in everchanging light - white, grey, pale white, pale grey… differing tones, all shifting with lights' ephemeral nature.
And when it comes, the landscape listens
Shadows - hold their breath –
Emily Dickinson - A Certain Slant of Light
Image: Kirsten Coelho, Runnell, 2022, porcelain, matt glaze, iron oxide. Photo: Grant Hancock.