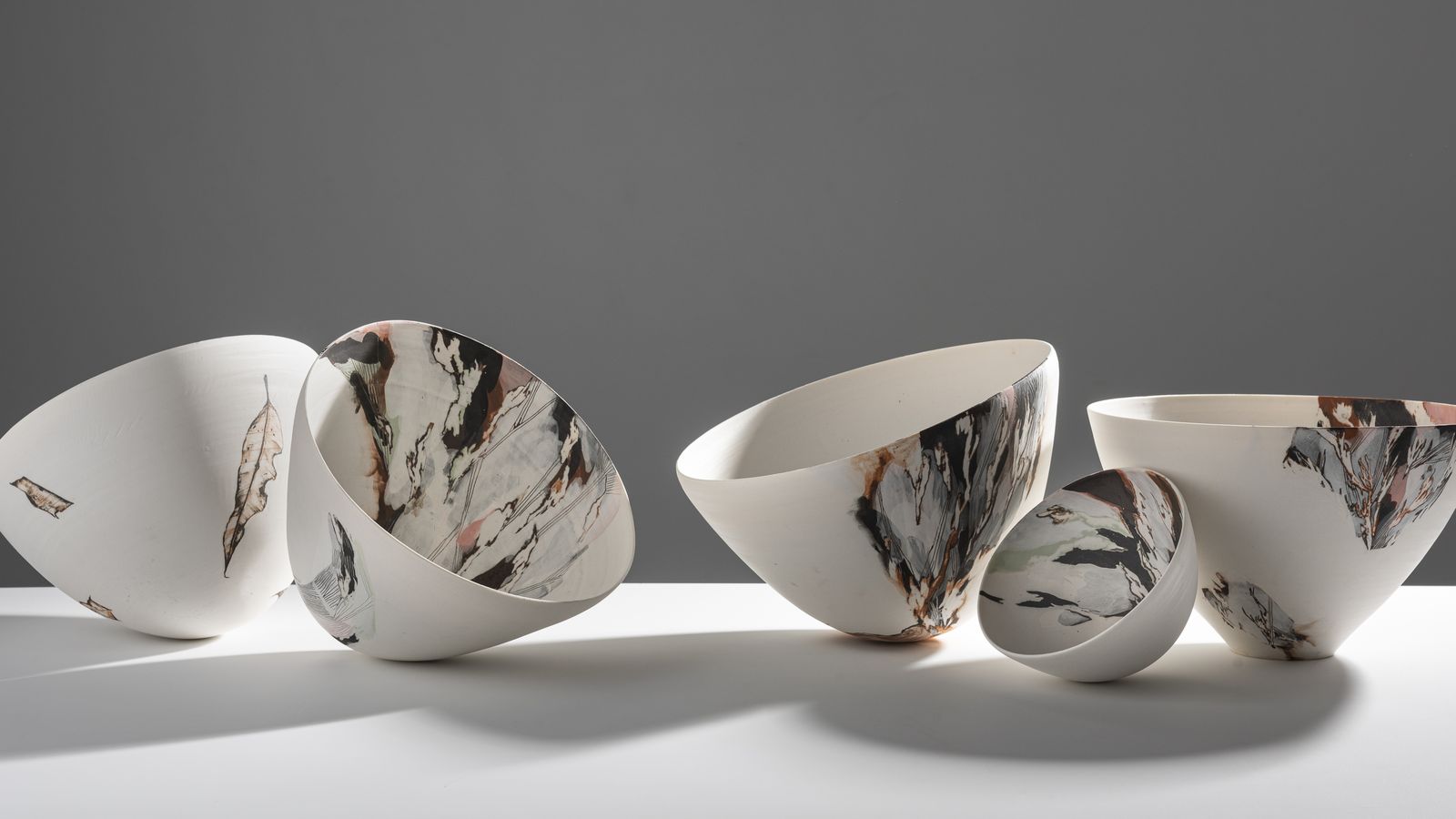 About the artist
Shannon Garson (QLD) is a ceramic artist, writer and curator with a studio practice spanning 20 years that includes commissions for festivals, exhibitions at public and private galleries, and arts advocacy. Shannon's practice encompasses both handmade tableware and exhibition work, working with Australian porcelain. Shannon works across a range of media using drawing, ceramics, photography and performance to investigate the relationship between human activity and the infinite variety of striations, spots, and marks found in nature. Shannon's work engages with endangered eco-systems, biodiversity and environmental issues through her chosen medium of thrown porcelain and drawing. Shannon exhibits nationally and internationally.
Artist statement
Exhibition work: Beauty and Terror, 2020, porcelain, drawings in terra sigillata, underglaze, oxides, glaze
The terrible bushfires of the last Australian summer brought Australian poet Dorothea Mackellar's description of the landscape into horrifying reality. Dorothea Mackellar's poem My Country has been quoted and loved since it was first published in 1908. Dorothea began writing this poem in 1905 and worked in it when she went to London aged 19. During this time German poet Rainer Maria Rilke published his major book of poems The Book of Hours in which he explores the human search for God. Rilke uses the phrase "beauty and terror" in this book. I don't think Mackellar would have read Rilke's poem but he uses beauty and terror to explore the wonders of being human and the courage to search for meaning in the universe.
Flare up like a flame
and make big shadows I can move in.
Let everything happen to you: beauty and terror.
Just keep going. No feeling is final.
Don't let yourself lose me.
Nearby is the country they call life.
You will know it by its seriousness.
Give me your hand.
Go to the Limits of your Longing - Rainer Maria Rilke
Image: Shannon Garson, Beauty and Terror, 2020, porcelain, drawings in terra sigillata, underglaze, oxides, glaze. Photo: Greg Piper